National Institute of Technology Calicut NITC Jobs June 2016:
Excellent opportunity for the candidates looking for central government jobs in Kerala. National Institute of Technology Calicut (NITC) published latest recruitment notification (Advt. NoP1/2331/RNTS/469/2016) to fill up 1 vacancy for Registrar post.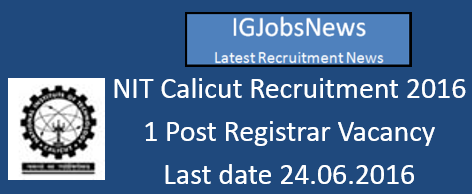 National Institute of Technology Calicut, is an Institute of National Importance under MHRD,GOI. The last date to apply for the post is 24th June, 2016.
NITC Regaistrar Vacancy details:
Name of the Post: Registrar
No of Posts: 1
Classification: Group A
Pay Scale: PB-4 ; Rs.37400-67000 + GP 10000
Whether selection post or non-selection post: Selection post
Age limit for direct recruits: Preferably below 57 years
Educational and other requirements for direct recruits:
A. Essential:
i.Master's in any discipline with at least 55% marks or its equivalent grade 'B' in UGC seven pointscale from a recognized University/ Institute.
B. Experience:
i. At least 15 years experience as Assistant Professor in the AGP of 7000/- and above or with 8 years experience in the AGP of 8000/- and above including Associate Professor along with experience in educational administration, or
ii. Comparable experience in research establishment and or other institutions of higher education, or
iii. 15 years of administrative experience, of which 8 years shall be as Deputy Registrar or equivalent
C. Desirable:
i. Qualification in area of management / Engineering/ Law
ii. Experience in handling computerised administration/ legal/financial/ establishment matters
Method of recruitment:
Direct recruitment failing which by Deputation or on contract basis for a period upto 5 years or till attainment of the age of 62 years whichever is earlier or as fixed by Government of India by orders issued in this regard from time to time.
In case of recruitment by deputation /transfer, grades from which deputation/ transfer to be made:
Deputation or on Contract basis:
Officers under the Central/ State Governments/Universities/ Recognized Research Institutes or Institutes of national importance or Government laboratory or PSU:
a) i. Holding analogous posts or
ii. With at least 3 years regular service in posts with GP of 8700/- as per 6th Central Pay Commission or equivalent; and
b) Possessing educational qualification and experience as prescribed above.
How to Apply:
Interested and eligible candidates can download the application format from the website and apply on or before 24th June, 2016.
Last Date:
As per the latest employment notification last date to apply for the Registrar vacancy in NITC is 24.06.2016.
Address:
National Institute of Technology Calicut
(An Institute of National Importance under MHRD,GOI)
NITC Campus P.O
Kozhikode – 673 601, Kerala
Tel: 0495-2286100, FAX: 0495-2287250
Download Detailed Advertisement: NIT Calicut Registrar Recruitment Notification June 2016
Download Application format: NITC_Applicationpdf
National Institute of Technology Calicut (NITC) website: http://www.nitc.ac.in