BHEL invites bright and dynamic candidates with Locomotor Disability (Orthopaedically Handicapped) and Hearing Impairment to join as Engineer / Executive Trainees and contribute towards Nation building in the fields of Power, Transmission, Industry, Transportation, Non-conventional Energy Sectors and Oil & Gas. For full details log on to BHEL recruitment website: http://careers.bhel.in
Engineer Trainees — 24 Nos
(In the scale of Pay Rs 20600-46500)
(20 HH and 04 OH)
Candidates interested in joining BHEL as ENGINEER TRAINEES against vacancies reserved for PWD candidates are required to take GATE-2016. The GATE Marks will be used for shortlisting of candidates for Interviews. Interested candidates have to apply online at BHEL recruitment website: http://careers. bhel. in, after obtaining the Registration number for GATE-2016.
The Disciplines and GATE Subject Codes
to be taken by candidates are as below:
For MECHANICAL – ME
For ELECTRICAL – EE
For GATE-2016
Candidates may log on to: http://www.gate.iisc.ernet.in/ OR Website of following IlTs:- Bombay, Delhi, Guwahati, Kanpur, Kharagpur, Madras and Roorkee for details regarding Commencement and last date of on-line Submission of GATE applications
Executive Trainees in HR —10 Nos
(In the scale of Pay Rs 20600-46500)
(09 HH and 01 OH)
Candidates interested in joining BHEL as EXECUTIVE TRAINEES in HR against vacancies reserved for PWD candidates are required to take UGC-NET (December, 2015) Examination. The UGC-NET Marks will be used for shortlisting of candidates for Interviews. Interested candidates have to apply online at BHEL recruitment website: http://careers.bhel.in, after obtaining the Registration number for UGC- NET-December, 2015.
The UGC-NET Subject Code to be taken
by candidates is as below:
For Human Resource Management – 55
For UGC-NET (December, 2015)
Candidates may log on to: http://www.ugcnetonline.in/ or http://www.cbsenet.nic.inl for details regarding Commencement and last date of on-line Submission of UGC- NET-December, 2015 applications.
For full details including degrees considered as equivalent to above disciplines by
BHEL: Visit http://careers.bhel.in
Opening of BHEL recruitment website for viewing detailed advertisement: 10th September 2015
Last Date of receiving applications for BHEL is 20th November, 2015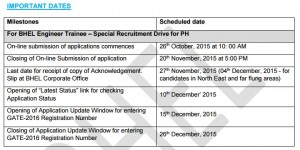 Download:-
Online Advertisement (Executive Trainee-HR):- BHEL_online_advertisement_hr
Online Advertisement (Engineer Trainee):- BHEL_online_advertisement_engineer
BHEL Website:- www.bhel.com