Applications in the prescribed format from eligible candidates are invited for filling up the following teaching posts: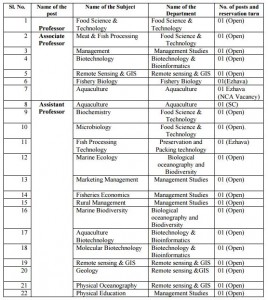 Pay Scale:
Professor – Pay Band: 37400-67000 AGP : 10000
Associate Professor – Pay Band: 37400-67000 AGP : 9000
Assistant Professor – Pay Band: 15600-39100 AGP : 6000
1. PROFESSOR – ( Food Science & Technology)
2. ASSOCIATE PROFESSOR (Meat & Fish Processing, Biotechnology, Aquaculture ,Fishery Biology)
ASSISTANT PROFESSOR
(Aquaculture, Biochemistry, Microbiology, Aquaculture Biotechnology , Molecular Biotechnology, Geology, Physical Oceanography, Fish Processing Technology, Marine Ecology, Marine Biodiversity, Fisheries Economics )
4. ASSOCIATE ROFESSOR – MANAGEMENT
5. ASSISTANT PROFESSOR – Marketing Management
6. ASSISTANT PROFESSOR – Rural Management
7. ASSOCIATE PROFESSOR – Remote Sensing & GIS
8. ASSISTANT PROFESSOR – (Remote Sensing & GIS)
9. ASSISTANT PROFESSOR – Physical Education
General Information
(1) Candidates applying for the reserved posts should clearly state the category they belong to. They must also enclose attested photocopy of caste certificate from the competent authority.
(2) Age : 40 years as on 01.01.2015
(3) Persons in service should apply through proper channel.
(4) The prescribed essential qualifications are the minimum and mere possession of the same does not entitle candidates to be called for interview. Where the number of applications received are large and/or where it will not be convenient or possible to interview all the candidates, the University at its discretion may restrict the number of candidates to a reasonable limit on the basis of qualifications/experience prescribed in the advertisement. Further, the University may also fill up the posts advertised on short-term contract basis if necessary.
(5) Changes in Regulations on qualifications, experience, calculation/application of API Scores, etc. issued by the UGC subsequent to this notification will become mandatory from the respective dates of effect prescribed.
(6) The University reserves the right to –
(a) not fill up any or all posts advertised.
(b) offer a post at a lower/higher level than notified, depending upon the qualifications, experience and performance of a candidate;
(c) draw reserve panels for appointment to possible future vacancies;
(d) relax any of the desirable qualifications/experience at its discretion for reasons to be recorded.
(7) The qualification prescribed shall be as on the last date of receipt of application.
(8) Selection will be made on the basis of candidates' performance at the interview. The University may utilize seminar and/or colloquium as a method of selection.
(9) Candidates applying for more than one post should submit separate application for each post and should pay processing fee accordingly.
(10) No interim queries regarding test/interview/selection will be entertained.
(11 )Canvassing in any form will be a disqualification.
(12 )Interested persons should apply in duplicate alongwith photo copies of all supporting documents
(13 )Application fee Rs.2000/- for General candidates and Rs. 500/-for SC/ST candidates
(14 )Mode of remittance of fee:- By cash (University cash counter from 10.00 am to 3.00 pm) or DD from any nationalized bank drawn in favour of Finance Officer Kerala University of Fisheries and Ocean studies, Panangadpayable at Vyttila Branch.
(15 )Applications should reach the Registrar at the below address on or before 05.10.2015. The University will not be responsible for any postal delay.
THE REGISTRAR
KERALA UNIVERSITY OF FISHERIES AND OCEAN STUDIES
PANAGAND P.O, MADAVANA, KOCHI-682 506
(16 )The envelope should be super-scribed with the advertisement number and the post applied for.
Download Detailed Advertisement and Application Form:- KUFOS_Faculty Vacancies
KUFOS Kerala University of Fisheries & Ocean Studies Website: http://kufos.ac.in/