Last Updated on  02nd  June, 2020 (02.06.2020):
Latest Government Jobs
Aspirants seeking for latest government jobs vacancies in India can find all latest employment news notification, Job vacancies, Indian Army, Central Government, Public Sector Unit vacancies, recruitment notifications published by all state and central government public service commission here.  Latest Government jobs.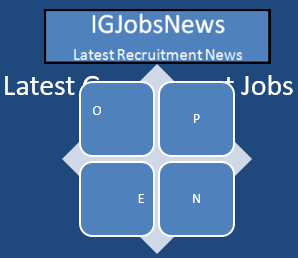 As per the latest analysis done by United Nation Organisation, unemployment is going to be major  issue in India by 2035.  Here we will hep the aspirants to find best job to settle down in Indian government jobs.  Manufacturing sector in India not contributing to the job creation is main cause of this issue.  To boost up job generation, the Government of India is making various steps like boosting Agriculture sector and increasing FDI in India.
Couple of weeks back Central Government of India announced that it is going to create additional 2.2 lakh new vacancies in various sectors of the government to provide better service to the people of India.
IGJobsNews (Indian Government Jobs News) is giving all the recruitment notifications from all the sources like employment news paper, government website portals.  All state government job portals jobs of Latest Government Jobs related to apprentice vacancies, jobs for engineering Degree holders, Diploma holders, Teacher vacancies, UPSC Jobs, SSC recruitment, Indian Army vacancy notification, recruitment Result, Admit Card, Examination schedule, ITI Job vacancies, NCVT posts, jobs for 12th Standard, 10th (Matriculation vacancies), jobs for 8th (eight) Pass candidates, Driver posts, Cook opportunities, mail guard, Ministry of Defence jobs, UPSSSC vacancies and others.  Candidates with Pass/ Fail in XIIth, Xth and VIIth also can find the latest govt. jobs 2016-2017 here in this page.
We are updating our portal www.igjobsnews.com with all the recruitment related news which is required for you on daily basis to provide quality job to the job seekers in India.
List of Latest Government jobs published recently in this portal (Day wise recruitment Notification):
Latest Government Jobs 2020 Notification on 02.06.2020
SKUAST Jammu Walk-in-Interview 2020 -01 Vacancy Field Cum Lab Attendant
NJILOMD Walk-in-Interview 2020 -01 Vacancy Lab Attendant
NITIE Walk-in-Interview 2020 -01 Vacancy Consultants
IRMA Walk-in-Interview 2020 -01 Vacancy Senior Research Fellow
CUK Walk-in-Interview 2020 -01 Vacancy Professor 
IIIT Kalyani Walk-in-Interview 2020 -01 Vacancy Deputy Registrar
CDSCO Walk-in-Interview 2020 -05 Vacancy Junior Laboratory Assistant
PGIMER Walk-in-Interview 2020 -01 Vacancy Junior Research Fellow 
IARI Walk-in-Interview 2020 -03 Vacancy Unskilled Labour
BECIL Walk-in-Interview 2020 -01 Vacancy IT Consultant
NLU Delhi Walk-in-Interview 2020 -01 Vacancy Section Officer
PAU Walk-in-Interview 2020 -01 Vacancy General Assistant
RCB Walk-in-Interview 2020 -01 Vacancy Junior Research Fellow
DFFCIL Walk-in-Interview 2020 -02 Vacancy Deputy Chief Project Manager/ Project Manager
RRI Walk-in-Interview 2020 -01 Vacancy Scientific Officer C
Latest Government Jobs 2020 Notification on 01.06.2020
IRMA Walk-in-Interview 2020 -01 Vacancy Senior Research Fellow 
CUK Walk-in-Interview 2020 -01 Vacancy Professor 
IARI Walk-in-Interview 2020 -03 Vacancy Unskilled Labour 
IIIT Kalyani Walk-in-Interview 2020 -01 Vacancy Deputy Registrar
BECIL Walk-in-Interview 2020 -01 Vacancy IT Consultant
CDSCO Walk-in-Interview 2020 -05 Vacancy Junior Laboratory Assistant
PGIMER Walk-in-Interview 2020 -01 Vacancy Junior Research Fellow
MAHA METRO Walk-in-Interview 2020 -02 Vacancy Senior Deputy Chief Project Manager
NLU Delhi Walk-in-Interview 2020 -01 Vacancy Section Officer
GBPIHED Walk-in-Interview 2020 -01 Vacancy Technical Group-IV
IIT Roorkee Walk-in-Interview 2020 -01 Vacancy Project Attendant
CIPET Walk-in-Interview 2020 -01 Vacancy Junior Research Fellow
NIT Meghalaya Walk-in-Interview 2020 -01 Vacancy Junior Research Fellow 
PAU Walk-in-Interview 2020 -01 Vacancy General Assistant
RCB Walk-in-Interview 2020 -01 Vacancy Junior Research Fellow
Latest Government Jobs 2020 Notification on 30.05.2020
IITBHU Walk-in-Interview 2020 -01 Vacancy Junior Research Fellow
IGIMS Walk-in-Interview 2020 -04 Vacancy Professor
Bharathidasan University Walk-in-Interview 2020 -01 Vacancy Project Fellow
UIICL Walk-in-Interview 2020 -10 Vacancy Administrative Officer
CUJ Walk-in-Interview 2020 -01 Vacancy Vice-Chancellor
DRDO Walk-in-Interview 2020 -01 Vacancy Research Associate 
NIFT Walk-in-Interview 2020 -01 Vacancy Chief Operating Officer
CIFT Walk-in-Interview 2020 -02 Vacancy Project Assistant
Air India Limited Walk-in-Interview 2020 -18 Vacancy Transition Commander
PJTSAU Walk-in-Interview 2020 -01 Vacancy Programme Assistant
IIT Roorkee Walk-in-Interview 2020 -01 Vacancy Project Attendant
TISS Walk-in-Interview 2020 -02 Vacancy Assistant Professor
NIN Walk-in-Interview 2020 -01 Vacancy Junior Research Fellow
UNMICRC Walk-in-Interview 2020 -01 Vacancy Physiotherapist Grade-II
IIT Kanpur Walk-in-Interview 2020 -01 Vacancy Research Associate
Latest Government Jobs 2020 Notification on 29.05.2020
IARI Walk-in-Interview 2020 -03 Vacancy Unskilled labour
NBPGR Walk-in-Interview 2020 -02 Vacancy Project Scientist-I 
CCRAS Walk-in-Interview 2020 -01 Vacancy Senior Research Fellow 
CSWRI Walk-in-Interview 2020 -01 Vacancy Medical Officer
CUSAT Walk-in-Interview 2020 -01 Vacancy Director
CIT Kokrajhar Walk-in-Interview 2020 -01 Vacancy Director
Konkan Railway Walk-in-Interview 2020 -01 Vacancy IG cum CSC/RPF 
IISER Pune Walk-in-Interview 2020 -01 Vacancy Medical Officer
AMU Walk-in-Interview 2020 -01 Vacancy Consultant
EPTRI Walk-in-Interview 2020 -01 Vacancy Field Analyst and Supporting Staff – Field Assistant
Bharathidasan University Walk-in-Interview 2020 -01 Vacancy Junior Research Fellow/ Project Assistant
Indian Army Walk-in-Interview 2020 -06 Vacancy Soldier General Duty/ Soldier Technical
Paradip Port Trust Walk-in-Interview 2020 -01 Vacancy Secretary 
RBI Walk-in-Interview 2020 -06 Vacancy Banks Medical Consultant
NIE Walk-in-Interview 2020 -01 Vacancy Scientist B
Latest Government Jobs 2020 Notification on 28.05.2020
Indian Army Walk-in-Interview 2020 -06 Vacancy Soldier General Duty/ Soldier Technical 
Paradip Port Trust Walk-in-Interview 2020 -01 Vacancy Secretary
RBI Walk-in-Interview 2020 -01 Vacancy Banks Medical Consultant
NIE Walk-in-Interview 2020 -01 Vacancy Scientist B
Assam Medical College, Dibrugarh Walk-in-Interview 2020 -01 Vacancy Laboratory Assistant
Anna University Walk-in-Interview 2020 -01 Vacancy Junior Research Fellow
DIAT Walk-in-Interview 2020 -01 Vacancy Junior Research Fellow (JRF) OR Senior Research Fellow 
Central Railway Walk-in-Interview 2020 -13 Vacancy Doctor
NHIDCL Walk-in-Interview 2020 -01 Vacancy Junior Manager
IIT Bombay Walk-in-Interview 2020 -01 Vacancy Part-Time Medical Officer
NII Walk-in-Interview 2020 -01 Vacancy Junior Research Fellow
PESB Walk-in-Interview 2020 -01 Vacancy Chairman & Managing Director
ESIC Walk-in-Interview 2020 -01 Vacancy Yoga Instructor
IIT Ropar Walk-in-Interview 2020 -01 Vacancy Junior Research Fellow
HMT Limited Walk-in-Interview 2020 -01 Vacancy Executive Associate E
Latest Government Jobs 2020 Notification on 27.05.2020
NIRDPR Walk-in-Interview 2020 -01 Vacancy Assistant Director, Pedagogy
IIT Bombay Walk-in-Interview 2020 -01 Vacancy Part-Time Medical Officer
NHIDCL Walk-in-Interview 2020 -01 Vacancy Junior Manager
Central Railway Walk-in-Interview 2020 -13 Vacancy Doctor
DIAT Walk-in-Interview 2020 -01 Vacancy Junior Research Fellow (JRF) OR Senior Research Fellow
BITS Pilani Walk-in-Interview 2020 -01 Vacancy Junior Research Fellow
Ministry of External Affairs Walk-in-Interview 2020 -06 Vacancy Deputy Passport Officer 
NIIST Walk-in-Interview 2020 -04 Vacancy Technician
NIT Meghalaya Walk-in-Interview 2020 -01 Vacancy Junior Research Fellow
HMT Limited Walk-in-Interview 2020 -01 Vacancy Executive Associate E
IIMU Walk-in-Interview 2020 -01 Vacancy Senior Executive
IIT Gandhinagar Walk-in-Interview 2020 -01 Vacancy Project Assistant
IIT Delhi Walk-in-Interview 2020 -01 Vacancy Sr. Project Scientist
LLRUVAS Walk-in-Interview 2020 -01 Vacancy HOD
NSIC Walk-in-Interview 2020 -01 Vacancy E-Tendering Professional
Latest Government Jobs 2020 Notification on 26.05.2020
ICCR Walk-in-Interview 2020 -01 Vacancy Lower Division Clerk
NIT Rourkela Walk-in-Interview 2020 -01 Vacancy Junior Research Fellow 
Anna University Walk-in-Interview 2020 -01 Vacancy Peon Cum Driver
RIMS Walk-in-Interview 2020 -06 Vacancy OT Technician 
DRDO Walk-in-Interview 2020 -03 Vacancy Junior Research Fellow
Eastern Railway Walk-in-Interview 2020 -10 Vacancy Contract Medical Practitioner
NIN Walk-in-Interview 2020 -01 Vacancy Consultant
CIWA Walk-in-Interview 2020 -01 Vacancy Senior Research Fellow
NIO Walk-in-Interview 2020 -01 Vacancy Senior Project Associate
India Post Walk-in-Interview 2020 -05 Vacancy Staff Car Driver
IIFT Walk-in-Interview 2020 -01 Vacancy Senior Administrative Executive
NHAI Walk-in-Interview 2020 -01 Vacancy Chief General Manager
IIT Kanpur Walk-in-Interview 2020 -01 Vacancy Research Associate
IIT Delhi Walk-in-Interview 2020 -01 Vacancy Sr. Project Scientist
UIDAI Walk-in-Interview 2020 -02 Vacancy Deputy Director General
Latest Government Jobs 2020 Notification on 25.05.2020
MAMC Walk-in-Interview 2020 -01 Vacancy Field Investigator
KIIFB Walk-in-Interview 2020 -01 Vacancy Sr. Project Advisor
AIIMS Raipur Walk-in-Interview 2020 -01 Vacancy Senior Research Nurse
NIT Tiruchirappalli Walk-in-Interview 2020 -01 Vacancy Project Assistant
Indian Coast Guard Walk-in-Interview 2020 -01 Vacancy Multi Tasking Staff
MHRD Walk-in-Interview 2020 -01 Vacancy Vice Chairperson
Cochin Port Trust Walk-in-Interview 2020 -01 Vacancy Deputy Chief Mechanical Engineer
UIDAI Walk-in-Interview 2020 -08 Vacancy Assistant Director General
NHSRC Walk-in-Interview 2020 -01 Vacancy Consultant
MAHA METRO Walk-in-Interview 2020 -01 Vacancy Joint Chief Project Manager
GJUST Walk-in-Interview 2020 -01 Vacancy Research Assistant/ Research Associate
Punjabi University Patiala Walk-in-Interview 2020 -12 Vacancy Field Investigators
NITUK Walk-in-Interview 2020 -01 Vacancy Registrar
NIT Meghalaya Walk-in-Interview 2020 -01 Vacancy Junior Research Fellow
Department Of Telecommunications Walk-in-Interview 2020 -02 Vacancy Member
Latest Government Jobs 2020 Notification on 23.05.2020
MAMC Walk-in-Interview 2020 -01 Vacancy Data cum Finance Manager
KIIFB Walk-in-Interview 2020 -01 Vacancy Sr. Project Advisor
AIIMS Raipur Walk-in-Interview 2020 -01 Vacancy Senior Research Nurse
NIT Tiruchirappalli Walk-in-Interview 2020 -01 Vacancy Project Assistant
Indian Coast Guard Walk-in-Interview 2020 -01 Vacancy Civilian Motor Transport Driver
MHRD Walk-in-Interview 2020 -01 Vacancy Director
Cochin Port Trust Walk-in-Interview 2020 -01 Vacancy Deputy Chief Mechanical Engineer
UIDAI Walk-in-Interview 2020 -08 Vacancy Assistant Director General
HEC Ltd Walk-in-Interview 2020 -169 Vacancy Apprenticeship Training
NHSRC Walk-in-Interview 2020 -01 Vacancy Consultant
MoES Walk-in-Interview 2020 -01 Vacancy Scientist G
Indian Army Walk-in-Interview 2020 -06 Vacancy Soldier General Duty/ Soldier Technical
MAHA METRO Walk-in-Interview 2020 -01 Vacancy Joint Chief Project Manager
GJUST Walk-in-Interview 2020 -01 Vacancy Research Assistant/ Research Associate
Punjabi University Patiala Walk-in-Interview 2020 -02 Vacancy Research Associate
Latest Government Jobs 2020 Notification on 22.05.2020
IISER Mohali Walk-in-Interview 2020 -01 Vacancy Research Associate
TISS Walk-in-Interview 2020 -01 Vacancy Assistant Professor
IIM Lucknow Walk-in-Interview 2020 -01 Vacancy Academic Assistant
Northern Railway Walk-in-Interview 2020 -01 Vacancy Refractionist
JIPMER Walk-in-Interview 2020 -01 Vacancy Professor
Pondicherry University Walk-in-Interview 2020 -01 Vacancy Research Fellow
NIMHANS Walk-in-Interview 2020 -01 Vacancy Junior Research Fellow
AIIMS Patna Walk-in-Interview 2020 -08 Vacancy Professor
NIAB Walk-in-Interview 2020 -01 Vacancy Junior Research Fellow 
Visakhapatnam Port Trust Walk-in-Interview 2020 -01 Vacancy Senior Deputy Director
FSSAI Walk-in-Interview 2020 -01 Vacancy Advisor
ANGRAU Walk-in-Interview 2020 -01 Vacancy Research Associate
Presidency University Walk-in-Interview 2020 -01 Vacancy Junior Research Fellow
University of Delhi Walk-in-Interview 2020 -01 Vacancy Research Associate
ILS Walk-in-Interview 2020 -01 Vacancy Scientist – B
Latest Government Jobs 2020 Notification on 21.05.2020
CDSCO Walk-in-Interview 2020 -05 Vacancy Junior Laboratory Assistant 
NHAI Walk-in-Interview 2020 -01 Vacancy Chief General Manager
NARL Walk-in-Interview 2020 -01 Vacancy Post Doctoral Fellow (PDF)/Research Associate
ICRISAT Walk-in-Interview 2020 -01 Vacancy Associate Scientist
NCLT Walk-in-Interview 2020 -01 Vacancy Law Research Associates 
PHD Maharashtra Walk-in-Interview 2020 -01 Vacancy Personal Assistant
NFL Walk-in-Interview 2020 -30 Vacancy Manager
NIAB Walk-in-Interview 2020 -01 Vacancy Project Associate -II
NIN Walk-in-Interview 2020 -01 Vacancy Consultant
IIT Goa Walk-in-Interview 2020 -01 Vacancy Registrar
AIIMS Bhubaneswar Walk-in-Interview 2020 -01 Vacancy Senior Resident
AIIMS Bhopal Walk-in-Interview 2020 -01 Vacancy Senior Administrative Officer
ICCR Walk-in-Interview 2020 -07 Vacancy Assistant
SKUAST K Walk-in-Interview 2020 -01 Vacancy Junior Research Fellow
Pawan Hans Ltd Walk-in-Interview 2020 -02 Vacancy Senior Associate
Latest Government Jobs 2020 Notification on 20.05.2020
DCA Walk-in-Interview 2020 -01 Vacancy Chairperson 
RDD Jharkhand Walk-in-Interview 2020 -02 Vacancy Block Coordinator
ITI Limited Walk-in-Interview 2020 -01 Vacancy Visiting Consultant
IOCL Walk-in-Interview 2020 -01 Vacancy Assistant Officer
UCIL Walk-in-Interview 2020 -04 Vacancy Graduate Operational Trainee
JIPMER Walk-in-Interview 2020 -01 Vacancy Professor
Mumbai Port Trust Walk-in-Interview 2020 -05 Vacancy Deputy Traffic Manager
IIMR Walk-in-Interview 2020 -01 Vacancy Program cum Incubation Manager
CUK Walk-in-Interview 2020 -01 Vacancy Professor
APSC Walk-in-Interview 2020 -01 Vacancy Assistant Engineer
RVNL Walk-in-Interview 2020 -01 Vacancy Chief Project Manager
INST Walk-in-Interview 2020 -01 Vacancy Project Associate-I
GBPIHED Walk-in-Interview 2020 -01 Vacancy Junior Research Fellow/Junior Project Fellow
NIIST Walk-in-Interview 2020 -04 Vacancy Technician
IIT Delhi Walk-in-Interview 2020 -01 Vacancy Research Associate
Latest Government Jobs 2020 Notification on 19.05.2020
IIT Kharagpur Walk-in-Interview 2020 -01 Vacancy Junior Research Fellowship
NIT Rourkela Walk-in-Interview 2020 -01 Vacancy Junior Research Fellow
DIAT Walk-in-Interview 2020 -01 Vacancy Junior Research Fellow (JRF) OR Senior Research Fellow
KMRL Walk-in-Interview 2020 -04 Vacancy Deputy General Manager 
NARI Walk-in-Interview 2020 -01 Vacancy Technical Assistant
ARIES Walk-in-Interview 2020 -01 Vacancy Scientist B
ISI Walk-in-Interview 2020 -01 Vacancy Assistant Professor
INST Walk-in-Interview 2020 -01 Vacancy Junior Research Fellow 
NII Walk-in-Interview 2020 -01 Vacancy Junior Research Fellow
KINFRA Walk-in-Interview 2020 -01 Vacancy Deputy Manager
NRCPB Walk-in-Interview 2020 -01 Vacancy Junior Research Fellow
NCDIR Walk-in-Interview 2020 -01 Vacancy Consultant
IIT Kanpur Walk-in-Interview 2020 -01 Vacancy Post-Doctoral Research Fellow 
NDMA Walk-in-Interview 2020 -01 Vacancy Engineering Specialist
Mizoram University Walk-in-Interview 2020 -01 Vacancy Junior Project Fellow 
IVRI Walk-in-Interview 2020 -01 Vacancy Junior Research Fellow
Railtel Corporation of India Walk-in-Interview 2020 -01 Vacancy ED/General Manager
RGIPT Walk-in-Interview 2020 -03 Vacancy Assistant Registrar 
KELTRON Walk-in-Interview 2020 -04 Vacancy Java Developer 
NLU Delhi Walk-in-Interview 2020 -01 Vacancy Research Associate
Latest Government Jobs 2020 Notification on 18.05.2020
Health & Family Welfare Department WB Walk-in-Interview 2020 -02 Vacancy Data Entry Operator 
NLC Walk-in-Interview 2020 -259 Vacancy Graduate Executive Trainee
University of Calicut Walk-in-Interview 2020 -01 Vacancy Technical Assistant
IIE Walk-in-Interview 2020 -14 Vacancy VDVK Coordinator
Nagaland University Walk-in-Interview 2020 -01 Vacancy Project Assistant
NIHFW Walk-in-Interview 2020 -01 Vacancy Upper Division Clerk
IIT Bombay Walk-in-Interview 2020 -01 Vacancy Part-Time Medical Officer
Air India Limited Walk-in-Interview 2020 -15 Vacancy First Officer/ Senior First Officer
Anna University Walk-in-Interview 2020 -01 Vacancy Peon Cum Driver
IIAP Walk-in-Interview 2020 -01 Vacancy Junior Research Fellow
Latest Government Jobs 2020 Notification on 16.05.2020
Health & Family Welfare Department WB Walk-in-Interview 2020 -02 Vacancy Data Entry Operator 
NLC Walk-in-Interview 2020 -259 Vacancy Graduate Executive Trainee
University of Calicut Walk-in-Interview 2020 -01 Vacancy Technical Assistant
IIE Walk-in-Interview 2020 -14 Vacancy VDVK Coordinator
Nagaland University Walk-in-Interview 2020 -01 Vacancy Project Assistant
NIHFW Walk-in-Interview 2020 -01 Vacancy Upper Division Clerk
IIT Bombay Walk-in-Interview 2020 -01 Vacancy Part-Time Medical Officer
Air India Limited Walk-in-Interview 2020 -18 Vacancy Transition Commander
Anna University Walk-in-Interview 2020 -01 Vacancy Peon Cum Driver
IIAP Walk-in-Interview 2020 -01 Vacancy Junior Research Fellow
IIT Madras Walk-in-Interview 2020 -01 Vacancy Junior Research Fellow
IICA Walk-in-Interview 2020 -01 Vacancy Associate Professor
IIT Kanpur Walk-in-Interview 2020 -01 Vacancy Junior Research Fellow
WDRA Walk-in-Interview 2020 -01 Vacancy Director
CBI Walk-in-Interview 2020 -01 Vacancy Counselor FLCC
Latest Government Jobs 2020 Notification on 15.05.2020
Gauhati University Walk-in-Interview 2020 -07 Vacancy Junior Research Fellow
ACTREC Walk-in-Interview 2020 -01 Vacancy Trial Coordinator
TNPL Walk-in-Interview 2020 -01 Vacancy Executive Director/ Chief General Manager
East Coast Railway Walk-in-Interview 2020 -561 Vacancy Paramedical Staff
HMT Limited Walk-in-Interview 2020 -01 Vacancy Executive Associate E
MOSPI Walk-in-Interview 2020 -02 Vacancy Chief Consultant
IIM, Sirmaur Walk-in-Interview 2020 -01 Vacancy Assistant Professor
IGKV Walk-in-Interview 2020 -01 Vacancy Assistant Professor
NBRC Walk-in-Interview 2020 -01 Vacancy Senior R & D Engineer
IIITU Walk-in-Interview 2020 -01 Vacancy Superintendent
MSCWB Walk-in-Interview 2020 -77 Vacancy Sub Assistant Engineer
THSTI Walk-in-Interview 2020 -01 Vacancy Technical Manager
NIO Walk-in-Interview 2020 -01 Vacancy Junior Research Fellow
Goa University Walk-in-Interview 2020 -01 Vacancy Associate Professor/Assistant Professor
IRMA Walk-in-Interview 2020 -01 Vacancy Research Fellow
Latest Government Jobs 2020 Notification on 14.05.2020
KSCSTE Walk-in-Interview 2020 -01 Vacancy Executive Director
RECTPCL Walk-in-Interview 2020 -08 Vacancy Assistant Engineer
NHM Punjab Walk-in-Interview 2020 -01 Vacancy Hospital Administrator
IISER Pune Walk-in-Interview 2020 -01 Vacancy Research Associate 
HPCL Walk-in-Interview 2020 -66 Vacancy Engineer 
GBPUAT Walk-in-Interview 2020 -01 Vacancy Senior Research Fellow
CDFD Walk-in-Interview 2020 -01 Vacancy Fellowships
Mizoram University Walk-in-Interview 2020 -01 Vacancy Field Investigator 
RAC Walk-in-Interview 2020 -167 Vacancy Scientist B
NITUK Walk-in-Interview 2020 -01 Vacancy Registrar
RGCB Walk-in-Interview 2020 -01 Vacancy Manager
NITI Aayog Walk-in-Interview 2020 -01 Vacancy Senior Adviser/ Adviser
RGSSH Walk-in-Interview 2020 -14 Vacancy Assistant Professor
IIT Guwahati Walk-in-Interview 2020 -01 Vacancy Post-Doctoral
ZSI Walk-in-Interview 2020 -01 Vacancy Project Fellow
Latest Government Jobs 2020 Notification on 13.05.2020
Punjabi University Patiala Walk-in-Interview 2020 -01 Vacancy Research Fellow
DRDO Walk-in-Interview 2020 -03 Vacancy Junior Research Fellow 
Ministry Of External Affairs Walk-in-Interview 2020 -03 Vacancy Consultant
NHAI Walk-in-Interview 2020 -01 Vacancy Manager 
FSSAI Walk-in-Interview 2020 -01 Vacancy Advisor 
HSL Walk-in-Interview 2020 -01 Vacancy Designer Gr
Northern Railway Walk-in-Interview 2020 -01 Vacancy Refractionist
MEGA Walk-in-Interview 2020 -01 Vacancy Joint General Manager/Sr. Deputy General Manager
EdCIL (India) Limited Walk-in-Interview 2020 -01 Vacancy Executive Director
IIIT Delhi Walk-in-Interview 2020 -01 Vacancy Junior Manager
HMT Limited Walk-in-Interview 2020 -01 Vacancy Executive Consultant A
RITES Limited Walk-in-Interview 2020 -04 Vacancy General Manager
Railtel Corporation of India Walk-in-Interview 2020 -01 Vacancy Additional General Manager/JGM/DGM
Latest Government Jobs 2020 Notification on 12.05.2020
NIFT Walk-in-Interview 2020 -01 Vacancy Chief Operating Officer
CWRDM Walk-in-Interview 2020 -01 Vacancy Registrar
IIT Jodhpur Walk-in-Interview 2020 -01 Vacancy Post-Doctoral Fellowships
MANUU Walk-in-Interview 2020 -01 Vacancy Professor
RGIPT Walk-in-Interview 2020 -01 Vacancy Lecturer
Balmer Lawrie Walk-in-Interview 2020 -01 Vacancy Vice President
RRI Walk-in-Interview 2020 -01 Vacancy Director 
NIMR Walk-in-Interview 2020 -03 Vacancy Scientist – 'C'
NARL Walk-in-Interview 2020 -01 Vacancy Post Doctoral Fellow (PDF)/Research Associate (RA)
TNPCB Walk-in-Interview 2020 -78 Vacancy Assistant Engineer
SAMEER Walk-in-Interview 2020 -28 Vacancy SCIENTIST-B
IWST Walk-in-Interview 2020 -03 Vacancy Forest Guard
IIIT Kalyani Walk-in-Interview 2020 -01 Vacancy Deputy Registrar
IIT Palakkad Walk-in-Interview 2020 -01 Vacancy Assistant Registrar
BITS Pilani Walk-in-Interview 2020 -01 Vacancy Research Assistant
Latest Government Jobs 2020 Notification on 11.05.2020
CAU Walk-in-Interview 2020 -02 Vacancy Dean
Presidency University Walk-in-Interview 2020 -01 Vacancy Junior Research Fellow 
TMC Walk-in-Interview 2020 -01 Vacancy Research Assistant 
Cooch Behar District West Bengal Walk-in-Interview 2020 -04 Vacancy Accountant
CBI Walk-in-Interview 2020 -02 Vacancy Deputy Advisor
NIT Rourkela Walk-in-Interview 2020 -01 Vacancy Junior Research Fellow
IISER Thiruvananthapuram Walk-in-Interview 2020 -01 Vacancy Junior Research Fellow
IIT Roorkee Walk-in-Interview 2020 -01 Vacancy Project Attendant
CIPET Walk-in-Interview 2020 -01 Vacancy Sr. Project Associate
MNNIT Walk-in-Interview 2020 -01 Vacancy Junior Research Fellow
MHA Walk-in-Interview 2020 -01 Vacancy Deputy Director
AIIMS Bhubaneswar Walk-in-Interview 2020 -01 Vacancy Senior Resident
University of Calicut Walk-in-Interview 2020 -01 Vacancy Technical Assistant
NCDIR Walk-in-Interview 2020 -01 Vacancy Consultant
NII Walk-in-Interview 2020 -01 Vacancy Emeritus Scientist
Latest Government Jobs 2020 Notification on 09.05.2020
TISS Walk-in-Interview 2020 -03 Vacancy Assistant Professor
NIN Walk-in-Interview 2020 -01 Vacancy Research Associate
AIIMS Rishikesh Walk-in-Interview 2020 -01 Vacancy Junior Research Fellow 
Nalanda University Walk-in-Interview 2020 -01 Vacancy Registrar
IRMA Walk-in-Interview 2020 -01 Vacancy Senior Research Fellow 
BHU Walk-in-Interview 2020 -01 Vacancy Postdoctoral Fellowship
NCAOR Walk-in-Interview 2020 -01 Vacancy Consultant
NIT Rourkela Walk-in-Interview 2020 -01 Vacancy Junior Research Fellow
Income Tax Department Walk-in-Interview 2020 -01 Vacancy Joint commissioner
Goa PSC Walk-in-Interview 2020 -02 Vacancy Assistant Professor in Neurology
DMRC Walk-in-Interview 2020 -01 Vacancy General Manager
WDRA Walk-in-Interview 2020 -01 Vacancy Director
KIIFB Walk-in-Interview 2020 -01 Vacancy Sr. Project Advisor
NCBS Walk-in-Interview 2020 -02 Vacancy Library Trainees
BCCL Walk-in-Interview 2020 -01 Vacancy Director
Latest Government Jobs 2020 Notification on 08.05.2020
IIT Indore Walk-in-Interview 2020 -01 Vacancy Research Associate
IISER Thiruvananthapuram Walk-in-Interview 2020 -01 Vacancy Research Associate
ICRISAT Walk-in-Interview 2020 -01 Vacancy Scientific Officer
AAU Walk-in-Interview 2020 -01 Vacancy Senior Project Associate
IIT Roorkee Walk-in-Interview 2020 -01 Vacancy Project Associate
DDA Walk-in-Interview 2020 -03 Vacancy Director
AAI Walk-in-Interview 2020 -01 Vacancy Quality Manager
Indian Army Walk-in-Interview 2020 -01 Vacancy Soldier General Duty/Soldier Tradesmen/Soldier Clerk /SKT
IIT Kharagpur Walk-in-Interview 2020 -01 Vacancy Junior Research Fellowship
NIT Tiruchirappalli Walk-in-Interview 2020 -01 Vacancy Project Assistant
IIT Bombay Walk-in-Interview 2020 -01 Vacancy Part-Time Medical Officer
Air India Limited Walk-in-Interview 2020 -18 Vacancy Transition Commander
IOCL Walk-in-Interview 2020 -01 Vacancy Assistant Officer
PESB Walk-in-Interview 2020 -01 Vacancy Chairman and Managing Director
IGKV Walk-in-Interview 2020 -26 Vacancy Subject Matter Specialist
Latest Government Jobs 2020 Notification on 07.05.2020
EPTRI Walk-in-Interview 2020 -01 Vacancy Project Faculty
NHM Odisha Walk-in-Interview 2020 -01 Vacancy Consultant Training / Technical, IDSP 
ESIC Walk-in-Interview 2020 -06 Vacancy Full Time / Part-time Super Specialist 
NIUA Walk-in-Interview 2020 -01 Vacancy Lead
SSPHPGTI Walk-in-Interview 2020 -01 Vacancy Senior Resident 
SPMCIL Walk-in-Interview 2020 -01 Vacancy Consultant
Presidency University Walk-in-Interview 2020 -01 Vacancy Junior Research Fellow
THSTI Walk-in-Interview 2020 -01 Vacancy Junior Research Fellow/Project Associate-I 
NIEPMD Walk-in-Interview 2020 -01 Vacancy Asst. Professor 
NIRT Walk-in-Interview 2020 -01 Vacancy Biotechnologist-NRL
IIT Madras Walk-in-Interview 2020 -01 Vacancy Research Assistant 
ZSI Walk-in-Interview 2020 -05 Vacancy Project Fellow
RGIPT Walk-in-Interview 2020 -01 Vacancy Lecturer
HSL Walk-in-Interview 2020 -13 Vacancy Designer Gr
CAU Walk-in-Interview 2020 -02 Vacancy Dean
Latest Government Jobs 2020 Notification on 06.05.2020
RGIPT Walk-in-Interview 2020 -01 Vacancy Lecturer
HSL Walk-in-Interview 2020 -23 Vacancy Jr. Supervisor
CAU Walk-in-Interview 2020 -02 Vacancy Dean
NIMR Walk-in-Interview 2020 -01 Vacancy Project Officer
IIT Bhubaneswar Walk-in-Interview 2020 -01 Vacancy Senior Research Fellow
NIAB Walk-in-Interview 2020 -01 Vacancy Project Associate-II
Balmer Lawrie Walk-in-Interview 2020 -01 Vacancy Vice President
MANUU Walk-in-Interview 2020 -01 Vacancy Associate Professor
IIT Gandhinagar Walk-in-Interview 2020 -01 Vacancy Post Doctoral Fellow
Latest Government Jobs 2020 Notification on 05.05.2020
RGIPT Walk-in-Interview 2020 -01 Vacancy Lecturer
HSL Walk-in-Interview 2020 -01 Vacancy Designer Gr
CAU Walk-in-Interview 2020 -02 Vacancy Dean
NIMR Walk-in-Interview 2020 -01 Vacancy Project Officer 
CFTRI Walk-in-Interview 2020 -01 Vacancy Project Associate-I
IISER Tirupati Walk-in-Interview 2020 -01 Vacancy Project Associate – 1 
IISER Pune Walk-in-Interview 2020 -01 Vacancy Assistant Professor
IIT Guwahati Walk-in-Interview 2020 -01 Vacancy Research Associate 
NIBMG Walk-in-Interview 2020 -01 Vacancy Field Data Collector
IIT Bhubaneswar Walk-in-Interview 2020 -01 Vacancy Junior Research Fellow
NIAB Walk-in-Interview 2020 -01 Vacancy Project Associate-II
Balmer Lawrie Walk-in-Interview 2020 -01 Vacancy Vice President
MANUU Walk-in-Interview 2020 -01 Vacancy Professor
IIT Gandhinagar Walk-in-Interview 2020 -01 Vacancy Post Doctoral Fellow
AAI Walk-in-Interview 2020 -02 Vacancy Operation Manager
Latest Government Jobs 2020 Notification on 04.05.2020
NIMR Walk-in-Interview 2020 -01 Vacancy Scientist-D
IIITM Kerala Walk-in-Interview 2020 -01 Vacancy Manager Programme Implementation
CFTRI Walk-in-Interview 2020 -01 Vacancy Senior Project Associate
IISER Tirupati Walk-in-Interview 2020 -01 Vacancy Junior Research Fellow
IISER Pune Walk-in-Interview 2020 -01 Vacancy Assistant Professor
IIT Guwahati Walk-in-Interview 2020 -01 Vacancy Assistant Project Engineer
NIBMG Walk-in-Interview 2020 -01 Vacancy Data Analyst 
IISER Thiruvananthapuram Walk-in-Interview 2020 -01 Vacancy Research Associate
IIT Bhubaneswar Walk-in-Interview 2020 -01 Vacancy Junior Research Fellow
NIAB Walk-in-Interview 2020 -01 Vacancy Project Associate-I
Balmer Lawrie Walk-in-Interview 2020 -01 Vacancy Vice President
MANUU Walk-in-Interview 2020 -01 Vacancy Professor
IIT Gandhinagar Walk-in-Interview 2020 -01 Vacancy Post Doctoral Fellow
AAI Walk-in-Interview 2020 -01 Vacancy Quality Manager
ESIC Walk-in-Interview 2020 -01 Vacancy Senior Resident
Latest Government Jobs 2020 Notification on 02.05.2020
NIBMG Walk-in-Interview 2020 -02 Vacancy Project Assistant 
IISER Thiruvananthapuram Walk-in-Interview 2020 -01 Vacancy Research Associate
ITI Limited Walk-in-Interview 2020 -01 Vacancy General Manager-HR
IIT Bhubaneswar Walk-in-Interview 2020 -01 Vacancy Junior Research Fellow
NIAB Walk-in-Interview 2020 -01 Vacancy Project Associate-I
Balmer Lawrie Walk-in-Interview 2020 -01 Vacancy Vice President
BEML Walk-in-Interview 2020 -01 Vacancy Director
MANUU Walk-in-Interview 2020 -01 Vacancy Head of the Department
IIT Gandhinagar Walk-in-Interview 2020 -01 Vacancy Junior Research Fellow
AAI Walk-in-Interview 2020 -02 Vacancy Operation Manager
ESIC Walk-in-Interview 2020 -01 Vacancy Senior Resident
TNPCB Walk-in-Interview 2020 -56 Vacancy Typist
IIT Jodhpur Walk-in-Interview 2020 -01 Vacancy Post-Doctoral Fellowships
AIIMS Rishikesh Walk-in-Interview 2020 -01 Vacancy Junior Research Fellow
NIFT Walk-in-Interview 2020 -01 Vacancy Chief Operating Officer
Latest Government Jobs 2020 Notification on 01.05.2020
NIBMG Walk-in-Interview 2020 -01 Vacancy Project Manager 
IISER Thiruvananthapuram Walk-in-Interview 2020 -01 Vacancy Research Associate
IIT Bhubaneswar Walk-in-Interview 2020 -01 Vacancy Senior Research Fellow 
ITI Limited Walk-in-Interview 2020 -01 Vacancy General Manager Finance
NIAB Walk-in-Interview 2020 -01 Vacancy Project Associate-II 
Balmer Lawrie Walk-in-Interview 2020 -01 Vacancy Vice President
BEML Walk-in-Interview 2020 -01 Vacancy Director
MANUU Walk-in-Interview 2020 -01 Vacancy Associate Professor
IIT Gandhinagar Walk-in-Interview 2020 -01 Vacancy Junior Research Fellow
AAI Walk-in-Interview 2020 -02 Vacancy Operation Manager
ESIC Walk-in-Interview 2020 -01 Vacancy Senior Resident
TNPCB Walk-in-Interview 2020 -70 Vacancy Environmental Scientist
IIT Jodhpur Walk-in-Interview 2020 -02 Vacancy Data Analyst
AIIMS Rishikesh Walk-in-Interview 2020 -01 Vacancy Junior Research Fellow
NIFT Walk-in-Interview 2020 -01 Vacancy Chief Operating Officer
Latest Government Jobs 2020 Notification on 30.04.2020
MANUU Walk-in-Interview 2020 -01 Vacancy Professor
IIT Gandhinagar Walk-in-Interview 2020 -01 Vacancy Post Doctoral Fellow
AAI Walk-in-Interview 2020 -01 Vacancy Quality Manager
ESIC Walk-in-Interview 2020 -01 Vacancy Senior Resident 
TNPCB Walk-in-Interview 2020 -78 Vacancy Assistant Engineer
IIT Jodhpur Walk-in-Interview 2020 -01 Vacancy Post-Doctoral Fellowships
AIIMS Rishikesh Walk-in-Interview 2020 -01 Vacancy Junior Research Fellow
NIFT Walk-in-Interview 2020 -01 Vacancy Chief Operating Officer
CPCB Walk-in-Interview 2020 -05 Vacancy Consultant
IISER Pune Walk-in-Interview 2020 -01 Vacancy Research Associate
BHU Walk-in-Interview 2020 -05 Vacancy Staff Nurses
IIT Indore Walk-in-Interview 2020 -01 Vacancy Research Associate
CAU Walk-in-Interview 2020 -02 Vacancy Dean
EdCIL Walk-in-Interview 2020 -01 Vacancy Executive Director
NIC Guntur Walk-in-Interview 2020 -288 Vacancy Scientist-B
Latest Government Jobs 2020 Notification on 29.04.2020
IIT Jodhpur Walk-in-Interview 2020 -01 Vacancy Post-Doctoral Fellowships 
AIIMS Rishikesh Walk-in-Interview 2020 -01 Vacancy Junior Research Fellow
NIFT Walk-in-Interview 2020 -01 Vacancy Chief Operating Officer
CPCB Walk-in-Interview 2020 -05 Vacancy Consultant
IISER Pune Walk-in-Interview 2020 -01 Vacancy Research Associate
BHU Walk-in-Interview 2020 -05 Vacancy Staff Nurses
IIT Indore Walk-in-Interview 2020 -01 Vacancy Research Associate
CAU Walk-in-Interview 2020 -02 Vacancy Dean
EdCIL Walk-in-Interview 2020 -01 Vacancy Executive Director
NIC Guntur Walk-in-Interview 2020 -207 Vacancy Scientific/Technical Assistant
NHM Punjab Walk-in-Interview 2020 -56 Vacancy Assistant Hospital Administrator
IIT Gandhinagar Walk-in-Interview 2020 -01 Vacancy Junior Research Fellow
Nalanda University Walk-in-Interview 2020 -01 Vacancy Registrar
AIIMS Bhopal Walk-in-Interview 2020 -01 Vacancy Junior Research Fellow
NBRC Walk-in-Interview 2020 -01 Vacancy Personal Secretary
Latest Government Jobs 2020 Notification on 28.04.2020
BHU Walk-in-Interview 2020 -05 Vacancy Staff Nurses
IIT Indore Walk-in-Interview 2020 -01 Vacancy Research Associate
CAU Walk-in-Interview 2020 -02 Vacancy Dean
EdCIL Walk-in-Interview 2020 -01 Vacancy Executive Director
NIC Guntur Walk-in-Interview 2020 -288 Vacancy Scientist-B
NHM Punjab Walk-in-Interview 2020 -56 Vacancy Assistant Hospital Administrator 
IIT Gandhinagar Walk-in-Interview 2020 -01 Vacancy Postdoctoral Fellow
Nalanda University Walk-in-Interview 2020 -01 Vacancy Registrar
AIIMS Bhopal Walk-in-Interview 2020 -01 Vacancy Junior Research Fellow
INST Walk-in-Interview 2020 -01 Vacancy Junior Research Fellow
NBRC Walk-in-Interview 2020 -01 Vacancy Senior Engineer
MNIT Walk-in-Interview 2020 -01 Vacancy Junior Research Fellow
AIIMS Bhubaneswar Walk-in-Interview 2020 -01 Vacancy Project Assistant/ JRF
CIPET Walk-in-Interview 2020 -01 Vacancy Assistant Professor Grade I
NIBMG Walk-in-Interview 2020 -01 Vacancy Postdoctoral Fellow
Latest Government Jobs 2020 Notification on 27.04.2020
NHM Punjab Walk-in-Interview 2020 -01 Vacancy Hospital Administrator
IIT Gandhinagar Walk-in-Interview 2020 -01 Vacancy Junior Research Fellow (JRF)
Nalanda University Walk-in-Interview 2020 -01 Vacancy Registrar
AIIMS Bhopal Walk-in-Interview 2020 -01 Vacancy Junior Research Fellow
IIITM Kerala Walk-in-Interview 2020 -01 Vacancy Technical Assistant
INST Walk-in-Interview 2020 -01 Vacancy Junior Research Fellow (JRF)
NBRC Walk-in-Interview 2020 -01 Vacancy Administrative Officer
MNIT Walk-in-Interview 2020 -01 Vacancy Junior Research Fellow
AIIMS Bhubaneswar Walk-in-Interview 2020 -84 Vacancy Senior Resident
CIPET Walk-in-Interview 2020 -01 Vacancy Assistant Professor Grade III
Latest Government Jobs 2020 Notification on 25.04.2020
AIIMS Bhopal Walk-in-Interview 2020 -02 Vacancy Laboratory Technician
IIITM Kerala Walk-in-Interview 2020 -01 Vacancy Manager Programme Implementation
INST Walk-in-Interview 2020 -01 Vacancy Junior Research Fellow
NBRC Walk-in-Interview 2020 -01 Vacancy Senior Engineer
AIIMS Bhubaneswar Walk-in-Interview 2020 -01 Vacancy Project Assistant/ JRF
MNIT Walk-in-Interview 2020 -01 Vacancy Project Senior Research Fellow
CIPET Walk-in-Interview 2020 -01 Vacancy Assistant Professor Grade I
NIBMG Walk-in-Interview 2020 -01 Vacancy Postdoctoral Fellow
PRSC Walk-in-Interview 2020 -01 Vacancy Junior Research Fellow
IITM Walk-in-Interview 2020 -10 Vacancy Research Associate
IISER Tirupati Walk-in-Interview 2020 -01 Vacancy Library Information Assistant
NIN Walk-in-Interview 2020 -01 Vacancy Research Associate
APTEL Walk-in-Interview 2020 -01 Vacancy Technical Member
NIMHANS Walk-in-Interview 2020 -01 Vacancy Junior Research Fellow
Nalanda University Walk-in-Interview 2020 -01 Vacancy Registrar
Latest Government Jobs 2020 Notification on 24.04.2020
NBRC Walk-in-Interview 2020 -01 Vacancy Senior Engineer
MNIT Walk-in-Interview 2020 -01 Vacancy Junior Research Fellow
AIIMS Bhubaneswar Walk-in-Interview 2020 -84 Vacancy Senior Resident
IIM, Sirmaur Walk-in-Interview 2020 -01 Vacancy Assistant Professor
CIPET Walk-in-Interview 2020 -01 Vacancy Assistant Professor Grade III
NIBMG Walk-in-Interview 2020 -01 Vacancy Postdoctoral Fellow
PRSC Walk-in-Interview 2020 -01 Vacancy Junior Research Fellow
IITM Walk-in-Interview 2020 -20 Vacancy Research Fellow
IISER Tirupati Walk-in-Interview 2020 -01 Vacancy Physical Education Instructor
NIN Walk-in-Interview 2020 -01 Vacancy Research Associate
NIMHANS Walk-in-Interview 2020 -01 Vacancy Junior Research Fellow
APTEL Walk-in-Interview 2020 -01 Vacancy Principal Private Secretary
Bharathidasan University Walk-in-Interview 2020 -01 Vacancy Technical Assistant
IIT Bhubaneswar Walk-in-Interview 2020 -01 Vacancy Senior Research Fellow
KIIFB Walk-in-Interview 2020 -01 Vacancy Sr. Project Advisor
Latest Government Jobs 2020 Notification on 23.04.2020
NIN Walk-in-Interview 2020 -01 Vacancy Research Associate
NIN Walk-in-Interview 2020 -01 Vacancy Research Associate
IITM Walk-in-Interview 2020 -10 Vacancy Research Associate
IISER Tirupati Walk-in-Interview 2020 -02 Vacancy Deputy Registrar
NIMHANS Walk-in-Interview 2020 -01 Vacancy Junior Research Fellow 
APTEL Walk-in-Interview 2020 -01 Vacancy Technical Member
Bharathidasan University Walk-in-Interview 2020 -01 Vacancy Technical Assistant
IIT Bhubaneswar Walk-in-Interview 2020 -01 Vacancy Senior Research Fellow
TISS Walk-in-Interview 2020 -01 Vacancy Project Co-ordinator
IIT Ropar Walk-in-Interview 2020 -02 Vacancy Junior Research Fellow
NCL Walk-in-Interview 2020 -07 Vacancy General Medical Consultant
AIIMS Delhi Walk-in-Interview 2020 -02 Vacancy Research Assistant
BPPI Walk-in-Interview 2020 -01 Vacancy Executive
IIT Goa Walk-in-Interview 2020 -01 Vacancy Senior Research Fellow
IIMR Walk-in-Interview 2020 -01 Vacancy Program cum Incubation Manager
NIUA Walk-in-Interview 2020 -01 Vacancy Junior Program Associate
NIT Nagaland Walk-in-Interview 2020 -01 Vacancy Registrar
IIT Jodhpur Walk-in-Interview 2020 -01 Vacancy Post-Doctoral Fellowships
SHKM Walk-in-Interview 2020 -15 Vacancy Specialist Doctors
Latest Government Jobs 2020 Notification on 20.04.2020
IIT Goa Walk-in-Interview 2020 -01 Vacancy Senior Research Fellow 
IIMR Walk-in-Interview 2020 -01 Vacancy Program cum Incubation Manager
NIUA Walk-in-Interview 2020 -01 Vacancy Junior Program Associate 
NIT Nagaland Walk-in-Interview 2020 -01 Vacancy Registrar
IIT Jodhpur Walk-in-Interview 2020 -01 Vacancy Post-Doctoral Fellowships
SHKM College Walk-in-Interview 2020 -15 Vacancy Specialist Doctors
NARL Walk-in-Interview 2020 -01 Vacancy Post Doctoral Fellow (PDF)/Research Associate (RA)
NHM Haryana Walk-in-Interview 2020 -01 Vacancy Epidemiologist
IIT Delhi Walk-in-Interview 2020 -01 Vacancy Project Associate
NIT Tiruchirappalli Walk-in-Interview 2020 -01 Vacancy Project Assistant
IIIT Delhi Walk-in-Interview 2020 -01 Vacancy Full-Time Ph.D Student
SPRERI Walk-in-Interview 2020 -01 Vacancy Project Assistant
ONGC Walk-in-Interview 2020 -01 Vacancy Technical Manager
IWST Walk-in-Interview 2020 -03 Vacancy Forest Guard
IIT Palakkad Walk-in-Interview 2020 -02 Vacancy Junior Technical Superintendent
Latest Government Jobs 2020 Notification on 18.04.2020
SHKM College Walk-in-Interview 2020 -15 Vacancy Specialist Doctors 
NARL Walk-in-Interview 2020 -01 Vacancy Post Doctoral Fellow (PDF)/Research Associate (RA)
IIIT Delhi Walk-in-Interview 2020 -01 Vacancy Junior Manager
NHM Haryana Walk-in-Interview 2020 -01 Vacancy Epidemiologist
IIT Delhi Walk-in-Interview 2020 -01 Vacancy Project Associate
NIT Tiruchirappalli Walk-in-Interview 2020 -01 Vacancy Project Assistant
SPRERI Walk-in-Interview 2020 -01 Vacancy Senior Research Fellow
ONGC Walk-in-Interview 2020 -01 Vacancy Technical Manager
ICFRE Walk-in-Interview 2020 -06 Vacancy Technical Assistant
IWST Walk-in-Interview 2020 -03 Vacancy Forest Guard
Latest Government Jobs 2020 Notification on 17.04.2020
Mizoram PSC Walk-in-Interview 2020 -01 Vacancy Assistant Public Prosecutor
BEL Walk-in-Interview 2020 -02 Vacancy Homoeopathy & Ayurvedic Doctors
IIT Palakkad Walk-in-Interview 2020 -02 Vacancy Junior Technical Superintendent
University of Mumbai Walk-in-Interview 2020 -02 Vacancy Assistant Professor
RGCB Walk-in-Interview 2020 -01 Vacancy Research Officer
Paradip Port Trust Walk-in-Interview 2020 -05 Vacancy EDP Assistant
BITS Pilani Walk-in-Interview 2020 -02 Vacancy Junior Research Fellow
ICCR Walk-in-Interview 2020 -08 Vacancy Programme Officer
IIT Gandhinagar Walk-in-Interview 2020 -02 Vacancy Assistant Project Engineer
MNIT Walk-in-Interview 2020 -01 Vacancy Project Senior Research Fellow
Latest Government Jobs 2020 Notification on 16.04.2020
Mizoram PSC Walk-in-Interview 2020 -01 Vacancy Assistant Public Prosecutor 
BEL Walk-in-Interview 2020 -02 Vacancy Homoeopathy & Ayurvedic Doctors 
IIT Palakkad Walk-in-Interview 2020 -01 Vacancy Assistant Registrar
KHPT Walk-in-Interview 2020 -01 Vacancy Project Director
University of Mumbai Walk-in-Interview 2020 -02 Vacancy Assistant Professor
RGCB Walk-in-Interview 2020 -01 Vacancy Research Officer
Paradip Port Trust Walk-in-Interview 2020 -05 Vacancy EDP Assistant
BITS Pilani Walk-in-Interview 2020 -01 Vacancy Research Associate
NDMC Walk-in-Interview 2020 -19 Vacancy Senior Resident
SNU Walk-in-Interview 2020 -01 Vacancy Yoga Instructor
NIT Karnataka Walk-in-Interview 2020 -01 Vacancy Junior Research Fellow
ICCR Walk-in-Interview 2020 -02 Vacancy Sr. Stenographer
IIT Gandhinagar Walk-in-Interview 2020 -01 Vacancy Project Accountant
MNIT Walk-in-Interview 2020 -01 Vacancy Project Senior Research Fellow
HEC Ltd Walk-in-Interview 2020 -02 Vacancy General Duty Medical Officer
Latest Government Jobs 2020 Notification on 15.04.2020
University of Mumbai Walk-in-Interview 2020 -02 Vacancy Assistant Professor
RGCB Walk-in-Interview 2020 -01 Vacancy Assistant Professor
BITS Pilani Walk-in-Interview 2020 -02 Vacancy Junior Research Fellow
SNU Walk-in-Interview 2020 -01 Vacancy Yoga Instructor
NDMC Walk-in-Interview 2020 -01 Vacancy Senior Resident
NIT Karnataka Walk-in-Interview 2020 -01 Vacancy Junior Research Fellow
District Health & Family Welfare Society, Fatehabad Walk-in-Interview 2020 -01 Vacancy Biologist
ICCR Walk-in-Interview 2020 -01 Vacancy Assistant Programme Officer
IIT Gandhinagar Walk-in-Interview 2020 -01 Vacancy Project Accountant
HEC Ltd Walk-in-Interview 2020 -02 Vacancy General Duty Medical Officer
IIP Walk-in-Interview 2020 -04 Vacancy Project Associate-I
IIT Kharagpur Walk-in-Interview 2020 -01 Vacancy Junior Research Fellowship
AIIMS Bhubaneswar Walk-in-Interview 2020 -84 Vacancy Senior Resident
MNIT Walk-in-Interview 2020 -01 Vacancy Project Senior Research Fellow
Latest Government Jobs 2020 Notification on 14.04.2020
NDMC Walk-in-Interview 2020 -19 Vacancy Senior Resident
SNU Walk-in-Interview 2020 -01 Vacancy Yoga Instructor
NIT Karnataka Walk-in-Interview 2020 -01 Vacancy Junior Research Fellow
District Health & Family Welfare Society, Fatehabad Walk-in-Interview 2020 -01 Vacancy Public Health Manager
ICCR Walk-in-Interview 2020 -08 Vacancy Programme Officer
IIT Gandhinagar Walk-in-Interview 2020 -01 Vacancy Assistant Project Engineer
MNIT Walk-in-Interview 2020 -01 Vacancy Project Senior Research Fellow
IIT Bombay Walk-in-Interview 2020 -01 Vacancy Part Time Medical Officer
HEC Ltd Walk-in-Interview 2020 -02 Vacancy General Duty Medical Officer
FACT Walk-in-Interview 2020 -01 Vacancy Cook
IIP Walk-in-Interview 2020 -04 Vacancy Project Associate-I
NHM Assam Walk-in-Interview 2020 -04 Vacancy District Data Manager
BHEL Walk-in-Interview 2020 -06 Vacancy Part-Time Medical Consultant
IIT Kharagpur Walk-in-Interview 2020 -01 Vacancy Junior Research Fellowship
AIIMS Bhubaneswar Walk-in-Interview 2020 -01 Vacancy Project Assistant/ JRF
Latest Government Jobs 2020 Notification on 13.04.2020
IIT Bombay Walk-in-Interview 2020 -01 Vacancy Part Time Medical Officer 
HEC Ltd Walk-in-Interview 2020 -02 Vacancy General Duty Medical Officer
FACT Walk-in-Interview 2020 -01 Vacancy Cook
IIP Walk-in-Interview 2020 -01 Vacancy Senior Project Associate
NHM Assam Walk-in-Interview 2020 -05 Vacancy Epidemiologist
BHEL Walk-in-Interview 2020 -06 Vacancy Part-Time Medical Consultant
IIT Kharagpur Walk-in-Interview 2020 -01 Vacancy Junior Research Fellowship
AIIMS Bhubaneswar Walk-in-Interview 2020 -01 Vacancy Project Assistant/ JRF
IIT Gandhinagar Walk-in-Interview 2020 -01 Vacancy Project Accountant
ICGEB Walk-in-Interview 2020 -01 Vacancy Senior Research Fellow
Latest Government Jobs 2020 Notification on 11.04.2020
IIP Walk-in-Interview 2020 -02 Vacancy Senior Project Associate
NHM Assam Walk-in-Interview 2020 -05 Vacancy Epidemiologist
BHEL Walk-in-Interview 2020 -06 Vacancy Part-Time Medical Consultant
IIT Kharagpur Walk-in-Interview 2020 -01 Vacancy Junior Research Fellowship
AIIMS Bhubaneswar Walk-in-Interview 2020 -01 Vacancy Project Assistant/ JRF 
IIT Gandhinagar Walk-in-Interview 2020 -01 Vacancy Postdoctoral Fellowship
ICGEB Walk-in-Interview 2020 -01 Vacancy Senior Research Fellow
IIT Bhubaneswar Walk-in-Interview 2020 -01 Vacancy Post Doctoral Research Associate
IISER Thiruvananthapuram Walk-in-Interview 2020 -01 Vacancy Junior Research Fellow
NIT Delhi Walk-in-Interview 2020 -01 Vacancy Research Associate
IIIT Delhi Walk-in-Interview 2020 -02 Vacancy Research Associate
RRI Walk-in-Interview 2020 -01 Vacancy Director
PESB Walk-in-Interview 2020 -01 Vacancy Director (Finance)
Alagappa University Walk-in-Interview 2020 -01 Vacancy Junior Research Fellow
IOCL Walk-in-Interview 2020 -01 Vacancy Assistant Officer
Latest Government Jobs 2020 Notification on 10.04.2020
AIIMS Bhubaneswar Walk-in-Interview 2020 -84 Vacancy Senior Resident
IIT Gandhinagar Walk-in-Interview 2020 -01 Vacancy Project Accountant
ICGEB Walk-in-Interview 2020 -01 Vacancy Senior Research Fellow 
IIT Bhubaneswar Walk-in-Interview 2020 -01 Vacancy Post Doctoral Research Associate
IISER Thiruvananthapuram Walk-in-Interview 2020 -01 Vacancy Junior Research Fellow
NIT Delhi Walk-in-Interview 2020 -01 Vacancy Research Associate
IIIT Delhi Walk-in-Interview 2020 -02 Vacancy Research Associate
RRI Walk-in-Interview 2020 -01 Vacancy Director
PESB Walk-in-Interview 2020 -01 Vacancy Member
Alagappa University Walk-in-Interview 2020 -01 Vacancy Junior Research Fellow
Latest Government Jobs 2020 Notification on 09.04.2020
IIT Bhubaneswar Walk-in-Interview 2020 -01 Vacancy Post Doctoral Research Associate
IISER Thiruvananthapuram Walk-in-Interview 2020 -01 Vacancy Junior Research Fellow
NIT Delhi Walk-in-Interview 2020 -01 Vacancy Research Associate
IIIT Delhi Walk-in-Interview 2020 -01 Vacancy Full-Time Ph.D Student
RRI Walk-in-Interview 2020 -01 Vacancy Director
PESB Walk-in-Interview 2020 -01 Vacancy Member (ANS)
Alagappa University Walk-in-Interview 2020 -01 Vacancy Junior Research Fellow
IOCL Walk-in-Interview 2020 -01 Vacancy Assistant Officer
ISM Walk-in-Interview 2020 -01 Vacancy Junior Research Fellow
Latest Government Jobs 2020 Notification on 08.04.2020
ISM Walk-in-Interview 2020 -01 Vacancy Junior Research Fellow
IOCL Walk-in-Interview 2020 -01 Vacancy Assistant Officer
CGWB Walk-in-Interview 2020 -62 Vacancy Consultant & Various
IIT Bombay Walk-in-Interview 2020 -01 Vacancy Junior Research Fellow
Alagappa University Walk-in-Interview 2020 -01 Vacancy Junior Research Fellow
PESB Walk-in-Interview 2020 -01 Vacancy Director
Latest Government Jobs 2020 Notification on 07.04.2020
Assam Police Walk-in-Interview 2020 -204 Vacancy Junior Assistant & Various
CGWB Walk-in-Interview 2020 -62 Vacancy Consultant & Various
IITM Walk-in-Interview 2020 -30 Vacancy Research Associate & Research Fellow
Income Tax Department Walk-in-Interview 2020 -01 Vacancy Joint commissioner
IIT Bombay Walk-in-Interview 2020 -01 Vacancy Junior Research Fellow
IIM Amritsar Walk-in-Interview 2020 -01 Vacancy Professor, Associate Professor & Assistant Professor
Latest Government Jobs 2020 Notification on 06.04.2020
Assam Police Walk-in-Interview 2020 -204 Vacancy Junior Assistant & Various
University Of Madras Walk-in-Interview 2020 -01 Vacancy Junior Research Fellow
AIIMS Walk-in-Interview 2020 -02 Vacancy Scientist Grade C & Various
NAFED Walk-in-Interview 2020 -01 Vacancy Assistant Manager-ll
IIT Mandi Walk-in-Interview 2020 -01 Vacancy Associate Professor
Latest Government Jobs 2020 Notification on 04.04.2020
IIT Kharagpur Walk-in-Interview 2020 -01 Vacancy Junior Research Fellowship
IITBHU Walk-in-Interview 2020 -01 Vacancy Junior Research Fellow
IISER Pune Walk-in-Interview 2020 -01 Vacancy Research Associate
CIIL Walk-in-Interview 2020 -01 Vacancy Chief Resource Person
PDPU Walk-in-Interview 2020 -01 Vacancy Junior Research Fellow
IIM Bangalore Walk-in-Interview 2020 -01 Vacancy Associate Manager
ONGC Walk-in-Interview 2020 -01 Vacancy Associate Consultant/Junior Consultant
IISER Tirupati Walk-in-Interview 2020 -01 Vacancy Assistant Registrar
NEIGRIHMS Walk-in-Interview 2020 -19 Vacancy Assistant Professor
IISER Kolkata Walk-in-Interview 2020 -01 Vacancy Junior Research Fellow
Latest Government Jobs 2020 Notification on 03.04.2020
ONGC Walk-in-Interview 2020 -72 Vacancy Associate Consultant/Junior Consultant
IISER Tirupati Walk-in-Interview 2020 -01 Vacancy Medical Officer 
IISER Kolkata Walk-in-Interview 2020 -01 Vacancy Junior Research Fellow 
NEIGRIHMS Walk-in-Interview 2020 -19 Vacancy Assistant Professor
BMHRC Walk-in-Interview 2020 -01 Vacancy Consultant
NALCO Walk-in-Interview 2020 -01 Vacancy Director
IHBAS Walk-in-Interview 2020 -37 Vacancy Senior Resident
BHEL Walk-in-Interview 2020 -229 Vacancy Engineer Apprentices
CWRDM Walk-in-Interview 2020 -01 Vacancy Registrar
IIMU Walk-in-Interview 2020 -01 Vacancy Research Assistant
Latest Government Jobs 2020 Notification on 02.04.2020
NEIGRIHMS Walk-in-Interview 2020 -19 Vacancy Assistant Professor
IISER Kolkata Walk-in-Interview 2020 -01 Vacancy Junior Research Fellow
BMHRC Walk-in-Interview 2020 -01 Vacancy Consultant
NALCO Walk-in-Interview 2020 -01 Vacancy Director
IHBAS Walk-in-Interview 2020 -37 Vacancy Senior Resident
BHEL Walk-in-Interview 2020 -229 Vacancy Engineer Apprentices 
CWRDM Walk-in-Interview 2020 -01 Vacancy Registrar
ESIC Walk-in-Interview 2020 -01 Vacancy Assistant Professor
IIMU Walk-in-Interview 2020 -01 Vacancy Research Assistant
NBT Walk-in-Interview 2020 -01 Vacancy Admn. Executive
NIT Rourkela Walk-in-Interview 2020 -01 Vacancy Junior Research Fellow
Bharathiar University Walk-in-Interview 2020 -01 Vacancy System Analyst
IIITM Walk-in-Interview 2020 -01 Vacancy Junior Research Fellow
IGIB Walk-in-Interview 2020 -01 Vacancy Post Doctoral Fellow
JSERC Walk-in-Interview 2020 -01 Vacancy Chairperson-cum-Member
Latest Government Jobs 2020 Notification on 01.04.2020
ESIC Walk-in-Interview 2020 -01 Vacancy Associate Professor
TERI Walk-in-Interview 2020 -01 Vacancy Research Associate 
IIMU Walk-in-Interview 2020 -01 Vacancy Research Assistant
BCCL Walk-in-Interview 2020 -10 Vacancy Doctor
IWST Walk-in-Interview 2020 -03 Vacancy Forest Guard
NBT Walk-in-Interview 2020 -01 Vacancy Marketing Assistant
NIT Rourkela Walk-in-Interview 2020 -01 Vacancy Research Associate
Bharathiar University Walk-in-Interview 2020 -01 Vacancy Assistant Technical Officer
IIITM Walk-in-Interview 2020 -01 Vacancy Junior Research Fellow
IGIB Walk-in-Interview 2020 -01 Vacancy Junior Research Fellow
IIT Hyderabad Walk-in-Interview 2020 -01 Vacancy Chief Program Coordinator
Balmer Lawrie & Company Limited Walk-in-Interview 2020 -01 Vacancy Junior Associate/Associate
AIIMS Bhubaneswar Walk-in-Interview 2020 – 84 Vacancy Senior Resident
Amrita Vishwa Vidyapeetham University Walk-in-Interview 2020 -01 Vacancy Assistant Professor in Finance
IIITM-K Walk-in-Interview 2020 -01 Vacancy Manager Programme Implementation
Latest Government Jobs 2020 Notification on 31.03.2020
ICRISAT Walk-in-Interview 2020 -01 Vacancy Research Technician
KHPT Walk-in-Interview 2020 -01 Vacancy Project Director
IIMU Walk-in-Interview 2020 -01 Vacancy Research Assistant
BCCL Walk-in-Interview 2020 -10 Vacancy Doctor
IWST Walk-in-Interview 2020 -03 Vacancy Forest Guard
NBT Walk-in-Interview 2020 -01 Vacancy Consultant
NIT Rourkela Walk-in-Interview 2020 -01 Vacancy Research Associate
Bharathiar University Walk-in-Interview 2020 -04 Vacancy Programmer
IGIB Walk-in-Interview 2020 -01 Vacancy Lab Technician
IIITM Walk-in-Interview 2020 -01 Vacancy Junior Research Fellow
Latest Government Jobs 2020 Notification on 30.03.2020
NBT Walk-in-Interview 2020 -01 Vacancy PR Assistant
IWST Walk-in-Interview 2020 -03 Vacancy Forest Guard
NIT Rourkela Walk-in-Interview 2020 -01 Vacancy Junior Research Fellow 
Bharathiar University Walk-in-Interview 2020 -01 Vacancy System Analyst
IIITM Walk-in-Interview 2020 -01 Vacancy Junior Research Fellow
IGIB Walk-in-Interview 2020 -01 Vacancy Field Data Collector
IIT Hyderabad Walk-in-Interview 2020 -01 Vacancy Chief Program Coordinator
Balmer Lawrie Walk-in-Interview 2020 -01 Vacancy Junior Associate/Associate
AIIMS Bhubaneswar Walk-in-Interview 2020 -01 Vacancy Senior Resident
Amrita Vishwa Vidyapeetham University Walk-in-Interview 2020 -01 Vacancy Assistant Professor in Finance
Latest Government Jobs 2020 Notification on 28.03.2020
Balmer Lawrie & Company Limited Walk-in-Interview 2020 -01 Vacancy Junior Associate/Associate
IIT Hyderabad Walk-in-Interview 2020 -01 Vacancy Chief Program Coordinator
AIIMS Bhubaneswar Walk-in-Interview 2020 -84 Vacancy Senior Resident
Amrita Vishwa Vidyapeetham University Walk-in-Interview 2020 -01 Vacancy Assistant Professor in Finance
ICRISAT Walk-in-Interview 2020 -01 Vacancy Consultant
IIT Kharagpur Walk-in-Interview 2020 -01 Vacancy Project Assistant – Research
IIMC Walk-in-Interview 2020 -01 Vacancy Research Associate
IIITM-K Walk-in-Interview 2020 -01 Vacancy Fellow – Content Creation
ONGC Walk-in-Interview 2020 -01 Vacancy Public Relations Officer
V.O. Chidambaranar Port Trust Walk-in-Interview 2020 -02 Vacancy Financial Adviser and Chief Accounts Officer
Latest Government Jobs 2020 Notification on 27.03.2020
IIITM-K Walk-in-Interview 2020 -01 Vacancy Technical Assistant – Testing and Measurement Lab
IIMC Walk-in-Interview 2020 -01 Vacancy Consultant
ONGC Walk-in-Interview 2020 -01 Vacancy Public Relations Officer
JSERC Walk-in-Interview 2020 -01 Vacancy Chairperson-cum-Member
V.O. Chidambaranar Port Trust Walk-in-Interview 2020 -01 Vacancy Financial Adviser and Chief Accounts Officer
Latest Government Jobs 2020 Notification on 26.03.2020
IIITM Kerala Walk-in-Interview 2020 -01 Vacancy Manager Programme Implementation
ONGC Walk-in-Interview 2020 -01 Vacancy HR Executive
JSERC Walk-in-Interview 2020 -01 Vacancy Chairperson-cum-Member
ICSIL Walk-in-Interview 2020 -01 Vacancy Assistant Nursing Superintendant
V.O. Chidambaranar Port Trust Walk-in-Interview 2020 -01 Vacancy Financial Adviser and Chief Accounts Officer
RGCB Walk-in-Interview 2020 -01 Vacancy Project Assistant
University Of Madras Walk-in-Interview 2020 -02 Vacancy Project Associate
THSTI Walk-in-Interview 2020 -01 Vacancy Scientist C
AMU Walk-in-Interview 2020 -02 Vacancy Master Trainers
IIT Kanpur Walk-in-Interview 2020 -01 Vacancy Senior Project Associate
Latest Government Jobs 2020 Notification on 25.03.2020
IIT Bombay Walk-in-Interview 2020 -01 Vacancy Senior Project Manager
V.O. Chidambaranar Walk-in-Interview 2020 -02 Vacancy Senior Assistant Traffic Manager
CPCB Walk-in-Interview 2020 -05 Vacancy Consultant
IIT Gandhinagar Walk-in-Interview 2020 -01 Vacancy Postdoctoral Fellowship
THSTI Walk-in-Interview 2020 -01 Vacancy Scientist C
University Of Madras Walk-in-Interview 2020 -01 Vacancy Project Associate
IIEST Shibpur Walk-in-Interview 2020 -01 Vacancy
CPRI Walk-in-Interview 2020 -01 Vacancy Accounts Officer
RGCB Walk-in-Interview 2020 -02 Vacancy Project Officer
University of Calicut Walk-in-Interview 2020 -01 Vacancy Herbarium Curator
Latest Government Jobs 2020 Notification on 23.03.2020
CSL Walk-in-Interview 2020 -04 Vacancy Executive Trainee
CCRAS Walk-in-Interview 2020 -02 Vacancy Pharmacist Grade 1
DRDO Walk-in-Interview 2020 -03 Vacancy Junior Research Fellow
NITIE Walk-in-Interview 2020 -03 Vacancy Project Staff
IIT Delhi Walk-in-Interview 2020 -01 Vacancy Project Assistant
IIT Bombay Walk-in-Interview 2020 -01 Vacancy Senior Project Manager
IIT Kanpur Walk-in-Interview 2020 -01 Vacancy Project Engineer
AMU Walk-in-Interview 2020 -01 Vacancy Junior Research Fellow
CPRI Walk-in-Interview 2020 -01 Vacancy Accounts Officer
THSTI Walk-in-Interview 2020 -01 Vacancy Scientist C
Latest Government Jobs 2020 Notification on 21.03.2020
IIT Kanpur Walk-in-Interview 2020 -01 Vacancy Project Engineer
IIT Bombay Walk-in-Interview 2020 -01 Vacancy Senior Project Manager
IIT Delhi Walk-in-Interview 2020 -01 Vacancy Project Assistant
Ministry Of External Affairs Walk-in-Interview 2020 -01 Vacancy Consultancy
MGU Walk-in-Interview 2020 -01 Vacancy Project Associate
NIT Warangal Walk-in-Interview 2020 -01 Vacancy Junior Research Fellow
ARI Walk-in-Interview 2020 -01 Vacancy Library & Information Officer
Pondicherry University Walk-in-Interview 2020 -01 Vacancy Technical personnel 
HPPSC Walk-in-Interview 2020 -28 Vacancy Assistant Manager
IIT Bhubaneswar Walk-in-Interview 2020 -01 Vacancy Summer Internship
RCB Walk-in-Interview 2020 -01 Vacancy Chief Executive Officer
PNB Walk-in-Interview 2020 -01 Vacancy Chief Risk Officer
NRCB Walk-in-Interview 2020 -01 Vacancy Young Professional – I
IISER Mohali Walk-in-Interview 2020 -01 Vacancy Project Assistant (PA)
NCBS Walk-in-Interview 2020 -01 Vacancy Graduate Trainee
Latest Government Jobs 2020 Notification on 20.03.2020
IIT Kanpur Walk-in-Interview 2020 -01 Vacancy Project Engineer
Amrita Vishwa Vidyapeetham University Walk-in-Interview 2020 -01 Vacancy Assistant Professor
SSPHPGTI Walk-in-Interview 2020 -09 Vacancy Senior Resident
NIRT Walk-in-Interview 2020 -01 Vacancy Project Technician II
NDMC Walk-in-Interview 2020 -01 Vacancy Senior Resident
NITIE Walk-in-Interview 2020 -03 Vacancy Project Staff
Sambalpur University Walk-in-Interview 2020 -01 Vacancy Project Fellow/ Junior Research Fellow
DRDO Walk-in-Interview 2020 -03 Vacancy Junior Research Fellow
Mohanlal Sukhadia University Walk-in-Interview 2020 -01 Vacancy Vice Chancellor
ICMR Walk-in-Interview 2020 -150 Vacancy Junior Research Fellowship
CUJ Walk-in-Interview 2020 -11 Vacancy Professor
Anna University Walk-in-Interview 2020 -01 Vacancy Project Associate
CCRAS Walk-in-Interview 2020 -02 Vacancy Pharmacist Grade 1
IIT Roorkee Walk-in-Interview 2020 -01 Vacancy Junior Research Fellow
CSL Walk-in-Interview 2020 -04 Vacancy Executive Trainee
Latest Government Jobs 2020 Notification on 19.03.2020
DDA Walk-in-Interview 2020 -10 Vacancy Consultant 
NIEPMD Walk-in-Interview 2020 -01 Vacancy Sr. Therapist
SPA Delhi Walk-in-Interview 2020 -01 Vacancy Senior Researcher
Cooch Behar District West Bengal Walk-in-Interview 2020 -04 Vacancy Accountant
IIT Delhi Walk-in-Interview 2020 -01 Vacancy Project Scientist
AIIMS Patna Walk-in-Interview 2020 -04 Vacancy Senior Resident
MNIT Walk-in-Interview 2020 -01 Vacancy Junior Research Fellow
ICMR Walk-in-Interview 2020 -03 Vacancy Director
NABI Walk-in-Interview 2020 -01 Vacancy Project Associate-II
NIT Karnataka Walk-in-Interview 2020 -01 Vacancy JRF
Andaman And Nicobar Administration Walk-in-Interview 2020 -01 Vacancy Forest Guard
IASST Walk-in-Interview 2020 -01 Vacancy Junior Research Fellow
IASST Walk-in-Interview 2020 -01 Vacancy Junior Research Fellow
Latest Government Jobs 2020 Notification on 18.03.2020
EdCIL (India) Limited Walk-in-Interview 2020 -01 Vacancy Advisor 
Assam University Walk-in-Interview 2020 -01 Vacancy Research Assistant
VSI Walk-in-Interview 2020 -02 Vacancy Research Assistant
AIIMS Raipur Walk-in-Interview 2020 -01 Vacancy Health and Research Assistant 
PSERC Walk-in-Interview 2020 -01 Vacancy Director/Technical
CDS Walk-in-Interview 2020 -01 Vacancy Research Assistant
CNCI Walk-in-Interview 2020 -01 Vacancy Junior Resident
Assam Forest Walk-in-Interview 2020 -01 Vacancy GIS Expert
SPA Delhi Walk-in-Interview 2020 -01 Vacancy Senior Researcher
NMPT Walk-in-Interview 2020 -05 Vacancy Medical Officer
Jamia Hamdard Walk-in-Interview 2020 -01 Vacancy Senior Research Fellow
WDRA Walk-in-Interview 2020 -01 Vacancy Director
BCKV Walk-in-Interview 2020 -03 Vacancy Subject Matter Specialist
NHAI Walk-in-Interview 2020 -01 Vacancy Young Professional
NIT Andhra Pradesh Walk-in-Interview 2020 -01 Vacancy Junior Research Fellow
Latest Government Jobs 2020 Notification on 17.03.2020
Visakhapatnam Steel Plant Walk-in-Interview 2020 -01 Vacancy Advisor
NALCO Walk-in-Interview 2020 -01 Vacancy Director
KHPT Walk-in-Interview 2020 -02 Vacancy M &E Officer
IICA Walk-in-Interview 2020 -01 Vacancy Chief Programme Executive
NIT Karnataka Walk-in-Interview 2020 -01 Vacancy JRF- Junior Research Fellow
LHMC Walk-in-Interview 2020 -02 Vacancy Medical Physicist
BHU Walk-in-Interview 2020 -05 Vacancy Staff Nurses 
MHRD Walk-in-Interview 2020 -01 Vacancy Section Officer
IIT Mandi Walk-in-Interview 2020 -01 Vacancy Female Medical Officer
Panjab University Walk-in-Interview 2020 -01 Vacancy Assistant Professor
BITS Pilani Walk-in-Interview 2020 -02 Vacancy Junior Research Fellow
IARI Walk-in-Interview 2020 -01 Vacancy Project Assistant
Kendriya Vidyalaya Sangathan Walk-in-Interview 2020 -01 Vacancy Joint commissioner
PGIMER Walk-in-Interview 2020 -01 Vacancy Research Associate
CSCR Walk-in-Interview 2020 -01 Vacancy Junior Research Fellow
Latest Government Jobs 2020 Notification on 16.03.2020
AIIMS Rishikesh Walk-in-Interview 2020 -27 Vacancy Professor
CPCRI Walk-in-Interview 2020 -01 Vacancy Chief Executive Officer
ANGRAU Walk-in-Interview 2020 -01 Vacancy Teaching Associate
UGVCL Walk-in-Interview 2020 -01 Vacancy Chairperson
IIT Jodhpur Walk-in-Interview 2020 -01 Vacancy Junior Research Fellow
IIT Gandhinagar Walk-in-Interview 2020 -01 Vacancy Postdoctoral Research Fellow
PCI Walk-in-Interview 2020 -01 Vacancy Technical Assistant
University Of Madras Walk-in-Interview 2020 -01 Vacancy Project Fellow
HCL Walk-in-Interview 2020 -01 Vacancy Director
IIT Bhubaneswar Walk-in-Interview 2020 -01 Vacancy Research Associate
SCI Walk-in-Interview 2020 -01 Vacancy Secretary Trainee
JIPMER Walk-in-Interview 2020 -01 Vacancy Project Assistant/ Project Fellow
IIM Indore Walk-in-Interview 2020 -01 Vacancy Library Apprentice Trainees
AAU Walk-in-Interview 2020 -01 Vacancy Research Associate
CUH Walk-in-Interview 2020 -01 Vacancy Junior Research Fellow
Latest Government Jobs 2020 Notification on 14.03.2020
NCL Walk-in-Interview 2020 -307 Vacancy HEMM Operator
MAHA METRO Walk-in-Interview 2020 -01 Vacancy Joint Chief Project Manager 
IISER Thiruvananthapuram Walk-in-Interview 2020 -01 Vacancy JRF / Project Assistant
KUFOS Walk-in-Interview 2020 -03 Vacancy Assistant Professor
NBSSLUP Walk-in-Interview 2020 -01 Vacancy Young Professional-I 
DVC Walk-in-Interview 2020 -01 Vacancy Chairman 
NIMHANS Walk-in-Interview 2020 -09 Vacancy Psychiatric Social Worker
CURAJ Walk-in-Interview 2020 -01 Vacancy Research Assistant
TERI Walk-in-Interview 2020 -01 Vacancy Research Associate
RITES Limited Walk-in-Interview 2020 -35 Vacancy Engineer
THSTI Walk-in-Interview 2020 -01 Vacancy Administrative Assistant
NIT Meghalaya Walk-in-Interview 2020 -01 Vacancy Junior Research Fellow
ACTREC Walk-in-Interview 2020 -01 Vacancy Research Assistant
Anna University Walk-in-Interview 2020 -01 Vacancy Junior Research Fellow
IISER Pune Walk-in-Interview 2020 -01 Vacancy Assistant Engineer – Electrical
Latest Government Jobs 2020 Notification on 13.03.2020
Tezpur University Walk-in-Interview 2020 -01 Vacancy Research Assistant
NLC Walk-in-Interview 2020 -15 Vacancy Assistant Manager
CSMCRI Walk-in-Interview 2020 -02 Vacancy Junior Research Fellow 
AIIMS Raipur Walk-in-Interview 2020 -04 Vacancy Accounts Officer
PNB Walk-in-Interview 2020 -01 Vacancy Chief Risk Officer
NIT Warangal Walk-in-Interview 2020 -01 Vacancy Junior Research Fellow
NICED Walk-in-Interview 2020 -01 Vacancy Professor
GADVASU Walk-in-Interview 2020 -01 Vacancy Project Associate
IIT Mandi Walk-in-Interview 2020 -01 Vacancy Female Medical Officer
RGU Walk-in-Interview 2020 -03 Vacancy Guest Faculty
IIT Indore Walk-in-Interview 2020 -01 Vacancy Junior Research Fellow
IIT Roorkee Walk-in-Interview 2020 -02 Vacancy Junior Project Fellow
MIDHANI Walk-in-Interview 2020 -80 Vacancy Trade Apprentice
KHPT Walk-in-Interview 2020 -01 Vacancy Lead – Digital Transformation
NIMHANS Walk-in-Interview 2020 -09 Vacancy Psychiatric Social Worker
Latest Government Jobs 2020 Notification on 12.03.2020
KoPT Walk-in-Interview 2020 -01 Vacancy Hindi Translator-cum-Assistant
RCB Walk-in-Interview 2020 -01 Vacancy Chief Executive Officer
IIITU Walk-in-Interview 2020 -01 Vacancy Research Fellows
NIE Walk-in-Interview 2020 -01 Vacancy Project Scientist – C
Panjab University Walk-in-Interview 2020 -01 Vacancy Project Fellow
V.O. Chidambaranar Port Trust Walk-in-Interview 2020 -01 Vacancy Financial Adviser and Chief Accounts Officer
PAU Walk-in-Interview 2020 -02 Vacancy Junior Field/Lab Helper
DMRC Walk-in-Interview 2020 -01 Vacancy Manager
NEHU Walk-in-Interview 2020 -01 Vacancy Research Assistant
KFRI Walk-in-Interview 2020 -01 Vacancy Research Associate
IIT Ropar Walk-in-Interview 2020 -01 Vacancy Junior Research Fellow
IIT Kanpur Walk-in-Interview 2020 -01 Vacancy Project Engineer
CSMCRI Walk-in-Interview 2020 -01 Vacancy Project Associate-I
STPI Walk-in-Interview 2020 -11 Vacancy Member Technical Staff
Latest Government Jobs 2020 Notification on 11.03.2020
NIEPMD Walk-in-Interview 2020 -01 Vacancy Sr. Therapist
IIT Delhi Walk-in-Interview 2020 -02 Vacancy Deputy Registrar 
NRCM Walk-in-Interview 2020 -01 Vacancy Junior Research Fellow
IVRI Walk-in-Interview 2020 -01 Vacancy Young Professional – II
NHAI Walk-in-Interview 2020 -03 Vacancy Young Professional
GFSU Walk-in-Interview 2020 -01 Vacancy Junior research fellow
NITIE Walk-in-Interview 2020 -01 Vacancy Executive Assistant
IIT Mandi Walk-in-Interview 2020 -01 Vacancy Junior Research Fellow/Project Associate
University Of Madras Walk-in-Interview 2020 -01 Vacancy Project Fellow
SCTIMST Walk-in-Interview 2020 -01 Vacancy Project Assistant
WAPCOS Walk-in-Interview 2020 -01 Vacancy Engineer (Electrical)
IISR Lucknow Walk-in-Interview 2020 -01 Vacancy Young Professional II
TSPSC Walk-in-Interview 2020 -93 Vacancy Manager
CSB Walk-in-Interview 2020 -01 Vacancy Rearing Assistant
Latest Government Jobs 2020 Notification on 10.03.2020
MANAGE Walk-in-Interview 2020 -01 Vacancy MANAGE Fellow
HSL Walk-in-Interview 2020 -13 Vacancy Designer Gr
NIMHANS Walk-in-Interview 2020 -01 Vacancy Research Associate
AMU Walk-in-Interview 2020 -01 Vacancy Field Investigator
JMI Walk-in-Interview 2020 -01 Vacancy Junior Research Fellow 
IWAI Walk-in-Interview 2020 -01 Vacancy Multi-Task Staff
Mizoram University Walk-in-Interview 2020 -01 Vacancy Research Associate
IISWC Walk-in-Interview 2020 -01 Vacancy Junior Research Fellow
IIT Kanpur Walk-in-Interview 2020 -01 Vacancy Assistant Project Manager
ICAR Research Complex for NEH Region Walk-in-Interview 2020 -01 Vacancy Junior Research Fellow
IIT Bhubaneswar Walk-in-Interview 2020 -01 Vacancy Junior Research Fellow
NHSRC Walk-in-Interview 2020 -01 Vacancy Consultant
SLUSI Walk-in-Interview 2020 -01 Vacancy Office Superintendent
NIE Walk-in-Interview 2020 -01 Vacancy Project Scientist – C
CIIL Walk-in-Interview 2020 -01 Vacancy Project Director
Latest Government Jobs 2020 Notification on 09.03.2020
ICSIL Walk-in-Interview 2020 -07 Vacancy Nursing Orderly
VIT University Walk-in-Interview 2020 -02 Vacancy Junior Research Fellow
BAU Walk-in-Interview 2020 -01 Vacancy Senior Research Fellow
ECIL Walk-in-Interview 2020 -45 Vacancy Graduate Engineering apprentice
TIFR Walk-in-Interview 2020 -01 Vacancy Director
IISER Thiruvananthapuram Walk-in-Interview 2020 -01 Vacancy Junior Research Fellow
Cantonment Board Allahabad Walk-in-Interview 2020 -01 Vacancy Sanitary Inspector
BECIL Walk-in-Interview 2020 -03 Vacancy Project Assistant
BITS Pilani Walk-in-Interview 2020 -01 Vacancy Junior Research Fellow
WWF India Walk-in-Interview 2020 -01 Vacancy Senior Project Officer
University of Calcutta Walk-in-Interview 2020 -01 Vacancy Security Officer
IIT Ropar Walk-in-Interview 2020 -01 Vacancy Junior Research Fellow
Kendriya Vidyalaya Sangathan Walk-in-Interview 2020 -01 Vacancy Joint commissioner
Railtel Corporation of India Walk-in-Interview 2020 -01 Vacancy General Manager
NIMS Walk-in-Interview 2020 -01 Vacancy Senior Resident
Latest Government Jobs 2020 Notification on 07.03.2020
NIT Rourkela Walk-in-Interview 2020 -01 Vacancy Research Associate 
NIMHANS Walk-in-Interview 2020 -01 Vacancy Research Associate
PCI Walk-in-Interview 2020 -01 Vacancy Technical Assistant
WBHRB Walk-in-Interview 2020 -9333 Vacancy Staff Nurse
IIMC Walk-in-Interview 2020 -01 Vacancy Assistant Registrar
Visva Bharati Walk-in-Interview 2020 -20 Vacancy Junior Research Fellow
PDPU Walk-in-Interview 2020 -106 Vacancy Assistant
IIT Dharwad Walk-in-Interview 2020 -01 Vacancy Junior Research Fellow
RGCB Walk-in-Interview 2020 -01 Vacancy Research Associate
DMRC Walk-in-Interview 2020 -02 Vacancy Deputy Head of Department
KASE Walk-in-Interview 2020 -03 Vacancy IT Officer/Career Guidance Assistant
VMMC Walk-in-Interview 2020 -02 Vacancy Lab Technicians/Field Workers
APTEL Walk-in-Interview 2020 -01 Vacancy Court Master
WII Walk-in-Interview 2020 -02 Vacancy Project Assistant
Latest Government Jobs 2020 Notification on 06.03.2020
Central University of Gujarat Walk-in-Interview 2020 -02 Vacancy Research Associate
NIMHANS Walk-in-Interview 2020 -01 Vacancy Research Associate
Andaman & Nicobar Administration Walk-in-Interview 2020 -62 Vacancy Forest Guard
MANIT Walk-in-Interview 2020 -01 Vacancy Research Assistant
Konkan Railway Walk-in-Interview 2020 -01 Vacancy Office Assistant/ Protocol
KIIFB Walk-in-Interview 2020 -03 Vacancy Senior Consultant
IIFT Walk-in-Interview 2020 -01 Vacancy Chair Professor
PGVCL Walk-in-Interview 2020 -21 Vacancy Deputy Superintendent of Accounts
AIIMS Delhi Walk-in-Interview 2020 -01 Vacancy Data Entry Operator
ESIC Walk-in-Interview 2020 -01 Vacancy Assistant Professor
Panjab University Walk-in-Interview 2020 -01 Vacancy Project Assistant
SSPHPGTI Walk-in-Interview 2020 -09 Vacancy Senior Resident
IIMR Walk-in-Interview 2020 -01 Vacancy Administrative Officer
ACSIR Walk-in-Interview 2020 -01 Vacancy Executive Assistant
GIPCL Walk-in-Interview 2020 -01 Vacancy Mining OverMan
Latest Government Jobs 2020 Notification on 05.03.2020
NII Walk-in-Interview 2020 -01 Vacancy Project Assistant
DFCSCA Punjab Walk-in-Interview 2020 -01 Vacancy Senior Scientific Officer
BBCI Walk-in-Interview 2020 -01 Vacancy Staff Nurse
HBCSE Walk-in-Interview 2020 -01 Vacancy Project Assistant
VCRC Walk-in-Interview 2020 -01 Vacancy Project Assistant
NIT Karnataka Walk-in-Interview 2020 -01 Vacancy Junior Research Fellow 
INST Walk-in-Interview 2020 -01 Vacancy Junior Research Fellow
Anna University Walk-in-Interview 2020 -01 Vacancy Junior Research Fellow
KUFOS Walk-in-Interview 2020 -03 Vacancy Assistant Professor
KAU Walk-in-Interview 2020 -01 Vacancy Skilled Assistant
EPI Walk-in-Interview 2020 -04 Vacancy Manager
Pondicherry University Walk-in-Interview 2020 -01 Vacancy Junior Research Fellow
Presidency University Walk-in-Interview 2020 -01 Vacancy Junior Research Fellow
Bose Institute Walk-in-Interview 2020 -01 Vacancy Assistant Registrar
IACS Walk-in-Interview 2020 -01 Vacancy Research Associate
Latest Government Jobs 2020 Notification on 04.03.2020
NIN Walk-in-Interview 2020 -01 Vacancy Senior Research Fellow 
NCDC Walk-in-Interview 2020 -06 Vacancy Consultant
VIT University Walk-in-Interview 2020 -01 Vacancy Junior Research Fellow 
MAHA-METRO Walk-in-Interview 2020 -02 Vacancy Senior Deputy Chief Project Manager 
KHPT Walk-in-Interview 2020 -01 Vacancy Lead – Digital Transformation
NIO Walk-in-Interview 2020 -01 Vacancy Principal Project Associate
IIT Indore Walk-in-Interview 2020 -01 Vacancy Junior Research Fellow
Paradip Port Trust Walk-in-Interview 2020 -03 Vacancy General Duty Medical Officer
AAU Walk-in-Interview 2020 -01 Vacancy Research Associate
NIT Kurukshetra Walk-in-Interview 2020 -01 Vacancy Project Assistant
PFC Walk-in-Interview 2020 -01 Vacancy Deputy Officer
Dibrugarh University Walk-in-Interview 2020 -01 Vacancy Assistant Professor
Sathyabama University Walk-in-Interview 2020 -01 Vacancy Junior Research Fellow
NCL Walk-in-Interview 2020 -307 Vacancy HEMM Operator
JMRC Walk-in-Interview 2020 -67 Vacancy Maintainer
Latest Government Jobs 2019 Notification on 03.03.2020
DTE Assam Walk-in-Interview 2020 -15 Vacancy Junior Assistant
DMRC Jodhpur Walk-in-Interview 2020 -10 Vacancy Field Worker/Technician-III
IIT Roorkee Walk-in-Interview 2020 -01 Vacancy Research Associate
NEHU Walk-in-Interview 2020 -01 Vacancy Research Assistant
MIDHANI Walk-in-Interview 2020 -80 Vacancy Trade Apprentice
CBI Walk-in-Interview 2020 -01 Vacancy Director
CRPF Walk-in-Interview 2020 -1412 Vacancy Head Constable 
IIITN Walk-in-Interview 2020 -02 Vacancy Junior Superintendent
ICMR Walk-in-Interview 2020 -05 Vacancy Professor
BECIL Walk-in-Interview 2020 -10 Vacancy Data Entry Operator
IIT Delhi Walk-in-Interview 2020 -01 Vacancy Research Associate
NIT Karnataka Walk-in-Interview 2020 -01 Vacancy Junior Research Fellow
NRCB Walk-in-Interview 2020 -01 Vacancy Young Professional – I
Visva Bharati Walk-in-Interview 2020 -04 Vacancy Project Fellow
IGFRI Walk-in-Interview 2020 -01 Vacancy Part-Time Doctor
Latest Government Jobs 2020 Notification on 02.03.2020
NAU Walk-in-Interview 2020 -01 Vacancy Agromet Observer
High Court of Delhi Walk-in-Interview 2020 -132 Vacancy Jr. Judicial Assistant/Restorer
Hindustan Copper Limited Walk-in-Interview 2020 -120 Vacancy Trade Apprentice 
KUFOS Walk-in-Interview 2020 -03 Vacancy Assistant Professor
HAL Walk-in-Interview 2020 -02 Vacancy Cardiology Technician 
NIH Roorkee Walk-in-Interview 2020 -02 Vacancy Resource Person
Assam University Walk-in-Interview 2020 -01 Vacancy Guest Faculty
IVRI Walk-in-Interview 2020 -01 Vacancy Young Professional – II 
NCCBM Walk-in-Interview 2020 -01 Vacancy Office Management Executive 
CMET Walk-in-Interview 2020 -02 Vacancy Project Scientist
GNDU Walk-in-Interview 2020 -01 Vacancy Junior Research Fellow 
CGG Walk-in-Interview 2020 -01 Vacancy Java – Team Lead
NICFS Walk-in-Interview 2020 -02 Vacancy Multi Tasking Staff
IISER Thiruvananthapuram Walk-in-Interview 2020 -01 Vacancy Junior Research Fellow 
SPMCIL Walk-in-Interview 2020 -01 Vacancy Security Officer
Latest Government Jobs 2020 Notification on 29.02.2020
IIT Bombay Walk-in-Interview 2020 -01 Vacancy Senior Project Research Scientist
NICED Walk-in-Interview 2020 -01 Vacancy Research Associate
BITS Pilani Walk-in-Interview 2020 -01 Vacancy Jr. Technician
AIIMS Raipur Walk-in-Interview 2020 -04 Vacancy Accounts Officer
DMRC Walk-in-Interview 2020 -12 Vacancy Manager / Assistant Manager
IARI Walk-in-Interview 2020 -01 Vacancy Junior Research Fellow
IIITM Kerala Walk-in-Interview 2020 -01 Vacancy Machine Learning Engineer
CECRI Walk-in-Interview 2020 -02 Vacancy Project Assistant – I
KCGMC Walk-in-Interview 2020 -10 Vacancy Senior Resident
Shivaji University Walk-in-Interview 2020 -01 Vacancy Course Co-ordinator
University of Delhi Walk-in-Interview 2020 -02 Vacancy Technical Assistant
ACTREC Walk-in-Interview 2020 -01 Vacancy Dietician
IIPM Bangalore Walk-in-Interview 2020 -01 Vacancy Research Associate
PGIMER Walk-in-Interview 2020 -02 Vacancy Sr. Medical Officer
IIT Indore Walk-in-Interview 2020 -01 Vacancy Project Assistant
Latest Government Jobs 2019 Notification on 28.02.2020
Panjab University Walk-in-Interview 2020 -02 Vacancy Guest Faculty
IDSJ Walk-in-Interview 2020 -01 Vacancy Secretary
IIT Guwahati Walk-in-Interview 2020 -01 Vacancy Visiting Consultant
BHEL Walk-in-Interview 2020 -06 Vacancy Super Specialist
GSECL Walk-in-Interview 2020 -37 Vacancy Instrument Mechanic
Railtel Corporation of India Walk-in-Interview 2020 -01 Vacancy General Manager
IIPS Walk-in-Interview 2020 -04 Vacancy Health Investigator
AUD Walk-in-Interview 2020 -02 Vacancy Research Associate
AIIMS Bhubaneswar Walk-in-Interview 2020 -01 Vacancy Field Worker
University of Calcutta Walk-in-Interview 2020 -01 Vacancy Security Officer
IIMU Walk-in-Interview 2020 -01 Vacancy Post Doctoral Fellow
SACON Walk-in-Interview 2020 -02 Vacancy Junior Research Biologist
IIITDM Kancheepuram Walk-in-Interview 2020 -01 Vacancy Assistant Professor Grade II
CCRH Walk-in-Interview 2020 -01 Vacancy Junior Research Fellow
THSTI Walk-in-Interview 2020 -01 Vacancy Senior Project Associate
Latest Government Jobs 2019 Notification on 27.02.2020
WII Walk-in-Interview 2020 -02 Vacancy Project Assistant 
DFFCIL Walk-in-Interview 2020 -02 Vacancy Deputy CPM, PM
NIAB Walk-in-Interview 2020 -01 Vacancy Project Associate-II
MGCU Bihar Walk-in-Interview 2020 -01 Vacancy First Registrar
JIPMER Walk-in-Interview 2020 -04 Vacancy Auxiliary Nurse Midwife
University Of Calcutta Walk-in-Interview 2020 -01 Vacancy Junior Research Fellow
Gauhati University Walk-in-Interview 2020 -02 Vacancy Guest Faculty
CBI Walk-in-Interview 2020 -01 Vacancy Director
NAARM Walk-in-Interview 2020 -01 Vacancy Admin Assistant
RNSB Walk-in-Interview 2020 -01 Vacancy APPRENTICE – PEON
SVNIT Walk-in-Interview 2020 -01 Vacancy Librarian
NHSRC Walk-in-Interview 2020 -01 Vacancy Consultant
MMRDA Walk-in-Interview 2020 -02 Vacancy Dy. General Manager
APPSC Walk-in-Interview 2020 -06 Vacancy Assistant Programmer
NEHU Walk-in-Interview 2020 -01 Vacancy Guest lecturer
Latest Government Jobs 2019 Notification on 26.02.2020
IUCAA Walk-in-Interview 2020 -01 Vacancy Scientific & Technical Officer – 'E' 
NIELIT Delhi Walk-in-Interview 2020 -288 Vacancy Scientist -'B'
NITRD Walk-in-Interview 2020 -01 Vacancy Laboratory Technician
IISS Walk-in-Interview 2020 -01 Vacancy Young Professional-II
ARIASS Walk-in-Interview 2020 -01 Vacancy Agriculture Marketing Expert
AIIMS Raipur Walk-in-Interview 2020 -04 Vacancy Accounts Officer
TCL Kottayam Walk-in-Interview 2020 -01 Vacancy Senior Manager
NIN Walk-in-Interview 2020 -01 Vacancy Senior Research Fellow
GAIL (India) Limited Walk-in-Interview 2020 -01 Vacancy Executive Trainee
Bombay High Court Walk-in-Interview 2020 -02 Vacancy Legal Assistant
CCARI Walk-in-Interview 2020 -02 Vacancy Young Professional I
Health & Family Welfare Department WB Walk-in-Interview 2020 -08 Vacancy Audiometric Assistant
NIT Delhi Walk-in-Interview 2020 -01 Vacancy Lab Engineer
Karnataka High Court Walk-in-Interview 2020 -27 Vacancy Assistant Court Secretary
NICED Walk-in-Interview 2020 -01 Vacancy Research Associate
Latest Government Jobs 2019 Notification on 26.02.2020
IUCAA Walk-in-Interview 2020 -01 Vacancy Scientific & Technical Officer – 'E' 
NIELIT Delhi Walk-in-Interview 2020 -288 Vacancy Scientist -'B'
NITRD Walk-in-Interview 2020 -01 Vacancy Laboratory Technician
IISS Walk-in-Interview 2020 -01 Vacancy Young Professional-II
ARIASS Walk-in-Interview 2020 -01 Vacancy Agriculture Marketing Expert
AIIMS Raipur Walk-in-Interview 2020 -04 Vacancy Accounts Officer
TCL Kottayam Walk-in-Interview 2020 -01 Vacancy Senior Manager
NIN Walk-in-Interview 2020 -01 Vacancy Senior Research Fellow
GAIL (India) Limited Walk-in-Interview 2020 -01 Vacancy Executive Trainee
Bombay High Court Walk-in-Interview 2020 -02 Vacancy Legal Assistant
CCARI Walk-in-Interview 2020 -02 Vacancy Young Professional I
Health & Family Welfare Department WB Walk-in-Interview 2020 -08 Vacancy Audiometric Assistant
NIT Delhi Walk-in-Interview 2020 -01 Vacancy Lab Engineer
Karnataka High Court Walk-in-Interview 2020 -27 Vacancy Assistant Court Secretary
NICED Walk-in-Interview 2020 -01 Vacancy Research Associate
Latest Government Jobs 2019 Notification on 25.02.2020
IARI Walk-in-Interview 2020 -01 Vacancy Junior Research Fellow
Panjab University Walk-in-Interview 2020 -01 Vacancy Research Assistant
IIITDM Kancheepuram Walk-in-Interview 2020 -01 Vacancy Assistant Professor Grade II
RMRCNE Walk-in-Interview 2020 -01 Vacancy Lab Technician
ICRISAT Walk-in-Interview 2020 -01 Vacancy Research Technician
NIO Walk-in-Interview 2020 -01 Vacancy Principal Project Associate
NHAI Walk-in-Interview 2020 -46 Vacancy Manager
TISS Walk-in-Interview 2020 -01 Vacancy Counselor
Sardar Vallabh Bhai Patel Hospital Walk-in-Interview 2020 -15 Vacancy Junior Resident
WII Walk-in-Interview 2020 -01 Vacancy Project Associate
IIFM Walk-in-Interview 2020 -01 Vacancy Research Associate II
IISER Pune Walk-in-Interview 2020 -01 Vacancy Lab Technician
NABI Walk-in-Interview 2020 -01 Vacancy Junior Research Fellow
Government of West Bengal Walk-in-Interview 2020 -01 Vacancy Counsellor
NITUK Walk-in-Interview 2020 -01 Vacancy Research Fellow
Latest Government Jobs 2019 Notification on 24.02.2020
Rajendra Agricultural University Walk-in-Interview 2020 -01 Vacancy Registrar
NICED Walk-in-Interview 2020 -01 Vacancy Research Associate
NIRT Walk-in-Interview 2020 -02 Vacancy Scientist B 
University of Allahabad Walk-in-Interview 2020 -06 Vacancy Junior Research Fellow
IIT Guwahati Walk-in-Interview 2020 -01 Vacancy Project Manager
IISER Thiruvananthapuram Walk-in-Interview 2020 -01 Vacancy Senior Research Fellow 
Indian Museum Kolkata Walk-in-Interview 2020 -13 Vacancy Consultant
CRPF Walk-in-Interview 2020 -1412 Vacancy Head Constable
NIMHANS Walk-in-Interview 2020 -01 Vacancy Junior Research Fellow
Meghalaya High Court Walk-in-Interview 2020 -03 Vacancy Stenographer Grade I
NIC Guntur Walk-in-Interview 2020 -288 Vacancy Scientist-B
STPI Walk-in-Interview 2020 -11 Vacancy Member Technical Staff
Presidency University Walk-in-Interview 2020 -01 Vacancy Junior Research Fellow
Jamia Hamdard Walk-in-Interview 2020 -01 Vacancy Junior Research Fellow
IISC Walk-in-Interview 2020 -02 Vacancy Psychiatric Social Workers
Latest Government Jobs 2020 Notification on 22.02.2020
Jamia Hamdard Walk-in-Interview 2020 -01 Vacancy Lab Attendant
IIT Delhi Walk-in-Interview 2020 -01 Vacancy Project Scientist
PFC Walk-in-Interview 2020 -01 Vacancy Deputy Officer
Northern Coalfields Limited Walk-in-Interview 2020 -88 Vacancy Mining Sirdar
IIT Ropar Walk-in-Interview 2020 -01 Vacancy Junior Research Fellow
BECIL Walk-in-Interview 2020 -04 Vacancy Patient Care Coordinator
NIT Rourkela Walk-in-Interview 2020 -01 Vacancy Research Associate
ISEC Walk-in-Interview 2020 -01 Vacancy Registrar
NII Walk-in-Interview 2020 -01 Vacancy Public Relations Officer
NEHU Walk-in-Interview 2020 -01 Vacancy Junior research fellow
NIMHANS Walk-in-Interview 2020 -01 Vacancy Research Assistant
VIT University Walk-in-Interview 2020 -01 Vacancy Junior Research Fellow
ACTREC Walk-in-Interview 2020 -01 Vacancy Technician
WII Walk-in-Interview 2020 -02 Vacancy Project Associate
MANIT Walk-in-Interview 2020 -01 Vacancy Junior Research Fellow
Latest Government Jobs 2019 Notification on 21.02.2020
IARI Walk-in-Interview 2020 -01 Vacancy Junior Research Fellow
IIT Bombay Walk-in-Interview 2020 -02 Vacancy Sr. Project Technical Assistant 
IRDA Walk-in-Interview 2020 -01 Vacancy Consultant
IIT Kharagpur Walk-in-Interview 2020 -01 Vacancy Office Assistant
Anna University Walk-in-Interview 2020 -01 Vacancy Project Associate – I
Gandhigram Rural Institute Walk-in-Interview 2020 -01 Vacancy Research Assistant
CIFT Walk-in-Interview 2020 -01 Vacancy Young Professional-II
TISS Walk-in-Interview 2020 -01 Vacancy Counselor
CRRI Walk-in-Interview 2020 -01 Vacancy Project Assistant Level III
NAU Walk-in-Interview 2020 -01 Vacancy Agromet Observer
NIT Karnataka Walk-in-Interview 2020 -01 Vacancy Junior Research Fellow
GNDU Walk-in-Interview 2020 -01 Vacancy Junior Research Fellow
NICED Walk-in-Interview 2020 -01 Vacancy Research Associate
Panjab University Walk-in-Interview 2020 -01 Vacancy Research Fellow
KoPT Walk-in-Interview 2020 -01 Vacancy General Duty Medical Officers
Latest Government Jobs 2019 Notification on 20.02.2020
HMT Limited Walk-in-Interview 2020 -01 Vacancy Joint General Manager /Deputy General Manager-HR & Legal
CSL Walk-in-Interview 2020 -30 Vacancy Ship Design Assistant/Electrical
CRIJAF Walk-in-Interview 2020 -01 Vacancy Part-Time Medical Officer
IIT Hyderabad Walk-in-Interview 2020 -01 Vacancy Accelerator Program Executive 
CMET Walk-in-Interview 2020 -01 Vacancy Scientific Assistant III
IIITN Walk-in-Interview 2020 -02 Vacancy Junior Superintendent 
NIT Rourkela Walk-in-Interview 2020 -01 Vacancy Junior Research Fellow 
IACS Walk-in-Interview 2020 -01 Vacancy Research Associate-I 
Chacha Nehru Bal Chikitsalaya Walk-in-Interview 2020 -23 Vacancy Senior Residents
ESIC Walk-in-Interview 2020 -21 Vacancy Tutor
JNTBGRI Walk-in-Interview 2020 -01 Vacancy Registrar
Central University of Jammu Walk-in-Interview 2020 -01 Vacancy Junior Research Fellow/Project Fellow
NITI Aayog Walk-in-Interview 2020 -20 Vacancy Young Professional
AERA Walk-in-Interview 2020 -02 Vacancy Consultants
Sathyabama University Walk-in-Interview 2020 -01 Vacancy Junior Research Fellow
Latest Government Jobs 2019 Notification on 19.02.2020
NRCB Walk-in-Interview 2020 -01 Vacancy Young Professional – I
TISS Walk-in-Interview 2020 -01 Vacancy Senior Manager
NGRI Walk-in-Interview 2020 -01 Vacancy Consultant 
Gandhigram Rural Institute Walk-in-Interview 2020 -01 Vacancy Research Assistant
MUHS Walk-in-Interview 2020 -01 Vacancy Professor cum Principal
IISER Kolkata Walk-in-Interview 2020 -01 Vacancy Research Associate
IIM Kashipur Walk-in-Interview 2020 -01 Vacancy Graphic Designing
TANUVAS Walk-in-Interview 2020 -01 Vacancy Project Assistant
RGCB Walk-in-Interview 2020 -01 Vacancy Research Associate
IACS Walk-in-Interview 2020 -01 Vacancy Research Associate
NIT Calicut Walk-in-Interview 2020 -01 Vacancy Librarian
RBI Walk-in-Interview 2020 -01 Vacancy Part-time Bank's Medical Consultant
DFFCIL Walk-in-Interview 2020 -02 Vacancy Deputy CPM, PM
IOCL Walk-in-Interview 2020 -21 Vacancy Trade Apprentices
IIBF Walk-in-Interview 2020 -01 Vacancy Chief Executive Officer
Latest Government Jobs 2020 Notification on 18.02.2020
NIT Tiruchirappalli Walk-in-Interview 2020 -01 Vacancy Project Assistant/Staff 
IIT Kanpur Walk-in-Interview 2020 -01 Vacancy Project Associate
VMMC Walk-in-Interview 2020 -56 Vacancy Assistant Professor
NRCB Walk-in-Interview 2020 -01 Vacancy Junior Research Fellow
DMRC Walk-in-Interview 2020 -01 Vacancy Dy. General Manager
NIT Meghalaya Walk-in-Interview 2020 -01 Vacancy Junior Research Fellow
Maharashtra Forest Walk-in-Interview 2020 -01 Vacancy Chairperson
NEEPCO Walk-in-Interview 2020 -34 Vacancy Technician Apprentice
RGCB Walk-in-Interview 2020 -01 Vacancy Research Associate
GHC Itanagar Walk-in-Interview 2020 -01 Vacancy Junior Grade Translator
ECIL Walk-in-Interview 2020 -01 Vacancy Technical Officer
DERC Walk-in-Interview 2020 -01 Vacancy Jr. Law Officer
ICFRE Walk-in-Interview 2020 -01 Vacancy Director General
RRCAT Walk-in-Interview 2020 -70 Vacancy Trade Apprentices
Latest Government Jobs 2019 Notification on 17.02.2020
Indian Coast Guard Walk-in-Interview 2020 -01 Vacancy Consultant
NIPGR Walk-in-Interview 2020 -01 Vacancy Junior Research Fellow
MOIL Limited Walk-in-Interview 2020 -01 Vacancy Chief Manager
IDSJ Walk-in-Interview 2020 -01 Vacancy Secretary
CUK Walk-in-Interview 2020 -01 Vacancy Vice-Chancellor
IGNOU Walk-in-Interview 2020 -01 Vacancy Registrar
SCI Walk-in-Interview 2020 -01 Vacancy Assistant Manager
IIM Lucknow Walk-in-Interview 2020 -01 Vacancy Research Assistant / Research Associate
TMC Walk-in-Interview 2020 -09 Vacancy Ad-hoc Scientific Assistant
NEIGRIHMS Walk-in-Interview 2020 -19 Vacancy Assistant Professor
Chennai Port Trust Walk-in-Interview 2020 -05 Vacancy Senior Medical Officer
IIT Delhi Walk-in-Interview 2020 -01 Vacancy Project Assistant
IITBHU Walk-in-Interview 2020 -01 Vacancy Junior Research Fellow
PGIMER Walk-in-Interview 2020 -01 Vacancy Junior Medical Officer
UBKV Walk-in-Interview 2020 -06 Vacancy Professor
Latest Government Jobs 2019 Notification on 15.02.2020
RIMS Walk-in-Interview 2019 -01 Vacancy Accountant
IIT Hyderabad Walk-in-Interview 2019 -01 Vacancy Research Fellow
OMC Limited Walk-in-Interview 2019 -01 Vacancy General Manager
IIFT Walk-in-Interview 2019 -01 Vacancy Research Associate/Research Fellow/Sr. Research Fellow
EPI Walk-in-Interview 2019 -01 Vacancy Deputy General Manager
BECIL Walk-in-Interview 2019 -01 Vacancy Start Up Fellow
IIT Mandi Walk-in-Interview 2019 -01 Vacancy Associate Professor and Assistant Professor Grade I & Grade II
University Of Madras Walk-in-Interview 2019 -01 Vacancy Research Associate
NFL Walk-in-Interview 2019 -03 Vacancy Manager
NALCO Walk-in-Interview 2019 -01 Vacancy Director
IITP Walk-in-Interview 2019 -01 Vacancy Manager
IIITM-K Walk-in-Interview 2019 -03 Vacancy Senior Software Developer
CIPET Walk-in-Interview 2019 -01 Vacancy Faculty
NIMHANS Walk-in-Interview 2019 -01 Vacancy Research Assistant
NIMHANS Walk-in-Interview 2019 -01 Vacancy Research Assistant
Latest Government Jobs 2020 Notification on 14.02.2020
BHEL Walk-in-Interview 2019 -01 Vacancy Part Time Medical Consultant
IITBHU Walk-in-Interview 2019 -01 Vacancy Junior Research Fellow 
India Post Office Walk-in-Interview 2019 -01 Vacancy Consultant
THSTI Walk-in-Interview 2019 -01 Vacancy Senior Project Associate 
NICPR Walk-in-Interview 2019 -01 Vacancy Computer Programmer Grade A Level
IWAI Walk-in-Interview 2019 -01 Vacancy Dy. Director
NITUK Walk-in-Interview 2019 -01 Vacancy Research Fellow
University of Calcutta Walk-in-Interview 2019 -01 Vacancy Junior Research Fellow
IIIT Chittoor Walk-in-Interview 2019 -01 Vacancy Junior Research Fellow
ICFRE Walk-in-Interview 2019 -01 Vacancy Junior Project Fellow
NBU Walk-in-Interview 2019 -01 Vacancy Junior Research Fellow
AIIMS Delhi Walk-in-Interview 2019 -01 Vacancy Scientist D
NHSRC Walk-in-Interview 2019 -01 Vacancy Consultant
PDPU Walk-in-Interview 2019 -01 Vacancy Research Associate
NIT Tiruchirappalli Walk-in-Interview 2019 -01 Vacancy Project Assistant/Staff
Latest Government Jobs 2020 Notification on 13.02.2020
AIIMS Patna Walk-in-Interview 2019 -01 Vacancy Senior Resident
BECIL Walk-in-Interview 2019 -04 Vacancy Draughtsman
KAU Walk-in-Interview 2019 -02 Vacancy Assistant Professor
Oil India Limited Walk-in-Interview 2019 -01 Vacancy Liaison Officer
IIT Kanpur Walk-in-Interview 2019 -01 Vacancy Project Associate
FSSAI Walk-in-Interview 2019 -01 Vacancy Senior Fellows in Food Safety & Nutrition
VIT University Walk-in-Interview 2019 -01 Vacancy JRF
Jadavpur University Walk-in-Interview 2019 -01 Vacancy Senior Research Fellow
KFRI Walk-in-Interview 2019 -01 Vacancy Project Assistant
IIM Ranchi Walk-in-Interview 2019 -01 Vacancy Social Media Manager
IIMU Walk-in-Interview 2019 -01 Vacancy Professor
BITS Pilani Walk-in-Interview 2019 -01 Vacancy Junior Research Fellow
IIT Bhubaneswar Walk-in-Interview 2019 -01 Vacancy Junior Research Fellow
IIT Jammu Walk-in-Interview 2019 -01 Vacancy Laboratory Assistant
Cochin Port Trust Walk-in-Interview 2019 -01 Vacancy Cook cum Bearer
Latest Government Jobs 2020 Notification on 12.02.2020
MAFSU Walk-in-Interview 2019 -01 Vacancy Senior Research Fellow
Solapur University Walk-in-Interview 2019 -02 Vacancy Assistant Professor
IIT Ropar Walk-in-Interview 2019 -02 Vacancy Library Professional Trainees
IIM Bangalore Walk-in-Interview 2019 -01 Vacancy Pedagogical Research Associate
IICB Walk-in-Interview 2019 -01 Vacancy Project Assistant Level – III
ICRISAT Walk-in-Interview 2019 -01 Vacancy Visiting Scientist
IIT Roorkee Walk-in-Interview 2019 -01 Vacancy Junior Research Fellow
RGU Walk-in-Interview 2019 -02 Vacancy Guest Assistant Professor
NEHU Walk-in-Interview 2019 -01 Vacancy Deputy Registrar
CGG Walk-in-Interview 2019 -01 Vacancy Java – Senior Software Developer
IOP Bhubaneswar Walk-in-Interview 2019 -01 Vacancy Senior Research Fellow
ISEC Walk-in-Interview 2019 -01 Vacancy Registrar
Bose Institute Walk-in-Interview 2019 -03 Vacancy Professor
GIC Walk-in-Interview 2019 -01 Vacancy Appointed Actuary
CSMCRI Walk-in-Interview 2019 -01 Vacancy Junior Research Fellow (JRF)
Latest Government Jobs 2019 Notification on 11.02.2020
SMVDU Walk-in-Interview 2019 -01 Vacancy Junior Research Fellow
IIMR Walk-in-Interview 2019 -01 Vacancy Business Executive 
CUTN Walk-in-Interview 2019 -03 Vacancy Field Investigators
IGIDR Walk-in-Interview 2019 -01 Vacancy Assistant Administrative Officer
SVNIT Walk-in-Interview 2019 -01 Vacancy Librarian
NIFTEM Walk-in-Interview 2019 -01 Vacancy Junior Research Fellow
GAIL (India) Limited Walk-in-Interview 2019 -01 Vacancy Executive Trainee
TISS Walk-in-Interview 2019 -01 Vacancy System Administrator
JIPMER Walk-in-Interview 2019 -01 Vacancy Data Entry Operator
SCTIMST Walk-in-Interview 2019 -01 Vacancy Project Assistant
IIT Bombay Walk-in-Interview 2019 -01 Vacancy Sr. Project Engineer
ONGC Walk-in-Interview 2019 -02 Vacancy Junior Project Associates
Amrita Vishwa Vidyapeetham University Walk-in-Interview 2019 -01 Vacancy Assistant Professor
PEC Limited Walk-in-Interview 2019 -01 Vacancy Deputy Officer(Legal)/E1
CCRH Walk-in-Interview 2019 -01 Vacancy Junior Research Fellow
Latest Government Jobs 2020 Notification on 10.02.2020
NCESS Walk-in-Interview 2019 -02 Vacancy Project Assistant-II
HBCSE Walk-in-Interview 2019 -01 Vacancy Project Work Assistant
SKUAST Kashmir Walk-in-Interview 2019 -01 Vacancy Junior Research Fellow
NITH Walk-in-Interview 2019 -01 Vacancy Research Assistant
IIMC Walk-in-Interview 2019 -01 Vacancy Academic-cum-Teaching Associate
IIT Delhi Walk-in-Interview 2019 -01 Vacancy Research Associate
NIRT Walk-in-Interview 2019 -01 Vacancy Project Technical Officer
NII Walk-in-Interview 2019 -01 Vacancy Public Relations Officer
BIT Mesra Walk-in-Interview 2019 -01 Vacancy Junior Research Fellow
NIT Silchar Walk-in-Interview 2019 -01 Vacancy Junior Research Fellow
Pondicherry University Walk-in-Interview 2019 -01 Vacancy Research Assistant
JNTBGRI Walk-in-Interview 2019 -01 Vacancy Registrar
RSU Walk-in-Interview 2019 -01 Vacancy Assistant Professor
ISM Walk-in-Interview 2019 -01 Vacancy Research Assistant
WII Walk-in-Interview 2019 -02 Vacancy Project Associate
Latest Government Jobs 2020 Notification on 08.02.2020
IGNOU Walk-in-Interview 2019 -02 Vacancy Consultant
IARI Walk-in-Interview 2019 -01 Vacancy Junior Research Fellow
NIMHANS Walk-in-Interview 2019 -01 Vacancy Research Assistant
IRDA Walk-in-Interview 2019 -01 Vacancy Consultant
BHU Walk-in-Interview 2019 -01 Vacancy Director
VIT University Walk-in-Interview 2019 -01 Vacancy Junior Research Fellow
IIT Gandhinagar Walk-in-Interview 2019 -01 Vacancy Deputy Librarian
Jadavpur University Walk-in-Interview 2019 -01 Vacancy Senior Research Fellow
UIDAI Walk-in-Interview 2019 -01 Vacancy Private Secretary
IIT Goa Walk-in-Interview 2019 -01 Vacancy Project Assistant
Health & Family Welfare Department West Bengal Walk-in-Interview 2019 -01 Vacancy Hospital Attendant
IIM Ahmedabad Walk-in-Interview 2019 -01 Vacancy Academic Associate
CUTN Walk-in-Interview 2019 -01 Vacancy Field Assistant
Latest Government Jobs 2020 Notification on 07.02.2020
NIT Jalandhar Walk-in-Interview 2019 -01 Vacancy Junior Research Fellow
IGIB Walk-in-Interview 2019 -01 Vacancy Sr.Technical Officer
GNLU Walk-in-Interview 2019 -01 Vacancy Teaching and Research Associate
AIIMS, Nagpur Walk-in-Interview 2019 -01 Vacancy Principal
AIIMS Delhi Walk-in-Interview 2019 -01 Vacancy Scientist D
TNPL Walk-in-Interview 2019 -01 Vacancy Executive Director
AMU Walk-in-Interview 2019 -01 Vacancy Assistant Professor
IISER Thiruvananthapuram Walk-in-Interview 2019 -01 Vacancy Senior Research Fellow
IISER Pune Walk-in-Interview 2019 -01 Vacancy Technical Officer
NCW Walk-in-Interview 2019 -01 Vacancy Deputy Secretary
Jammu University Walk-in-Interview 2019 -01 Vacancy Junior Research Fellow
Rajendra Agricultural University Walk-in-Interview 2019 -01 Vacancy Registrar
Amrita Vishwa Vidyapeetham University Walk-in-Interview 2019 -01 Vacancy Ayurveda Doctor
SCTIMST Walk-in-Interview 2019 -01 Vacancy Senior Research Fellow
CVPPPL Walk-in-Interview 2019 -10 Vacancy Apprenticeship Training
Latest Government Jobs 2019 Notification on 06.02.2020
High Court of HP Walk-in-Interview 2019 -02 Vacancy Junior Office Assistant
NISH Walk-in-Interview 2019 -01 Vacancy Occupational Therapist & Assistant Professor / Senior Occupational Therapist
NITI Aayog Walk-in-Interview 2019 -20 Vacancy Young Professional
Panjab University Walk-in-Interview 2019 -01 Vacancy Research Fellow
AIIMS Delhi Walk-in-Interview 2019 -01 Vacancy Data Entry Operator
Cantonment Board, Dehuroad Walk-in-Interview 2019 -01 Vacancy Resident Medical Officer 
CGG Walk-in-Interview 2019 -01 Vacancy Java – Senior Software Developer
IIT Delhi Walk-in-Interview 2019 -01 Vacancy Research Associate 
MHRD Walk-in-Interview 2019 -01 Vacancy Vice Chancellor
VNIT Walk-in-Interview 2019 -01 Vacancy Junior Research Fellow
NEHU Walk-in-Interview 2019 -01 Vacancy Deputy Registrar
BSDMA Walk-in-Interview 2019 -03 Vacancy Senior Advisor
IIIT Hyderabad Walk-in-Interview 2019 -01 Vacancy Head / Manager
THSTI Walk-in-Interview 2019 -01 Vacancy Research Associate
Latest Government Jobs 2019 Notification on 05.02.2020
IIT Bhilai Walk-in-Interview 2019 -01 Vacancy Junior Research Fellow
Hindustan Copper Limited Walk-in-Interview 2019 -01 Vacancy Apprentice Training
IUCAA Walk-in-Interview 2019 -01 Vacancy Project Assistant
IIT Hyderabad Walk-in-Interview 2019 -01 Vacancy Research Fellow
Assam University Walk-in-Interview 2019 -01 Vacancy Junior Research Fellow (JRF)/Senior Research Fellow (SRF)
KGMU Walk-in-Interview 2019 -03 Vacancy Medical Officer
GSPHC Walk-in-Interview 2019 -04 Vacancy Account Assistant
E courts Walk-in-Interview 2019 -10 Vacancy Stenographer Grade III
NRCB Walk-in-Interview 2019 -01 Vacancy Office Assistant
NSIT Walk-in-Interview 2019 -74 Vacancy Assistant Professor
Konkan Railway Walk-in-Interview 2019 -01 Vacancy Public Relations Officer
MDU Rohtak Walk-in-Interview 2019 -01 Vacancy Senior Research Fellow
AAU Walk-in-Interview 2019 -03 Vacancy Technical Assistant
IIT Tirupati Walk-in-Interview 2019 -01 Vacancy Project Assistant
IIM Bangalore Walk-in-Interview 2019 -01 Vacancy Pedagogical Research Associate – MOOCs
Latest Government Jobs 2020 Notification on 04.02.2020
BECIL Walk-in-Interview 2019 -04 Vacancy Draughtsman
IIM Lucknow Walk-in-Interview 2019 -01 Vacancy Research Assistant 
AIIMS Raipur Walk-in-Interview 2019 -03 Vacancy Medical Physicist
NICFS Walk-in-Interview 2019 -02 Vacancy Multi Tasking Staff
Balmer Lawrie Walk-in-Interview 2019 -01 Vacancy Assistant Manager
NHM Walk-in-Interview 2019 -58 Vacancy Medical Officers
Mohanlal Sukhadia University Walk-in-Interview 2019 -01 Vacancy JRF
IIT Delhi Walk-in-Interview 2019 -01 Vacancy Research Associate
BHU Walk-in-Interview 2019 -01 Vacancy Director
SPMCIL Walk-in-Interview 2019 -26 Vacancy Jr. Technician
Karnataka High Court Walk-in-Interview 2019 -27 Vacancy Assistant Court Secretary
Nagaland University Walk-in-Interview 2019 -01 Vacancy Junior Research Fellow
NIT Silchar Walk-in-Interview 2019 -01 Vacancy JRF
CGG Walk-in-Interview 2019 -01 Vacancy Software Testing Engineer
ARIASS Walk-in-Interview 2019 -01 Vacancy Chief Finance Manager
Latest Government Jobs 2020 Notification on 03.02.2020
PAU Walk-in-Interview 2019 -01 Vacancy Junior Research Fellow
CUTN Walk-in-Interview 2019 -01 Vacancy Junior Research Fellow
IIT Bombay Walk-in-Interview 2019 -01 Vacancy Sr. Project Technical Assistant
NITUK Walk-in-Interview 2019 -01 Vacancy Project Staff
CBI Walk-in-Interview 2019 -01 Vacancy Counselor
ECIL Walk-in-Interview 2019 -07 Vacancy Technical Officer
NISER Walk-in-Interview 2019 -02 Vacancy Junior Project Scientist
DGR Punjab Walk-in-Interview 2019 -02 Vacancy Senior System Manager
IIIM Walk-in-Interview 2019 -01 Vacancy Project Assistant-II
NIMHANS Walk-in-Interview 2019 -01 Vacancy Research Assistant
Balmer Lawrie Walk-in-Interview 2019 -01 Vacancy Assistant Manager
IIBF Walk-in-Interview 2019 -01 Vacancy Junior Executive
CITCO Walk-in-Interview 2019 -01 Vacancy Commis-II
IIT Kharagpur Walk-in-Interview 2019 -01 Vacancy Senior Project Assistant – Research
FDDI Walk-in-Interview 2019 -01 Vacancy Consultant / Advisor – HR
Latest Government Jobs 2019 Notification on 01.02.2020
High Court of Delhi Walk-in-Interview 2019 -38 Vacancy Junior Judicial Assistant/Restorer
BOB Financial Solutions Limited Walk-in-Interview 2019 -01 Vacancy Sr. Officer / Officer – Fraud Operations
ARI Walk-in-Interview 2019 -02 Vacancy Application Programmer
Anna University Walk-in-Interview 2019 -01 Vacancy Professional Assistant I
BARC Walk-in-Interview 2019 -01 Vacancy Technician/B
Health & Family Welfare Department West Bengal Walk-in-Interview 2019 -01 Vacancy Programme Manager
NIT Kurukshetra Walk-in-Interview 2019 -01 Vacancy Junior Research Fellow
NIEPMD Walk-in-Interview 2019 -01 Vacancy Assistant
ILS Walk-in-Interview 2019 -01 Vacancy Project Professional-Communication
NIT Goa Walk-in-Interview 2019 -01 Vacancy Junior Research Fellow
FCI Walk-in-Interview 2019 -05 Vacancy Personal Assistant, Personal Secretaries, Managers
IIT Hyderabad Walk-in-Interview 2019 -01 Vacancy Program Coordinator
University of Kerala Walk-in-Interview 2019 -01 Vacancy Research Associate
Bank of Baroda Walk-in-Interview 2019 -01 Vacancy Financial Literacy Centre Counselor
HPPSC Walk-in-Interview 2019 -26 Vacancy H.P. Administrative Combined Competitive Exam
Latest Government Jobs 2020 Notification on 31.01.2020
TISS Walk-in-Interview 2019 -01 Vacancy Senior Administrative Assistant
MOIL Limited Walk-in-Interview 2019 -01 Vacancy Chief Manager
NIEPA Walk-in-Interview 2019 -04 Vacancy Professor
Chennai Port Trust Walk-in-Interview 2019 -05 Vacancy Senior Medical Officer
VIT University Walk-in-Interview 2019 -01 Vacancy Junior Research Fellow
IIFT Walk-in-Interview 2019 -01 Vacancy ECGC Chair Professor
IIT Jodhpur Walk-in-Interview 2019 -01 Vacancy Registrar
University of Delhi Walk-in-Interview 2019 -01 Vacancy Research fellow
SACON Walk-in-Interview 2019 -01 Vacancy Junior Research Biologist
BITS Pilani Walk-in-Interview 2019 -01 Vacancy Project Assistant I
NIEPA Walk-in-Interview 2019 -04 Vacancy Professor
SCTIMST Walk-in-Interview 2019 -01 Vacancy Financial Advisor
ARI Walk-in-Interview 2019 -01 Vacancy Junior Research Fellow
Visakhapatnam Steel Plant Walk-in-Interview 2019 -01 Vacancy Radiologist
NII Walk-in-Interview 2019 -01 Vacancy Public Relations Officer
Latest Government Jobs 2019 Notification on 30.01.2020
NCBS Walk-in-Interview 2019 -01 Vacancy Engineer 
IAF Walk-in-Interview 2019 -01 Vacancy Group Y (Auto Tech, IAF Police, Med Asst.) Trades
IIT Bhubaneswar Walk-in-Interview 2019 -01 Vacancy Junior Research Fellow
IACS Walk-in-Interview 2019 -01 Vacancy Research Associate-I
IIM Ahmedabad Walk-in-Interview 2019 -01 Vacancy Academic Associate
DMRC Walk-in-Interview 2019 -35 Vacancy Assistant Manager/Civil
IIT Mandi Walk-in-Interview 2019 -01 Vacancy Associate Marketing and Communications
Power Grid Walk-in-Interview 2019 -110 Vacancy Assistant Engineer Trainee
FSSAI Walk-in-Interview 2019 -01 Vacancy Senior Fellows in Food Safety & Nutrition
NII Walk-in-Interview 2019 -01 Vacancy Research Associate
UIDAI Walk-in-Interview 2019 -01 Vacancy Private Secretary
NCESS Walk-in-Interview 2019 -01 Vacancy Project Assistant II
IIFT Walk-in-Interview 2019 -01 Vacancy Field Investigator
Coffee Board Of India Walk-in-Interview 2019 -01 Vacancy Consultant
IIT Kanpur Walk-in-Interview 2019 -01 Vacancy Project Engineer
Latest Government Jobs 2019 Notification on 29.01.2020
HAL Walk-in-Interview 2019 -01 Vacancy Medical Officer
IISER Pune Walk-in-Interview 2019 -01 Vacancy Post-Doctoral Fellow
CIBA Walk-in-Interview 2019 -01 Vacancy Young Professional II
SSPHPGTI Walk-in-Interview 2019 -01 Vacancy Junior Research Fellow
JIPMER Walk-in-Interview 2019 -01 Vacancy Data Entry Operator
ZSI Walk-in-Interview 2019 -01 Vacancy Post Doctoral Fellow
WWF India Walk-in-Interview 2019 -01 Vacancy Fundraising Executives- Telefacing
Cochin Shipyard Walk-in-Interview 2019 -01 Vacancy Project Officer
Indian Army Walk-in-Interview 2019 -01 Vacancy Soldier General Duty
Pondicherry University Walk-in-Interview 2019 -02 Vacancy Guest Faculty
Assam Petro-Chemicals Limited Walk-in-Interview 2019 -02 Vacancy Deputy General Manager
CVPPPL Walk-in-Interview 2019 -10 Vacancy Apprenticeship Training
MGCU Walk-in-Interview 2019 -01 Vacancy Private Secretary
Punjabi University Patiala Walk-in-Interview 2019 -01 Vacancy Junior Research Fellow
TNFDC Walk-in-Interview 2019 -12 Vacancy Assistant Manager
Latest Government Jobs 2020 Notification on 28.01.2020
DSSSB Walk-in-Interview 2019 -01 Vacancy Junior Stenographer
Tezpur Walk-in-Interview 2019 -02 Vacancy Guest Faculties
BECIL Walk-in-Interview 2019 -01 Vacancy Surveyors
IIT Tirupati Walk-in-Interview 2019 -01 Vacancy Project Assistant
IWAI Walk-in-Interview 2019 -01 Vacancy Dy. Director
NIT Goa Walk-in-Interview 2019 -01 Vacancy Junior Research Fellow
KHPT Walk-in-Interview 2019 -06 Vacancy Sales Supervisors
CISH Walk-in-Interview 2019 -01 Vacancy Project Assistant
MANAGE Walk-in-Interview 2019 -01 Vacancy Senior Research Fellow
SAIL Walk-in-Interview 2019 -01 Vacancy Resident House Officers
BITS Pilani Walk-in-Interview 2019 -01 Vacancy Project Assistant I
VNIT Walk-in-Interview 2019 -01 Vacancy Junior Research Fellow
NIEPMD Walk-in-Interview 2019 -01 Vacancy Master Trainer – Indian Sign Language
IIT Kanpur Walk-in-Interview 2019 -01 Vacancy Project Executive Officer
IRCON Walk-in-Interview 2019 -41 Vacancy Graduate Apprentices
Latest Government Jobs 2020 Notification on 27.01.2020
Bharathidasan University Walk-in-Interview 2019 -01 Vacancy Junior Research Fellow 
Central University of Gujarat Walk-in-Interview 2019 -01 Vacancy Research Assistant
AIIMS Bhopal Walk-in-Interview 2019 -78 Vacancy Senior Resident
GCRI Walk-in-Interview 2019 -02 Vacancy Visiting Gastro Oncologist
KGMU Walk-in-Interview 2019 -01 Vacancy Project technician/ Lab technician 
IARI Walk-in-Interview 2019 -07 Vacancy Young Professional- II
NIRT Walk-in-Interview 2019 -01 Vacancy Project Technical Officer
WBMDFC Walk-in-Interview 2019 -05 Vacancy Education Supervisor 
KAU Walk-in-Interview 2019 -01 Vacancy Assistant Professor
ACTREC Walk-in-Interview 2019 -01 Vacancy Junior Research Fellow
NCAOR Walk-in-Interview 2019 -01 Vacancy Project Technical Assistant
ICGEB Walk-in-Interview 2019 -01 Vacancy Junior Research Fellow (JRF) / Research Assistant (RA)
NIN Walk-in-Interview 2019 -02 Vacancy Junior Research Fellow
CNCI Walk-in-Interview 2019 -01 Vacancy Senior Research Fellow
KHPT Walk-in-Interview 2019 -01 Vacancy Marketing Officer
Latest Government Jobs 2020 Notification on 25.01.2020
MDU Rohtak Walk-in-Interview 2019 -01 Vacancy Senior Research Fellow
KAU Walk-in-Interview 2019 -01 Vacancy Assistant Professor
AMU Walk-in-Interview 2019 -01 Vacancy Junior Research Fellowship
SCI Walk-in-Interview 2019 -01 Vacancy Assistant Manager
IISC Walk-in-Interview 2019 -01 Vacancy Teaching Assistant
AIIMS Bhopal Walk-in-Interview 2019 -17 Vacancy Junior Resident
NERIST Walk-in-Interview 2019 -01 Vacancy RA
IISER Bhopal Walk-in-Interview 2019 -01 Vacancy Project Office Executive
NIT Silchar Walk-in-Interview 2019 -01 Vacancy JRF
CGG Walk-in-Interview 2019 -01 Vacancy Flutter Software Developer
ICRISAT Walk-in-Interview 2019 -01 Vacancy Scientific Officer
IIAP Walk-in-Interview 2019 -01 Vacancy Project Scientific Assistant
NHSRC Walk-in-Interview 2019 -01 Vacancy Consultant
IIT Gandhinagar Walk-in-Interview 2019 -01 Vacancy Software Developer
NIT Raipur Walk-in-Interview 2019 -01 Vacancy Project Fellow
Latest Government Jobs 2020 Notification on 24.01.2020
IGKV Walk-in-Interview 2019 -05 Vacancy Guest Teachers/part Time Teachers
TANUVAS Walk-in-Interview 2019 -01 Vacancy Junior Research Fellow
Jamia Hamdard Walk-in-Interview 2019 -01 Vacancy Junior Research Fellow
IISER Bhopal Walk-in-Interview 2019 -01 Vacancy Junior Research Fellow
IIMU Walk-in-Interview 2019 -01 Vacancy Officer
CGG Walk-in-Interview 2019 -01 Vacancy Business Technical Analyst
Rubber Board Walk-in-Interview 2019 -01 Vacancy Analytical Trainees
BITS Pilani Walk-in-Interview 2019 -02 Vacancy Research Assistant
IWAI Walk-in-Interview 2019 -06 Vacancy Specialist
AIIMS Raipur Walk-in-Interview 2019 -03 Vacancy Assistant Professor
NIPGR Walk-in-Interview 2019 -01 Vacancy Junior Research Fellow / Project Associate-I
SCTIMST Walk-in-Interview 2019 -01 Vacancy Financial Advisor
Dibrugarh University Walk-in-Interview 2019 -01 Vacancy JRF
NIN Walk-in-Interview 2019 -02 Vacancy Junior Research Fellow
Aligarh Muslim University Walk-in-Interview 2019 -01 Vacancy Junior Research Fellowship
IIT Dharwad Walk-in-Interview 2019 -02 Vacancy Junior Research Fellow
IIIT Delhi Walk-in-Interview 2019 -01 Vacancy Data Scientist
TNFD Walk-in-Interview 2019 -227 Vacancy Forest Guard
IACS Walk-in-Interview 2019 -01 Vacancy Research Associate-I
VMMC Walk-in-Interview 2019 -139 Vacancy Senior Resident
Bharathiar University Walk-in-Interview 2019 -01 Vacancy Junior Research Fellow
CUTN Walk-in-Interview 2019 -01 Vacancy Junior Research Fellow
CPCRI Walk-in-Interview 2019 -01 Vacancy Young Professional -II
UNDP Walk-in-Interview 2019 -01 Vacancy Individual Consultant
CNCI Walk-in-Interview 2019 -01 Vacancy Junior Resident
UIDAI Walk-in-Interview 2019 -01 Vacancy Private Secretary
CCL Walk-in-Interview 2019 -01 Vacancy Full Time Advisor
IISER Pune Walk-in-Interview 2019 -01 Vacancy Research Associate
BHU Walk-in-Interview 2019 -01 Vacancy Junior Research Fellow
University Of Madras Walk-in-Interview 2019 -02 Vacancy Assistant Professor
Latest Government Jobs 2020 Notification on 22.01.2020
KHPT Walk-in-Interview 2019 -01 Vacancy Sales Supervisors
ICRISAT Walk-in-Interview 2019 -01 Vacancy Scientific Officer
NIT Silchar Walk-in-Interview 2019 -01 Vacancy Junior Research Fellow 
Air India Limited Walk-in-Interview 2019 -01 Vacancy Aviation English Language Specialist Expert
NIT Warangal Walk-in-Interview 2019 -01 Vacancy Junior Research Fellow
NIE Walk-in-Interview 2019 -01 Vacancy Project Scientist
IARI Walk-in-Interview 2019 -07 Vacancy Young Professional- II
JNU Walk-in-Interview 2019 -01 Vacancy Project Staff
IACS Walk-in-Interview 2019 -01 Vacancy Research Associate – I
NIMHANS Walk-in-Interview 2019 -01 Vacancy Research Associate
TTD Walk-in-Interview 2019 -01 Vacancy Post-Doctoral Fellowship
IIBF Walk-in-Interview 2019 -01 Vacancy Junior Executive
NIT Tiruchirappalli Walk-in-Interview 2019 -01 Vacancy Junior Research Fellow
IUST Walk-in-Interview 2019 -02 Vacancy Associate Professor
IISS Walk-in-Interview 2019 -01 Vacancy Senior Research Fellow
Latest Government Jobs 2020 Notification on 21.01.2020
IIITDMJ Walk-in-Interview 2019 -01 Vacancy Junior Research Fellow
PAU Walk-in-Interview 2019 -01 Vacancy Research Assistant
DRDO Walk-in-Interview 2019 -02 Vacancy Junior Research Fellow
Balmer Lawrie Walk-in-Interview 2019 -01 Vacancy Deputy Manager
SRTMUN Walk-in-Interview 2019 -01 Vacancy Principal
ICFRE Walk-in-Interview 2019 -01 Vacancy JPF
IGIDR Walk-in-Interview 2019 -01 Vacancy Finance Officer
PEC University Walk-in-Interview 2019 -01 Vacancy SRF/JRF
NIT Mizoram Walk-in-Interview 2019 -01 Vacancy Project Assistant
CIBA Walk-in-Interview 2019 -01 Vacancy Young Professional II
DIAT Walk-in-Interview 2019 -01 Vacancy Junior Research Fellow
SKUAST Kashmir Walk-in-Interview 2019 -01 Vacancy Project Assistants
CURAJ Walk-in-Interview 2019 -01 Vacancy Project Assistant
VNIT Walk-in-Interview 2019 -01 Vacancy Junior Research Fellow
IIT Roorkee Walk-in-Interview 2019 -01 Vacancy Junior Research Fellow
Latest Government Jobs 2019 Notification on 20.01.2020
GNDU Walk-in-Interview 2019 -01 Vacancy JRF
NIT Durgapur Walk-in-Interview 2019 -01 Vacancy Junior Research Fellow
RNSB Walk-in-Interview 2019 -01 Vacancy Jr. Executive
IIT Mandi Walk-in-Interview 2019 -01 Vacancy Professors
IISER Pune Walk-in-Interview 2019 -02 Vacancy Post-Doctoral Fellow
NIT Calicut Walk-in-Interview 2019 -01 Vacancy Junior Engineers
AIIMS Patna Walk-in-Interview 2019 -06 Vacancy Deputy Medical Superintendent
TIIC Walk-in-Interview 2019 -06 Vacancy Marketing Support Executive
IIT Kharagpur Walk-in-Interview 2019 -01 Vacancy Junior Research Fellowship
Kalyani University Walk-in-Interview 2019 -01 Vacancy Junior Research Fellow
IIWM Walk-in-Interview 2019 -01 Vacancy Senior Research Fellow
IIT Kanpur Walk-in-Interview 2019 -01 Vacancy Project Scientist
KFC Walk-in-Interview 2019 -01 Vacancy Marketing Executive
CURAJ Walk-in-Interview 2019 -01 Vacancy Project Assistant
DMRC Walk-in-Interview 2019 -35 Vacancy Assistant Manager
Latest Government Jobs 2019 Notification on 21.01.2020
IIITDMJ Walk-in-Interview 2019 -01 Vacancy Junior Research Fellow
PAU Walk-in-Interview 2019 -01 Vacancy Research Assistant
DRDO Walk-in-Interview 2019 -02 Vacancy Junior Research Fellow
Balmer Lawrie Walk-in-Interview 2019 -01 Vacancy Deputy Manager
SRTMUN Walk-in-Interview 2019 -01 Vacancy Principal
ICFRE Walk-in-Interview 2019 -01 Vacancy JPF
IGIDR Walk-in-Interview 2019 -01 Vacancy Finance Officer
PEC University Walk-in-Interview 2019 -01 Vacancy SRF/JRF
NIT Mizoram Walk-in-Interview 2019 -01 Vacancy Project Assistant
CIBA Walk-in-Interview 2019 -01 Vacancy Young Professional II
DIAT Walk-in-Interview 2019 -01 Vacancy Junior Research Fellow
SKUAST Kashmir Walk-in-Interview 2019 -01 Vacancy Project Assistants
CURAJ Walk-in-Interview 2019 -01 Vacancy Project Assistant
VNIT Walk-in-Interview 2019 -01 Vacancy Junior Research Fellow
IIT Roorkee Walk-in-Interview 2019 -01 Vacancy Junior Research Fellow
Latest Government Jobs 2019 Notification on 20.01.2020
GNDU Walk-in-Interview 2019 -01 Vacancy JRF
NIT Durgapur Walk-in-Interview 2019 -01 Vacancy Junior Research Fellow
RNSB Walk-in-Interview 2019 -01 Vacancy Jr. Executive
IIT Mandi Walk-in-Interview 2019 -01 Vacancy Professors
IISER Pune Walk-in-Interview 2019 -02 Vacancy Post-Doctoral Fellow
NIT Calicut Walk-in-Interview 2019 -01 Vacancy Junior Engineers
AIIMS Patna Walk-in-Interview 2019 -06 Vacancy Deputy Medical Superintendent
TIIC Walk-in-Interview 2019 -06 Vacancy Marketing Support Executive
IIT Kharagpur Walk-in-Interview 2019 -01 Vacancy Junior Research Fellowship
Kalyani University Walk-in-Interview 2019 -01 Vacancy Junior Research Fellow
IIWM Walk-in-Interview 2019 -01 Vacancy Senior Research Fellow
IIT Kanpur Walk-in-Interview 2019 -01 Vacancy Project Scientist
KFC Walk-in-Interview 2019 -01 Vacancy Marketing Executive
CURAJ Walk-in-Interview 2019 -01 Vacancy Project Assistant
DMRC Walk-in-Interview 2019 -35 Vacancy Assistant Manager
Latest Government Jobs 2020 Notification on 17.01.2020
IGIB Walk-in-Interview 2019 -01 Vacancy Sr. Technical Officer
CGG Walk-in-Interview 2019 -01 Vacancy Software Testing Engineer
High Court of Madhya Pradesh Walk-in-Interview 2019 -47 Vacancy District Judge
BHEL Walk-in-Interview 2019 -01 Vacancy Part Time Medical Consultant
ICSI Walk-in-Interview 2019 -01 Vacancy Joint Director
NPCIL Walk-in-Interview 2019 -56 Vacancy Scientific Assistant / B
Anna University Walk-in-Interview 2019 -01 Vacancy Professional Assistant – I
ESIC Walk-in-Interview 2019 -01 Vacancy Assistant Professor
IIMR Walk-in-Interview 2019 -01 Vacancy Young Professionals
AAU Walk-in-Interview 2019 -01 Vacancy Research Technician
IIMR Walk-in-Interview 2019 -01 Vacancy Senior Research Fellow
IISER Bhopal Walk-in-Interview 2019 -01 Vacancy Junior Research Fellow
IIT Indore Walk-in-Interview 2019 -01 Vacancy Project Associate-I
TMC Walk-in-Interview 2019 -01 Vacancy Assistant Security Officer
IRFCL Walk-in-Interview 2019 -01 Vacancy General Manager
Latest Government Jobs 2019 Notification on 16.01.2020
Visakhapatnam Steel Plant Walk-in-Interview 2019 -188 Vacancy Management Trainees
ICSI Walk-in-Interview 2019 -01 Vacancy Joint Director
NABARD Walk-in-Interview 2019 -01 Vacancy Assistant Manager
Amrita Vishwa Vidyapeetham University Walk-in-Interview 2019 -01 Vacancy Assistant Coordinator
IISER Pune Walk-in-Interview 2019 -01 Vacancy Supervisor
Konkan Railway Walk-in-Interview 2019 -01 Vacancy Assistant Security Commissioner /RPF
Gauhati University Walk-in-Interview 2019 -01 Vacancy Research Assistant
NHB Walk-in-Interview 2019 -01 Vacancy Consultant
BECIL Walk-in-Interview 2019 -01 Vacancy Medical Officer
CMET Walk-in-Interview 2019 -08 Vacancy Technical Assistant
CCI Walk-in-Interview 2019 -01 Vacancy Assistant Company Secretary -II
NCL Walk-in-Interview 2019 -01 Vacancy Research Associate
DMRC Walk-in-Interview 2019 -35 Vacancy Assistant Manager/Civil
IIFPT Walk-in-Interview 2019 -02 Vacancy Young Professional –II
IIAP Walk-in-Interview 2019 -01 Vacancy Project Scientific Assistant
Latest Government Jobs 2019 Notification on 15.01.2020
University of Mumbai Walk-in-Interview 2019 -01 Vacancy Research Associate
Ravenshaw University Walk-in-Interview 2019 -01 Vacancy Professor 
SNU Walk-in-Interview 2019 -04 Vacancy Regional Manager Outreach 
NIT Raipur Walk-in-Interview 2019 -02 Vacancy Trainee Engineer
BECIL Walk-in-Interview 2019 -01 Vacancy Hindi Translator
TCIL Walk-in-Interview 2019 -02 Vacancy Architect
IOCL Walk-in-Interview 2019 -04 Vacancy Security Chief 
IIITDMJ Walk-in-Interview 2019 -01 Vacancy Junior Research Fellow
BOB Financial Solutions Limited Walk-in-Interview 2019 -01 Vacancy Manager / Assistant Manager
IIT Gandhinagar Walk-in-Interview 2019 -01 Vacancy Junior Research Fellow
IIT Jammu Walk-in-Interview 2019 -01 Vacancy Project Officer
CURAJ Walk-in-Interview 2019 -01 Vacancy Assistant Professor
RNSB Walk-in-Interview 2019 -01 Vacancy Jr. Executive
AIIMS, Nagpur Walk-in-Interview 2019 -01 Vacancy Principal
TPSC Walk-in-Interview 2019 -01 Vacancy Project Officer
Latest Government Jobs 2020 Notification on 14.01.2020
SVIMS Walk-in-Interview 2019 -01 Vacancy Research Scientist –I
Jamia Hamdard Walk-in-Interview 2019 -01 Vacancy Junior Research Fellow 
TISS Walk-in-Interview 2019 -01 Vacancy Programme Manager
IIM Bangalore Walk-in-Interview 2019 -01 Vacancy Pedagogical Research Associate – MOOCs 
AAU Walk-in-Interview 2019 -01 Vacancy Senior Research Fellow 
IISER Bhopal Walk-in-Interview 2019 -01 Vacancy Junior Research Fellow
Anna University Walk-in-Interview 2019 -01 Vacancy Junior Research Fellow
Periyar University Walk-in-Interview 2019 -01 Vacancy University Post Doctoral Fellowship
NII Walk-in-Interview 2019 -01 Vacancy Senior Research Fellow/Junior Research Fellow
VIT University Walk-in-Interview 2019 -01 Vacancy Postdoctoral Fellowship
IISER Pune Walk-in-Interview 2019 -01 Vacancy Research Scientist
IISER Mohali Walk-in-Interview 2019 -01 Vacancy Registrar
BFUHS Walk-in-Interview 2019 -01 Vacancy Superintendent Grade- I
WII Walk-in-Interview 2019 -02 Vacancy Project Associate
DRDO Walk-in-Interview 2019 -02 Vacancy Research Associate
Latest Government Jobs 2020 Notification on 11.01.2020
NIPGR Walk-in-Interview 2019 -01 Vacancy Junior Research Fellow
Visakhapatnam Port Trust Walk-in-Interview 2019 -01 Vacancy Senior Assistant Traffic Manager
NIO Walk-in-Interview 2019 -01 Vacancy Project Assistant II
MSSRF Walk-in-Interview 2019 -01 Vacancy MMSS-Fellow
BOB Financial Solutions Limited Walk-in-Interview 2019 -01 Vacancy Assistant Manager / Sr. Officer – Operations Finance
ECIL Walk-in-Interview 2019 -01 Vacancy Scientific Assistant-A
IIT Gandhinagar Walk-in-Interview 2019 -01 Vacancy Junior Research Fellow
NIT Tiruchirappalli Walk-in-Interview 2019 -01 Vacancy Engineer Trainee
IIT Guwahati Walk-in-Interview 2019 -01 Vacancy JRF
Bureau of Energy Efficiency Walk-in-Interview 2019 -01 Vacancy Stenographer
CPCL Walk-in-Interview 2019 -01 Vacancy Fitter / Welder / Electrician & Various
NLU Delhi Walk-in-Interview 2019 -01 Vacancy Associate
Panjab University Walk-in-Interview 2019 -01 Vacancy Guest Faculty
TANGEDCO Walk-in-Interview 2019 -01 Vacancy Assistant Engineer
CCI Walk-in-Interview 2019 -01 Vacancy Secretary
Latest Government Jobs 2020 Notification on 10.01.2020
FACT Walk-in-Interview 2019 -24 Vacancy Graduate Apprentice
NII Walk-in-Interview 2019 -01 Vacancy Senior Research Fellow/Junior Research Fellow 
Bose Institute Walk-in-Interview 2019 -01 Vacancy Research Associate 
Central University Of Punjab Walk-in-Interview 2019 -01 Vacancy Research Assistant 
CMRL Walk-in-Interview 2019 -01 Vacancy Deputy General Manager
Goa PSC Walk-in-Interview 2019 -01 Vacancy Senior Psychiatrist
Ministry of Culture Walk-in-Interview 2019 -01 Vacancy Assistant Director 
NIPGR Walk-in-Interview 2019 -01 Vacancy Research Associate
DYSRHU Walk-in-Interview 2019 -04 Vacancy Agricultural Extension Officer 
Ministry of External Affairs Walk-in-Interview 2019 -01 Vacancy Under Secretary / Deputy Secretary
IIT Hyderabad Walk-in-Interview 2019 -01 Vacancy Junior Research Fellow
IIT Hyderabad Walk-in-Interview 2019 -01 Vacancy Junior Research Fellow
BITS Pilani Walk-in-Interview 2019 -01 Vacancy Junior Research Fellow
NCERT Walk-in-Interview 2019 -02 Vacancy Senior Consultant
MHRD Walk-in-Interview 2019 -01 Vacancy Vice-Chancellor
NIT Puducherry Walk-in-Interview 2019 -01 Vacancy Teaching
Latest Government Jobs 2019 Notification on 09.01.2020
NIRT Walk-in-Interview 2019 -01 Vacancy Consultant Engineer
Jamia Hamdard Walk-in-Interview 2019 -01 Vacancy Junior Research Fellow
ICRISAT Walk-in-Interview 2019 -01 Vacancy Senior Research Fellow
NIT Andhra Pradesh Walk-in-Interview 2019 -01 Vacancy Junior Research Fellow
MGCU Bihar Walk-in-Interview 2019 -01 Vacancy Officer on Special Duty
Dibrugarh University Walk-in-Interview 2019 -01 Vacancy Junior Research Fellow
NIT Warangal Walk-in-Interview 2019 -01 Vacancy Junior Research Fellow
IRP Walk-in-Interview 2019 -01 Vacancy Senior Resident
NIMHANS Walk-in-Interview 2019 -01 Vacancy Junior Research Fellow
IIM Kozhikode Walk-in-Interview 2019 -01 Vacancy Associate
IIIT Hyderabad Walk-in-Interview 2019 -01 Vacancy Head / Manager
NIT Jamshedpur Walk-in-Interview 2019 -01 Vacancy Temporary Faculty
VIT University Walk-in-Interview 2019 -01 Vacancy Junior Research Fellow
NABI Walk-in-Interview 2019 -01 Vacancy Project scientist
IITBHU Walk-in-Interview 2019 -01 Vacancy Deputy Registrar
Latest Government Jobs 2020 Notification on 08.01.2020
NIT Silchar Walk-in-Interview 2019 -01 Vacancy JRF
IIT Kharagpur Walk-in-Interview 2019 -01 Vacancy Junior Research Fellowship
BHEL Walk-in-Interview 2019 -04 Vacancy Lead Consultants
BEL Walk-in-Interview 2019 -01 Vacancy Senior Assistant Engineer
IISS Walk-in-Interview 2019 -01 Vacancy Senior Research Fellow
MSSRF Walk-in-Interview 2019 -01 Vacancy MMSS-Fellow
SDSC Walk-in-Interview 2019 -01 Vacancy Scientist / Engineer 'SC'
PNB Walk-in-Interview 2019 -01 Vacancy Manager
Kamarajar Port Limited Walk-in-Interview 2019 -01 Vacancy Hindi Translator
Haldia Petrochemicals Walk-in-Interview 2019 -01 Vacancy Engineer / Asst. Manager – Safety Services
Kerala PSC Walk-in-Interview 2019 -01 Vacancy Assistant Dental Surgeon
IIT Gandhinagar Walk-in-Interview 2019 -01 Vacancy Junior Research Fellow
Pawan Hans Ltd Walk-in-Interview 2019 -01 Vacancy Post Holder
BPPI Walk-in-Interview 2019 -01 Vacancy Marketing Officer/Senior Marketing Officer
Konkan Railway Walk-in-Interview 2019 -01 Vacancy Assistant Security Commissioner /RPF
Latest Government Jobs 2020 Notification on 07.01.2020
IIT Kharagpur Walk-in-Interview 2019 -01 Vacancy Junior Research Fellowship
BHEL Walk-in-Interview 2019 -04 Vacancy Lead Consultants
IIITDM Kancheepuram Walk-in-Interview 2019 -01 Vacancy Laboratory Assistant Trainee
IISER Kolkata Walk-in-Interview 2019 -01 Vacancy Junior Research Fellow
IIITM Kerala Walk-in-Interview 2019 -01 Vacancy Data Scientists
ACTREC Walk-in-Interview 2019 -01 Vacancy Locum & Staff Nurse
Mizoram PSC Walk-in-Interview 2019 -02 Vacancy Assistant Professor
PAU Walk-in-Interview 2019 -01 Vacancy Young Professional-II
Parliament of India Walk-in-Interview 2019 -17 Vacancy Security Assistant Grade
TANUVAS Walk-in-Interview 2019 -01 Vacancy Technical Assistant
Amrita Vishwa Vidyapeetham University Walk-in-Interview 2019 -01 Vacancy Assistant Coordinator
GERMI Walk-in-Interview 2019 -01 Vacancy Program Lead
IIIT Delhi Walk-in-Interview 2019 -01 Vacancy Data Scientist
IIMR Walk-in-Interview 2019 -01 Vacancy Senior Research Fellow
TNJFU Walk-in-Interview 2019 -01 Vacancy Teaching Assistants
Latest Government Jobs 2019 Notification on 06.01.2020
NIT Delhi Walk-in-Interview 2019 -01 Vacancy JRF 
Shivaji University Walk-in-Interview 2019 -01 Vacancy Principal
IIT Kanpur Walk-in-Interview 2019 -01 Vacancy SRF
SDAU Walk-in-Interview 2019 -01 Vacancy Technical Assistant
AIIMS Patna Walk-in-Interview 2019 -06 Vacancy Deputy Medical Superintendent
IARI Walk-in-Interview 2019 -01 Vacancy Junior Research Fellow
CEPT University Walk-in-Interview 2019 -01 Vacancy Sanitary Supervisor
IIT Kharagpur Walk-in-Interview 2019 -01 Vacancy Project Scientist
NIT Durgapur Walk-in-Interview 2019 -01 Vacancy Research Associate
IICA Walk-in-Interview 2019 -01 Vacancy Chair Professor
BITS Pilani Walk-in-Interview 2019 -01 Vacancy Junior Research Fellow
ILBS Walk-in-Interview 2019 -01 Vacancy Program Co-ordinator
IIT Roorkee Walk-in-Interview 2019 -01 Vacancy Registrar
IWAI Walk-in-Interview 2019 -01 Vacancy Specialist
TERI Walk-in-Interview 2019 -01 Vacancy Assistant Project Officer / Project Officer
Latest Government Jobs 2020 Notification on 04.01.2020
GSL Walk-in-Interview 2019 -01 Vacancy Deputy General Manager
HSCC (India) Ltd Walk-in-Interview 2019 -01 Vacancy Project Management
SVIMS Walk-in-Interview 2019 -03 Vacancy Scientist B Medical
NBSSLUP Walk-in-Interview 2019 -01 Vacancy Young Professional-I
NISH Walk-in-Interview 2019 -02 Vacancy Indian Sign Language (ISL) teacher as Consultants
India Post Walk-in-Interview 2019 -02 Vacancy Consultant
NITIE Walk-in-Interview 2019 -01 Vacancy Research Assistant
IRSDCL Walk-in-Interview 2019 -01 Vacancy Architects
NLU Delhi Walk-in-Interview 2019 -01 Vacancy Intern
NDMC Walk-in-Interview 2019 -01 Vacancy Teacher
MSEDCL Walk-in-Interview 2019 -18 Vacancy Consultants
NIT Warangal Walk-in-Interview 2019 -01 Vacancy Junior Research Fellow
Parliament of India Walk-in-Interview 2019 -21 Vacancy Parliamentary Reporter
OPSC Walk-in-Interview 2019 -03 Vacancy Assistant Director
CMD Kerala Walk-in-Interview 2019 -01 Vacancy Business Development Executive I
Latest Government Jobs 2020 Notification on 03.01.2020
DSSSB Walk-in-Interview 2019 -01 Vacancy PGT
TNJFU Walk-in-Interview 2019 -01 Vacancy Junior Research Fellow
IIT Hyderabad Walk-in-Interview 2019 -01 Vacancy Junior Research Fellow
VNIT Walk-in-Interview 2019 -01 Vacancy Technical Associate
IIM Amritsar Walk-in-Interview 2019 -01 Vacancy Project Construction Manager
Panjab University Walk-in-Interview 2019 -01 Vacancy Guest Faculty
IIT Tirupati Walk-in-Interview 2019 -01 Vacancy Junior Research Fellow 
NIT Tiruchirappalli Walk-in-Interview 2019 -01 Vacancy Engineer Trainee
WWF India Walk-in-Interview 2019 -01 Vacancy Senior Project Officer 
NBRC Walk-in-Interview 2019 -01 Vacancy Scientist 'B'
MANAGE Walk-in-Interview 2019 -01 Vacancy MANAGE Research Fellow
PAU Walk-in-Interview 2019 -01 Vacancy Teaching Assistant
NDDB Walk-in-Interview 2019 -01 Vacancy Deputy Manager
BHU Walk-in-Interview 2019 -01 Vacancy Research Coordinator
Latest Government Jobs 2020 Notification on 02.01.2020
NRCB Walk-in-Interview 2019 -01 Vacancy Junior Research Fellow
WII Walk-in-Interview 2019 -01 Vacancy Junior Research Fellow
NCESS Walk-in-Interview 2019 -03 Vacancy Scientist 
IRSDCL Walk-in-Interview 2019 -04 Vacancy Civil Engineers
Anna University Walk-in-Interview 2019 -01 Vacancy Clerical Assistant 
UIDAI Walk-in-Interview 2019 -01 Vacancy Private Secretary
SAIL Walk-in-Interview 2019 -07 Vacancy Pharmacist Intern
ESIC Walk-in-Interview 2019 -09 Vacancy Senior Resident
SHS Bihar Walk-in-Interview 2019 -100 Vacancy Lab Technician
KSIDC Walk-in-Interview 2019 -01 Vacancy Business Development Executive I
MMTC Limited Walk-in-Interview 2019 -01 Vacancy Consultant
CISH Walk-in-Interview 2019 -01 Vacancy Junior Research Fellow
NIT Jamshedpur Walk-in-Interview 2019 -01 Vacancy Junior Research Fellow
ECIL Walk-in-Interview 2019 -64 Vacancy Graduate Engineer Trainee
ISM Walk-in-Interview 2019 -01 Vacancy Junior Research Fellow
Latest Government Jobs 2020 Notification on 01.01.2020
DFFCIL Walk-in-Interview 2019 -01 Vacancy Assistant Manager/ Junior Manager/ Senior Executive
AMU Walk-in-Interview 2019 -01 Vacancy Project Technical Officer
University of Calicut Walk-in-Interview 2019 -03 Vacancy Assistant Professor
CCARI Walk-in-Interview 2019 -01 Vacancy Senior Project Associate
NIT Warangal Walk-in-Interview 2019 -01 Vacancy Research Associate
MNRE Walk-in-Interview 2019 -01 Vacancy Director General
ISI Walk-in-Interview 2019 -01 Vacancy Project linked System Administrator
SVVU Walk-in-Interview 2019 -01 Vacancy Junior Research Fellow
WBUT Walk-in-Interview 2019 -01 Vacancy Project Assistant
University Of Kerala Walk-in-Interview 2019 -01 Vacancy Technical Assistant
NII Walk-in-Interview 2019 -01 Vacancy Junior Research Fellow
Latest Government Jobs 2019 Notification on 31.12.2019
Jamia Millia Islamia Walk-in-Interview 2019 -01 Vacancy Junior Research Fellow
JNPT Walk-in-Interview 2019 -01 Vacancy Medical Officer
IISER Pune Walk-in-Interview 2019 -01 Vacancy Post-Doctoral Fellow
IIT Jammu Walk-in-Interview 2019 -01 Vacancy Junior Research Fellow
HSL Walk-in-Interview 2019 -01 Vacancy CS Trainee
East Central Railway Walk-in-Interview 2019 -01 Vacancy Part Time Dental Surgeon
UIDAI Walk-in-Interview 2019 -01 Vacancy Private Secretary
Balmer Lawrie Walk-in-Interview 2019 -01 Vacancy Vice President
Shivaji University Walk-in-Interview 2019 -01 Vacancy Principal
APSC Walk-in-Interview 2019 -12 Vacancy Fishery Development Officer & Allied cadre
RCC Walk-in-Interview 2019 -01 Vacancy Clinical Research Associate
DERC Walk-in-Interview 2019 -01 Vacancy Staff Consultant
OPSC Walk-in-Interview 2019 -01 Vacancy Receptionist
CDAC Walk-in-Interview 2019 -01 Vacancy Project Engineer
University of Calcutta Walk-in-Interview 2019 -01 Vacancy Research Assistant
Latest Government Jobs 2019 Notification on 30.12.2019
Kuvempu University Walk-in-Interview 2019 -01 Vacancy Lady Doctor
JNCASR Walk-in-Interview 2019 -01 Vacancy Instrument Manager/Operator 
TISS Walk-in-Interview 2019 -01 Vacancy Young Professional
IRCON Walk-in-Interview 2019 -01 Vacancy Project Director
MRPL Walk-in-Interview 2019 -06 Vacancy Executive
Kumaun University Walk-in-Interview 2019 -02 Vacancy Guest Faculty
ECIL Walk-in-Interview 2019 -64 Vacancy Graduate Engineer Trainee
Gauhati University Walk-in-Interview 2019 -01 Vacancy Principal
DMRC Walk-in-Interview 2019 -02 Vacancy Dy. General Manager
IIITDMJ Walk-in-Interview 2019 -01 Vacancy Junior Research Fellow
DRDO Walk-in-Interview 2019 -1817 Vacancy Multi Tasking Staff
CJA Walk-in-Interview 2019 -01 Vacancy YOGA Instructor
TMC Walk-in-Interview 2019 -01 Vacancy Assistant Security Officer
GBPUAT Walk-in-Interview 2019 -01 Vacancy SRF
VVGNLI Walk-in-Interview 2019 -01 Vacancy Research Associates
Latest Government Jobs 2019 Notification on 28.12.2019
CBI Walk-in-Interview 2019 -01 Vacancy In-charge
BCKV Walk-in-Interview 2019 -02 Vacancy Course Facilitators
NUALS Walk-in-Interview 2019 -01 Vacancy Health Club Trainer
IIT Bhubaneswar Walk-in-Interview 2019 -01 Vacancy Junior Research Fellow
Konkan Railway Walk-in-Interview 2019 -01 Vacancy Dy. Chief Engineer
RMRIMS Walk-in-Interview 2019 -01 Vacancy Scientist
WWF India Walk-in-Interview 2019 -01 Vacancy Senior Project Officer
GGU Walk-in-Interview 2019 -126 Vacancy Assistant Professor
Oil India Limited Walk-in-Interview 2019 -01 Vacancy Consultant
AIIMS Bhubaneswar Walk-in-Interview 2019 -40 Vacancy Junior Residents
NPCIL Walk-in-Interview 2019 -80 Vacancy Trade Apprentice
Sahitya Akademi Walk-in-Interview 2019 -01 Vacancy Deputy Secretary
THSTI Walk-in-Interview 2019 -01 Vacancy Research Associate
University of Kerala Walk-in-Interview 2019 -01 Vacancy Technical Assistant
APSC Walk-in-Interview 2019 -39 Vacancy Research Assistant
Latest Government Jobs 2019 Notification on 27.12.2019
INST Walk-in-Interview 2019 -01 Vacancy Junior Research Fellow
Hindustan Copper Limited Walk-in-Interview 2019 -100 Vacancy Trade Apprentice 
NIMR Walk-in-Interview 2019 -01 Vacancy Project Research Associate 
TSPSC Walk-in-Interview 2019 -01 Vacancy Statistical Officer
PEC University Walk-in-Interview 2019 -02 Vacancy Faculty
NHM Odisha Walk-in-Interview 2019 -01 Vacancy Consultant, Mental Health
AIIMS Delhi Walk-in-Interview 2019 -01 Vacancy Scientist – C
IIT Mandi Walk-in-Interview 2019 -01 Vacancy Project Associate
NIMHANS Walk-in-Interview 2019 -01 Vacancy Program coordinator
NIT Durgapur Walk-in-Interview 2019 -01 Vacancy Junior Research Fellow
IITP Walk-in-Interview 2019 -01 Vacancy Junior Research Fellow
JNU Walk-in-Interview 2019 -01 Vacancy Research Associate
IMMT Walk-in-Interview 2019 -01 Vacancy P- JRF
SCTIMST Walk-in-Interview 2019 -01 Vacancy Project Assistant
IARI Walk-in-Interview 2019 -02 Vacancy Business Executive
Latest Government Jobs 2019 Notification on 26.12.2019
RMLH Walk-in-Interview 2019 -146 Vacancy Senior Resident
NIRT Walk-in-Interview 2019 -01 Vacancy Consultant 
NIRDPR Walk-in-Interview 2019 -01 Vacancy Senior Programme Management Consultant 
NABI Walk-in-Interview 2019 -06 Vacancy Junior Research Fellow
JMI Walk-in-Interview 2019 -01 Vacancy Project Technician
IRMA Walk-in-Interview 2019 -01 Vacancy Assistant Professor
RITES Limited Walk-in-Interview 2019 -01 Vacancy Deputy General Manager
KUFOS Walk-in-Interview 2019 -01 Vacancy Technician / Electrician
Goa University Walk-in-Interview 2019 -01 Vacancy Assistant Registrar 
IISER Mohali Walk-in-Interview 2019 -01 Vacancy Senior Research Fellow
PGIMER Walk-in-Interview 2019 -01 Vacancy Project Assistant
GBPIHED Walk-in-Interview 2019 -01 Vacancy Research Associate Level-II
WBPSC Walk-in-Interview 2019 -01 Vacancy Management Information System Coordinator
IIM Ahmedabad Walk-in-Interview 2019 -01 Vacancy Officer / Manager – Human Resources (HR)
MGVCL Walk-in-Interview 2019 -246 Vacancy Vidyut Sahayak
Latest Government Jobs 2019 Notification on 24.12.2019
ICGEB Walk-in-Interview 2019 -01 Vacancy Junior Research Fellow (JRF) / Research Assistant (RA)
IGIMS Walk-in-Interview 2019 -02 Vacancy Technical Assistant
CBPBU Walk-in-Interview 2019 -01 Vacancy Audit & Accounts Officer 
AAU Walk-in-Interview 2019 -01 Vacancy Young Professional- I
NIT Calicut Walk-in-Interview 2019 -01 Vacancy MIS Database Administrator
BECIL Walk-in-Interview 2019 -04 Vacancy Pharmacist
ANGRAU Walk-in-Interview 2019 -01 Vacancy Research Associate
Anna University Walk-in-Interview 2019 -01 Vacancy Clerical Assistant 
Konkan Railway Walk-in-Interview 2019 -01 Vacancy CAD Designer
NIT Tiruchirappalli Walk-in-Interview 2019 -01 Vacancy Project Assistant / Staff
IISER Kolkata Walk-in-Interview 2019 -01 Vacancy Nursing Staff
PDPU Walk-in-Interview 2019 -01 Vacancy Assistant Manager
CIMP Walk-in-Interview 2019 -01 Vacancy IT Assistant
Dr.YSRHU Walk-in-Interview 2019 -07 Vacancy Research Associates
WBHRB Walk-in-Interview 2019 -26 Vacancy Lecturer
Latest Government Jobs 2019 Notification on 23.12.2019
WWF Walk-in-Interview 2019 -01 Vacancy Senior Program Manager
TISS Walk-in-Interview 2019 -01 Vacancy Assistant Professor
HAL Walk-in-Interview 2019 -01 Vacancy Cardiology Technicians 
IIHR Walk-in-Interview 2019 -01 Vacancy Senior Research Fellow
CRIS Walk-in-Interview 2019 -01 Vacancy Assistant Manager
CGG Walk-in-Interview 2019 -01 Vacancy Senior Database Administrator
NDDB Walk-in-Interview 2019 -01 Vacancy Managing Director
IIM Bangalore Walk-in-Interview 2019 -01 Vacancy Pedagogical Research Associate – MOOCs
IARI Walk-in-Interview 2019 -01 Vacancy Junior Research Fellow
Bharathidasan University Walk-in-Interview 2019 -01 Vacancy Research Fellow
NBPGR Walk-in-Interview 2019 -01 Vacancy Junior Research Fellow
IISER Bhopal Walk-in-Interview 2019 -01 Vacancy JRF
NLU Delhi Walk-in-Interview 2019 -01 Vacancy Social Work Fellows
NIT Tiruchirappalli Walk-in-Interview 2019 -01 Vacancy Junior Research Fellow
GNLU Walk-in-Interview 2019 -01 Vacancy Gym Trainer
Latest Government Jobs 2019 Notification on 21.12.2019
IIT Roorkee Walk-in-Interview 2019 -01 Vacancy Junior Research Fellow 
LBSNAA Walk-in-Interview 2019 -01 Vacancy Public Relation Officer
Jadavpur University Walk-in-Interview 2019 -01 Vacancy Research Fellowship 
PFC Walk-in-Interview 2019 -01 Vacancy Junior Officer
MAMC Walk-in-Interview 2019 -02 Vacancy Senior Resident
NIMHANS Walk-in-Interview 2019 -01 Vacancy Project Assistant
IIM Lucknow Walk-in-Interview 2019 -02 Vacancy Senior Nursing Assistant
NII Walk-in-Interview 2019 -01 Vacancy Lab Attendant
IGRUA Walk-in-Interview 2019 -01 Vacancy Ground Instructor
Periyar University Walk-in-Interview 2019 -01 Vacancy Research Fellow
Mizoram University Walk-in-Interview 2019 -01 Vacancy JRF
TERI Walk-in-Interview 2019 -01 Vacancy Project Manager
RGSSH Walk-in-Interview 2019 -40 Vacancy Senior Resident
IIAP Walk-in-Interview 2019 -01 Vacancy Library Trainee
WBPSC Walk-in-Interview 2019 -03 Vacancy Tutor
Latest Government Jobs 2019 Notification on 20.12.2019
IIITM Walk-in-Interview 2019 -01 Vacancy Junior Research Fellow
PAU Walk-in-Interview 2019 -01 Vacancy Research Fellow 
CGG Walk-in-Interview 2019 -01 Vacancy JAVA Software Developer
KAU Walk-in-Interview 2019 -01 Vacancy Technical assistant
JMI Walk-in-Interview 2019 -01 Vacancy Guest Teachers
NCERT Walk-in-Interview 2019 -01 Vacancy DTP Operator
IIT Kanpur Walk-in-Interview 2019 -01 Vacancy Project Associate
IVRI Walk-in-Interview 2019 -02 Vacancy Senior Research Fellows
MANIT Walk-in-Interview 2019 -01 Vacancy Registrar
IIT Bombay Walk-in-Interview 2019 -01 Vacancy Technical Officer
Gauhati University Walk-in-Interview 2019 -01 Vacancy Junior Research Fellow
University of Hyderabad Walk-in-Interview 2019 -01 Vacancy Junior Research Fellow
E courts Walk-in-Interview 2019 -05 Vacancy Peon-cum-Mali-cum Chowkidar
AIIMS Patna Walk-in-Interview 2019 -04 Vacancy Senior Resident
IRCON International Limited Walk-in-Interview 2019 -01 Vacancy Chief General Manager / General Manager/ HRM
Latest Government Jobs 2019 Notification on 19.12.2019
NISER Walk-in-Interview 2019 -01 Vacancy Junior Research Fellow
IACS Walk-in-Interview 2019 -01 Vacancy RA-I
SCTIMST Walk-in-Interview 2019 -01 Vacancy Project Scientist
VMMC Walk-in-Interview 2019 -01 Vacancy Research Assistant
RNSB Walk-in-Interview 2019 -01 Vacancy Jr. Executive
VNIT Walk-in-Interview 2019 -01 Vacancy Junior Research Fellow
KAU Walk-in-Interview 2019 -01 Vacancy Skilled Assistant 
PJTSAU Walk-in-Interview 2019 -01 Vacancy Teaching Associate
Alagappa University Walk-in-Interview 2019 -01 Vacancy Doctoral Fellowships
IGNOU Walk-in-Interview 2019 -02 Vacancy Consultant 
IDEMI Walk-in-Interview 2019 -16 Vacancy Sr. Engineer / Engineer
BITS Pilani Walk-in-Interview 2019 -01 Vacancy Project Assistant – I
CU Jammu Walk-in-Interview 2019 -01 Vacancy Junior Research Fellow (JRF)
SAI Walk-in-Interview 2019 -08 Vacancy Junior Consultant
NAARM Walk-in-Interview 2019 -01 Vacancy Project Associate
Latest Government Jobs 2019 Notification on 18.12.2019
CIHT Walk-in-Interview 2019 -01 Vacancy Centre Head 
CIMP Walk-in-Interview 2019 -01 Vacancy IT Assistant 
Balmer Lawrie Walk-in-Interview 2019 -01 Vacancy Unit Head
KFRI Walk-in-Interview 2019 -01 Vacancy Project Assistant
IIM Raipur Walk-in-Interview 2019 -01 Vacancy Chief Administrative Officer
BEL Walk-in-Interview 2019 -01 Vacancy Deputy Manager
OUAT Walk-in-Interview 2019 -01 Vacancy Senior Research Fellow
CMD Kerala Walk-in-Interview 2019 -01 Vacancy System Manager
Visakhapatnam Steel Plant Walk-in-Interview 2019 -01 Vacancy Technician
JNPT Walk-in-Interview 2019 -01 Vacancy Medical Officer
APWD Walk-in-Interview 2019 -08 Vacancy Section Assistant
KRCL Walk-in-Interview 2019 -01 Vacancy Medical Officer
DDA Walk-in-Interview 2019 -10 Vacancy Superintending Engineer
IIT Kanpur Walk-in-Interview 2019 -01 Vacancy Project Executive Officer
Latest Government Jobs 2019 Notification on 17.12.2019
ILBS Walk-in-Interview 2019 -01 Vacancy Junior research fellow
SIFPSA Walk-in-Interview 2019 -01 Vacancy System Administrator
RCB Walk-in-Interview 2019 -01 Vacancy Consultants
RGNIYD Walk-in-Interview 2019 -01 Vacancy Section Officer
NIT Calicut Walk-in-Interview 2019 -01 Vacancy Research Associate
ISI Walk-in-Interview 2019 -01 Vacancy Project linked System Administrator
TPSC Walk-in-Interview 2019 -01 Vacancy Financial Controller
ICTS Walk-in-Interview 2019 -01 Vacancy Scientific Officer C 
ICAR Walk-in-Interview 2019 -01 Vacancy Junior Research Fellow
BFUHS Walk-in-Interview 2019 -01 Vacancy Registrar
CDFD Walk-in-Interview 2019 -01 Vacancy Administrative Officer 
MMRDA Walk-in-Interview 2019 -01 Vacancy General Manager
NIWE Walk-in-Interview 2019 -02 Vacancy Project Engineer
IHBAS Walk-in-Interview 2019 -07 Vacancy Senior Resident
VSSC Walk-in-Interview 2019 -01 Vacancy Technician-B
Latest Government Jobs 2019 Notification on 16.12.2019
PESB Walk-in-Interview 2019 -01 Vacancy Director
IISER Pune Walk-in-Interview 2019 -01 Vacancy Chief Executive Officer 
BIT Mesra Walk-in-Interview 2019 -01 Vacancy Junior Research Fellow / Junior Project Fellow
NCL Walk-in-Interview 2019 -02 Vacancy Project Assistant
SIFPSA Walk-in-Interview 2019 -01 Vacancy State Programmer Assistant 
HAL Walk-in-Interview 2019 -01 Vacancy Trade Apprentices
PAU Walk-in-Interview 2019 -01 Vacancy Field Helper/Field Assistant 
IIT Roorkee Walk-in-Interview 2019 -01 Vacancy Junior Research Fellow
IIT Mandi Walk-in-Interview 2019 -01 Vacancy Pharmacist
Jadavpur University Walk-in-Interview 2019 -20 Vacancy Research Fellowship
Gitam University Walk-in-Interview 2019 -01 Vacancy Junior Research Fellowship
CUSAT Walk-in-Interview 2019 -01 Vacancy Technician Grade II
CWRDM Walk-in-Interview 2019 -01 Vacancy Research Assistant
Sainik School Gopalganj Walk-in-Interview 2019 -01 Vacancy PGT
NHSRCL Walk-in-Interview 2019 -01 Vacancy Senior Manager
Latest Government Jobs 2019 Notification on 14.12.2019
NEERI Walk-in-Interview 2019 -01 Vacancy Research Associate – I
IIT Madras Walk-in-Interview 2019 -01 Vacancy Software Developer
IBPS Walk-in-Interview 2019 -01 Vacancy Faculty Research Associate
NEHU Walk-in-Interview 2019 -03 Vacancy Guest Lecturers
Jadavpur University Walk-in-Interview 2019 -01 Vacancy Post Doctoral Research Associate
BITS Pilani Walk-in-Interview 2019 -01 Vacancy Junior Research Fellow
CUTN Walk-in-Interview 2019 -01 Vacancy Hindi Officer
Petronet LNG Limited Walk-in-Interview 2019 -01 Vacancy Plant Operator
MHRD Walk-in-Interview 2019 -01 Vacancy Vice Chancellor
DNH Walk-in-Interview 2019 -01 Vacancy Female Supervisor
ANGRAU Walk-in-Interview 2019 -02 Vacancy Teaching Associate
NCBS Walk-in-Interview 2019 -01 Vacancy Postdoctoral position
IIT Kanpur Walk-in-Interview 2019 -01 Vacancy Project Associate
PGIMER Walk-in-Interview 2019 -01 Vacancy Lab Technician
NIPGR Walk-in-Interview 2019 -01 Vacancy Research Associate
Latest Government Jobs 2019 Notification on 13.12.2019
TISS Walk-in-Interview 2019 -02 Vacancy Assistant Manager / Program Officer 
NIFTEM Walk-in-Interview 2019 -01 Vacancy Project Assistant
HBTU Kanpur Walk-in-Interview 2019 -01 Vacancy Research Assistant 
Central University Of Punjab Walk-in-Interview 2019 -01 Vacancy Filed Investigator
CCRAS Walk-in-Interview 2019 -14 Vacancy Upper Division Clerk 
NCL Walk-in-Interview 2019 -01 Vacancy Research Associate 
PFRDA Walk-in-Interview 2019 -01 Vacancy Senior Law Officer
NMI Walk-in-Interview 2019 -01 Vacancy Junior Research Fellow (JRF)
IIT Bombay Walk-in-Interview 2019 -01 Vacancy Senior Project Manager
MKU Walk-in-Interview 2019 -01 Vacancy Research Associate
University of Hyderabad Walk-in-Interview 2019 -01 Vacancy Project Assistant
KSIDC Walk-in-Interview 2019 -01 Vacancy Business Development Executive
Anna University Walk-in-Interview 2019 -01 Vacancy Professional Assistant – I
NIT Jalandhar Walk-in-Interview 2019 -02 Vacancy Guest Faculty
MANAGE Walk-in-Interview 2019 -01 Vacancy Business Manager / COO
Latest Government Jobs 2019 Notification on 12.12.2019
GBPIHED Walk-in-Interview 2019 -01 Vacancy Teacher 
KSEDC Walk-in-Interview 2019 -02 Vacancy Operator
NDRI Walk-in-Interview 2019 -01 Vacancy Junior Research Fellow (JRF)
NIASM Walk-in-Interview 2019 -01 Vacancy Young Professional-I
IIFCL Walk-in-Interview 2019 -08 Vacancy Assistant Manager
KGMU Walk-in-Interview 2019 -01 Vacancy Junior Research Assistant
IRMA Walk-in-Interview 2019 -01 Vacancy Academic Associate
NIT Warangal Walk-in-Interview 2019 -01 Vacancy Research Assistant
IIT Bombay Walk-in-Interview 2019 -01 Vacancy Senior Project Manager
IIT Hyderabad Walk-in-Interview 2019 -01 Vacancy Post Doctoral Position
IIPS Walk-in-Interview 2019 -01 Vacancy Senior Research Officer
AMU Walk-in-Interview 2019 -01 Vacancy Research Assistant
POWERGRID Walk-in-Interview 2019 -01 Vacancy Field Engineer
IIM Ahmedabad Walk-in-Interview 2019 -01 Vacancy Ad-hoc Academic Associate
Latest Government Jobs 2019 Notification on 11.12.2019
IIT Indore Walk-in-Interview 2019 -01 Vacancy Project Associate-I (PA-I)
MMRCL Walk-in-Interview 2019 -01 Vacancy Dy. Town Planner
NICED Walk-in-Interview 2019 -01 Vacancy Senior Research Fellow
RCC Walk-in-Interview 2019 -04 Vacancy Project Assistants
NISER Walk-in-Interview 2019 -01 Vacancy Research Associate
VPKAS Walk-in-Interview 2019 -01 Vacancy Young Professional-I
IBPS Walk-in-Interview 2019 -01 Vacancy IT-Administrator
IIIT Delhi Walk-in-Interview 2019 -01 Vacancy Data Scientist
Cochin Shipyard Walk-in-Interview 2019 -01 Vacancy Junior Commercial Assistant
NIAS Walk-in-Interview 2019 -01 Vacancy Executive Assistant-Accounts
CMFRI Walk-in-Interview 2019 -01 Vacancy Research Assistant
Visva-Bharati Walk-in-Interview 2019 -01 Vacancy Agromet Observer
NIRDPR Walk-in-Interview 2019 -01 Vacancy Junior Research Officer
NITUK Walk-in-Interview 2019 -01 Vacancy Teaching Associates
TERI Walk-in-Interview 2019 -01 Vacancy Research Associate
Latest Government Jobs 2019 Notification on 10.12.2019
KFRI Walk-in-Interview 2019 -01 Vacancy Project Assistant
GNLU Walk-in-Interview 2019 -01 Vacancy Junior Project Fellow
WBPSC Walk-in-Interview 2019 -01 Vacancy Assistant Superintendent
AAU Walk-in-Interview 2019 -01 Vacancy JRF
Visva-Bharati Walk-in-Interview 2019 -01 Vacancy Subject Matter Specialist
BECIL Walk-in-Interview 2019 -01 Vacancy Public Health Nurse
RCC Walk-in-Interview 2019 -01 Vacancy Project Fellow
NIAS Walk-in-Interview 2019 -01 Vacancy Project / Research Associate
IRMA Walk-in-Interview 2019 -01 Vacancy Library Trainee
CMFRI Walk-in-Interview 2019 -01 Vacancy Senior Research Fellow
SJVN Limited Walk-in-Interview 2019 -100 Vacancy Graduate Apprentices
NEIST Walk-in-Interview 2019 -01 Vacancy Junior Secretariat Assistant
IOP Bhubaneswar Walk-in-Interview 2019 -01 Vacancy Tradesman-A
Anna University Walk-in-Interview 2019 -01 Vacancy Professional Assistant – I
Solapur University Walk-in-Interview 2019 -01 Vacancy Junior Research Fellow (JRF)
Latest Government Jobs 2019 Notification on 09.12.2019
SASB Walk-in-Interview 2019 -01 Vacancy General Manager
IIT Roorkee Walk-in-Interview 2019 -01 Vacancy Junior Research Fellow
AIIMS Delhi Walk-in-Interview 2019 -01 Vacancy Junior Research Fellow
IISER Bhopal Walk-in-Interview 2019 -01 Vacancy Junior Research Fellow
IIMBG Walk-in-Interview 2019 -01 Vacancy Estate cum Project Officer
NII Walk-in-Interview 2019 -02 Vacancy Senior Research Fellow
SMVDU Walk-in-Interview 2019 -01 Vacancy Field Investigator
Jadavpur University Walk-in-Interview 2019 -01 Vacancy Post Doctoral Research Associate
IPRC Walk-in-Interview 2019 -120 Vacancy Trade Apprentice
JNTBGRI Walk-in-Interview 2019 -01 Vacancy Project Fellow
IIM Lucknow Walk-in-Interview 2019 -01 Vacancy Chief Administrative Officer
JMI Walk-in-Interview 2019 -01 Vacancy JRF
Assam University Walk-in-Interview 2019 -01 Vacancy Consultant Medical Officer
Panjab University Walk-in-Interview 2019 -01 Vacancy Project Officer
NITUK Walk-in-Interview 2019 -01 Vacancy Consultant
Latest Government Jobs 2019 Notification on 07.12.2019
MCC Walk-in-Interview 2019 -01 Vacancy Technician – Nuclear Medicine
IICA Walk-in-Interview 2019 -01 Vacancy Associate Professor
ONGC Walk-in-Interview 2019 -01 Vacancy Field Medical Officer
 TMC Walk-in-Interview 2019 -01 Vacancy Medical Officer
NIT Silchar Walk-in-Interview 2019 -01 Vacancy Junior Research Fellow
CUJ Walk-in-Interview 2019 -01 Vacancy Research Assistant 
VNSGU Walk-in-Interview 2019 -01 Vacancy Proiect Fellow
NIT Rourkela Walk-in-Interview 2019 -01 Vacancy JRF / Project Assistant
ECIL Walk-in-Interview 2019 -01 Vacancy Junior Translator
Pondicherry University Walk-in-Interview 2019 -01 Vacancy Guest Faculty
UIDAI Walk-in-Interview 2019 -01 Vacancy Assistant Section Officer
ANGRAU Walk-in-Interview 2019 -02 Vacancy Senior Research Fellow
IIFT Walk-in-Interview 2019 -01 Vacancy Administrative Coordinator
Anna University Walk-in-Interview 2019 -01 Vacancy Peon
Kalyani University Walk-in-Interview 2019 -01 Vacancy Guest Teachers
Latest Government Jobs 2019 Notification on 05.12.2019
IIT Dharwad Walk-in-Interview 2019 -01 Vacancy Junior Research Fellow
MEGA Walk-in-Interview 2019 -01 Vacancy General Manager
NRCP Walk-in-Interview 2019 -01 Vacancy Senior Research Fellow
Kalyani University Walk-in-Interview 2019 -01 Vacancy JRF
JIPMER Walk-in-Interview 2019 -01 Vacancy Prosthetics Craftsman
Shivaji University Walk-in-Interview 2019 -01 Vacancy Director 
CDIT Walk-in-Interview 2019 -01 Vacancy Content Creator
IISER Mohali Walk-in-Interview 2019 -01 Vacancy Research Associate
IRCON International Limited Walk-in-Interview 2019 -01 Vacancy Chief General Manager / General Manager/ HRM
NIT Tiruchirappalli Walk-in-Interview 2019 -01 Vacancy Junior Research Fellow
Balmer Lawrie Walk-in-Interview 2019 -01 Vacancy Junior Officer
NIAS Walk-in-Interview 2019 -01 Vacancy Executive Assistant-Accounts
ACTREC Walk-in-Interview 2019 -01 Vacancy Junior Research Fellow
IIT Delhi Walk-in-Interview 2019 -01 Vacancy Research Associate
NIEPMD Walk-in-Interview 2019 -01 Vacancy Assistant Professor
Latest Government Jobs 2019 Notification on 04.12.2019
NISG Walk-in-Interview 2019 -01 Vacancy Principal Consultant
NIRT Walk-in-Interview 2019 -01 Vacancy Junior Project Research Fellow 
IISER Pune Walk-in-Interview 2019 -01 Vacancy Chief Executive Officer
BCKV Walk-in-Interview 2019 -01 Vacancy Management Trainee
NHM Odisha Walk-in-Interview 2019 -11 Vacancy Claim Panel Doctors 
Periyar UniversityWalk-in-Interview 2019 -01 Vacancy Junior Research Fellow
CECRI Walk-in-Interview 2019 -01 Vacancy Project Assistant
VSI Walk-in-Interview 2019 -01 Vacancy Research Assistant
NERIST Walk-in-Interview 2019 -01 Vacancy Helper
OPTCL Walk-in-Interview 2019 -01 Vacancy Chief Security Officer
CBI Walk-in-Interview 2019 -01 Vacancy Director RSETI
Haldia Petrochemicals Walk-in-Interview 2019 -01 Vacancy Member – Marketing
NIVH Walk-in-Interview 2019 -01 Vacancy Medical Officer
NCL Walk-in-Interview 2019 -02 Vacancy Junior Research Fellow
NHSRCL Walk-in-Interview 2019 -01 Vacancy Senior Manager / Manager
Latest Government Jobs 2019 Notification on 03.12.2019
IIT Delhi Walk-in-Interview 2019 -01 Vacancy Project Assistant
BHU Walk-in-Interview 2019 -01 Vacancy State Level Training Coordinator
IIITDMJ Walk-in-Interview 2019 -01 Vacancy Research Associate
ILBS Walk-in-Interview 2019 -01 Vacancy JRF
GCRI Walk-in-Interview 2019 -01 Vacancy Medical Physicist
GRSE Walk-in-Interview 2019 -02 Vacancy Deputy General Manager
NIT RourkelaWalk-in-Interview 2019 -01 Vacancy Junior Research Fellow (JRF)
DFFCIL Walk-in-Interview 2019 -01 Vacancy SAP Consultant/ Team Lead
Mangalore UniversityWalk-in-Interview 2019 -01 Vacancy Research Assistant
OFB Walk-in-Interview 2019 -01 Vacancy Member – Finance
NDRI Walk-in-Interview 2019 -01 Vacancy Young Professional-II
ICDS, Tamil NaduWalk-in-Interview 2019 -01 Vacancy Accountant
RGIPT Walk-in-Interview 2019 -01 Vacancy Project Assistant
CUG Walk-in-Interview 2019 -04 Vacancy Research Associate
ZSI Walk-in-Interview 2019 -01 Vacancy Research Assistant
Latest Government Jobs 2019 Notification on 01.12.2019
BARC Walk-in-Interview 2019 -01 Vacancy Paediatric Pain Specialist
VNIT Walk-in-Interview 2019 -01 Vacancy Junior Research Fellow (JRF) 
AAU Walk-in-Interview 2019 -01 Vacancy Sales Trainee
GIDM Walk-in-Interview 2019 -01 Vacancy Training Specialist Cum Programme Manager
GBPIHED Walk-in-Interview 2019 -01 Vacancy System Manager
JMI Walk-in-Interview 2019 -01 Vacancy JRF
UNDP Walk-in-Interview 2019 -04 Vacancy District Project Executive
NEHU Walk-in-Interview 2019 -01 Vacancy Research Assistant
SCTIMST Walk-in-Interview 2019 -01 Vacancy Junior Research Fellow
IIT Kanpur Walk-in-Interview 2019 -01 Vacancy Project Assistant
ARCI Walk-in-Interview 2019 -05 Vacancy Assistant 'A'
MNIT Walk-in-Interview 2019 -01 Vacancy Junior Research Fellow (JRF)
TISS Walk-in-Interview 2019 -01 Vacancy Executive/Sr.Executive
Ministry of Corporate Affairs Walk-in-Interview 2019 -01 Vacancy Young Professional-I
NITUK Walk-in-Interview 2019 -01 Vacancy Consultant
GIPL Walk-in-Interview 2019 -01 Vacancy Sr. Manager- IT Projects
NIT Tiruchirappalli Walk-in-Interview 2019 -01 Vacancy Junior Research Fellow (JRF)
Kalyani University Walk-in-Interview 2019 -01 Vacancy JRF
NICED Walk-in-Interview 2019 -01 Vacancy Scientist-D
IISER Pune Walk-in-Interview 2019 -01 Vacancy Chief Executive Officer
Latest Government Jobs 2019 Notification on 30.11.2019
IOP Bhubaneswar Walk-in-Interview 2019 -01 Vacancy Tradesman-A 
NIEPMD Walk-in-Interview 2019 -01 Vacancy Clinical Assistant 
DMRC Walk-in-Interview 2019 -01 Vacancy Senior Section Engineer / Traction
GNDU Walk-in-Interview 2019 -02 Vacancy JRF
NIT Delhi Walk-in-Interview 2019 -02 Vacancy Faculty
MNIT Walk-in-Interview 2019 -01 Vacancy Junior Research Fellow (JRF)
Fakir Mohan University Walk-in-Interview 2019 -01 Vacancy Junior Assistants
ICT Mumbai Walk-in-Interview 2019 -01 Vacancy Junior Research Fellowship (JRF)
TISS Walk-in-Interview 2019 -01 Vacancy Assistant Professor
HIMSR Walk-in-Interview 2019 -01 Vacancy OT Technicians 
IIITDM Kurnool Walk-in-Interview 2019 -01 Vacancy Assistant Registrar
NHSRC Walk-in-Interview 2019 -01 Vacancy Consultant
ANGRAU Walk-in-Interview 2019 -02 Vacancy Senior Research Fellow
IIITM Kerala Walk-in-Interview 2019 -01 Vacancy Assistant Manager
KHPT Walk-in-Interview 2019 -04 Vacancy Field Investigator
Latest Government Jobs 2019 Notification on 29.11.2019
University of Delhi Walk-in-Interview 2019 -01 Vacancy Junior Project Fellow
BARC Walk-in-Interview 2019 -01 Vacancy Paediatric Pain Specialist
IIT Kanpur Walk-in-Interview 2019 -01 Vacancy Project Engineer
ECIL Walk-in-Interview 2019 -01 Vacancy General Manager
NHSRC Walk-in-Interview 2019 -01 Vacancy Senior Consultant
KoPT Walk-in-Interview 2019 -02 Vacancy Land Revenue Officer
NIRDPR Walk-in-Interview 2019 -01 Vacancy Junior Research Officer
IIT Ropar Walk-in-Interview 2019 -01 Vacancy Junior Research Fellow
NII Walk-in-Interview 2019 -01 Vacancy Senior Research Fellow
NIT Calicut Walk-in-Interview 2019 -01 Vacancy Research Assistant
NML Walk-in-Interview 2019 -01 Vacancy Junior Research Fellow
UCIL Walk-in-Interview 2019 -01 Vacancy Visiting Medical Consultants
GACL Walk-in-Interview 2019 -01 Vacancy Apprentice Attendant Operator Chemical Plant
KUFOS Walk-in-Interview 2019 -01 Vacancy Research Fellow
Oil India Limited Walk-in-Interview 2019 -01 Vacancy Well Engineer
RITES Limited Walk-in-Interview 2019 -01 Vacancy Joint General Manager (Civil)
Latest Government Jobs 2019 Notification on 28.11.2019
University of Hyderabad Walk-in-Interview 2019 -01 Vacancy Research Associate 
TNJFU Walk-in-Interview 2019 -01 Vacancy Professor 
JIPMER Walk-in-Interview 2019 -01 Vacancy Program Manager 
IIIT Delhi Walk-in-Interview 2019 -01 Vacancy Data Scientist
CCRS Walk-in-Interview 2019 -01 Vacancy Consultant
CUTN Walk-in-Interview 2019 -01 Vacancy Hindi Officer
TNPSC Walk-in-Interview 2019 -18 Vacancy Archaeological Officer
Indian Railways Walk-in-Interview 2019 -05 Vacancy General Duty Doctor
NCBS Walk-in-Interview 2019 -01 Vacancy Postdoctoral position
NDDB Walk-in-Interview 2019 -01 Vacancy Managing Director
SCTIMST Walk-in-Interview 2019 -01 Vacancy Junior Research Fellow
TERI Walk-in-Interview 2019 -01 Vacancy Associate Fellow
RCB Walk-in-Interview 2019 -01 Vacancy Dean
VNIT Walk-in-Interview 2019 -01 Vacancy Project Assistant
Gandhigram Rural Institute Walk-in-Interview 2019 -01 Vacancy Assistant Librarian
Latest Government Jobs 2019 Notification on 27.11.2019
NIFTEM Walk-in-Interview 2019 -01 Vacancy Junior Research Fellow (JRF)
AIIMS Delhi Walk-in-Interview 2019 -01 Vacancy Junior Research Fellow
TISS Walk-in-Interview 2019 -01 Vacancy Assistant Professor
BEL Walk-in-Interview 2019 -05 Vacancy Contract Engineer
Jamia Hamdard Walk-in-Interview 2019 -01 Vacancy General Manager
University of Hyderabad Walk-in-Interview 2019 -01 Vacancy Research Associate
MDU Walk-in-Interview 2019 -01 Vacancy Research Associate
IISER Bhopal Walk-in-Interview 2019 -01 Vacancy Junior Research Fellow (JRF)
Cochin Shipyard Walk-in-Interview 2019 -01 Vacancy Junior Commercial Assistant 
MRB Walk-in-Interview 2019 -1508 Vacancy Laboratory Technician Grade-III
NMU Walk-in-Interview 2019 -02 Vacancy Access Fellows
SPIC Walk-in-Interview 2019 -01 Vacancy Database Administrator
WWF India Walk-in-Interview 2019 -06 Vacancy Programme Officer-Marine
Alagappa University Walk-in-Interview 2019 -01 Vacancy Traineeship
SAMEER Walk-in-Interview 2019 -07 Vacancy Diploma Apprentice Trainee
KHPT Walk-in-Interview 2019 -01 Vacancy Treatment Coordinator
BIT Mesra Walk-in-Interview 2019 -01 Vacancy Junior Research Fellow / Junior Project Fellow
POWERGRID Walk-in-Interview 2019 -35 Vacancy Diploma Trainee
NRCP Walk-in-Interview 2019 -01 Vacancy Senior Research Fellow (SRF)
MNIT Walk-in-Interview 2019 -01 Vacancy Junior Research Fellow (JRF)
Latest Government Jobs 2019 Notification on 26.11.2019
KAU Walk-in-Interview 2019 -01 Vacancy Skilled Assistant
SDSC Walk-in-Interview 2019 -01 Vacancy Technical Assistant
CDFD Walk-in-Interview 2019 -01 Vacancy Administrative Officer
ICRISAT Walk-in-Interview 2019 -01 Vacancy Officer
IIMR Walk-in-Interview 2019 -01 Vacancy Senior Research Fellow (SRF)
IIM Ahmedabad Walk-in-Interview 2019 -01 Vacancy Research Assistant 
NIMR Walk-in-Interview 2019 -01 Vacancy Coordinator 
NISH Walk-in-Interview 2019 -01 Vacancy Occupational Therapy
IIT Ropar Walk-in-Interview 2019 -01 Vacancy Junior Research Fellow (JRF)
IISER Bhopal Walk-in-Interview 2019 -01 Vacancy Junior Research Fellow (JRF)
KVASU Walk-in-Interview 2019 -01 Vacancy Teaching Assistant
IISER Kolkata Walk-in-Interview 2019 -01 Vacancy Project Student
TIFR Walk-in-Interview 2019 -01 Vacancy Junior Research Fellow (JRF)
Panjab University Walk-in-Interview 2019 -01 Vacancy Senior Research Fellow
IIT Madras Walk-in-Interview 2019 -01 Vacancy Project Associate
RVNL Walk-in-Interview 2019 -04 Vacancy Joint General Manager/Deputy General Manager
TISS Walk-in-Interview 2019 -01 Vacancy Assistant Professor
NPC Walk-in-Interview 2019 -04 Vacancy Project Associates
E courts Walk-in-Interview 2019 -17 Vacancy Peon-cum-Chowkidar-cum-Mali
CSMCRI Walk-in-Interview 2019 -01 Vacancy Project Assistant Level – II
Latest Government Jobs 2019 Notification on 25.11.2019
NEIGRIHMS Walk-in-Interview 2019 -43 Vacancy Senior Resident Doctors
CUSAT Walk-in-Interview 2019 -01 Vacancy Registrar and Controller of Examination 
Aligarh Muslim University Walk-in-Interview 2019 -01 Vacancy Assistant Professor
NIT Rourkela Walk-in-Interview 2019 -01 Vacancy JRF
BOB Financial Solutions Limited Walk-in-Interview 2019 -01 Vacancy Sr. Officer / Officer – Credit Underwriter 
IIM Kashipur Walk-in-Interview 2019 -01 Vacancy Librarian
Jamia Hamdard Walk-in-Interview 2019 -02 Vacancy Consultant
WII Walk-in-Interview 2019 -01 Vacancy Project Fellow
IIM Lucknow Walk-in-Interview 2019 -01 Vacancy Research Assistant / Research Associate
WBPSC Walk-in-Interview 2019 -03 Vacancy Assistant Town Planner
OUAT Walk-in-Interview 2019 -01 Vacancy Senior Accountant
NLU Delhi Walk-in-Interview 2019 -01 Vacancy Associates
NIT Calicut Walk-in-Interview 2019 -03 Vacancy Technical Assistant
MUHS Walk-in-Interview 2019 -02 Vacancy Professor/Associate Professor/Assistant Professor
Periyar University Walk-in-Interview 2019 -01 Vacancy Junior Research Fellow (JRF)
BHU Walk-in-Interview 2019 -01 Vacancy Lab Assistant
Latest Government Jobs 2019 Notification on 23.11.2019
DCI Walk-in-Interview 2019-14 Vacancy Dy. Project Managers
RMLH Walk-in-Interview 2019 -129 Vacancy Senior Resident
NHSRC Walk-in-Interview 2019 -01 Vacancy Consultant
IIIT Delhi Walk-in-Interview 2019 -01 Vacancy Research Associate
NIOH Walk-in-Interview 2019 -01 Vacancy Data Entry Operator
PDPU Walk-in-Interview 2019 -01 Vacancy Research Associate-I/Senior Research Fellow/Project Assistant
IISER Mohali Walk-in-Interview 2019 -01 Vacancy Project Staff
UBKV Walk-in-Interview 2019 -09 Vacancy Professor
ESIC Walk-in-Interview 2019 -24 Vacancy Senior Resident
IACS Walk-in-Interview 2019 -01 Vacancy Part Time Hindi Officer
Ministry of Culture Walk-in-Interview 2019 -01 Vacancy Assistant Director
NDDB Walk-in-Interview 2019 -01 Vacancy Deputy Manager
University of Calcutta Walk-in-Interview 2019 -01 Vacancy Technical Assistant
PESB Walk-in-Interview 2019 -01 Vacancy Director
UPPCL Walk-in-Interview 2019 -31 Vacancy Junior Engineer
Latest Government Jobs 2019 Notification on 22.11.2019
Central Electronics Limited Walk-in-Interview 2019 -01 Vacancy Senior Consultant
IIT Roorkee Walk-in-Interview 2019 -01 Vacancy Junior Research Fellow
GSBTM Walk-in-Interview 2019 -04 Vacancy Research Associate
IOP Bhubaneswar Walk-in-Interview 2019 -01 Vacancy Research Associate 
Tezpur University Walk-in-Interview 2019 -01 Vacancy Research Associate-I
NIHFW Walk-in-Interview 2019 -01 Vacancy Consultant 
IIT Kanpur Walk-in-Interview 2019 -01 Vacancy Project Associate
Central University Of Jharkhand Walk-in-Interview 2019 -01 Vacancy Junior Research Fellow (JRF)/ Project Fellow (PF)
NIO Walk-in-Interview 2019 -02 Vacancy PA-II 
PAU Walk-in-Interview 2019 -01 Vacancy Senior Field Helper
ASCI Walk-in-Interview 2019 -01 Vacancy Research Associate/Sr. Research Associate
IIT Bhubaneswar Walk-in-Interview 2019 -01 Vacancy Junior Research Fellow
NISER Walk-in-Interview 2019 -03 Vacancy Library Apprentices 
CWRDM Walk-in-Interview 2019 -01 Vacancy Project Fellow
ICFRE Walk-in-Interview 2019 -01 Vacancy Technical Assistant
Bharathiar University Walk-in-Interview 2019 -01 Vacancy Junior Research Fellow (JRF)
IISER Bhopal Walk-in-Interview 2019 -01 Vacancy Research Associate
CIFT Walk-in-Interview 2019 -01 Vacancy Project Assistant
IISER Pune Walk-in-Interview 2019 -01 Vacancy Senior Research Assistant (SRF)
IACS Walk-in-Interview 2019 -01 Vacancy Part Time Hindi Officer
Latest Government Jobs 2019 Notification on 21.11.2019
PSACS Walk-in-Interview 2019 -01 Vacancy Technical Officer
ICSIL Walk-in-Interview 2019 -01 Vacancy Project Associate
AIIMS Raipur Walk-in-Interview 2019 -01 Vacancy Project Fellow
IIM Ahmedabad Walk-in-Interview 2019 -01 Vacancy Associate, Programme Administration
Lucknow University Walk-in-Interview 2019 -02 Vacancy Lab Bearer
Assam Medical College Walk-in-Interview 2019 -01 Vacancy Senior Research Fellow
LMRCL Walk-in-Interview 2019 -01 Vacancy Assistant Manager
SAIL Walk-in-Interview 2019 -02 Vacancy Manager
DAIHM Walk-in-Interview 2019 -02 Vacancy Teaching Associates
Latest Government Jobs 2019 Notification on 20.11.2019
TANUVAS Walk-in-Interview 2019 -03 Vacancy Project Assistant
Mizoram University Walk-in-Interview 2019 -01 Vacancy Research Associate
NITRD Walk-in-Interview 2019 -01 Vacancy Project Technician (Grade-III)
NIT Delhi Walk-in-Interview 2019 -01 Vacancy Junior Research Fellow (JRF)
IHM Kolkata Walk-in-Interview 2019 -01 Vacancy Administrative-cum-Accounts Officer
NIT Patna Walk-in-Interview 2019 -01 Vacancy JRF / SRF / Research Associate
PAU Walk-in-Interview 2019 -02 Vacancy Junior Research Fellow
IIFT Walk-in-Interview 2019 -01 Vacancy Young Professional (Economics & Law)
BITS Pilani Walk-in-Interview 2019 -01 Vacancy Junior Research Fellow (JRF)
IISER Pune Walk-in-Interview 2019 -01 Vacancy Senior Research Assistant (SRF)
IIM Ranchi Walk-in-Interview 2019 -01 Vacancy Research Associate
IACS Walk-in-Interview 2019 -01 Vacancy Research Associate-I
IISC Walk-in-Interview 2019 -01 Vacancy Biosafety Officer
MIDHANI Walk-in-Interview 2019 -01 Vacancy Assistant Manager (IT – ERP Technical)
APSC Walk-in-Interview 2019 -156 Vacancy Assistant Engineer
Latest Government Jobs 2019 Notification on 19.11.2019
NIT Silchar Walk-in-Interview 2019 -01 Vacancy Junior Research Fellow (JRF) 
TERI Walk-in-Interview 2019 -01 Vacancy Marketing Assistant
University of Mumbai Walk-in-Interview 2019 -01 Vacancy Project Fellow
SPMCIL Walk-in-Interview 2019 -01 Vacancy Manager 
BITS Pilani Walk-in-Interview 2019 -01 Vacancy Research Assistant
TISS Walk-in-Interview 2019 -02 Vacancy Senior Consultant
TANUVAS Walk-in-Interview 2019 -03 Vacancy Project Assistant
WWF India Walk-in-Interview 2019 -01 Vacancy Senior Project Officer 
Kalyani University Walk-in-Interview 2019 -01 Vacancy Contractual Teacher 
JIPMER Walk-in-Interview 2019 -01 Vacancy Scientist B (Medical) OR Scientist B (Non medical)
Bose Institute Walk-in-Interview 2019 -01 Vacancy Senior Research Fellow
SAIL Walk-in-Interview 2019 -01 Vacancy Medical Officer
IIT Kanpur Walk-in-Interview 2019 -01 Vacancy Superintending Engineer
Shiv Nadar University Walk-in-Interview 2019 -01 Vacancy Senior Research Fellow
NIPGR Walk-in-Interview 2019 -01 Vacancy Scientist II
Latest Government Jobs 2019 Notification on 18.11.2019
IIT Delhi Walk-in-Interview 2019 -02 Vacancy Principal Project Scientist
NIT Manipur Walk-in-Interview 2019 -01 Vacancy Lab. Engineer
ONGC Walk-in-Interview 2019 -03 Vacancy Contract Medical Officer-Physician
IASST Walk-in-Interview 2019 -01 Vacancy Assistant Professor-II
NLU Delhi Walk-in-Interview 2019 -01 Vacancy Associates (Litigation)
University of Kerala Walk-in-Interview 2019 -02 Vacancy D.T.P.Operator
CSMCRI Walk-in-Interview 2019 -01 Vacancy Project Assistant Level I
IIT Guwahati Walk-in-Interview 2019 -01 Vacancy JRF
EFL University Walk-in-Interview 2019 -01 Vacancy Registrar
HLL Lifecare Limited Walk-in-Interview 2019 -01 Vacancy Pharmacist
PGIMER Walk-in-Interview 2019 -01 Vacancy Research Associate
OMC Limited Walk-in-Interview 2019 -02 Vacancy Manager
TIIC Walk-in-Interview 2019 -09 Vacancy Manager (Technical, Finance)
Supreme Court of India Walk-in-Interview 2019 -01 Vacancy Director
MMRCL Walk-in-Interview 2019 -01 Vacancy Chief Vigilance Officer
Latest Government Jobs 2019 Notification on 16.11.2019
BARC Walk-in-Interview 2019 -19 Vacancy Assistant Security Officer 
IGNCA Walk-in-Interview 2019 -03 Vacancy Project Associate
Bank Of Baroda Walk-in-Interview 2019 -01 Vacancy Part Time Medical Consultant
CIRCOT Walk-in-Interview 2019 -01 Vacancy Senior Research Fellow (SRF) 
CDFD Walk-in-Interview 2019 -01 Vacancy Computer Programmer Grade A
OMC Limited Walk-in-Interview 2019 -01 Vacancy General Manager
NIV Walk-in-Interview 2019 -01 Vacancy Sr. Investigator (Social Science)
Central University Of Punjab Walk-in-Interview 2019 -01 Vacancy Research Assistant
NLU Delhi Walk-in-Interview 2019 -01 Vacancy Research Associate
JNU Walk-in-Interview 2019 -01 Vacancy Field Assistant (FA)
NIE Walk-in-Interview 2019 -02 Vacancy Project Senior Investigator
NIAB Walk-in-Interview 2019 -01 Vacancy Senior Research Fellow
NIT Patna Walk-in-Interview 2019 -01 Vacancy JRF/SRF/Research Associate
University Of Kerala Walk-in-Interview 2019 -01 Vacancy Lexicon Typesetting Operator
KCHR Walk-in-Interview 2019 -01 Vacancy Research Assistant
Latest Government Jobs 2019 Notification on 15.11.2019
NIE Walk-in-Interview 2019 -10 Vacancy Project Technical Assistant
NIAB Walk-in-Interview 2019 -01 Vacancy Junior Research Fellow
Central University of Punjab Walk-in-Interview 2019 -01 Vacancy Research Assistant
University of Delhi Walk-in-Interview 2019 -01 Vacancy Registrar
Anna University Walk-in-Interview 2019 -01 Vacancy Professional Assistant-III
KCHR Walk-in-Interview 2019 -01 Vacancy Research Associates
NLU Delhi Walk-in-Interview 2019 -01 Vacancy Research Associate
WBUAFS Walk-in-Interview 2019 -05 Vacancy Young Professional II
AIIMS Bhubaneswar Walk-in-Interview 2019 -01 Vacancy Financial Advisor
JNU Walk-in-Interview 2019 -01 Vacancy Research Associate
IIM Bangalore Walk-in-Interview 2019 -01 Vacancy Pedagogical Research Associate
ICRISAT Walk-in-Interview 2019 -01 Vacancy Scientist
MKU Walk-in-Interview 2019 -01 Vacancy Junior Research Fellow (JRF)
ICTS Walk-in-Interview 2019 -01 Vacancy Project Accounts Assistant
CSMCRI Walk-in-Interview 2019 -01 Vacancy Project Assistant Level I
Latest Government Jobs 2019 Notification on 14.11.2019
NIT Rourkela Walk-in-Interview 2019 -01 Vacancy JRF 
IIEST Shibpur Walk-in-Interview 2019 -01 Vacancy Junior Research Fellow (JRF)
India Post Office Walk-in-Interview 2019 -01 Vacancy Gramin Dak Sevaks 
PDPU Walk-in-Interview 2019 -01 Vacancy Research Associate-I/Senior Research Fellow/Project Assistant
C-DAC Walk-in-Interview 2019 -01 Vacancy Project Manager
INCOIS Walk-in-Interview 2019 -01 Vacancy Scientific Assistant – A 
WII Walk-in-Interview 2019 -01 Vacancy Project Fellow
SCTIMST Walk-in-Interview 2019 -01 Vacancy Junior Research Fellow 
CPCL Walk-in-Interview 2019 -01 Vacancy Deputy Company Secretary
ECIL Walk-in-Interview 2019 -01 Vacancy Technical Officer
SAIL Walk-in-Interview 2019 -01 Vacancy Doctor 
VSSC Walk-in-Interview 2019 -01 Vacancy Project Trainee
ICMR Walk-in-Interview 2019 -02 Vacancy Sr.Investigator
Jamia Hamdard Walk-in-Interview 2019 -01 Vacancy Project Fellow
IIT Jammu Walk-in-Interview 2019 -01 Vacancy Store Manager
NISH Walk-in-Interview 2019 -01 Vacancy Clinical / Rehabilitation Psychologist
ICRISAT Walk-in-Interview 2019 -01 Vacancy Scientist
Latest Government Jobs 2019 Notification on 13.11.2019
IICA Walk-in-Interview 2019 -05 Vacancy Project Head & Various
IIG Walk-in-Interview 2019 -01 Vacancy Consultant
NIO Walk-in-Interview 2019 -02 Vacancy PA-II
RGIPT Walk-in-Interview 2019 -01 Vacancy Junior Research Fellow
ICT Mumbai Walk-in-Interview 2019 -01 Vacancy Project Fellow
NIRT Walk-in-Interview 2019 -03 Vacancy Staff Nurse
ICMR Walk-in-Interview 2019 -02 Vacancy Junior Consultant
ICRISAT Walk-in-Interview 2019 -01 Vacancy Officer
Spices Board Walk-in-Interview 2019 -01 Vacancy Senior Research Fellow
CPCL Walk-in-Interview 2019 -06 Vacancy Junior Engineering Assistant & Various
HIMSR Walk-in-Interview 2019 -01 Vacancy Senior Residents
IISR Walk-in-Interview 2019 -01 Vacancy Senior Research Fellow
NRCB Walk-in-Interview 2019 -01 Vacancy Young Professional – II
Latest Government Jobs 2019 Notification on 12.11.2019
CECRI Walk-in-Interview 2019 -01 Vacancy Project Assistant – II
KAPL Walk-in-Interview 2019 -28 Vacancy Agrovet Service Representatives
NHSRC Walk-in-Interview 2019 -01 Vacancy Consultant
Anna University Walk-in-Interview 2019 -02 Vacancy Professional Assistant I
IISER Bhopal Walk-in-Interview 2019 -01 Vacancy Research Associate
IISER Pune Walk-in-Interview 2019 -02 Vacancy Technical Assistant
ONGC Walk-in-Interview 2019 -08 Vacancy Contract Medical
TISS Walk-in-Interview 2019 -01 Vacancy Associate Professor
Gujarat University Walk-in-Interview 2019 -01 Vacancy Teaching Assistant
IIT Guwahati Walk-in-Interview 2019 -01 Vacancy Medical Officer
Cantonment Board Belgaum Walk-in-Interview 2019 -01 Vacancy Midwife
Oil India Limited Walk-in-Interview 2019 -01 Vacancy Confidential Secretary
AIIMS Bhubaneswar Walk-in-Interview 2019 -01 Vacancy Financial Advisor
Latest Government Jobs 2019 Notification on 11.11.2019
SNSI Walk-in-Interview 2019 -01 Vacancy Assistant Professor
IARI Walk-in-Interview 2019 -01 Vacancy Senior Research Fellow
WBHRB Walk-in-Interview 2019 -1329 Vacancy General Duty Medical Officers
IIT Kanpur Walk-in-Interview 2019 -01 Vacancy Superintending Engineer
Lucknow University Walk-in-Interview 2019 -01 Vacancy Project Assistant
MCC Walk-in-Interview 2019 -01 Vacancy Stipendiary Post Degree Training in Radiotherapy
SJVN Limited Walk-in-Interview 2019 -50 Vacancy Apprenticeship Training
IISER Berhampur Walk-in-Interview 2019 -01 Vacancy Project Lab Assistant 
DMRC Walk-in-Interview 2019 -01 Vacancy Dy. Chief Engineer
MMTC Limited Walk-in-Interview 2019 -01 Vacancy Addl. General Manager/ General Manager
IARI Walk-in-Interview 2019 -01 Vacancy Senior Research Fellow
PESB Walk-in-Interview 2019 -01 Vacancy Director
NIMHANS Walk-in-Interview 2019 -02 Vacancy Field Liaison Officer
RVNL Walk-in-Interview 2019 -01 Vacancy General Manager (Mechanical)
IGNTU Walk-in-Interview 2019 -01 Vacancy Research Assistant
Latest Government Jobs 2019 Notification on 09.11.2019
CUSAT Walk-in-Interview 2019 -01 Vacancy Registrar and Controller of Examination
CSB Walk-in-Interview 2019 -01 Vacancy Junior Research Fellow
PESB Walk-in-Interview 2019 -01 Vacancy Director
Nalanda University Walk-in-Interview 2019 -01 Vacancy Executive Engineer
Anna University Walk-in-Interview 2019 -02 Vacancy Professional Assistant I
IISER Pune Walk-in-Interview 2019 -02 Vacancy Technical Assistant
KAPL Walk-in-Interview 2019 -28 Vacancy Agrovet Service Representatives
IISER Bhopal Walk-in-Interview 2019 -01 Vacancy Research Associate
IEG Walk-in-Interview 2019 -34 Vacancy Health Investigators
CDAC Walk-in-Interview 2019 -06 Vacancy Trainer
IBBI Walk-in-Interview 2019 -01 Vacancy Chief Technology Officer
IIIT Chittoor Walk-in-Interview 2019 -01 Vacancy Administrative Assistant
NHSRC Walk-in-Interview 2019 -01 Vacancy Consultant
AIIMS Delhi Walk-in-Interview 2019 -01 Vacancy Data Entry Operator
IISC Walk-in-Interview 2019 -01 Vacancy Facility Manager
Latest Government Jobs 2019 Notification on 08.11.2019
SCTIMST Walk-in-Interview 2019 -01 Vacancy Technician
NIT Meghalaya Walk-in-Interview 2019 -01 Vacancy Civil Engineering 
NHM Tripura Walk-in-Interview 2019 -02 Vacancy Operation Theatre Technologist 
IISC Walk-in-Interview 2019 -01 Vacancy Facility Manager
IIT Kharagpur Walk-in-Interview 2019 -01 Vacancy Junior Research Fellowship – Research
IIT Guwahati Walk-in-Interview 2019 -01 Vacancy JRF
UPSC Walk-in-Interview 2019 -418 Vacancy Combined Defence Services Examination 
NDDB Walk-in-Interview 2019 -02 Vacancy Deputy Manager
Deendayal Port Trust Walk-in-Interview 2019 -01 Vacancy Physiotherapists
SPA Bhopal Walk-in-Interview 2019 -01 Vacancy Registrar
Bose Institute Walk-in-Interview 2019 -01 Vacancy Project Associate I
NHM Odisha Walk-in-Interview 2019 -12 Vacancy Claim panel Doctor 
DCI Walk-in-Interview 2019 -04 Vacancy Project Consultants
NLU Delhi Walk-in-Interview 2019 -01 Vacancy Finance and Administrative Coordinator
KFRI Walk-in-Interview 2019 -01 Vacancy Project Fellow
Latest Government Jobs 2019 Notification on 07.11.2019
Textiles Committee Walk-in-Interview 2019 -01 Vacancy Deputy Director (Laboratory)
IASST Walk-in-Interview 2019 -01 Vacancy Assistant Professor-II
SAI Walk-in-Interview 2019 -08 Vacancy Junior Consultant
Bharathiar University Walk-in-Interview 2019 -01 Vacancy Life Guard 
Mizoram University Walk-in-Interview 2019 -01 Vacancy Demonstrator
NIIST Walk-in-Interview 2019 -01 Vacancy JRF 
Spices Board Walk-in-Interview 2019 -01 Vacancy Software Engineer 
BPCL Walk-in-Interview 2019 -01 Vacancy Medical Officers
IIITM-K Walk-in-Interview 2019 -01 Vacancy Finance Executive
AIIMS Bhubaneswar Walk-in-Interview 2019 -01 Vacancy Financial Advisor
ICRISAT Walk-in-Interview 2019 -01 Vacancy Scientific Officer
NIEPMD Walk-in-Interview 2019 -01 Vacancy Instructor in Surgical Shoes & Leather Work (Consultant)
BECIL Walk-in-Interview 2019 -10 Vacancy Lab Attendant
INST Walk-in-Interview 2019 -01 Vacancy Consultant
ICGEB Walk-in-Interview 2019 -01 Vacancy DBT-BioCARe Project Assistant 
Latest Government Jobs 2019 Notification on 06.11.2019
HAL Walk-in-Interview 2019 -01 Vacancy Chief Flying Instructor
AIIMS Bhubaneswar Walk-in-Interview 2019 -01 Vacancy Assistant Professor
PESB Walk-in-Interview 2019 -01 Vacancy Director(Technical)
ESIC Walk-in-Interview 2019 -01 Vacancy Junior Engineer (Civil, Electrical)
IIIM Walk-in-Interview 2019 -01 Vacancy Project Assistant–I
IIT Bombay Walk-in-Interview 2019 -01 Vacancy Assistant Project Manager
NCL Walk-in-Interview 2019 -02 Vacancy Project Assistant – II and III 
IIT Kanpur Walk-in-Interview 2019 -01 Vacancy Project Engineer
EIL Walk-in-Interview 2019 -01 Vacancy General Manager
BSF Walk-in-Interview 2019 -1356 Vacancy Constable
OUAT Walk-in-Interview 2019 -01 Vacancy Guest Faculty
NIEPID Walk-in-Interview 2019 -01 Vacancy Principal
IIIT Allahabad Walk-in-Interview 2019 -01 Vacancy Assistant Professor
MSEDCL Walk-in-Interview 2019 -01 Vacancy Principal
Konkan Railway Walk-in-Interview 2019 -135 Vacancy Trainee Apprentices
Latest Government Jobs 2019 Notification on 05.11.2019
CONCOR Walk-in-Interview 2019 -01 Vacancy Chief Financial Officer 
TNJFU Walk-in-Interview 2019 -05 Vacancy Project Assistant & Lab Assistant
Kurukshetra University Walk-in-Interview 2019 -01 Vacancy TGT
NHPC Walk-in-Interview 2019 -01 Vacancy Apprentice
GNDU Walk-in-Interview 2019 -01 Vacancy Junior Research Fellowship 
SPU Walk-in-Interview 2019 -01 Vacancy Registrar
HLL Lifecare Limited Walk-in-Interview 2019 -01 Vacancy Executive
CEPT Walk-in-Interview 2019 -01 Vacancy Head
IIT Tirupati Walk-in-Interview 2019 -01 Vacancy Research Assistant
Central Railway Walk-in-Interview 2019 -12 Vacancy Junior Translator
TMC Walk-in-Interview 2019 -06 Vacancy Professor, Surgical Oncologist
TISS Walk-in-Interview 2019 -01 Vacancy Assistant Professor
IISER Pune Walk-in-Interview 2019 -01 Vacancy Admin Assistant
PESB Walk-in-Interview 2019 -01 Vacancy Director
IACS Walk-in-Interview 2019 -02 Vacancy Research Associate-I
Latest Government Jobs 2019 Notification on 04.11.2019
CMTI Walk-in-Interview 2019 -05 Vacancy Data Entry Operator Cum Assistant 
HAL Walk-in-Interview 2019 -02 Vacancy Visiting Consultants
AIIMS Bhopal Walk-in-Interview 2019 -01 Vacancy Project Assistant
NEIGRIHMS Walk-in-Interview 2019 -01 Vacancy Junior Research Fellow
Calicut University Walk-in-Interview 2019 -01 Vacancy Assistant Professor
NISH Walk-in-Interview 2019 -01 Vacancy Language Pathologist
IIT Gandhinagar Walk-in-Interview 2019 -01 Vacancy Junior Research Fellow
BRO Walk-in-Interview 2019 -540 Vacancy Multi Skilled Worker
NITUK Walk-in-Interview 2019 -05 Vacancy Assistant Professor
TISS Walk-in-Interview 2019 -01 Vacancy Research Assistant
KUFOS Walk-in-Interview 2019 -01 Vacancy Project Scientist/Research Associate
BBCI Walk-in-Interview 2019 -01 Vacancy Scientific B
DNH Walk-in-Interview 2019 -01 Vacancy Principal
Bharathidasan University Walk-in-Interview 2019 -01 Vacancy Research Fellow
IIT Hyderabad Walk-in-Interview 2019 -01 Vacancy Senior Research Fellow (SRF)
Latest Government Jobs 2019 Notification on 02.11.2019
PAU Walk-in-Interview 2019 -02 Vacancy Junior Research Fellow
TSSPDCL Walk-in-Interview 2019 -500 Vacancy Junior Assistant-cum-Computer Operator
IASST Walk-in-Interview 2019 -01 Vacancy Junior Research Fellow
C-DIT Walk-in-Interview 2019 -01 Vacancy Developer / Designer
RVNL Walk-in-Interview 2019 -01 Vacancy Additional General Manager
AYCL Walk-in-Interview 2019 -01 Vacancy Advisor
HBCSE Walk-in-Interview 2019 -01 Vacancy Project Assistant
CSB Walk-in-Interview 2019 -01 Vacancy Junior Research Fellow
IEG Walk-in-Interview 2019 -34 Vacancy Health Investigators
SHS Bihar Walk-in-Interview 2019 -03 Vacancy HR Consultant
KITCO Walk-in-Interview 2019 -01 Vacancy General Manager
OFB Walk-in-Interview 2019 -4805 Vacancy Trade Apprentice
CUSAT Walk-in-Interview 2019 -01 Vacancy Project Associate
NAARM Walk-in-Interview 2019 -01 Vacancy Young Professional-II
Latest Government Jobs 2019 Notification on 01.11.2019
ICSIL Walk-in-Interview 2019 -01 Vacancy Anaesthesia
KMRL Walk-in-Interview 2019 -01 Vacancy Company Secretary
ECIL Walk-in-Interview 2019 -200 Vacancy Junior Technical Officer
IIT Bombay Walk-in-Interview 2019 -01 Vacancy Project Assistant
IIIT Chittoor Walk-in-Interview 2019 -01 Vacancy Administrative Assistant
IISER Bhopal Walk-in-Interview 2019 -01 Vacancy Research Associate
KFRI Walk-in-Interview 2019 -05 Vacancy Project Fellow
SERC Walk-in-Interview 2019 -01 Vacancy Facility Manager
NHAI Walk-in-Interview 2019 -02 Vacancy Deputy Manager
IBPS Walk-in-Interview 2019 -01 Vacancy Banker Faculty –Technical
JNU Walk-in-Interview 2019 -01 Vacancy Research Associate (RA)
BITS Pilani Walk-in-Interview 2019 -01 Vacancy Research Assistant (RA)
Dr.YSRHU Walk-in-Interview 2019 -01 Vacancy Senior Research Fellow (SRF)
ISI Walk-in-Interview 2019 -01 Vacancy Junior Research Fellow
IOCL Walk-in-Interview 2019 -01 Vacancy Associate Professor
Latest Government Jobs 2019 Notification on 31.10.2019
NIELIT Delhi Walk-in-Interview 2019 -01 Vacancy Server Administrator
NPCI Walk-in-Interview 2019 -01 Vacancy Lead
Ministry Of Culture Walk-in-Interview 2019 -01 Vacancy Curator
IAF Walk-in-Interview 2019 -01 Vacancy Airmen
GAIL Walk-in-Interview 2019 -01 Vacancy General Duty Medical Officer
NIT Tiruchirappalli Walk-in-Interview 2019 -01 Vacancy Junior Research Fellow
Lucknow University Walk-in-Interview 2019 -01 Vacancy Junior Research Fellow (JRF)
Solapur University Walk-in-Interview 2019 -01 Vacancy Project Fellow
NFL Walk-in-Interview 2019 -01 Vacancy Assistant Manager, Dy. Manager, Manager, Sr.Manager, Dy.General Manager
NABARD Walk-in-Interview 2019 -01 Vacancy Bank's Medical Officer
NIS Walk-in-Interview 2019 -01 Vacancy Programme Assistant
KIIFB Walk-in-Interview 2019 -01 Vacancy General Manager
IITBHU Walk-in-Interview 2019 -01 Vacancy Junior Research Fellow (JRF)
CSIR Walk-in-Interview 2019 -01 Vacancy Project Assistant – III
CDRI Walk-in-Interview 2019 -01 Vacancy JRF
Latest Government Jobs 2019 Notification on 30.10.2019
NERIST Walk-in-Interview 2019 -01 Vacancy JRF
AIIMS Rishikesh Walk-in-Interview 2019 -01 Vacancy Audiologist
Assam University Walk-in-Interview 2019 -06 Vacancy Financial Management Specialist
POWERGRID Walk-in-Interview 2019 -22 Vacancy Field Engineer (Electrical)
TMC Walk-in-Interview 2019 -20 Vacancy Technician
RRI Walk-in-Interview 2019 -01 Vacancy Tradesman
NPCIL Walk-in-Interview 2019 -01 Vacancy Nurse – A
CSL Walk-in-Interview 2019 -10 Vacancy Junior Technical Assistant (Mechanical)
CBI Walk-in-Interview 2019 -01 Vacancy Chief Technical Officer
Jadavpur University Walk-in-Interview 2019 -02 Vacancy Research Fellow
VCRC Walk-in-Interview 2019 -01 Vacancy Scientist-B
WII Walk-in-Interview 2019 -01 Vacancy Project Fellow
IIT Bombay Walk-in-Interview 2019 -02 Vacancy Project Research Assistant
RRI Walk-in-Interview 2019 -01 Vacancy Tradesman (Carpentry)
KoPT Walk-in-Interview 2019 -01 Vacancy Retired Dy. / Jt. Commissioner
Latest Government Jobs 2019 Notification on 29.10.2019
NERIST Walk-in-Interview 2019 -01 Vacancy JRF
AIIMS Rishikesh Walk-in-Interview 2019 -01 Vacancy Audiologist
Assam University Walk-in-Interview 2019 -06 Vacancy Financial Management Specialist
TSSPDCL Walk-in-Interview 2019 -500 Vacancy Junior Assistant-cum-Computer Operator
NISG Walk-in-Interview 2019 -01 Vacancy Consultant
Paradip Port Trust Walk-in-Interview 2019 -03 Vacancy Engineer-in-charge Tug
RGCB Walk-in-Interview 2019 -09 Vacancy Scientist
RRCCR Walk-in-Interview 2019 -12 Vacancy Junior Translator
BIT Mesra Walk-in-Interview 2019 -01 Vacancy JRF
NIMHANS Walk-in-Interview 2019 -01 Vacancy Junior Research Fellow
UoH Walk-in-Interview 2019 -01 Vacancy Senior Research Fellow (SRF)
BRO Walk-in-Interview 2019 -540 Vacancy Multi Skilled Worker
 CSMCRI Walk-in-Interview 2019 -01 Vacancy Project Assistant-II
NIT Patna Walk-in-Interview 2019 -01 Vacancy Project Fellow/JRF
TMC Walk-in-Interview 2019 -20 Vacancy Technician
NERIST Walk-in-Interview 2019 -01 Vacancy JRF
Latest Government Jobs 2019 Notification on 25.10.2019
NERIST Walk-in-Interview 2019 -01 Vacancy JRF
AIIMS Rishikesh Walk-in-Interview 2019 -01 Vacancy Audiologist
Assam University Walk-in-Interview 2019 -06 Vacancy Financial Management Specialist 
POWERGRID Walk-in-Interview 2019 -22 Vacancy Field Engineer (Electrical)
TMC Walk-in-Interview 2019 -20 Vacancy Technician
FACT Walk-in-Interview 2019 -01 Vacancy Assistant Manager
KoPT Walk-in-Interview 2019 -01 Vacancy Retired Dy. / Jt. Commissioner
RRI Walk-in-Interview 2019 -01 Vacancy Tradesman (Carpentry)
IIT Bombay Walk-in-Interview 2019 -02 Vacancy Project Research Assistant
WII Walk-in-Interview 2019 -01 Vacancy Project Fellow
VCRC Walk-in-Interview 2019 -01 Vacancy Scientist-B
Jadavpur University Walk-in-Interview 2019 -02 Vacancy Research Fellow
CBI Walk-in-Interview 2019 -01 Vacancy Chief Technical Officer
CSL Walk-in-Interview 2019 -10 Vacancy Junior Technical Assistant (Mechanical)
NPCIL Walk-in-Interview 2019 -01 Vacancy Nurse – A
Latest Government Jobs 2019 Notification on 24.10.2019
RRI Walk-in-Interview 2019 -01 Vacancy Tradesman
Jadavpur University Walk-in-Interview 2019 -01 Vacancy Junior Research Fellow
Petronet LNG Limited Walk-in-Interview 2019 -01 Vacancy Executive Director (HR)
RRC Hubli Walk-in-Interview 2019 -226 Vacancy Commercial cum Ticket Clerk
AIIMS Delhi Walk-in-Interview 2019 -01 Vacancy Senior Research Fellow
HPPSC Walk-in-Interview 2019 -01 Vacancy District Manager, Class-I
NIT Delhi Walk-in-Interview 2019 -01 Vacancy Junior Research Fellow (JRF)
Andaman & Nicobar Administration Walk-in-Interview 2019 -01 Vacancy Programmer
IIT Bhubaneswar Walk-in-Interview 2019 -01 Vacancy Junior Research Fellow
CMD Kerala Walk-in-Interview 2019 -01 Vacancy District Coordinator
Jamia Millia Islamia Walk-in-Interview 2019 -01 Vacancy Research Assistant
SPMVV Walk-in-Interview 2019 -01 Vacancy Field/Lab attendant
ISRO Walk-in-Interview 2019 -327 Vacancy Scientist
HMT Limited Walk-in-Interview 2019 -03 Vacancy Junior Associate
KKHSOU Walk-in-Interview 2019 -01 Vacancy Audio-Visual production Executive
Latest Government Jobs 2019 Notification on 23.10.2019
BIT Mesra Walk-in-Interview 2019 -01 Vacancy JRF
NIMHANS Walk-in-Interview 2019 -01 Vacancy Junior Research Fellow (JRF)
University of Hyderabad Walk-in-Interview 2019 -01 Vacancy Senior Research Fellow (SRF)
BRO Walk-in-Interview 2019 -540 Vacancy Multi Skilled Worker (Driver Engine Static)
CSMCRI Walk-in-Interview 2019 -01 Vacancy Project Assistant-II
NIT Patna Walk-in-Interview 2019 -01 Vacancy Project Fellow/JRF
ICRISAT Walk-in-Interview 2019 -06 Vacancy Research Technician
NIRDPR Walk-in-Interview 2019 -01 Vacancy Mission Manager – Farm Livelihoods
TSSPDCL Walk-in-Interview 2019 -500 Vacancy Junior Assistant-cum-Computer Operator
Balmer Lawrie Walk-in-Interview 2019 -01 Vacancy Vice President
ICMR Walk-in-Interview 2019 -01 Vacancy Project Assistant
JNPT Walk-in-Interview 2019 -01 Vacancy Asstt. Manager (Port Planning & Development)
High Court of Bombay at Goa Walk-in-Interview 2019 -01 Vacancy Shorthand Writer (Higher Grade)
Airports Authority of India Walk-in-Interview 2019 -01 Vacancy Senior Consultant (Retired PSU employee)
IIEST Shibpur Walk-in-Interview 2019 -01 Vacancy Junior Research Fellow (JRF)
Latest Government Jobs 2019 Notification on 22.10.2019
CSMCRI Walk-in-Interview 2019 -02 Vacancy Junior research fellow (JRF)/Project Associate-I/II
PAU Walk-in-Interview 2019 -01 Vacancy Research Fellow
IUCAA Walk-in-Interview 2019 -01 Vacancy Section Officer
SCTIMST Walk-in-Interview 2019 -04 Vacancy Junior Technical Assistant
TMC Walk-in-Interview 2019 -69 Vacancy Housekeeping Staff
BEL Walk-in-Interview 2019 -19 Vacancy Engineers
JNU Walk-in-Interview 2019 -02 Vacancy Section Officer
MRPL Walk-in-Interview 2019 -01 Vacancy Inspector , JM3 Grade
VIT University Walk-in-Interview 2019 -01 Vacancy Junior Research Fellow (JRF)
University of Calcutta Walk-in-Interview 2019 -01 Vacancy Senior Research Fellow
ECIL Walk-in-Interview 2019 -200 Vacancy Junior Technical Officer
NII Walk-in-Interview 2019 -01 Vacancy Project Assistant
HBCSE Walk-in-Interview 2019 -01 Vacancy Project Scientific Assistant- B
IIT Gandhinagar Walk-in-Interview 2019 -01 Vacancy Project Assistant
Latest Government Jobs 2019 Notification on 21.10.2019
IIT Jodhpur Walk-in-Interview 2019 -01 Vacancy Technical Project Superintendent
NIT Rourkela Walk-in-Interview 2019 -01 Vacancy JRF
University of Kerala Walk-in-Interview 2019 -01 Vacancy Research Associate and Research Assistant
ESIC Walk-in-Interview 2019 -08 Vacancy Senior Resident
IIST Walk-in-Interview 2019 -01 Vacancy Engineer (Civil)
WII Walk-in-Interview 2019 -02 Vacancy Section Officer (Administration), Administrative Assistant
PESB Walk-in-Interview 2019 -01 Vacancy Director (Refineries)
IIT Delhi Walk-in-Interview 2019 -01 Vacancy Jr. Research Fellow
NGRI Walk-in-Interview 2019 -01 Vacancy Project Assistant Level – I
Mangalore University Walk-in-Interview 2019 -01 Vacancy Project Assistant
CBPBU Walk-in-Interview 2019 -06 Vacancy Assistant Technology Manager, Block Technology Manager
IIM Bangalore Walk-in-Interview 2019 -01 Vacancy Pedagogical Research Associate
GNLU Walk-in-Interview 2019 -07 Vacancy Library Assistant & Various
Haldia Petrochemicals Walk-in-Interview 2019 -01 Vacancy Asst. / Deputy Manager
Goa University Walk-in-Interview 2019 -01 Vacancy Deputy Registrar
Latest Government Jobs 2019 Notification on 19.10.2019
IIT Kanpur Walk-in-Interview 2019 -01 Vacancy Senior Project Associate
EFL Walk-in-Interview 2019 -01 Vacancy Consultant Engineer (Civil)
VSSC Walk-in-Interview 2019 -02 Vacancy Junior Research Fellow (JRF) / Research Associate (RA)
OMC Limited Walk-in-Interview 2019 -01 Vacancy Dy. General Manager
NEIGRIHMS Walk-in-Interview 2019 -01 Vacancy Junior Research Fellow
Mizoram University Walk-in-Interview 2019 -01 Vacancy Guest faculty in Management
CNCI Walk-in-Interview 2019 -01 Vacancy Senior Research Fellow
KMRC Walk-in-Interview 2019 -01 Vacancy Law Executive
AIIMS Jodhpur Walk-in-Interview 2019 -105 Vacancy Senior Resident
University of Allahabad Walk-in-Interview 2019 -01 Vacancy Junior Research Fellow (JRF)
SPU Walk-in-Interview 2019 -01 Vacancy Registrar
UBKV Walk-in-Interview 2019 -01 Vacancy Junior Research Fellow
IIM Bangalore Walk-in-Interview 2019 -01 Vacancy Pedagogical Research Associate
BOATSR Walk-in-Interview 2019 -442 Vacancy Technician Apprentice
EESL Walk-in-Interview 2019 -01 Vacancy Deputy Manager
Latest Government Jobs 2019 Notification on 18.10.2019
NCHMCT Walk-in-Interview 2019 -01 Vacancy Hospitality Management Faculty
Tea Board Walk-in-Interview 2019 -01 Vacancy Junior Instrument Engineer
JNTBGRI Walk-in-Interview 2019 -01 Vacancy Project Fellow
TERI Walk-in-Interview 2019 -01 Vacancy Trainee
PAU Walk-in-Interview 2019 -02 Vacancy Research Fellow
VVGNLI Walk-in-Interview 2019 -01 Vacancy Senior Digitization Assistant
ICMR Walk-in-Interview 2019 -01 Vacancy Research Assistant
NCAOR Walk-in-Interview 2019 -01 Vacancy Junior Research Fellow
WII Walk-in-Interview 2019 -03 Vacancy Project Fellow
Gujarat High Court Walk-in-Interview 2019 -01 Vacancy Legal Assistant
OMC Limited Walk-in-Interview 2019 -01 Vacancy Manager (Mining)
Latest Government Jobs 2019 Notification on 17.10.2019
Sikkim PSC Walk-in-Interview 2019 -03 Vacancy Panchakarma Technicians
Ministry of Defence Walk-in-Interview 2019 -01 Vacancy Multi Tasking Staff
NDDB Walk-in-Interview 2019 -01 Vacancy Scientist-I
HAL Walk-in-Interview 2019 -01 Vacancy Industrial Trainee
IIT Kharagpur Walk-in-Interview 2019 -01 Vacancy Post Doctoral Fellowship – Research
Panjab University Walk-in-Interview 2019 -01 Vacancy Guest Faculty
INFLIBNET Walk-in-Interview 2019 -01 Vacancy Scientist-D
Tezpur University Walk-in-Interview 2019 -01 Vacancy Junior Research Fellow (JRF)
IIEST Shibpur Walk-in-Interview 2019 -01 Vacancy RA/SRF/JRF
SLPRB Walk-in-Interview 2019 -50 Vacancy Assistant Public Prosecutor
JNTBGRI Walk-in-Interview 2019 -01 Vacancy Junior Project Fellow
ECIL Walk-in-Interview 2019 -200 Vacancy Junior Technical Officer
ICMR Walk-in-Interview 2019 -01 Vacancy Scientist B
NHPC Limited Walk-in-Interview 2019 -01 Vacancy Apprentice
CEPT University Walk-in-Interview 2019 -01 Vacancy Manager – Administration
Latest Government Jobs 2019 Notification on 16.10.2019
NIRRH Walk-in-Interview 2019 -01 Vacancy Laboratory Technician
PGIMER Walk-in-Interview 2019 -01 Vacancy Lab Technician
MKU Walk-in-Interview 2019 -02 Vacancy Junior Research Fellow (JRF)
TISS Walk-in-Interview 2019 -02 Vacancy Research Assistant
CDAC Walk-in-Interview 2019 -01 Vacancy Project Engineer
NIEPMD Walk-in-Interview 2019 -02 Vacancy
MANAGE Walk-in-Interview 2019 -01 Vacancy Project Assistant
IUCAA Walk-in-Interview 2019 -01 Vacancy Post-Doctoral Fellow
IIT Madras Walk-in-Interview 2019 -02 Vacancy Superintending Engineer
IBPS Walk-in-Interview 2019 -01 Vacancy Research Associate Technical
IIT Delhi Walk-in-Interview 2019 -01 Vacancy Project Attendant
NIT Warangal Walk-in-Interview 2019 -01 Vacancy Research Assosiate
AIIMS Jodhpur Walk-in-Interview 2019 -01 Vacancy Technical Assistant
Mizoram PSC Walk-in-Interview 2019 -01 Vacancy Labour Officer
Latest Government Jobs 2019 Notification on 15.10.2019
IIT Kanpur Walk-in-Interview 2019 -01 Vacancy Senior Project Associate
IICA Walk-in-Interview 2019 -01 Vacancy Project Head
Jamia Hamdard Walk-in-Interview 2019 -01 Vacancy Project Assistant
IIM Jammu Walk-in-Interview 2019 -01 Vacancy Chief Administrative Officer (CAO)
IRMA Walk-in-Interview 2019 -01 Vacancy Assistant Manager (Administration)
KIOCL Limited Walk-in-Interview 2019 -01 Vacancy Senior Surveyor
TANUVAS Walk-in-Interview 2019 -01 Vacancy Junior Research Fellow
GEER Foundation Walk-in-Interview 2019 -02 Vacancy Jr. Research Fellow (Flora)
CUSAT Walk-in-Interview 2019 -02 Vacancy Junior Research Fellows
Alagappa University Walk-in-Interview 2019 -01 Vacancy Project Fellow
NPSC Walk-in-Interview 2019 -01 Vacancy Deputy Superintendent / Assistant Election Officer / Employment Officer & Various
ICRISAT Walk-in-Interview 2019 -01 Vacancy Technical Associate
Balmer Lawrie Walk-in-Interview 2019 -01 Vacancy Junior Officer/ Officer
Latest Government Jobs 2019 Notification on 14.10.2019
IGNTU Walk-in-Interview 2019 -01 Vacancy Project Fellow
NIRDPR Walk-in-Interview 2019 -02 Vacancy English Teacher
NBSSLUP Walk-in-Interview 2019 -01 Vacancy Young Professional-I
ANGRAU Walk-in-Interview 2019 -01 Vacancy Dean of Agriculture
IIIT Allahabad Walk-in-Interview 2019 -01 Vacancy Junior Research Fellow (JRF)
NGRI Walk-in-Interview 2019 -01 Vacancy Research Associate – I
UPSC Walk-in-Interview 2019 -01 Vacancy Botanist
BIRAC Walk-in-Interview 2019 -01 Vacancy Management Trainee (Make In India)
SCTIMST Walk-in-Interview 2019 -02 Vacancy Junior Social Work
SPMCIL Walk-in-Interview 2019 -01 Vacancy Consultant (Civil)
IIT Bombay Walk-in-Interview 2019 -01 Vacancy Project Research Engineer
AAU Walk-in-Interview 2019 -01 Vacancy Technical Assistant
NIMR Walk-in-Interview 2019 -01 Vacancy Project Officer
IIT Indore Walk-in-Interview 2019 -01 Vacancy Research Associate (RA)
IIITDMJ Walk-in-Interview 2019 -01 Vacancy Senior Research fellowship (SRF)
Latest Government Jobs 2019 Notification on 12.10.2019
SNU Walk-in-Interview 2019 -01 Vacancy Training Manager
CCI Walk-in-Interview 2019 -01 Vacancy Field Assistant / Office Clerk 
BOATSR Walk-in-Interview 2019 -442 Vacancy Technician Apprentice 
DBSKKV Walk-in-Interview 2019 -01 Vacancy Senior Research Fellow 
Plantation Corporation of Kerala Walk-in-Interview 2019 -01 Vacancy Company Secretary Cum Manager
KoPT Walk-in-Interview 2019 -26 Vacancy Commander
IOCL Walk-in-Interview 2019 -38 Vacancy Junior Engineering Assistant-IV
NIMHANS Walk-in-Interview 2019 -01 Vacancy IT Coordinator/system Analyst
Thapar University Walk-in-Interview 2019 -01 Vacancy Research Associate
India Post Walk-in-Interview 2019 -10 Vacancy Staff car Driver
RRI Walk-in-Interview 2019 -01 Vacancy Tradesman (Carpentry)
IICB Walk-in-Interview 2019 -01 Vacancy Project Assistant Level – III
NITUK Walk-in-Interview 2019 -05 Vacancy Assistant Professor
ISM Walk-in-Interview 2019 -01 Vacancy Research Associate (RA)
NIRDPR Walk-in-Interview 2019 -01 Vacancy Research Associate
Latest Government Jobs 2019 Notification on 11.10.2019
Alagappa University Walk-in-Interview 2019 -01 Vacancy Project Fellow
ICRISAT Walk-in-Interview 2019 -01 Vacancy Technical Associate
Balmer Lawrie Walk-in-Interview 2019 -01 Vacancy Junior Officer/ Officer (Travel)
IARI Walk-in-Interview 2019 -01 Vacancy SRF
IIT Madras Walk-in-Interview 2019 -01Vacancy Superintending Engineer
IIT Gandhinagar Walk-in-Interview 2019 -01 Vacancy Project Assistant
HBCSE Walk-in-Interview 2019 -01 Vacancy Project Scientific Assistant- B
Goa PSC Walk-in-Interview 2019 -01 Vacancy Senior ENT Surgeon
NIT Calicut Walk-in-Interview 2019 -01 Vacancy Junior Research Fellow
CU Jammu Walk-in-Interview 2019 -01 Vacancy Junior Research Fellow (JRF)
IISER Thiruvananthapuram Walk-in-Interview 2019 -01 Vacancy Senior Research Fellow
NLC Walk-in-Interview 2019 -01 Vacancy Senior Resident
NIRDPR Walk-in-Interview 2019 -01 Vacancy Research Associate
HAL Walk-in-Interview 2019 -01 Vacancy Industrial Trainee
Latest Government Jobs 2019 Notification on 10.10.2019
THSTI Walk-in-Interview 2019 -01 Vacancy Principal Scientist-II
ACTREC Walk-in-Interview 2019 -01 Vacancy Lab Technician
ICMR Walk-in-Interview 2019 -01 Vacancy Scientist B
NIPGR Walk-in-Interview 2019 -01 Vacancy Junior Research Fellow
NIT Calicut Walk-in-Interview 2019 -01 Vacancy Junior Research Fellow
CVPPPL Walk-in-Interview 2019 -20 Vacancy Trainee Engineer
IIT Jodhpur Walk-in-Interview 2019 -02 Vacancy Project Superintendent
IIT Kanpur Walk-in-Interview 2019 -01 Vacancy Senior Project Associate
NIT Mizoram Walk-in-Interview 2019 -01 Vacancy JRF
CPCRI Walk-in-Interview 2019 -01 Vacancy Project Fellow
PAU Walk-in-Interview 2019 -01 Vacancy Sr. Research Fellow
TERI Walk-in-Interview 2019 -01 Vacancy Software Developer
NIT Delhi Walk-in-Interview 2019 -01 Vacancy Part Time Coaches / Trainers
BARC Walk-in-Interview 2019 -05 Vacancy Post Graduate Resident Medical Officer
KGMU Walk-in-Interview 2019 -01 Vacancy Research Associate 
Latest Government Jobs 2019 Notification on 09.10.2019
IARI Walk-in-Interview 2019 -01 Vacancy Senior Research Fellow (SRF)
ECIL Walk-in-Interview 2019 -200 Vacancy Junior Technical Officer
PGSC Walk-in-Interview 2019 -01 Vacancy Office Executive
KFRI Walk-in-Interview 2019 -01 Vacancy Project Assistant
IIT Kanpur Walk-in-Interview 2019 -01 Vacancy Senior Project Associate
IISER Bhopal Walk-in-Interview 2019 -01 Vacancy Research Associate 
HPPSC Walk-in-Interview 2019 -01 Vacancy Assistant Director, Forensic Psychology
Cochin Shipyard Walk-in-Interview 2019 -01 Vacancy Manager
NAFED Walk-in-Interview 2019 -01 Vacancy Advisor
Konkan Railway Walk-in-Interview 2019 -135 Vacancy Trainee Apprentices
BECIL Walk-in-Interview 2019 -45 Vacancy Operation Theatre Technician
IRCON Walk-in-Interview 2019 -01 Vacancy Consultant – Public Relations
NRCM Walk-in-Interview 2019 -01 Vacancy Young Professional-II
JIPMER Walk-in-Interview 2019 -25 Vacancy Senior Resident
MCC Walk-in-Interview 2019 -01 Vacancy Lecturer
Latest Government Jobs 2019 Notification on 07.10.2019
GGSIPU Walk-in-Interview 2019 -01 Vacancy Research Associate (RA) 
TNPSC Walk-in-Interview 2019 -01 Vacancy Jailor
Anna University Walk-in-Interview 2019 -01 Vacancy Junior Research Fellow (JRF) 
NISER Walk-in-Interview 2019 -01 Vacancy Research Associate-I
AIIMS Bhubaneswar Walk-in-Interview 2019 -01 Vacancy Laboratory Technician
INST Walk-in-Interview 2019 -01 Vacancy Post Doctoral Research Fellowships
Kalyani University Walk-in-Interview 2019 -01 Vacancy Assistant Professor in Zoology
TMC Walk-in-Interview 2019 -01 Vacancy Computer Programmer
NIT Rourkela Walk-in-Interview 2019 -01 Vacancy Project / Research Assistant
IISER Pune Walk-in-Interview 2019 -01 Vacancy Project Assistant
Goa University Walk-in-Interview 2019 -01 Vacancy Library Assistant
Bank of Baroda Walk-in-Interview 2019 -01 Vacancy Head – Collections & Debt Management
IEG Walk-in-Interview 2019 -06 Vacancy Research Assistants
MKU Walk-in-Interview 2019 -01 Vacancy Junior Research Fellow (JRF)
UoH Walk-in-Interview 2019 -01 Vacancy Research Associate
Latest Government Jobs 2019 Notification on 05.10.2019
IIM Amritsar Walk-in-Interview 2019 -01 Vacancy Admission & Program Officer 
NIT Warangal Walk-in-Interview 2019 -01 Vacancy Library Trainee 
AIIMS Bhubaneswar Walk-in-Interview 2019 -01 Vacancy Laboratory Technician 
NIMHANS Walk-in-Interview 2019 -01 Vacancy Attender 
KFRI Walk-in-Interview 2019 -02 Vacancy Stenographer
SACON Walk-in-Interview 2019 -01 Vacancy Project Fellow
NIT Calicut Walk-in-Interview 2019 -01 Vacancy Supercomputing Administrator
SACON Walk-in-Interview 2019 -01 Vacancy Project Fellow
IIT Jammu Walk-in-Interview 2019 -01 Vacancy Content Graphic Designer
MKU Walk-in-Interview 2019 -01 Vacancy Field Co-ordinator
CFTRI Walk-in-Interview 2019 -02 Vacancy Project Assistant Level-II
NIT Patna Walk-in-Interview 2019 -01 Vacancy Junior Research Fellow (JRF)
Bank Of Baroda Walk-in-Interview 2019 -02 Vacancy Vice & Assistant President – Product Manager
NSIT Walk-in-Interview 2019 -01 Vacancy Junior Research Fellow (JRF)
CGCRI Walk-in-Interview 2019 -01 Vacancy Project Assistant (Level III)
CMFRI Walk-in-Interview 2019 -01 Vacancy Young Professional I
Latest Government Jobs 2019 Notification on 04.10.2019
KFC Walk-in-Interview 2019 -02 Vacancy Java/J2ee Developer
IIEST Shibpur Walk-in-Interview 2019 -01 Vacancy RA/SRF/JRF
OUAT Walk-in-Interview 2019 -02 Vacancy Young Professional-II
MSTC Limited Walk-in-Interview 2019 -01 Vacancy Deputy General Manager (DGM)
TISS Walk-in-Interview 2019 -02 Vacancy Research Assistant
IISWC Walk-in-Interview 2019 -01 Vacancy Senior Research Fellow (SRF)
Textiles Committee Walk-in-Interview 2019 -13 Vacancy Quality Assurance Officer
IIT Ropar Walk-in-Interview 2019 -01 Vacancy Junior Research Fellow (JRF )
SAIL Walk-in-Interview 2019 -01 Vacancy Operator cum Technician
Andaman & Nicobar Administration Walk-in-Interview 2019 -01 Vacancy Programmer
NIT Calicut Walk-in-Interview 2019 -02 Vacancy Project Digital Library Technical Assistant
IIPE Walk-in-Interview 2019 -01 Vacancy Registrar
IGIDR Walk-in-Interview 2019 -01 Vacancy Finance Officer
IIT Madras Walk-in-Interview 2019 -01 Vacancy Superintending Engineer
AYCL Walk-in-Interview 2019 -01 Vacancy Non-Unionised Supervisors
Latest Government Jobs 2019 Notification on 03.10.2019
IISER Pune Walk-in-Interview 2019 -01 Vacancy Project Assistant
IIMR Walk-in-Interview 2019 -01 Vacancy Technical Assistant
NBPGR Walk-in-Interview 2019 -01 Vacancy Junior Research Fellow
AIIMS Bhubaneswar Walk-in-Interview 2019 -01 Vacancy Laboratory Technician
IISER Mohali Walk-in-Interview 2019 -01 Vacancy Laboratory Helper
Mangalore University Walk-in-Interview 2019 -01 Vacancy Junior Research Fellow (JRF)/ Project Fellow position
SKUAST-Jammu Walk-in-Interview 2019 -01 Vacancy SRF
JMI Walk-in-Interview 2019 -01 Vacancy Research Assistant
IIT Bhubaneswar Walk-in-Interview 2019 -01 Vacancy Junior Research Fellow
CURAJ Walk-in-Interview 2019 -01 Vacancy Junior Research Fellow
TMC Walk-in-Interview 2019 -01 Vacancy Chief Research Fellow
IIFM Walk-in-Interview 2019 -01 Vacancy Special Project Associate
Konkan Railway Walk-in-Interview 2019 -135 Vacancy Trainee Apprentices
RVNL Walk-in-Interview 2019 -02 Vacancy Deputy general manager
KFC Walk-in-Interview 2019 -02 Vacancy Java/J2ee Developer
Latest Government Jobs 2019 Notification on 01.10.2019
RVNL Walk-in-Interview 2019 -02 Vacancy Deputy general Manager
NHAI Walk-in-Interview 2019 -30 Vacancy Deputy Manager
NIPGR Walk-in-Interview 2019 -01 Vacancy Research Associate
SLPRBAP Walk-in-Interview 2019 -50 Vacancy Assistant Public Prosecutor
Alagappa University Walk-in-Interview 2019 -01 Vacancy Research Assistant
IIT Delhi Walk-in-Interview 2019 -01 Vacancy Research Associate
SCTIMST Walk-in-Interview 2019 -01 Vacancy Project Assistant
TNPSC Walk-in-Interview 2019 -01 Vacancy Project Officer
BARC Walk-in-Interview 2019 -02 Vacancy Dental Hygienist & Dental Technician
TMC Walk-in-Interview 2019 -01 Vacancy Technician
KHPT Walk-in-Interview 2019 -01 Vacancy Senior Manager
Tezpur University Walk-in-Interview 2019 -01 Vacancy Junior Research Fellow (JRF)
Bose Institute Walk-in-Interview 2019 -01 Vacancy Research Associate (RA)
Amrita Vishwa Vidyapeetham University Walk-in-Interview 2019 -01 Vacancy Faculty Associate
NIAB Walk-in-Interview 2019 -01 Vacancy Senior Research Fellow (SRF)
Latest Government Jobs 2019 Notification on 30.09.2019
DNH Walk-in-Interview 2019 -01 Vacancy Yoga lnstructor
ICMR Walk-in-Interview 2019 -01 Vacancy Scientist-B
TANUVAS Walk-in-Interview 2019 -01 Vacancy Veterinary Gradates
NIE Walk-in-Interview 2019 -01 Vacancy Project Junior Nurse
IIM Bangalore Walk-in-Interview 2019 -01 Vacancy Project Executive
NABI Walk-in-Interview 2019 -01 Vacancy Research Associate
IIT Guwahati Walk-in-Interview 2019 -02 Vacancy Research Associate
NCBS Walk-in-Interview 2019 -01 Vacancy Program Manager
Thapar University Walk-in-Interview 2019 -01 Vacancy Dy. Manager
NIT Rourkela Walk-in-Interview 2019 -01 Vacancy Project / Research Assistant
AAU Walk-in-Interview 2019 -01 Vacancy Junior Administrative Assistant
PGIMER Walk-in-Interview 2019 -01 Vacancy Lab Technician
BFUHS Walk-in-Interview 2019 -02 Vacancy Guest Faculty
NITUK Walk-in-Interview 2019 -05 Vacancy Assistant Professor
IISER Bhopal Walk-in-Interview 2019 -01 Vacancy Research Associate
Latest Government Jobs 2019 Notification on 28.09.2019
WAPCOS Walk-in-Interview 2019 -01 Vacancy Addl. Chief Engineer
CSB Walk-in-Interview 2019 -01 Vacancy Advocates
PGIMER Walk-in-Interview 2019 -01 Vacancy Lab Technician
IIT Gandhinagar Walk-in-Interview 2019 -01 Vacancy Research Associate
ACBR Walk-in-Interview 2019 -01 Vacancy Senior Research Fellow
IIAP Walk-in-Interview 2019 -01 Vacancy Engineer 'C'
IIM Ahmedabad Walk-in-Interview 2019 -01 Vacancy Chief Financial Officer
Konkan Railway Walk-in-Interview 2019 -01 Vacancy Chief Electrical Engineer
Indian Army Walk-in-Interview 2019 -01 Vacancy Soldier General Duty
NHSRC Walk-in-Interview 2019 -01 Vacancy Consultant – Community Processes / Comprehensive Primary Healthcare
INST Walk-in-Interview 2019 -01 Vacancy Post Doctoral Research Fellowships
Lalit Kala Akademi Walk-in-Interview 2019 -01 Vacancy Deputy Secretary
IGNCA Walk-in-Interview 2019 -01 Vacancy Account Assistant
RCB Walk-in-Interview 2019 -01 Vacancy SRF
IISER Pune Walk-in-Interview 2019 -01 Vacancy Research Associate
UPSC Walk-in-Interview 2019 -01 Vacancy Scientist – B
Latest Government Jobs 2019 Notification on 27.09.2019
BARC Walk-in-Interview 2019 -01 Vacancy Nurse
IIT Bhubaneswar Walk-in-Interview 2019 -01 Vacancy Junior Research Fellow (JRF)
CPPIPR Walk-in-Interview 2019 -01 Vacancy Office Assistant
WAPCOS Walk-in-Interview 2019 -01 Vacancy Addl. Chief Engineer
CSB Walk-in-Interview 2019 -01 Vacancy Advocates
PGIMER Walk-in-Interview 2019 -01 Vacancy Lab Technician
IIT Gandhinagar Walk-in-Interview 2019 -01 Vacancy Research Associate
ACBR Walk-in-Interview 2019 -01 Vacancy Senior Research Fellow (SRF)
Indian Army Walk-in-Interview 2019 -01 Vacancy Soldier General Duty
IIAP Walk-in-Interview 2019 -01 Vacancy Engineer 'C'
IIM Ahmedabad Walk-in-Interview 2019 -01 Vacancy Chief Financial Officer
KRCL Walk-in-Interview 2019 -01 Vacancy Chief Electrical Engineer
NHSRC Walk-in-Interview 2019 -01 Vacancy Consultant – Community Processes / Comprehensive Primary Healthcare
INST Walk-in-Interview 2019 -01 Vacancy Post Doctoral Research Fellowships
IGNCA Walk-in-Interview 2019 -01 Vacancy Account Assistant
Latest Government Jobs 2019 Notification on 26.09.2019
IIT Guwahati Walk-in-Interview 2019 -02 Vacancy Research Associate
IGNCA Walk-in-Interview 2019 -01 Vacancy Project Associate
NIT Raipur Walk-in-Interview 2019 -01 Vacancy Junior Research Fellow
GPSC Walk-in-Interview 2019 -61 Vacancy Horticulture Officer
IIM Ahmedabad Walk-in-Interview 2019 -01 Vacancy Senior Policy Consultant
AIIMS Bhubaneswar Walk-in-Interview 2019 -01 Vacancy Junior Nurse / Field Worker
IICB Walk-in-Interview 2019 -55 Vacancy JRF
PGIMER Walk-in-Interview 2019 -01 Vacancy Lab Technician
Anand Agricultural University Walk-in-Interview 2019 -01 Vacancy Teaching Assistant
Institute of Life Sciences Walk-in-Interview 2019 -01 Vacancy Senior Research Fellow
Jamia Millia Islamia Walk-in-Interview 2019 -02 Vacancy Guest Teachers
ICGEB Walk-in-Interview 2019 -01 Vacancy Administrative Assistant
NIT Karnataka Walk-in-Interview 2019 -01 Vacancy Junior Research Fellow
WBPSC Walk-in-Interview 2019 -02 Vacancy Botanist
CIFE Walk-in-Interview 2019 -0 Vacancy Junior Research Fellow
Latest Government Jobs 2019 Notification on 25.09.2019
RIMS Walk-in-Interview 2019 -33 Vacancy Faculty
DSSSB Walk-in-Interview 2019 -982 Vacancy Assistant Teacher,Junior Engineer
ZSI Walk-in-Interview 2019 -01 Vacancy Junior Research Fellow
KAU Walk-in-Interview 2019 -01 Vacancy Subject Matter Specialist
CGCRI Walk-in-Interview 2019 -01 Vacancy Project Assistant
JIPMER Walk-in-Interview 2019 -03 Vacancy Technician
DMRC Walk-in-Interview 2019 -04 Vacancy Assistant Manager,Deputy General Manager
ICGEB Walk-in-Interview 2019 -02 Vacancy Junior Research Fellowship, Senior Research Fellow
ISM Walk-in-Interview 2019 -02 Vacancy Research Associate & Senior Research Fellow
MIDHANI Walk-in-Interview 2019 -01 Vacancy Chief Finance Officer
NIO Walk-in-Interview 2019 -02 Vacancy PA-II
IIOR Walk-in-Interview 2019 -01 Vacancy Young Professional-II
IIG Walk-in-Interview 2019 -05 Vacancy Technical Officer, Assistant & Various
BECIL Walk-in-Interview 2019 -08 Vacancy Database, Network Administrator & Various
SSSC Walk-in-Interview 2019 -08 Vacancy Driver
Latest Government Jobs 2019 Notification on 24.09.2019
CSMCRI Walk-in-Interview 2019 -01 Vacancy Project Assistant-II
ZSI Walk-in-Interview 2019 -01 Vacancy Data Entry Operator
SCTIMST Walk-in-Interview 2019 -02 Vacancy Junior Technical Assistant
NIRRH Walk-in-Interview 2019 -01 Vacancy Dietician
IIFM Walk-in-Interview 2019 -01 Vacancy Special Project Associate
THSTI Walk-in-Interview 2019 -02 Vacancy Lab Technician
NFL Walk-in-Interview 2019 -84 Vacancy Steno Assistant, Staff Nurse & Various
NABARD Walk-in-Interview 2019 -01 Vacancy Bank's Medical Officer
WII Walk-in-Interview 2019 -05 Vacancy Project Scientist, Senior Project Associate
CSIR Walk-in-Interview 2019 -21 Vacancy Project Assistant – III, Research Associate-I
IARI Walk-in-Interview 2019 -01 Vacancy JRF
Lucknow University Walk-in-Interview 2019 -01 Vacancy Junior Research Fellow
IACS Walk-in-Interview 2019 -72 Vacancy Security Officer, Technical Superintendent & Various
RRI Walk-in-Interview 2019 -01 Vacancy Tradesman (Carpentry)
IIT Delhi Walk-in-Interview 2019 -02 Vacancy Project Scientist, Sr. Project Assistant
Latest Government Jobs 2019 Notification on 23.09.2019
KIIFB Walk-in-Interview 2019 -01 Vacancy General Manager
KoPT Walk-in-Interview 2019 -26 Vacancy Commander, Mooring Master
PGIMER Walk-in-Interview 2019 -06 Vacancy Data Entry Operator, Junior Technician
NABARD Walk-in-Interview 2019 -8291 Vacancy Development Assistants
DBSKKV Walk-in-Interview 2019 -02 Vacancy Senior Research Fellow, Office Assistant/ Data Manager
NCRPB Walk-in-Interview 2019 -03 Vacancy Law Officer, Finance & Accounts Officer, Admn. Consultant
TISS Walk-in-Interview 2019 -01 Vacancy Senior Software Developer, Software Developer
NHSRC Walk-in-Interview 2019 -01 Vacancy Administrative Assistant
IITBHU Walk-in-Interview 2019 -01 Vacancy Junior Research Fellow (JRF)
SRTMUN Walk-in-Interview 2019 -01 Vacancy Principal
SAIL Walk-in-Interview 2019 -364 Vacancy Operator-cum-Technician (Trainee, Boiler) & Various
BEL Walk-in-Interview 2019 -30 Vacancy Engineers
Latest Government Jobs 2019 Notification on 21.09.2019
LHMC Walk-in-Interview 2019 -01 Vacancy Computer Data Entry Operator (CDEO)
HAL Walk-in-Interview 2019 -03 Vacancy Visiting Consultant
Bank of Baroda Walk-in-Interview 2019 -01 Vacancy Sector Specialist cum Product Manager
Panjab University Walk-in-Interview 2019 -01 Vacancy Guest Faculty
IIT Bombay Walk-in-Interview 2019 -02 Vacancy Technical Officer
ESIC Walk-in-Interview 2019 -24 Vacancy Senior Resident
IARI Walk-in-Interview 2019 -01 Vacancy Research Associate-I
AIIMS Bhubaneswar Walk-in-Interview 2019 -05 Vacancy Guest Faculty
MSCWB Walk-in-Interview 2019 -01 Vacancy Assistant Engineer
RBI Walk-in-Interview 2019 -02 Vacancy Officers in Grade 'B' (DR)
Bose Institute Walk-in-Interview 2019 -01 Vacancy Junior Research Fellow
JIPMER Walk-in-Interview 2019 -03 Vacancy Technician
IWAI Walk-in-Interview 2019 -01 Vacancy Principal
IIT Guwahati Walk-in-Interview 2019 -01 Vacancy Institute Engineer
NEIST Walk-in-Interview 2019 -01 Vacancy Technical Assistant (ACDS)
DMRC Walk-in-Interview 2019 -01 Vacancy GM
Latest Government Jobs 2019 Notification on 20.09.2019
NIMHANS Walk-in-Interview 2019 -02 Vacancy Psychologist, Field Worker
VJTI Walk-in-Interview 2019 -02 Vacancy System Engineer
NCBS Walk-in-Interview 2019 -01 Vacancy Junior Research Fellow
IIM Lucknow Walk-in-Interview 2019 -01 Vacancy Manager (CCMR Office)
KMSCL Walk-in-Interview 2019 -03 Vacancy Assistant Manager
HBCSE Walk-in-Interview 2019 -01 Vacancy Project Laboratory Assistant- B
CMERI Walk-in-Interview 2019 -15 Vacancy Sr. Scientist, Scientist
MUHS Walk-in-Interview 2019 -29 Vacancy Professor cum Principal, Professor & Various
IIVR Walk-in-Interview 2019 -05 Vacancy JRF / SRF, Young Professionals
IIT Mandi Walk-in-Interview 2019 -01 Vacancy Field Officers
ICRISAT Walk-in-Interview 2019 -01 Vacancy Research Technician
ECIL Walk-in-Interview 2019 -200 Vacancy Junior Technical Office
WWF India Walk-in-Interview 2019 -01 Vacancy Project Officer
IISER Tirupati Walk-in-Interview 2019 -01 Vacancy Project Assistant
IIT Delhi Walk-in-Interview 2019 -01 Vacancy Project Scientist
Latest Government Jobs 2019 Notification on 19.09.2019
Kumaun University Walk-in-Interview 2019 -01 Vacancy Research Associate
IMMT Walk-in-Interview 2019 -22 Vacancy Scientist, Senior Scientist & Various
JIPMER Walk-in-Interview 2019 -03 Vacancy Technician (C.S.S.D)
TISS Walk-in-Interview 2019 -02 Vacancy Research Officer, Assistant
MANAGE Walk-in-Interview 2019 -01 Vacancy Asst. Project Field Coordinator
IGDTUW Walk-in-Interview 2019 -02 Vacancy Research Associate & Guest Lecturer
HBCSE Walk-in-Interview 2019 -01 Vacancy Project Laboratory Assistant- B
RITES Limited Walk-in-Interview 2019 -46 Vacancy Junior Manager, Junior Assistant
VSI Walk-in-Interview 2019 -01 Vacancy Driver for Light Vehicle
CCRAS Walk-in-Interview 2019 -01 Vacancy Data Entry Operator
NEERI Walk-in-Interview 2019 -01 Vacancy Research Associate – I
THSTI Walk-in-Interview 2019 -02 Vacancy Lab Technician
IACS Walk-in-Interview 2019 -72 Vacancy Security Officer, Technical Superintendent & Various
KoPT Walk-in-Interview 2019 -01 Vacancy Mooring Master
RMRC Bhubaneswar Walk-in-Interview 2019 -01 Vacancy Junior Medical Officer
Thapar University Walk-in-Interview 2019 -01 Vacancy JRF/SRF
Nagaland University Walk-in-Interview 2019 -01 Vacancy Research Assistant
Latest Government Jobs 2019 Notification on 18.09.2019
RTMNU Walk-in-Interview 2019 -01 Vacancy Registrar
KGMU Walk-in-Interview 2019 -01 Vacancy Laboratory Technician
WBUT Walk-in-Interview 2019 -01 Vacancy Junior Research Fellow
DCI Walk-in-Interview 2019 -01 Vacancy Chief Operating Officer
OPAL Walk-in-Interview 2019 -03 Vacancy Executive, General Manager
ICFRE Walk-in-Interview 2019 -02 Vacancy Field Assistant, Junior Project Fellow
NEHU Walk-in-Interview 2019 -02 Vacancy Guest Technical Medical Assistant
NGRI Walk-in-Interview 2019 -04 Vacancy Research Associate – I, Project Assistant & Various
NIPGR Walk-in-Interview 2019 -01 Vacancy Trainee Fellow
NIVEDI Walk-in-Interview 2019 -05 Vacancy Project Assistant, Project Technician & Various
NDDB Walk-in-Interview 2019 -01 Vacancy Manager
HARTRON Walk-in-Interview 2019 -01 Vacancy Data Entry Operator
VMMC Walk-in-Interview 2019 -146 Vacancy Junior Resident
JNU Walk-in-Interview 2019 -01 Vacancy Junior Research Fellow
SLIET Walk-in-Interview 2019 -04 Vacancy Officer, Cook, Medical Officer
WBHRB Walk-in-Interview 2019 -01 Vacancy Librarian
NCL Walk-in-Interview 2019 -10 Vacancy Project Assistants-II (PA-II)
Latest Government Jobs 2019 Notification on 17.09.2019
NIEPMD Walk-in-Interview 2019 -02 Vacancy Sr. & Jr. Clinical Assistant
CBIC Walk-in-Interview 2019 -10 Vacancy Tax Assistant, Stenographer Gr-II, Havaldar
SAIL Walk-in-Interview 2019 -01 Vacancy Proficiency Training
CTTC Walk-in-Interview 2019 -06 Vacancy Store Keeper, Technician & Various
IARI Walk-in-Interview 2019 -01 Vacancy Senior Research Fellow
IIFM Walk-in-Interview 2019 -01 Vacancy Special Project Associate
SPIC Walk-in-Interview 2019 -01 Vacancy Assistant Programmer
TERI Walk-in-Interview 2019 -01 Vacancy Research Associate
NBFGR Walk-in-Interview 2019 -02 Vacancy Research Associate, Young Professional – II
NDDB Walk-in-Interview 2019 -01 Vacancy Assistant – I
WIHG Walk-in-Interview 2019 -09 Vacancy Project Scientist, Research Associate, Junior Research fellow
DMRC Walk-in-Interview 2019 -02 Vacancy GM, AM / Manager
IIITDM Kancheepuram Walk-in-Interview 2019 -01 Vacancy Research Assistant
ISM Walk-in-Interview 2019 -02 Vacancy Research Associate, Senior Research Fellow
HCL Walk-in-Interview 2019 -129 Vacancy Trade Apprentice
Latest Government Jobs 2019 Notification on 16.09.2019
HEC Ltd Walk-in-Interview 2019 -01 Vacancy Sr. Manager
Tezpur University Walk-in-Interview 2019 -02 Vacancy Junior Research Fellow, Field Technician
NTPC Walk-in-Interview 2019 -01 Vacancy Advisor Safety
SDAU Walk-in-Interview 2019 -02 Vacancy Research Associate, Senior Research Fellow
UPSC Walk-in-Interview 2019 -05 Vacancy Assistant Engineer & Various
MSCWB Walk-in-Interview 2019 -04 Vacancy Junior Engineer Planner, Vector Control Officer
RGCB Walk-in-Interview 2019 -09 Vacancy Scientist
TISS Walk-in-Interview 2019 -02 Vacancy Research Officer, Assistant
HSL Walk-in-Interview 2019 -01 Vacancy Chairman & Managing Director
ICMR Walk-in-Interview 2019 -01 Vacancy Assistant Director
PGIMER Walk-in-Interview 2019 -05 Vacancy Principal, Junior Technician
CIFA Walk-in-Interview 2019 -02 Vacancy Young Professional-I
BEL Walk-in-Interview 2019 -30 Vacancy Engineers
AIIMS Patna Walk-in-Interview 2019 -04 Vacancy Senior Resident
PNB Walk-in-Interview 2019 -01 Vacancy Advisor/Consultant
Latest Government Jobs 2019 Notification on 14.09.2019
NABARD Walk-in-Interview 2019 -8291 Vacancy Development Assistants
NCERT Walk-in-Interview 2019 -01 Vacancy Junior Project Fellows
MSCWB Walk-in-Interview 2019 -03 Vacancy Vector Control Officer
IGNCA Walk-in-Interview 2019 -05 Vacancy Project Assistant, Project Associate, Office Assistant
OPSC Walk-in-Interview 2019 -207 Vacancy Veterinary Assistant Surgeon
NTPC Walk-in-Interview 2019 -01 Vacancy Advisor Safety
SLIET Walk-in-Interview 2019 -04 Vacancy Officer, Cook, Medical Officer
MNNIT Walk-in-Interview 2019 -108 Vacancy Assistant Professor (Grade-I & II)
JNKVV Walk-in-Interview 2019 -02 Vacancy Project Assistant
OUAT Walk-in-Interview 2019 -18 Vacancy Subject Matter Specialist, Agromet Observer
SAIL Walk-in-Interview 2019 -01 Vacancy Retired Officer
PEC University Walk-in-Interview 2019 -01 Vacancy Legal retainer and Counsels
DSSSB Walk-in-Interview 2019 -982 Vacancy Assistant Teacher,Junior Engineer
ESIC Walk-in-Interview 2019 -03 Vacancy Part Time Super Specialists
NIEPMD Walk-in-Interview 2019 -02 Vacancy Sr. & Jr. Clinical Assistant
Latest Government Jobs 2019 Notification on 13.09.2019
RGCB Walk-in-Interview 2019 -09 Vacancy Scientist
ISI Walk-in-Interview 2019 -03 Vacancy Programmer, Project Assistant
NITUK Walk-in-Interview 2019 -02 Vacancy Teaching Associate
DTU Walk-in-Interview 2019 -01 Vacancy Registrar
SRTMUN Walk-in-Interview 2019 -01 Vacancy Principal
PDPU Walk-in-Interview 2019 -89 Vacancy Sports Faculty
HSSC Walk-in-Interview 2019 -4322 Vacancy Staff Nurse, Welfare Organiser & Various
INST Walk-in-Interview 2019 -01 Vacancy Post Doctoral Research Fellowships
CUTN Walk-in-Interview 2019 -05 Vacancy Section Officer, Assistant & Various
IOCL Walk-in-Interview 2019 -22 Vacancy Engineering Assistant, Jr. Office Assistant, Technical Attendant
ONGC Walk-in-Interview 2019 -1000 Vacancy Scholarships
IASST Walk-in-Interview 2019 -01 Vacancy Project Fellow
BEL Walk-in-Interview 2019 -04 Vacancy Senior Assistant Engineer,Senior Engineer
KMRL Walk-in-Interview 2019 -01 Vacancy General Manager
NEHU Walk-in-Interview 2019 -01 Vacancy Junior Research Fellow
Latest Government Jobs 2019 Notification on 12.09.2019
IIT Ropar Walk-in-Interview 2019 -03 Vacancy Counselling Psychologist
NAARM Walk-in-Interview 2019 -02 Vacancy Research Associate, Young Professional-II
CUTN Walk-in-Interview 2019 -01 Vacancy Research Assistant
NFL Walk-in-Interview 2019 -139 Vacancy Apprentice
NDMC Walk-in-Interview 2019 -01 Vacancy Chief Architect
CPCL Walk-in-Interview 2019 -04 Vacancy Doctors
UCIL Walk-in-Interview 2019 -01 Vacancy Medical Consultants
MANAGE Walk-in-Interview 2019 -02 Vacancy Consultants 
TERI Walk-in-Interview 2019 -01 Vacancy Software Developer
IBPS Walk-in-Interview 2019 -12196 Vacancy CRP Clerks
NESAC Walk-in-Interview 2019 -02 Vacancy Scientist / Engineer, Technical Assistant
ACTREC Walk-in-Interview 2019 -02 Vacancy Project Coordinator, Junior Research Fellow
VMMC Walk-in-Interview 2019 -146 Vacancy Junior Resident
AIIMS Raipur Walk-in-Interview 2019 -02 Vacancy Project Technician
CIPET Walk-in-Interview 2019 -05 Vacancy Officer, Assistant Officer & Various
Latest Government Jobs 2019 Notification on 11.09.2019
TANUVAS Walk-in-Interview 2019 -16 Vacancy Agromet Observer, Farm Manager & Various
NIRDPR Walk-in-Interview 2019 -05 Vacancy Accountant, Project Assistant & Various
CSMCRI Walk-in-Interview 2019 -01 Vacancy Project Assistant-III
Alagappa University Walk-in-Interview 2019 -13 Vacancy Project Fellow
IPR Walk-in-Interview 2019 -05 Vacancy Clerk, Junior Hindi Translator, Scientific Officer
CBRI Walk-in-Interview 2019 -56 Vacancy Project Assistant (Level – I, II & III), Research Associate -I
Panjab University Walk-in-Interview 2019 -01 Vacancy Guest Faculty
Prasar Bharati Walk-in-Interview 2019 -02 Vacancy Director General
BITS Pilani Walk-in-Interview 2019 -01 Vacancy Junior Research Fellow
Periyar University Walk-in-Interview 2019 -02 Vacancy Project Fellows
Dibrugarh University Walk-in-Interview 2019 -02 Vacancy Junior Research Fellow
WII Walk-in-Interview 2019 -03 Vacancy Project Fellow, Project Associate, Project Assistant
AAU Walk-in-Interview 2019 -02 Vacancy Accounts Assistant, Office Assistant
GSL Walk-in-Interview 2019 -29 Vacancy Assistant Manager, Junior Supervisor & Various
Spices Board Walk-in-Interview 2019 -10 Vacancy Trainee Analyst,Sample Receipt Desk,Trainee
Latest Government Jobs 2019 Notification on 10.09.2019
NHSRCL Walk-in-Interview 2019 -01 Vacancy Deputy General Manager
IIT Mandi Walk-in-Interview 2019 -01 Vacancy Project Associate
NRCP Walk-in-Interview 2019 -02 Vacancy Senior Research Fellow, Young Professional
RNSB Walk-in-Interview 2019 -01 Vacancy Jr.Executive
ICTS Walk-in-Interview 2019 -01 Vacancy Project Assistant
TNPSC Walk-in-Interview 2019 -176 Vacancy Civil Judge
Anna University Walk-in-Interview 2019 -01 Vacancy Junior Research Fellow/Project Fellow
SACON Walk-in-Interview 2019 -02 Vacancy Project Assistants
Western Railway Walk-in-Interview 2019 -99 Vacancy Senior Clerk cum Typist
CUTN Walk-in-Interview 2019 -02 Vacancy Research Associate, Research Assistant
NABI Walk-in-Interview 2019 -02 Vacancy Research Associate-I
ESIC Walk-in-Interview 2019 -06 Vacancy Doctor
NIBMG Walk-in-Interview 2019 -01 Vacancy Senior Manager
DSSSB Walk-in-Interview 2019 -982 Vacancy Assistant Teacher,Junior Engineer
NIIST Walk-in-Interview 2019 -10 Vacancy Medical Officer, Sr. Technical Officer, Technical Assistant
Latest Government Jobs 2019 Notification on 09.09.2019
IIM Lucknow Walk-in-Interview 2019 -02 Vacancy Research Associate / Assistant
CUK Walk-in-Interview 2019 -59 Vacancy Private Secretary, Estate Officer & Various
NIT Delhi Walk-in-Interview 2019 -03 Vacancy Project Associate, Lab Engineer & Various
IISR Walk-in-Interview 2019 -01 Vacancy Young Professional II
JIPMER Walk-in-Interview 2019 -01 Vacancy Renal Transplant Coordinator
NII Walk-in-Interview 2019 -02 Vacancy Senior Research Fellow
NDDB Walk-in-Interview 2019 -01 Vacancy Assistant – I
CVPPPL Walk-in-Interview 2019 -20 Vacancy Trainee Engineer
IIT Bhubaneswar Walk-in-Interview 2019 -02 Vacancy Junior Research Fellow, Technical Assistant
DTU Walk-in-Interview 2019 -02 Vacancy Project Associate
IRCON Walk-in-Interview 2019 -01 Vacancy Manager/Company Affairs
CIFRI Walk-in-Interview 2019 -02 Vacancy Young Professional – I, II
DMRC Walk-in-Interview 2019 -01 Vacancy General Manager
IRMA Walk-in-Interview 2019 -01 Vacancy Assistant Manager
Prasar Bharati Walk-in-Interview 2019 -02 Vacancy Director General
Latest Government Jobs 2019 Notification on 07.09.2019
BECIL Walk-in-Interview 2019 -50 Vacancy Staff Nurse
PESB Walk-in-Interview 2019 -01 Vacancy Director (Finance)
SRTMUN Walk-in-Interview 2019 -01 Vacancy Librarian
NIAB Walk-in-Interview 2019 -01 Vacancy Project Assistant
NEIGRIHMS Walk-in-Interview 2019 -34 Vacancy Junior Resident Doctors
TISS Walk-in-Interview 2019 -01 Vacancy Research Intern (RI)
University of Calcutta Walk-in-Interview 2019 -01 Vacancy Project Fellow/ Project Associate
JNKVV Walk-in-Interview 2019 -02 Vacancy Project Assistant
RGCB Walk-in-Interview 2019 -01 Vacancy Junior Research Fellow
Panjab University Walk-in-Interview 2019 -01 Vacancy Guest Faculty
Alagappa University Walk-in-Interview 2019 -02 Vacancy Project Fellow
ONGC Walk-in-Interview 2019 -01 Vacancy Field Medical Officer
HAL Walk-in-Interview 2019 -04 Vacancy Visiting Doctors
IISER Bhopal Walk-in-Interview 2019 -01 Vacancy Research Associaten
CIBA Walk-in-Interview 2019 -02 Vacancy Young Professional – I
Latest Government Jobs 2019 Notification on 06.09.2019
CDAC Walk-in-Interview 2019 -01 Vacancy Project Engineer
ZSI Walk-in-Interview 2019 -01 Vacancy Junior Research Fellow
KFRI Walk-in-Interview 2019 -01 Vacancy Project Fellow
IIIT Delhi Walk-in-Interview 2019 -01 Vacancy Research Associate
IUAC Walk-in-Interview 2019 -01 Vacancy Project Assistant
SBI Walk-in-Interview 2019 -486 Vacancy Developer, Database Administrator & Various
SAIL Walk-in-Interview 2019 -10 Vacancy Trainee
CISH Walk-in-Interview 2019 -03 Vacancy Young Professional, Para Apiarist, Field Assistant
MKU Walk-in-Interview 2019 -01 Vacancy Junior Research Fellow
NEHU Walk-in-Interview 2019 -01 Vacancy Guest Faculty
Bodoland University Walk-in-Interview 2019 -02 Vacancy Junior Research Assistant, Training Attendant
CMET Walk-in-Interview 2019 -01 Vacancy Technical Staff
Latest Government Jobs 2019 Notification on 05.09.2019
IACS Walk-in-Interview 2019 -72 Vacancy Security Officer, Technical Superintendent & Various
NIRDPR Walk-in-Interview 2019 -05 Vacancy Accountant, Project Assistant & Various
TNJFU Walk-in-Interview 2019 -01 Vacancy (RAS) Technician
VIT University Walk-in-Interview 2019 -01 Vacancy Junior Research Fellow
NIBMG Walk-in-Interview 2019 -01 Vacancy Senior Manager
IASST Walk-in-Interview 2019 -01 Vacancy Project Fellow
CMD Kerala Walk-in-Interview 2019 -08 Vacancy Manager, Consultant & Various
NRCB Walk-in-Interview 2019 -03 Vacancy Junior Research Fellow, Young Professional
NIMHANS Walk-in-Interview 2019 -01 Vacancy Yoga Therapist
CIPET Walk-in-Interview 2019 -05 Vacancy Officer, Assistant Officer & Various
INST Walk-in-Interview 2019 -01 Vacancy Junior Research Fellow
KHPT Walk-in-Interview 2019 -09 Vacancy Community Resource Person
Jadavpur University Walk-in-Interview 2019 -03 Vacancy Software Developers
SIFL Walk-in-Interview 2019 -03 Vacancy Engineer Trainee, Executive Trainee
PAU Walk-in-Interview 2019 -02 Vacancy Senior Research Fellow, Office Assistant
HLL Lifecare Limited Walk-in-Interview 2019 -01 Vacancy Consultant Radiologist
Lucknow University Walk-in-Interview 2019 -01 Vacancy Junior Research Fellow
Mangalore University Walk-in-Interview 2019 -01 Vacancy Office Assistant/ Computational Assistant
Coffee Board Walk-in-Interview 2019 -01 Vacancy Senior Advisor
Air India Limited Walk-in-Interview 2019 -01 Vacancy Para Medic
NII Walk-in-Interview 2019 -01 Vacancy Data Entry Operator
Latest Government Jobs 2019 Notification on 03.09.2019
PGIMER Walk-in-Interview 2019 -01 Vacancy Project Coordinator
High Court at Calcutta Walk-in-Interview 2019 -05 Vacancy English Steno-Typist, Peshkar & Various
MAMC Walk-in-Interview 2019 -01 Vacancy Project Assistant
NCL Walk-in-Interview 2019 -02 Vacancy Project Assistant II
MNIT Walk-in-Interview 2019 -08 Vacancy Deputy Registrar, Executive Engineer & Various
NIRRH Walk-in-Interview 2019 -01 Vacancy Scientist – D
BEML Walk-in-Interview 2019 -01 Vacancy Director
SRTMUN Walk-in-Interview 2019 -01 Vacancy Principal
MTWU Walk-in-Interview 2019 -01 Vacancy Data Entry Operator
IIAP Walk-in-Interview 2019 -07 Vacancy Mechanical Assistant, Technical Assistant & Various
IUCAA Walk-in-Interview 2019 -01 Vacancy Software Developer
RNSB Walk-in-Interview 2019 -01 Vacancy Jr.Executive
Latest Government Jobs 2019 Notification on 31.08.2019
TERI Walk-in-Interview 2019 -01 Vacancy Mobile App Developer
IICB Walk-in-Interview 2019 -03 Vacancy Research Associate, Project Assistant II & III
NHDC Walk-in-Interview 2019 -09 Vacancy Senior Medical Officer,Trainee Officer
NIN Walk-in-Interview 2019 -20 Vacancy Personal Assistant, Stenographer & Various
NEHU Walk-in-Interview 2019 -01 Vacancy Junior Research Fellow/ Senior Research Fellow
DMRC Walk-in-Interview 2019 -03 Vacancy Dy.GM & Manager
CAG Walk-in-Interview 2019 -182 Vacancy Accountant & Pr. Accountant General / Director General of Audit, Clerk
SSPHPGTI Walk-in-Interview 2019 -37 Vacancy Senior Resident, Junior Resident
JSERC Walk-in-Interview 2019 -01 Vacancy Chairperson-cum-Member
NEERI Walk-in-Interview 2019 -04 Vacancy Project Assistant
WBSETCL Walk-in-Interview 2019 -56 Vacancy Graduate Apprentice, Technician Apprentice
IOCL Walk-in-Interview 2019 -22 Vacancy Engineering Assistant, Jr. Office Assistant, Technical Attendant
HPCL Walk-in-Interview 2019 -36 Vacancy Lab Analyst & Various
Latest Government Jobs 2019 Notification on 30.08.2019
IISER Pune Walk-in-Interview 2019 -01 Vacancy Project Assistant / Project Fellow
IWAI Walk-in-Interview 2019 -01 Vacancy Consultant
National Bal Bhavan Walk-in-Interview 2019 -01 Vacancy Assistant Accounts Officer
IIT Palakkad Walk-in-Interview 2019 -01 Vacancy Superintending Engineer
IIT Kanpur Walk-in-Interview 2019 -01 Vacancy Junior Research Fellow
SBI Walk-in-Interview 2019 -56 Vacancy Bank Medical Officer
IIFT Walk-in-Interview 2019 -01 Vacancy Advocates
IIHR Walk-in-Interview 2019 -04 Vacancy Young Professional-I, Skilled Assistant, Technical Assistant
NBRC Walk-in-Interview 2019 -01 Vacancy R & D Engineer–I
GMCH Walk-in-Interview 2019 -1077 Vacancy Staff Nurse, Junior Technician & Various
Latest Government Jobs 2019 Notification on 29.08.2019
NIPGR Walk-in-Interview 2019 -05 Vacancy Research Associate, JRF, Field Assistant
SSC Walk-in-Interview 2019 -01 Vacancy Junior Engineer
BOB Financial Solutions Walk-in-Interview 2019 -01 Vacancy Chief Risk Officer
IIT Mandi Walk-in-Interview 2019 -02 Vacancy Project Associate
RBU Walk-in-Interview 2019 -24 Vacancy Professor, Assistant Professor Associate Professor
BEL Walk-in-Interview 2019 -11 Vacancy Sr. Engineer, Manager
Spices Board Walk-in-Interview 2019 -03 Vacancy Trainees (Server & Network, System support)
VNIT Walk-in-Interview 2019 -01 Vacancy Technical Associate
ICRISAT Walk-in-Interview 2019 -01 Vacancy Research Associate-Microbiology
Kalyani University Walk-in-Interview 2019 -02 Vacancy Project Fellow, Project Associate- I
Mizoram University Walk-in-Interview 2019 -01 Vacancy JRF
CDFD Walk-in-Interview 2019 -02 Vacancy Senior Technical Assistant, Laboratory Assistant
Latest Government Jobs 2019 Notification on 28.08.2019
Spices Board Walk-in-Interview 2019 -02 Vacancy Trainees (Server & Network, System support)
NDDB Walk-in-Interview 2019 -01 Vacancy Executive Projects
NIE Walk-in-Interview 2019 -50 Vacancy Project Technical Assistant
NIT Meghalaya Walk-in-Interview 2019 -01 Vacancy Junior Research Fellow
UK Forest Department Walk-in-Interview 2019 -06 Vacancy Junior Research Fellows
CMD Kerala Walk-in-Interview 2019 -01 Vacancy Company Secretary
IIMR Walk-in-Interview 2019 -05 Vacancy Research Associate, Senior Research Fellow & Various
KUFOS Walk-in-Interview 2019 -01 Vacancy Research Associate
WBUT Walk-in-Interview 2019 -01 Vacancy Chair Professor
HARSAC Walk-in-Interview 2019 -76 Vacancy Project Fellow, Project Assistant & Various
Latest Government Jobs 2019 Notification on 27.08.2019
IIM Kashipur Walk-in-Interview 2019 -01 Vacancy Chief Administrative Officer
IACS Walk-in-Interview 2019 -72 Vacancy Security Officer, Technical Superintendent & Various
NIT Karnataka Walk-in-Interview 2019 -02 Vacancy Research Associate I/II/III, Research Intern
ICT Mumbai Walk-in-Interview 2019 -02 Vacancy Junior Research Fellowship
TNNLU Walk-in-Interview 2019 -23 Vacancy Professor, Deputy Librarian & Various
ILS Walk-in-Interview 2019 -02 Vacancy Scientist – D
WII Walk-in-Interview 2019 -03 Vacancy Project Fellow, Project Associate, Project Assistant
IIAP Walk-in-Interview 2019 -01 Vacancy Junior Research Fellow
IBPS Walk-in-Interview 2019 -01 Vacancy DGM – Legal
BECIL Walk-in-Interview 2019 -47 Vacancy Junior Engineer, Maintainer
CIFRI Walk-in-Interview 2019 -01 Vacancy Field Assistant
AIIMS Raipur Walk-in-Interview 2019 -01 Vacancy Junior Consultant
NIPER Hyderabad Walk-in-Interview 2019 -07 Vacancy Supervisor, Administrative Officer & Various
NGMA Walk-in-Interview 2019 -10 Vacancy Curator, Deputy Curator & Various
HSCC (India) Limited Walk-in-Interview 2019 -06 Vacancy Executive Assistant Engineer, Senior Executive Assistant
UCIL Walk-in-Interview 2019 -03 Vacancy Medical Officers
ECIL Walk-in-Interview 2019 -05 Vacancy Additional General Manager, Deputy General Manager
Latest Government Jobs 2019 Notification on 26.08.2019
SCTIMST Walk-in-Interview 2019 -01 Vacancy Project Assistant
CFTRI Walk-in-Interview 2019 -01 Vacancy Junior Research Fellow
ICGEB Walk-in-Interview 2019 -01 Vacancy Junior Research Fellow
IIT Indore Walk-in-Interview 2019 -04 Vacancy Assistant Professor (Grade I & II)
IGDTUW Walk-in-Interview 2019 -04 Vacancy Dy. Manager, Office Executive & Various
JIPMER Walk-in-Interview 2019 -01 Vacancy Senior Research Nurse
IIITDM Kancheepuram Walk-in-Interview 2019 -01 Vacancy JRF or Project Assistant
WWF India Walk-in-Interview 2019 -01 Vacancy Senior Programme Officer
NARL Walk-in-Interview 2019 -02 Vacancy Scientist / Engineer
Kathak Kendra Walk-in-Interview 2019 -09 Vacancy Dancers
BIRAC Walk-in-Interview 2019 -01 Vacancy Officer / Senior Officer
CIPET Walk-in-Interview 2019 -05 Vacancy Officer, Assistant Officer & Various
LHMC Walk-in-Interview 2019 -01 Vacancy Staff Nurses
NLU Delhi Walk-in-Interview 2019 -01 Vacancy Associate
CCRH Walk-in-Interview 2019 -02 Vacancy Consultant
Latest Government Jobs 2019 Notification on 24.08.2019
GNDU Walk-in-Interview 2019 -01 Vacancy Clerk-cum-Junior Data Entry Operators
Visva Bharati Walk-in-Interview 2019 -01 Vacancy Chair Professor
MGU Kerala Walk-in-Interview 2019 -03 Vacancy Senior Scientist
IIT Bombay Walk-in-Interview 2019 -02 Vacancy Project Technical Assistant
CBI Walk-in-Interview 2019 -01 Vacancy Counselor
KHPT Walk-in-Interview 2019 -01 Vacancy MIS Assistant
NMU Walk-in-Interview 2019 -02 Vacancy Technical Assistant
IIT Bhubaneswar Walk-in-Interview 2019 -01 Vacancy Junior Research Fellow
NIT Karnataka Walk-in-Interview 2019 -01 Vacancy Junior Research Fellow
Kolkata Municipal Corporation Walk-in-Interview 2019 -165 Vacancy Staff Nurse
Latest Government Jobs 2019 Notification on 23.08.2019
CSB Walk-in-Interview 2019 -01 Vacancy Junior Research Fellows
JIPMER Walk-in-Interview 2019 -08 Vacancy Assistant Professor,Embryologist in Obstetrics and Gynaecology
University of Hyderabad Walk-in-Interview 2019 -01 Vacancy Project Assistant
DBSKKV Walk-in-Interview 2019 -01 Vacancy Senior Research Assistant
NEIST Walk-in-Interview 2019 -08 Vacancy Project Fellow, Studentship / Traineeship
NICED Walk-in-Interview 2019 -01 Vacancy Computer Programmer Grade-A
ZSI Walk-in-Interview 2019 -01 Vacancy Junior Research Fellow
KMSCL Walk-in-Interview 2019 -01 Vacancy Assistant Manager
Tea Board Walk-in-Interview 2019 -01 Vacancy Chartered Accountant
NDDB Walk-in-Interview 2019 -02 Vacancy Principal, Deputy Manager
TIFR Walk-in-Interview 2019 -01 Vacancy Junior Research Fellow
NIMHANS Walk-in-Interview 2019 -01 Vacancy Junior Scientific Officer
Latest Government Jobs 2019 Notification on 22.08.2019
IIFT Walk-in-Interview 2019 -01 Vacancy Editorial Assistant
NCDIR Walk-in-Interview 2019 -01 Vacancy Consultant
Anna University Walk-in-Interview 2019 -01 Vacancy Project Assistant
IIIT Allahabad Walk-in-Interview 2019 -01 Vacancy Junior Research Fellow
West Bengal Police Walk-in-Interview 2019 -668 Vacancy Sub Inspector
IIP Walk-in-Interview 2019 -02 Vacancy SRF, Research Associate/ Teaching Associate
NCSM Walk-in-Interview 2019 -01 Vacancy Technician 'A'
NIN Walk-in-Interview 2019 -20 Vacancy Personal Assistant, Stenographer & Various
TCIL Walk-in-Interview 2019 -21 Vacancy Engineer, Safety Officer & Various
APDCL Walk-in-Interview 2019 -01 Vacancy Chairperson
Latest Government Jobs 2019 Notification on 21.08.2019
GRSE Walk-in-Interview 2019 -05 Vacancy General Manager, Deputy General Manager, Manager
NEERI Walk-in-Interview 2019 -01 Vacancy Project Assistant – II
AIIMS Bhubaneswar Walk-in-Interview 2019 -03 Vacancy Senior Cath Lab Technician, Assistant Professor
IIT Delhi Walk-in-Interview 2019 -01 Vacancy Project Assistant
ALIMCO Walk-in-Interview 2019 -07 Vacancy Medical Officer, Dy. Manager & Various
NIRDPR Walk-in-Interview 2019 -04 Vacancy Project Scientist, Sr. Engineering Consultant
INST Walk-in-Interview 2019 -01 Vacancy Junior Research Fellow
IACS Walk-in-Interview 2019 -72 Vacancy Security Officer, Technical Superintendent & Various
WWF India Walk-in-Interview 2019 -01 Vacancy Senior Education Officer
NITH Walk-in-Interview 2019 -06 Vacancy Doctors
JNPT Walk-in-Interview 2019 -03 Vacancy Accounts Officer
IARI Walk-in-Interview 2019 -01 Vacancy Senior Research Fellow
ICFRE Walk-in-Interview 2019 -01 Vacancy Project Assistant
SVNIT Walk-in-Interview 2019 -01 Vacancy Senior Research Fellow
VMMC Walk-in-Interview 2019 -146 Vacancy Junior Resident
Latest Government Jobs 2019 Notification on 20.08.2019
NCDIR Walk-in-Interview 2019 -01 Vacancy Consultant
RGCB Walk-in-Interview 2019 -01 Vacancy Junior Research Fellow
KAU Walk-in-Interview 2019 -07 Vacancy Instructor, Matron
NIAB Walk-in-Interview 2019 -01 Vacancy Junior Research Fellow
NERIE Walk-in-Interview 2019 -01 Vacancy JPF
CIFT Walk-in-Interview 2019 -01 Vacancy Senior Research Fellow
NHSRC Walk-in-Interview 2019 -01 Vacancy Senior Consultant
RNSB Walk-in-Interview 2019 -01 Vacancy Senior Executive
TERI Walk-in-Interview 2019 -01 Vacancy Student Co-ordinator
IFFCO Walk-in-Interview 2019 -01 Vacancy Agriculture Graduate Trainee
TISS Walk-in-Interview 2019 -02 Vacancy Data Analyst
NIPGR Walk-in-Interview 2019 -01 Vacancy Junior Research Fellow
NICED Walk-in-Interview 2019 -01 Vacancy Computer Programmer Grade-A
NEHU Walk-in-Interview 2019 -01 Vacancy Guest Faculty
Latest Government Jobs 2019 Notification on 19.08.2019
GBPIHED Walk-in-Interview 2019 -01 Vacancy Project Manager
THSTI Walk-in-Interview 2019 -01 Vacancy Consultant
KVB Walk-in-Interview 2019 -03 Vacancy Product Managers, Sales Manager
CMD Kerala Walk-in-Interview 2019 -127 Vacancy Technical Expert, Draftsman & Various
ISM Walk-in-Interview 2019 -01 Vacancy JRF
Assam University Walk-in-Interview 2019 -01 Vacancy Laboratory Assistant
NCL Walk-in-Interview 2019 -01 Vacancy Project Fellow
CIPET Walk-in-Interview 2019 -02 Vacancy Junior Research Fellow, Research Associate
CDAC Walk-in-Interview 2019 -04 Vacancy Project Engineer
AAU Walk-in-Interview 2019 -02 Vacancy Young Professional- I,Field Assistant
Latest Government Jobs 2019 Notification on 17.08.2019
IIT Guwahati Walk-in-Interview 2019 -01 Vacancy Research Associate
DTU Walk-in-Interview 2019 -01 Vacancy Junior Research Fellow
IARI Walk-in-Interview 2019 -01 Vacancy Senior Research Fellow
RCB Walk-in-Interview 2019 -03 Vacancy Administrative Officer, Management Assistant, Technical Assistant
RVNL Walk-in-Interview 2019 -01 Vacancy General Manager
CDAC Walk-in-Interview 2019 -04 Vacancy Project Engineer
DMRC Walk-in-Interview 2019 -10 Vacancy Assistant Manager/Manager, Supervisor, Maintainer
WAPCOS Walk-in-Interview 2019 -25 Vacancy Team leader (Water supply), Field Engineer
University of Delhi Walk-in-Interview 2019 -01 Vacancy Director
WBUT Walk-in-Interview 2019 -01 Vacancy Chair Professor
BECIL Walk-in-Interview 2019 -02 Vacancy Supervisor
IIIM Walk-in-Interview 2019 -03 Vacancy Project Assistant-I
Latest Government Jobs 2019 Notification on 16.08.2019
NII Walk-in-Interview 2019 -01 Vacancy Research Scientist
CUTN Walk-in-Interview 2019 -03 Vacancy JRF / SRF, Research Associate
BIRAC Walk-in-Interview 2019 -01 Vacancy Technical Officer
NIT Silchar Walk-in-Interview 2019 -01 Vacancy Junior Research Fellow
AAI Walk-in-Interview 2019 -01 Vacancy Consultant
Anna University Walk-in-Interview 2019 -01 Vacancy Project Assistant
IISER Tirupati Walk-in-Interview 2019 -01 Vacancy Project Assistant/Fellow
Pune University Walk-in-Interview 2019 -01 Vacancy Director
NIT Rourkela Walk-in-Interview 2019 -01 Vacancy Junior Research Fellow
NHAI Walk-in-Interview 2019 -01 Vacancy Chief General Manager
BHU Walk-in-Interview 2019 -03 Vacancy Medical Officer
PAU Walk-in-Interview 2019 -01 Vacancy Office Assistant
West Bengal Police Walk-in-Interview 2019 -668 Vacancy Sub Inspector
IIT Bombay Walk-in-Interview 2019 -02 Vacancy Project Research Assistant, Project Research Engineer
NCL Walk-in-Interview 2019 -04 Vacancy Project Assistant, Research Associate
Latest Government Jobs 2019 Notification on 14.08.2019
NIBM Walk-in-Interview 2019 -01 Vacancy Estate-cum-Security Officer
Osmania University Walk-in-Interview 2019 -02 Vacancy Research Assistant, Field Investigator
University Of Burdwan Walk-in-Interview 2019 -01 Vacancy Research Assistant
Southern Railway Walk-in-Interview 2019 -83 Vacancy Senior Clerk-cum-Typist
SCTIMST Walk-in-Interview 2019 -02 Vacancy Scientist –B
Mangalore University Walk-in-Interview 2019 -01 Vacancy N.S.S. Programme Coordinator
UIDAI Walk-in-Interview 2019 -01 Vacancy Section Officer
IIT Kharagpur Walk-in-Interview 2019 -01 Vacancy Junior Research Fellowship/Senior Research Fellowship
DMRC Walk-in-Interview 2019 -03 Vacancy Dy. General Manager,General Manager
NHAI Walk-in-Interview 2019 -01 Vacancy Chief General Manager
Latest Government Jobs 2019 Notification on 13.08.2019
CDAC Walk-in-Interview 2019 -04 Vacancy Project Engineer
CUTN Walk-in-Interview 2019 -03 Vacancy JRF / SRF, Research Associate
CSMCRI Walk-in-Interview 2019 -03 Vacancy Project Assistant
UPSC Walk-in-Interview 2019 -415 Vacancy National Defence Academy And Naval Academy Examination
NABI Walk-in-Interview 2019 -03 Vacancy Project Fellow-I
CLW Walk-in-Interview 2019 -19 Vacancy Nursing Superintendent, Pharmacist
NICED Walk-in-Interview 2019 -01 Vacancy Senior Project Assistant
RCB Walk-in-Interview 2019 -01 Vacancy Project Technician
ARIASS Walk-in-Interview 2019 -13 Vacancy Business Process Re-engineering Expert
NISH Walk-in-Interview 2019 -01 Vacancy Speech-Language Pathologist
ICAR Research Complex for NEH Region Walk-in-Interview 2019 -01 Vacancy Junior Research Fellow
NGRI Walk-in-Interview 2019 -03 Vacancy Project Assistant Level – II
Latest Government Jobs 2019 Notification on 12.08.2019
DMRC Walk-in-Interview 2019 -02 Vacancy Manager
NSIT Walk-in-Interview 2019 -01 Vacancy Chief Executive Officer
NIFT Walk-in-Interview 2019 -05 Vacancy Assistant Warden, Steno, Lab Assistant
IBPS Walk-in-Interview 2019 -01 Vacancy Probationary Officer / Management Trainees
NISER Walk-in-Interview 2019 -01 Vacancy Scientific Officer-C
KHPT Walk-in-Interview 2019 -01 Vacancy Program Officer
HPPSC Walk-in-Interview 2019 -01 Vacancy Senior Planning Draughtsman
TISS Walk-in-Interview 2019 -01 Vacancy Programme Manager
UPSC Walk-in-Interview 2019 -415 Vacancy National Defence Academy And Naval Academy Examination
IIHR Walk-in-Interview 2019 -03 Vacancy JRF, SRF, Young Professional
Latest Government Jobs 2019 Notification on 10.08.2019
SRTMUN Walk-in-Interview 2019 -01 Vacancy Assistant Professor
UPSC Walk-in-Interview 2019 -02 Vacancy Assistant Professor, Deputy Director
NIO Walk-in-Interview 2019 -01 Vacancy PA-II
PDPU Walk-in-Interview 2019 -02 Vacancy Executive, Senior Executive/Assistant Manager
NIFTEM Walk-in-Interview 2019 -01 Vacancy Scientific Officer
CCRAS Walk-in-Interview 2019 -02 Vacancy Senior Research Fellow
MAIDS Walk-in-Interview 2019 -10 Vacancy Senior Residents
BITS Pilani Walk-in-Interview 2019 -01 Vacancy Junior Research Fellow
RVNL Walk-in-Interview 2019 -02 Vacancy Deputy General Manager
NIPGR Walk-in-Interview 2019 -02 Vacancy Junior Research Fellow
GBPIHED Walk-in-Interview 2019 -02 Vacancy Scientist
Latest Government Jobs 2019 Notification on 09.08.2019
NIRDPR Walk-in-Interview 2019 -02 Vacancy Research Associate, Project Assistant
BEL Walk-in-Interview 2019 -05 Vacancy Engineer
THSTI Walk-in-Interview 2019 -01 Vacancy Lab Technician
IISWC Walk-in-Interview 2019 -01 Vacancy Young Professional-II
NRDC Walk-in-Interview 2019 -02 Vacancy Associate Consultant, Senior Consultant
IIITM Walk-in-Interview 2019 -01 Vacancy Junior Research Fellow
NRCB Walk-in-Interview 2019 -04 Vacancy SRF, JRF, Research Associate, Young Professional
BITS Pilani Walk-in-Interview 2019 -01 Vacancy Junior Research Fellow
WAPCOS Walk-in-Interview 2019 -01 Vacancy Scientist
IITBHU Walk-in-Interview 2019 -01 Vacancy Project Fellow
IARI Walk-in-Interview 2019 -02 Vacancy Field worker/Helper, SRF
Thapar University Walk-in-Interview 2019 -01 Vacancy Senior Research Fellow
Latest Government Jobs 2019 Notification on 08.08.2019
Andhra Bank Walk-in-Interview 2019 -15 Vacancy Sub Staff
IISER Walk-in-Interview 2019 -01 Vacancy Project Sports Coach
AAU Walk-in-Interview 2019 -03 Vacancy Deputy Director, Consultant
Bharathidasan University Walk-in-Interview 2019 -01 Vacancy Junior Research Fellow
DTU Walk-in-Interview 2019 -167 Vacancy Assistant Professor
ACTREC Walk-in-Interview 2019 -01 Vacancy Hindi Translator-cum-Coordinator
CUTN Walk-in-Interview 2019 -03 Vacancy JRF / SRF, Research Associate
IMMT Walk-in-Interview 2019 -05 Vacancy PA, RA, JRF
FACT Walk-in-Interview 2019 -08 Vacancy Site Supervisor
MPSC Walk-in-Interview 2019 -302 Vacancy Assistant Teacher, Junior Engineer, DEO & Various
Latest Government Jobs 2019 Notification on 07.08.2019
NHIDCL Walk-in-Interview 2019 -38 Vacancy General Manager, Deputy General Manager
IARI Walk-in-Interview 2019 -01 Vacancy Field worker/Helper
BECIL Walk-in-Interview 2019 -01 Vacancy Dental Mechanic / Dental Technician
NISER Walk-in-Interview 2019 -01 Vacancy Scientific Officer-C
MANAGE Walk-in-Interview 2019 -01 Vacancy Technical Assistant
Air India Limited Walk-in-Interview 2019 -125 Vacancy Aircraft Maintenance Engineer
IREL Walk-in-Interview 2019 -05 Vacancy General Manager, Senior Officer, Deputy General Manager
RCB Walk-in-Interview 2019 -02 Vacancy Research Assistant, Project JRF
CFTRI Walk-in-Interview 2019 -01 Vacancy Junior Research Fellow
NFL Walk-in-Interview 2019 -41 Vacancy Store Assistant, Loco Operator & Various
HAL Walk-in-Interview 2019 -03 Vacancy Visiting Consultants
Latest Government Jobs 2019 Notification on 06.08.2019
IIT Jammu Walk-in-Interview 2019 -01 Vacancy Project Officer
JERC Walk-in-Interview 2019 -01 Vacancy Nominated Member
KAU Walk-in-Interview 2019 -01 Vacancy Assistant Professor
IIT Kanpur Walk-in-Interview 2019 -01 Vacancy Project Executive Officer
SAIL Walk-in-Interview 2019 -01 Vacancy Dy. Manager
APSC Walk-in-Interview 2019 -73 Vacancy Child Development Project Officer & allied Cadres 
BRO Walk-in-Interview 2019 -07 Vacancy Hindi Typist, Supervisor Store & Various
Anna University Walk-in-Interview 2019 -01 Vacancy Professional Assistant- III 
IISER Kolkata Walk-in-Interview 2019 -04 Vacancy Project Assistant, Research Associate
IIT Dharwad Walk-in-Interview 2019 -01 Vacancy Executive Consultant
Latest Government Jobs 2019 Notification on 05.08.2019
FACT Walk-in-Interview 2019 -08 Vacancy Site Supervisor
IISER Pune Walk-in-Interview 2019 -01 Vacancy Domain Expert
Jamia Hamdard Walk-in-Interview 2019 -02 Vacancy Junior Research Fellow
NIMHANS Walk-in-Interview 2019 -01 Vacancy Laboratory Technician
NBPGR Walk-in-Interview 2019 -01 Vacancy Field Assistant
Assam Petro-chemicals Ltd. Walk-in-Interview 2019 -02 Vacancy Assistant Manager, Accounts Officer
IBSD Walk-in-Interview 2019 -03 Vacancy Scientist Fellow
Kalyani University Walk-in-Interview 2019 -01 Vacancy Junior Research Fellow
BIT Mesra Walk-in-Interview 2019 -01 Vacancy Junior Project Fellow
COEP Walk-in-Interview 2019 -02 Vacancy Research Assistant
MAIDS Walk-in-Interview 2019 -10 Vacancy Senior Residents
NIRDPR Walk-in-Interview 2019 -02 Vacancy SBCC Coordinator, Manager 
Latest Government Jobs 2019 Notification on 03.08.2019
ICRISAT Walk-in-Interview 2019 -01 Vacancy Scientific Officer
NABI Walk-in-Interview 2019 -02 Vacancy Project Fellow
IIT Bhubaneswar Walk-in-Interview 2019 -01 Vacancy Research Associate
Tezpur University Walk-in-Interview 2019 -01 Vacancy Junior Research Fellow
CIFA Walk-in-Interview 2019 -01 Vacancy Senior Research Fellow
NIMHANS Walk-in-Interview 2019 -02 Vacancy Yoga Therapist, SRF 
MNIT Walk-in-Interview 2019 -01 Vacancy Junior Research Fellow
CSMCRI Walk-in-Interview 2019 -01 Vacancy PA-III
BITS Pilani Walk-in-Interview 2019 -01 Vacancy Junior Research Fellow
NIT Tiruchirappalli Walk-in-Interview 2019 -01 Vacancy Junior Research Fellow
Latest Government Jobs 2019 Notification on 02.08.2019