Great opportunity for the persons with disabilities as NEIST conducts a special recruitment Drive to recruit 3 vacancies of Technical Assistant, Technician & Lab Attendant posts as Government Jobs 2016.  To apply for this NEIST Employment News Notification Advtno.03/2015-rec last date is 18th April, 2016.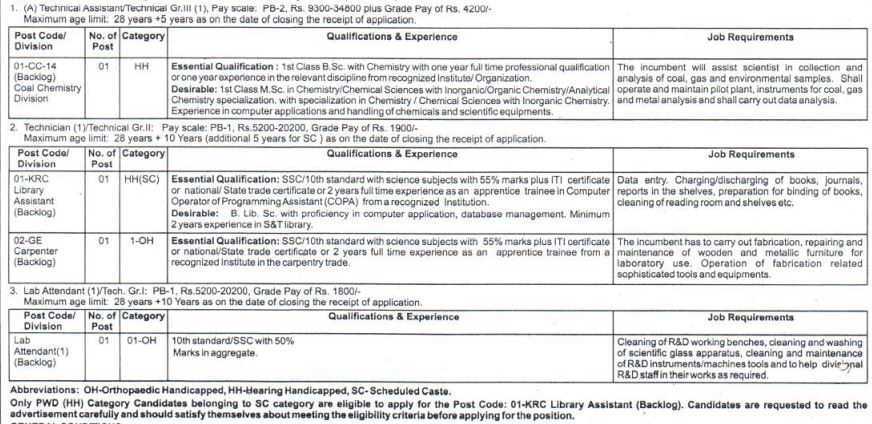 Instructions for Applying Online:
1. Candidates should click on the Post Code link below & read the instructions carefully to fill the ON-LINE application form giving accurate information.
2. For detailed information interested candidates may log on to CSIR-NEIST website or refer to the Employment News paper dated 12.03.2016 before applying.
3. Application form consists of 1 part.
4. If the candidate does not have a valid email id, he/she should create a new valid email id before applying online.
5. Successful online application is indicated by the page displayed after clicking Confirm button with the generated Application Number. Please note down the same carefully and preserve it, you will not able to Re-print the application form. Application Number has to quoted for any future communication regarding the candidature.
6. In case candidate wants to modify the application, he/she can use the Edit button before clicking confirm. The form is not editable at the later stage. Please remember to take a one time fresh print out after modifying any details.
7. This computer generated application (print out) duly accompanied by self attested copies of the certificates, mark sheets, testimonials in support of age, education qualifications, experience, re-prints of publications and caste certificate if applicable along with one recent passport size self attested photograph affixed together should be sent in an envelope superscripted " APPLICATION FOR THE POST OF____________(POST CODE__________)" by post to the address Administrative officer, CSIR-North East Institute of Science and Technology, Jorhat-785006, Assam. Candidates applying for more than one post must submit separate application form for each post indicating the Code No. of the post. .
8. Application once made will not be allowed to be withdrawn on any court nor can it be held in reserve for any other future recruitment or selection process.
9. Size of photo should be 20-50 kb and dimensions should be 200 X 230 pixel. Caps, Hats and Dark glasses are not acceptable. If you wear glasses make sure that there are no reflections and your eyes can be clearly seen.
10. Incomplete applications (i.e. without photograph, unsigned and application fee, applicable testimonial etc.) will not be entertained and summarily rejected.
11. Candidates may click the respective Post Code for applying for that particular post.
12. Please donot refresh the page after confirming the application preview. System will take few seconds to generate printable application. If for any reason you are unable to take a printout, please donot attempt to re-submit the application online again. In that case please submit your application offline mentioning the date and time of submitting the online application.
13. Also please note that once an online application is submitted the same shall be deememd to have been received by the institute irrespective of the fact that the printout of the same reaches the institute before, on or after the last date.
14. Use Google Chrome/ Mozilla Firefox/ Safari browser with javacript enable.
CSIR North East Institute of Science and Technology Recruitment Advertisement: NEIST SRD for PwDs March 2016
CSIR North East Institute of Science and Technology website: http://www.neist.res.in