Applications are invited from the citizens of India for recruitment against Open Advertisement Sports Quota on Central Railway for the year 2015-16. The eligible candidates can apply in the prescribed proforma enclosed as Annexure 'A'.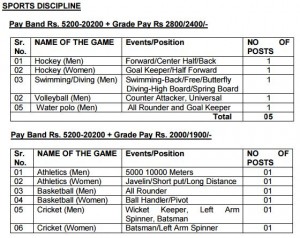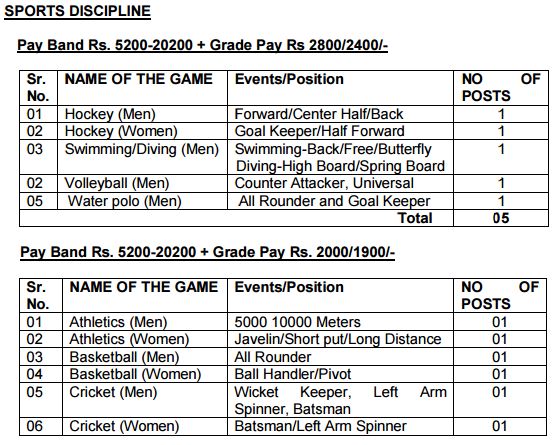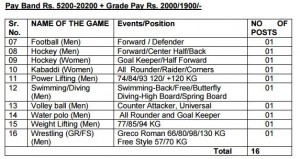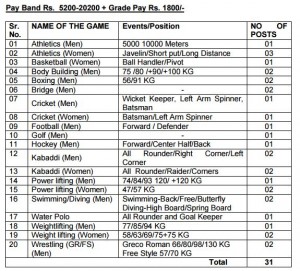 Note: 1. If vacancies in Grade Pay Rs. 2800/2400/- of particular sports discipline are not filled due to non-availability of suitable candidates, such vacancies will be filled in the lower Grade Pay Rs. 2000/1900/- of the same discipline where vacancies are notified..
2. There is no reservation for SC/ST/OBC
Educational Qualification:
Pay Band Rs 5200-20200 + Grade Pay Rs.2800/2400/-
Minimum Graduation in any faculty by a recognized University.
Pay Band Rs. 5200-20200 + Grade Pay Rs. 2000/1900/-
Minimum HSC/Intermediate/Equivalent by a recognized Board.
Pay Band Rs. 5200-20200 + Grade Pay Rs. 1800/-
Minimum SSC/Matriculation/ITI/Equivalent by a recognized Board
WHOM TO APPLY:
The application completed in all respect along with the required enclosures, duly attached/tied, should be sent in a cover addressed to "Senior Personnel Officer (RT), Central Railway, Chief Personnel Officer's Office, General Manager's Building, 1ST Floor, Chatrapati Shivaji Terminus, Mumbai- 400 001.
"Application should be sent by ordinary post or dropped in Box kept in the above office for this purpose. The cover containing the application should clearly be super scribed as follows:
a) 'RECRUITMENT AGAINST SPORTS QUOTA 2015-16, Central Railway.
b) Game applied for _______________ in Grade Pay ` __________
Closing Date and time of receipt of Applications: 30/09/2015 at 17.00 Hrs.
Closing Date & Time of receipt of applications for candidates residing in|
Assam, Meghalaya, Arunachal Pradesh, Mizoram, Manipur, Nagaland, Tripura,| 15/10/2015 at 17.00 Hrs.
Sikkim, Jammu and Kashmir, Lahaul and Spiti District and Pangi Sub Division of|
Chamba District of Himachal Pradesh, Andaman and Nicobar Islands, Lakshadweep.|
For Detailed Advertisement:- Central Railway Sports Recruitment_2015
Official Website for Central Railway Recruitment Cell:- http://www.rrccr.com/