Eligible Candidates from all States of India (including Retired Persons) are invited to attend to the Walk-In-Interview for appointment to the following higher cadre teaching posts to work in S.V.Ayurvedic College, TTD, Tirupati on Contract basis for a period of one year subject to the condition specified.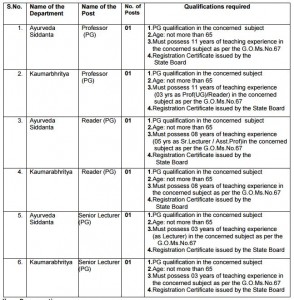 I) Remuneration:
a) The minimum pay attached to the post + DA to the non-retired persons
b) In case of Retired Employee, remuneration payable is restricted to the starting pay attached to that post (Basic, without allowances) vide GO.Ms.No. 127, Health, Medical & Family Welfare(F-2) Department, dt.10.03.2015.
II) Terms and Conditions:
1. As per the Go.Ms.No.67, dt.14.03.2005
2. The age of the person on the day of appointment shall not exceed 65 yrs vide GO.Ms.No. 127, Health, Medical & Family Welfare, dt.10.03.2015.
3. Hindu Religion Candidates are only eligible to apply
4. No TA & DA is paid to the Candidates
5. The Candidates are requested to bring all the original certificates along with 2 sets of attested Xerox copies of all originals and 02 passport size photos
6. The TTD reserves the right to fill the notified vacancies fully or partially or to cancel without assigning any reason there of in toto.
III) Date & Time of Interview:
Date : 07.09.2015
Time : 09 AM Onwards
Venue : SVETA, Tirupati
Download original Advertisement from here:- Tirumala_SVVV
Official Website:- http://www.tirumala.org/