MHRD Recruitment 2016-17:
Excellent opportunity for the candidates looking for Director level vacancies in Centrl government of India. Ministry of Human Resource Development MHRD published latest employment news notification (F.No. 36-10/2016-TS. VII(pt)) to fill up 5 vacancies. MHRD Recruitment 2016-17.

Applications are invited from suitable candidates for filling up the vacancies for the posts of Director, Indian Institutes of Science Education and Research (IISERs) at Kolkata, Pune, Mohali, Tirupati and Berhampur, in the pay of Rs. 80000 (fixed). Directors of IISERs, being the principal academic as well as administrative heads, are expected to have proven administrative. teaching and research background including significant experience in research guidance at the Ph.D. level with leadership qualities.
2. The appointment shall be on contract for a term of five years. or till attainment of the age of 70 years. or till further orders. whichever is the earliest. The candidates applying for the post should preferably be below 65 years of age as on 31.12.2016.
3. Oualification and experience : Ph.D. with first class at Bachelor's and Master's level in any scientific discipline, preferably in pure science. In addition, the candidates should be eminent persons in their fields of specialization with outstanding academic record throughout. The candidates should have 15 of years experience in teaching / research out of which 10 years must be at the level of Professor or above in reputed educational Institutes/Research Organizations.
4. IISERs are autonomous Institutes, fully funded by the Ministry of Human Resources Development. Government of India. Duly constituted Search-cum-Selection Committees will consider the applications received in response to the advertisements, as well as nominations received from eminent persons. The Directors will be appointed on the recommendations of the Committees and after approval of the President of India. who is the Visitor of the Institutes.
5. Persons employed in Government Departments. Autonomous Organizations and Public Sector Undertakings. should send their applications through proper channel alongwith vigilance clearance. However, they may also send advance copies of their applications directly to the under mentioned address.
6. Applications, typed on plain paper in the proforma (annexed), furnishing complete details alongwith Curriculum Vitae should be sent by Registered / Speed Post to Shrl Sanjeev Shrivastva, Under Secretary (Management). Government of India. Ministry of Human Resource Development. Department of Higher Education. Room No. S18, 'Cs Wing, Shastri Bhawan, New Delhi-110 001. so as to reach this Ministry by 12.12.2016. The candidates are also required to indicate the IISERs. they desire to be considered, in order of their preferences.
7. Candidates should arrange to send Vigilance Clearance Certificates directly from their present organization to this Ministry at above address.
8. It may please be noted that the applications found incomplete and those received after the last date of receipt of applications, are liable to be rejected summarily.
Application Format: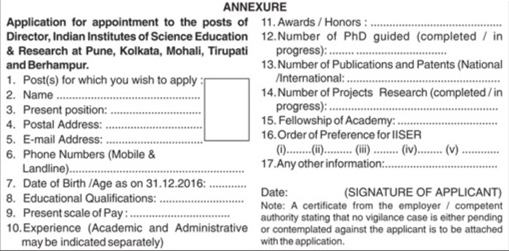 For further details please visit website http://www.mhrd.gov.in/