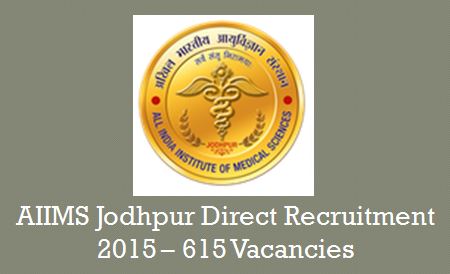 All India Institute of Medical Sciences Jodhpur, one of the 7 Major AIIMS Institution hospitals in India group of autonomous public medical colleges of higher education. These institutes have been declared by Act of Parliament as institutions of national importance invites applications from eligible candidates for following positions:-
1. Assistant Nursing Superintendent (Group A)
No of Vacancies: 15
Qualification: B.Sc. Nursing ( 4 year course from a recognized Institute/University)
Experience: 6 years
Age: 21-35 years
Salary: Rs.15600-39100 + GP Rs. Rs.5400/-
2. Staff Nurse Grade I (Group B)
No of Vacancies: 50
Qualification: B.Sc. Nursing ( 4 year course from a recognized Institute/University)
Experience: 3 years
Age: 21-35 years
Salary: Rs.9300-34800 + GP Rs. Rs.4800/-
3. Staff Nurse Grade II (Group B)
No of Vacancies: 550
Qualification: B.Sc. Nursing ( 4 year course from a recognized Institute/University)
Age: 18-30 years
Salary: Rs.9300-34800 + GP Rs. Rs.4600/-
Probation period: 2 years
The posts carry usual allowances as admissible to Central Government Employees of similar status stationed at Jodhpur, Rajasthan
The aspiring applicants satisfying the eligibility criteria in all respect can submit their application only through on-line mode. The on-line registration of application is made available on AIIMS, Jodhpur official website http://www.aiimsjodhpur.edu.in/
The last date of online submission of application will be 30 days from the date of publication of advertisement in Employment News/Rojgar Samachar.
Application Fee: Rs. 500/-
The candidate pay prescribed application fees online mode only through debit card/Credit Card/Internet Banking only. Transaction/Processing fee, if any, as applicable will be payable to the bank by the candidate.
Guidelines/Instructions to fill application Form: Please refer help manual available on AIIMS, Jodhpur official website: http://www.aiimsjodhpur.edu.in/
Clarification & Enquiries:
Mail to: [email protected]
Contat No: 0291 – 2740741 (only for online application form related query)
0291 – 2012984 (only for Advertisement related query)
AIIMS Jodhpur Website: http://www.aiimsjodhpur.edu.in/