All India Institute of Medical Sciences Patna invites applications from eligible candidates to fill up following positions: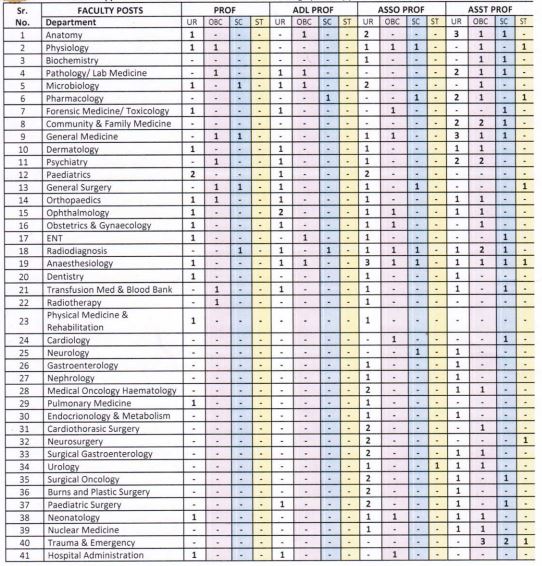 GENERAL INSTRUCTIONS
1. The All India Institute of Medical Sciences Patna is an autonomous body established under Act of Parliament. Service under the Institute is governed by that Act and the Rules & Regulations framed there under. All the posts carry usual allowances as admissible to Central Government Employees of similar status. The employees of the Institute will be governed by the New Pension Scheme as per the provision contained in the Ministry of Finance. Department of Economic Affairs (ECB & PR Division). Notification No.S/7/2003-ECB&PR dated 22.12.2003.
2. Upper Age Limit: The maximum age of a candidate at the time of recruitment to the services of the Institute shall be 58 (Fifty-eight) years for the posts of Professor and Additional Professor and SO (Fifty) years for the posts of Associate and Assistan! Professors. However. relaxable for Government Servants, Scheduled Castes, Scheduled Tribes or otherwise exceptionally qualified applicants up-to 5 years and 3 years in the case of Other Backward Classes candidates. Upper age limit will be taken as on closing date of submission of applications. The age limit will apply to candidates applying for fresh appointments to the institute and not to applicants already serving as'regular faculty in the Institute.
3. The requisite experience in respect of aforesaid vacant faculty posts is relaxable at the discretion of Selecting Authority by one year for the candidates belonging to SC and ST categones.
4. 3% reservations for Physically Handicapped shall be provided on horizontal basis.
5 The effective date up-to which the requisite experience must be completed will be 31-12-2015.
6. Application Fee (NON REFUNDABLE): Rs. 1000/- (Rs SOO/. for SC/ST candidates). The application fee once remitted shall not be refunded. The candidates can pay the prescribed application fee online through Net banking/Debit Card/Credit Card. Transaction/Processing fee, if any, as applicable, shall be payable to the Bank by the Candidate. (Physically handicapped candidates (>40% disability) are exempted from paying the application fee. )
7. In case of Physically handicapped candidates are availing exemption of application fee and/or agt relaxation, a self-attested copy of a valid above 40% disability Certificate from competent authonty recognized by Government of India is mandatory.
8. The applicants, who do not have requisite qualifications up to the last date for submission of applications. will not be considered.
9. Candidates can submit applications online only, and must read the instructions, help manual and other details carefully and follow the instructions given therein while making online submission of their applications. The link for submission of on line application in respect of above said faculty posts will open w.e.f. 01.12.2015.
10 Last date for online submission of application: 31.12.2015 by 05:00 pm.
Download Detailed Advertisement: AIIMS Patna Recruitment for Faculty positions December 2015
AIIMS Patna Website: http://www.aiimspatna.org/