Bharat Healy Electrical Limited Invites applications from eligible candidates for the following positions:-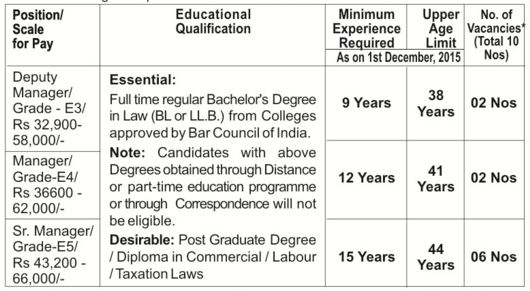 The number of vacancies in different grades is indicative and if suitable candidates are not available in advertised higher grades of E4 or E5, the number of posts may be suitably increased in next lower advertised grades.
The positions are tentatively for BHEL Units at Bhopal, Jhansi, Haridwar, Delhi and for BHEL's Power Sector – Eastern Region, Kolkata.
Candidates are advised to log on to BHEL recruitment website : http://careers.bhel.in for full details.
Important Dates:
On-line submission of applications commences -15th December, 2015 at 10:00 AM
Closing of On-line Submission of application – 2nd January, 2016 at 5:00 PM
Bharat Heavy Electricals BHEL Website: www.bhel.com
BHEL Career Website: http://careers.bhel.in/bhel/jsp/index.jsp