Excellent opportunity for the candidates seeking for Government jobs in Banking sector.  Bank of Baroda published a latest employment news notification to fill up 250 vacancies (Finance/Credit, Information Technology, Planning, Risk Management, Human Resource Management, Economist, Law, Finance/Credit & Information Technology) in MMG/S II and MMG/S II Grades.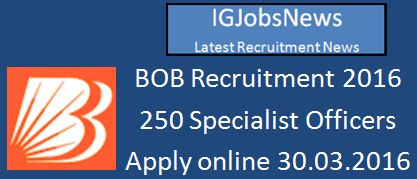 As per the Bank of Baroda (BOB) Latest recruitment advertisement dated 30th March, 2016, there are total 185 vacancies will be filled by BOB in MMG/S II and 65 vacancies will be filled under MMG/S III.
Interested and eligible candidates can apply through online today i.e. 30th March 2016 till 13th April, 2016 for the following positions.
MMG/S II Vacancies are as follows
Finance/Credit – 95 Posts
Information Technology – 35 Posts
Planning – 6 Posts
Risk Management – 10 Posts
Human Resource Management – 15 Posts
Economist – 4 Posts
Law – 20 Posts
MMG/S III Vacancies are as follows:
Finance/Credit – 50 Posts
Information Technology – 15 Posts
Total 250 Vacancies
22 vacancies are reserved for PwDs (Persons with Disability)
Bank of Baroda website: http://www.bankofbaroda.co.in