Excellent opportunity for the candidates looking for central govt. jobs 2016 in Chennai.  CSIR-Central Leather Research Institute (CLRI) published an employment news notification to fill up the vacancy of Project Assistant Level-III.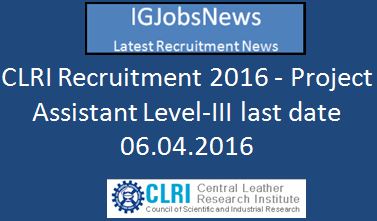 Interested and eligible candidates can apply for the post till 6th April, 2016.
S. No.
Name of the Position
Qualification
Stipend per month
Project No
Upper Age limit
No of Position(s)
Tenure*
Essential: B.Tech in Leather Technology/ Master in
Business Administration (MBA) in Human Resources/
Master in Computer Applications (MCA) with 55% marks
Project Assistant
Desirable: Candidates with prior training/ experience
Level-111
in one or more of the following aspects will be preferred:
Rs.14000 per month
1
GAP 1520
1.   Knowledge in leather and leather products
2.   Database Management System/ Database
28 Years
01 Position
Software
3.   Handling various computer applications
01 Year
4.   Handling any Project Management System
(PMS) Software
5.   Documentation handling and file management
6.   Generating/ managing reports
7.   Data integrity/ analysis
*Tenure of the projects shall be co-terminus with the project. Extension would be granted based on the performance and need of the project.
HOW TO APPLY:
Candidates interested to join as Project Assistant may kindly register their Biodata through the online link "http://14.139.190.25/ProjAssistant/jsp/ProiectAssit.jsp" from which Project Leader will shortlist the Candidates and conduct Walk-in-Interview separately on a specified date, candidates shortlisted will be contacted through their e-mail ID/ mobile numbers. Requests will be considered from the registrations made up to 06-04-2016 only.
In addition to the above, any person interested to work as Project Assistant may also register and as and when requirement arises he/ she will be considered.
Download Detailed Advertisement of CLRI recruitment 2016: CLRI Recruitment March 2016
CSIR-Central Leather Research Institute (CLRI) website: http://www.clri.org