CSIR-CLRI Recruitment May/ June 2016: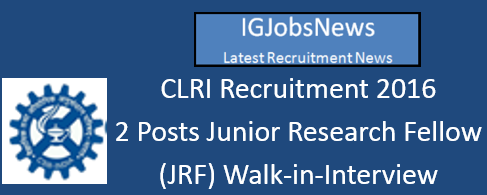 CSIR-Central Leather Research Institute, Chennai a National Laboratory under the aegis of Council of Scientific & Industrial Research (CSIR) and one of the world's premier Institute engaged in Research & Development in the area of Leather Science & Technology and associated with several International and National Program, desires to engage talented candidates as Junior Research Fellow (02 positions) as per qualification, age, experience etc. detailed below.
SI.
No.
Name of the
Position
Qualifications

Tenure*

Upper age

No. of
Position(s)
Stipend per
month
Project No.
limit
1
Junior Research Fellow (JRF)

01 Position GAP 1522

Essential: M.Sc in Chemistry/ Bio Chemistry with 55% marks from recognized University

Desirable: 1″class and experience on Bio Materials characterization will be given preference

01 Year

Rs.14,0001- (Consolidated)

28 Years

2
Junior Research Fellow (JRF)**

01 Position GAP 1602

Essential: M.Sc in Chemistry/ Polymer Science with 55% marks from recognized University with GATE/ NET qualification

(OR)

Essential: M.Tech in Polymer Science/ Nanotechnology with 60% marks from recognized University with GATE qualification

01 Year

Rs.25,000/- + liRA

(Admissible as per rules)

28 Years
* Tenure of the Project shall be co-terminus with the Project. Extension would be granted based on the performance and need of the Project.
** Candidate engaged as JRF may lead to Ph.D
Candidates fulfilling the above mentioned qualification, age etc. and interested to apply for the above positions need to attend the Walk-in-Interview scheduled on 10-06-2016 at BM Das Hall, CLRI at 09.00 AM along with application form (available in the website www.clri.org) duly filled with Xerox copies/ photocopies of necessary certificates.
In addition to the above, any person interested to join as Project Assistant may also register their Biodata through online mode as specified herein (www.clri.org –> Careers –> Project Assistant Online Application) and as and when requirement arises he/ she will be considered.
Candidates shortlisted will be contacted through their e-mail id/ mobile number.
Terms and conditions:
1. Number of positions required are indicative in nature, there may be increase/ decrease in the number based on requirement.
2. Candidates found suitable for selection will be empaneled in addition to the positions required. Empaneled candidates may be selected for future project requirements.
3. Relaxation in age: 5 years for SC/ST/Women/Person with Disability and 3 years for OBC.
4. The date of determining the qualification, experience and age shall be the date of Walk-in-Interview.
5. Final year/ Semester students those who are awaiting results are not eligible to be considered.
6. Tenure mentioned above may be extendable. In any case it is co-terminus with the Project or till such time this requirement exists whichever is earlier.
7. Original certificates must be produced for verification at the time of Walk-in-Interview.
8. Candidates coming after 11.00 AM will normally not permitted for interview. No travelling allowance will be paid for attending Walk-in-Interview.
Download Detailed Advertisement: CLRI Recruitment Notification May June 2016
CSIR-Central Leather Research Institute CLRI website: http://www.clri.org