CSIR-Central Road Research Institute, New Delhi, a constituent laboratory of CSIR, is involved in the basic and applied research on various aspects of roads and road transportation covering wide spectrum of areas such as Highway Engineering, Pavement Engineering, Geotechnical Engineering, Bridges and Structural Engineering, and Transportation Engineering including Planning, Safety and Environment.
Applications are invited from the Indian Nationals for filling up the following posts at CSIR-Central Road Research Institute, New Delhi: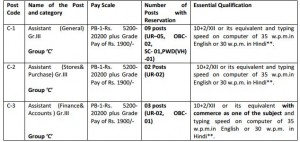 ** 35 words per minute/ 30 words per minute correspond to 10500KDPH/9000KDPH on an average of 5 key depressions for each word. Time allowed is 10 minutes
JOB REQUIREMENT: Post Code C-1, C-2 &C-3: Candidates are required to provide assistance in General Administration/ Stores& Purchase/ Finance & Accounts functions beside any other official work as and when assigned.
AGE LIMIT & RELAXATION
The maximum age limit is 28 years. There is no age limit for departmental candidates (i.e CSIR employees) provided they possess the prescribed essential qualifications. The date of determining the upper age limit, educational qualifications etc. shall be the closing date prescribed for receipt of Application Form i.e. 26.10.2015
Relaxation of upper age limit is 05 Years for SC/ST candidates and 03 Years for OBC candidates, for the posts which are reserved for respective categories.
Relaxation of upper age limit for Persons with Disability (PWD) will be applicable as per Govt. of India rules i.e. 15 years for SC/ST, 13 Years for OBC & 10 years for unreserved candidates. 4. Relaxation in upper age limit for Ex-Servicemen will be applicable as per Govt. of India rules. 5. Relaxation of 5 years will also be admissible to those who had ordinarily been domiciled in the Kashmir division of the State of Jammu & Kashmir during the period from January 1, 1980 to December 31, 1989 subject to the production of relevant certificates from the Concerned Authority. 6. Relaxation in age for Widows, Divorced women and Women judicially separated from their husbands and who are not re-married will be up to the age of 35 years and 40 years for members of SC/ST. The persons claiming age relaxation under this category would be required to produce the following documentary evidence: (a) In case of widow, Death certificate of her husband together with the affidavit that she has not remarried since. (b) In case of divorced women and women judicially separated from their husbands, a certified copy of the judgment / decree of the appropriate court to prove the fact of divorce or the judicial separation, as the case may be, with an affidavit in respect of divorced women that they have not remarried since.
How to apply :
Application form can be downloaded from CRRI website www.crridom.gov.in . Application in any other format will be summarily rejected.
Applications completed in all respects, in the prescribed form along with application fee in the form of Demand Draft only for Rs. 100/- (Non- refundable) for General and OBC candidates, drawn in favour of Director, CRRI payable at New Delhi, should be sent to the Controller of Administration, CSIR-Central Road Research Institute, Delhi – Mathura Road, P.O, CRRI, New Delhi – 110025 so as to reach on or before 26.10.2015.
Last date to apply : 26.10.2015.
Refer to Advt no : Advertisement No. CSIR- CRRI/PC/04/LDC/2015,Dated- 07.09.2015
Official Website : www.crridom.gov.in