Recruitment in Delhi for Male Police Constable
1) Applications are invited from Indian Nationals to fill up 33 posts of Constables (Executive)-Male in Delhi Police under the following categories in the pay scale of PB-1 Rs. 5200-20200/- + Grade Pay Rs. 2000/- and other allowances as admissible.
Place of Recruitment: At Agartala only. Only the candidates who are natives of Tripura and fulfill the prescribed eligibility criteria, can apply.
Name of posts:Constable (Exe)-Male
No. of Vacancies :33
Note – 1 : The recruitment is only for NATIVES OF TRIPURA. Only PRTC i,e "Permanent Resident of Tripura Certificate" shall be accepted as a proof of being a "Native" of Tripura.
Note – 2: The number of vacancies is indicative and may undergo change anytime before declaration of result.
Note – 3 : There is no vacancy for OBC and Ex-Servicemen.
Last date :The last date of receipt of application form will be 06.11.15. Applications received thereafter will not be entertained.
QUALIFICATION AND ELIGIBILITY CONDITIONS FOR THE POST OF CONSTABLE (EXE.) MALE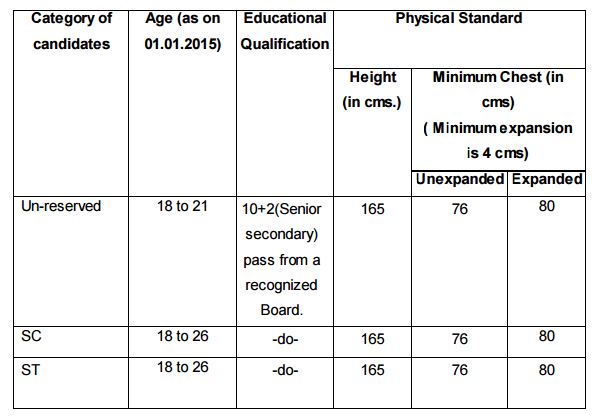 CHECKING OF ORIGINAL DOCUMENTS/CERTIFICATES FOR ELIGIBILITY CRITERIA
i) All the candidates, are required to bring their original documents/certificates at the time of PE & MT, pertaining to age, education, PRTC, caste and NCC (if any) for the candidates seeking age relaxation alongwith self attested photocopies of all the documents/certificates. The candidates already in Govt. service will also submit NOC at the time of PE&MT.
ii) The Original certificate would also be checked at the time of bio-metrics of all the candidates declared successful in PE&MT and before the issuance of Admission Card for written test. The candidates will also be required to submit self attested photo copies of all the documents/certificates
For more information please check Official Website:www.tripurapolice.nic.in