Seeking for Director position in Government Jobs 2016?  Here is an opportunity to work as director in CMIT, as per the recent employment News notification from DIPP CMIT, there is a vacancy for Director positions at Bangalore.  This central government jobs 2016 in Karnataka requires Post graduate degree in Mechanical / Electrical / Electronics / Metallurgy Engineering with 20 years of experience.  Interested and eligible candidates who wants to be part of central government employees can apply for this job before 22nd April, 2016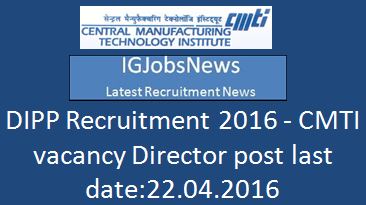 Name of the post: Director
No of Vacancies: 1
Qualification: Post graduate degree in Mechanical / Electrical / Electronics / Metallurgy Engineering (Other fields of Engineering may also be considered.)
Job description:  Proven Leadership and Techno-Managerial expertise is a prerequisite. The responsibilities include: efficient management of the Institute, effective liaison with Government, departments / agencies, establishing effective working application oriented R&D linkages with manufacturing industries across different sectors. Development of machine tools and accessories; special products/systems/capital goods and other related activities, including marketing of R & D, amongst a broad spectrum of stakeholders.
Salary: Scale of Pay: Rs.37400-67000 with Grade Pay of Rs.10000/- PM plus usual allowances. Higher remuneration for deserving candidates will be considered.
Gross emoluments at the minimum of the pay scale approximately Rs.1.40 lakhs per month.
Other Conditions:
a.Only Indian Nationals need to apply.
b.Application fee (non refundable) of Rs.500 (Rs.300 for SC/ST/Woman Candidates) in favour of Central Manufacturing Technology Institute, is to be paid by a demand draft payable at Bangalore, and must be sent with the application.
c.Those serving in Govt/PSU s/Autonomous Bodies must send their application through a proper channel or submit a No Objection Certificate at the time of interview.
d.No correspondence /enquiries will be entertained from the candidates on the recruitment.
e.The application must be sent in a sealed envelope super-scribed Application for the post of Director, CMTI.
f.Only candidates who meet the minimum qualification/experience specified above as on the date of advertisement are qualified to apply. CMTI expects full disclosure from the candidates about their experience, current salary and achievements etc.
g.Mere fulfilment of requirements as laid down in the advertisement does not qualify a candidate to be called for interview.
h.Fee once paid shall not be refunded under any circumstances.
i.Canvassing in any form will disqualify the candidate.
j.Candidates called for interview will be reimbursed to and fro economy airfare within India.
k.Candidates are required to submit original documents/ certificates, as proof of the details furnished in their applications, at the time of interview for verification, failing which no TA/DA may be allowed.
l.The Institute reserves the right to call for interview only those candidates who, in its opinion, are found to be eligible.
Please apply with full details to, the Senior Administrative Officer, CMTI, Tumkur Road, Bangalore-560 022 along with the Application fee. Last date to receive the application at CMTI is 22-April-2016 OR such extended date as may be determined and notified by the Institute. Selection may not be limited to the applicants only. Incomplete applications are liable to be rejected. For any clarification or assistance please contact Senior Administrative Officer at 080-23370573 / 9449842694. For further details please refer to website www.cmti-india.net.