Applications are invited from candidates belonging to PWD (Person with Disabilities) Category for filling up the post of cadres of Paramedical and Nursing Staff in Medical Institution of ESIC in Telangana and Andhra Pradesh (Region) on regular basis by Direct Recruitment under Special Recruitment Drive for PWDs. The detail of vacancies is as under:-
Name of the post: Nursing Orderly
No of Vacancies: 5
Salary: PB-1 (Rs. 5200- 20200) + GP 1800
HH- Hearing Handicapped (2 Vacancies), VH- Visually Handicapped (3 Vacancies)
Educational &Other Qualification:-
Matriculation or equivalent from a recognized Board. Elementary knowledge of 1st Aid one year experience in handling and dressing wounds in Govt. approved/registered Nursing home/hospital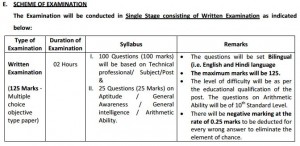 HOW TO APPLY
The duly filled Application Form along with enclosures shall be submitted at the following address:
Recruitment Branch,
ESIC Model Hospital, Nacharam,
Hyderabad-500076
Phone: 040-27153349
a) Duly filled and signed Application Form in the Performa appended below along with self-attested copies of certificates are to be sent in a cover super scribed "Special Recruitment Drive for filling up the posts under PWD category of (Nursing Orderly) by Registered Post/Speed Post so as to reach the above mentioned address.
b) THE WRITTEN EXAMINATION FOR ALL THE ADVERTISED POST AND FOR DIFFERENT REGIONS IN ESIC UNDER SPECIAL RECRUITMENT DRIVE FOR PWDs MAY BE CONDUCTED ON THE SAME DATE. AS SUCH THE CANDIDATES ARE ADVISED TO CAREFULLY APPLY FOR A PATICULAR POST IN A PARTICULAR REGION OF HIS/HER CHOICE..
LAST DATE OF RECEIPT OF APPLICATION
Last date of receipt of application is 31.10.2015. (Last date for receipt of application from candidates residing in Assam, Meghalaya, Arunachal Pradesh, Mizoram, Manipur, Nagaland, Tripura, Sikkim, Ladakh Division of Jammu and Kashmir State, Lahaul and Spiti District and Pangi Sub-Division of Chamba District of Himachal Pradesh, Andaman and Nicobar Islands and Lakshadweep will be 07.11.2015).
Download Application form & Detailed Advertisement:- ESIC_Hyderabad_PWD rectt SRD130915
ESIC Website:- http://www.esic.nic.in/