ESI-PGIMSR, ESIC MEdical College and ESIC Hospital & ODC (E.Z.) Diamond Harbour Road, Joka, Kolkata conducts a walk-in Interview for eligible candidates to filll up following post.
Name of the post: Senior Residents
No of Vacancies: 17
Salary: PB-3 of Rs. 15600-39100 with G. Pay of Rs. 6600/- plus allowances as admissible.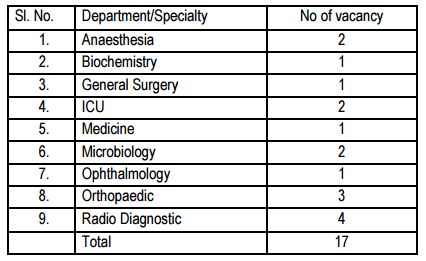 Essential Educational qualification as on 08.10.2015 for Departments/Specialties
For Serial Number 01 (Anaesthesia), 02 (Biochemistry), 03 (Surgery), 05 (Medicine), 06 (Microbiology), 07 (Ophthalmology), 08 (Orthopaedic) & 09 (Radio Diagnostic) above
a) Medical PG Degree in concerned specialty from a recognized Medical Institution
b) MCI/State MC Registration
For Serial Number 04 (ICU)
(c) Medical PG degree in Anesthesia/Medicine/Chest Medicine from a recognized Medical Institution
OR
Medical Diploma in Anesthesia/Chest Medicine from a recognized Medical Institution with 2 years experience from a Medical Institution in the concerned Department/Specialty.
If the candidates having qualification mentioned above in (c) are not available then candidates having MBBS degree with two years experience in the departments/Specialties mentioned in (c) above may be considered.
(d) MCI/State MC Registration
Terms & Conditions:
1. Private practice of any kind will not be allowed.
2. No TA/DA will be admissible for joining purpose.
3. It is a contractual engagement initially for a period of one year extendable every year up to a total period of three years basing on the performance and candidate selected for engagement will have to execute a contract on a stamp paper of Rs. 100/-. The original contract will be with the hospital and its copy will be with candidate. Cost of the stamp paper will be borne by the candidate.
4. On engagement Senior Residents will be required to deposit security of Rs. 32000/- (Rupees thirty two thousand only) through Demand Draft in favour of ESI Fund Account No. 1 at the time of joining, which is refundable after completion of engagement period and on production of "No dues
certificate".
5. Hostel accommodation/quarters will be provided subject to availability.
Download Detailed Advertisement:- ESIC_JOKA_Walk-in Interview
ESIC Website: http://www.esic.nic.in/