List of Shortlisted candidates, schedule for interview for the post of Medical Officer (General Duty), Grade-II & Senior Medical Officer (Medicine), Grade-III at HAL-TAD, Kanpur & Necessary Instructions:

With reference to Advt No.HAL/AC/Rectt/1/2015 dated 09.06.2015 published, following candidates have been shortlisted for Interview for the various posts in Medical discipline at HAL-TAD, Kanpur.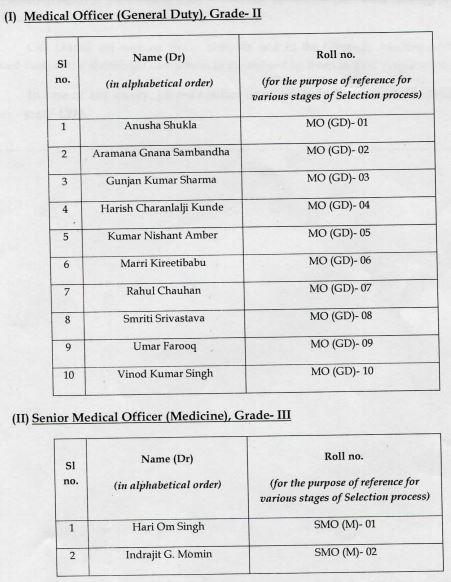 2. No application has been received against the post of Senior Medical Officer (Radiology), Grade-III
3. Only those candidates who have met the eligibility criteria notified vide the advertisement mentioned at para 1 above have been called for Interview subject to extant Recruitment norms of the Company, in the ratio of 1:10 (maximum) post wise.
4. The subject Interview is scheduled to be held on Friday, 26.02.2016 at HAL- TAD, Kanpur. The Interview shall commence from 1000 lus, therefore, the candidates are requested to reach at the venue at least 30 minutes before the Interview timings and report at Reception, Officers' Gate, HAL- TAD, Kanpur.
5. Call Letters are sent on the e- mail ids and to the Contact/ Mailing address (via Speed Post) of the shortlisted candidates as mentioned by them in their Application formats.
6. In case of any query, please contact us at our help line no.- 0512- 2451749- 58, Extn- 4660/ 4373.
Hindustan Aeronautics Limited Recruitment Result 2016: HAL Recruitment Result Medical Officer February 2016
Hindustan Aeronautics Limited HAL website: www.hal-india.com