Applications are hereby invited in prescribed proforma from eligible Indian citizen, for following post at IGIMS: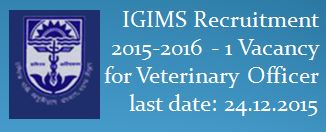 Name of the post: Veterinary Officer
No of Vacancies: 1
Salary: Rs. 9300-34800+GP: Rs.5400
Upper Age Limit: 35 (Thirty Five) years as on :24-12-2015
(Relaxation as per State Govt. Rule, i.e., 05 years for SC/ST, 03 years of MBC/BC and 03 years for all categories of Female Candidate: Bihar State domicile only).
Qualification:
(i) Degree in Veterinary science from recognized University or equivalent.
(ii) 02 (Two) years of practical experience in the Veterinary Practice of correspondence and of Laboratory area.
Desirable: A Past Practical a Diploma in general university or recognized institute or equivalent.
GENERAL INSTRUCTIONS
1. Application form can be downloaded from our website http:www. Igims.org. The cost of application form Rs.500/- (Rupees Five Hundred) and Rs. 125/- (Rupees One Hundred & Twenty Five) for SC/ST candidate (NonRefundable) payable at Patna, in the form of Demand Draft, in favor of Director, IGIMS, Patna-14. Those who downloads the application form from Institute website, shall have to submit a demand draft of Rs.500/- or Rs.125/- (As Applicable) in favor of Director, IGIMS, payable at Patna.
2. Candidate's employed in Government/Semi Government Department or any other employer, must apply through proper channel. In case of advance application "No Objection Certificate" issued by the employer (No Objection Certificate issued by controlling officer shall not be valid) must be submitted at the time of interview, otherwise, they will not be considered for selection.
3. SC/ST candidate must attach their caste certificate issued by Circle Officer of respective District/Circle, Bihar, along-with application form. EBC/BC candidate must attach their caste certificate along-with certificate of exemption from Creamy Layer duly issued by the Circle Officer of respective District/Circle, Bihar, along-with application form, if claimed for reservation.
4. Reservation point and relaxation in upper age limit will be applicable as per rule of Govt. of Bihar. Benefit of reservation will be given to Bihar State domicile only and the applicant out-side of State of Bihar will not be entitled for the benefit of reservation. Handicapped person/candidate will be given the benefit of reservation as per rule of Govt. of Bihar. Person working in Govt. Institution shall be given relaxation as per rule.
5. In addition to Pay other allowances will be admissible as per rule.
6. Stay in campus is compulsory, if accommodation is provided.
7. Mere selection by the Selection Committee does not give right of appointment to the candidate. The Institute reserves right of appointment of the candidate/s recommended by the Selection Committee.
8. The Selection Committee's panel will be valid for 06 (Six) months only
9. The application/s completed in all respect, along-with self-attested photocopies of certificate/ testimonials (Proof of Age, Qualification, Experience) and recent pass-port size photograph, as well as requisite fee should reach by Registered/Speed Post/Courier, to "The Director, IGIMS, Sheikhpura, Patna-14" (Bihar) on or before 24-12-2015 till 01-00 PM. Institute shall not be responsible for any lapses or delay by the
Postal Department or Courier Agency. The incomplete application and application received after last date will not be accepted.
Download Detailed Advertisement: IGIMS Recruitment December 2015
Indira Gandhi Institute of Medical Sciences website: http://www.igims.org/