National Council for Promotion of Urdu Language invites applications from eligible candidates for the following positios:
1. Research Assistant
No of Vacancies: 3
Salary: PB-2 Rs.9300-34800+GP Rs. 4200
Qualification:
1. Master's degree of a recognized University or equivalent.
2. Must have taken Urdu as an optional subject at the graduation level for 3 years/2 years degree course in the case of M.A. or must have taken Urdu as a second language up to 2 years or 3 years degree in case of M.A./M.Sc/M.com or must have taken Urdu at High School/Higher Secondary School Level in case of M.Sc/M.Com where offering Urdu as second language at degree level is not provided.
3. 3 years experience of teaching or terminological and/or translation/editing work in Urdu/Library Science/Distance Education
2. Lower Division Clerk
No of Vacancies: 1
Salary: PB-1 Rs.5200-20200+GP Rs. 1900
Qualification:
1. Matriculation or equivalent.
2. On Manual Typewriter 30 w.p.m or on computer 35 w.p.m in English.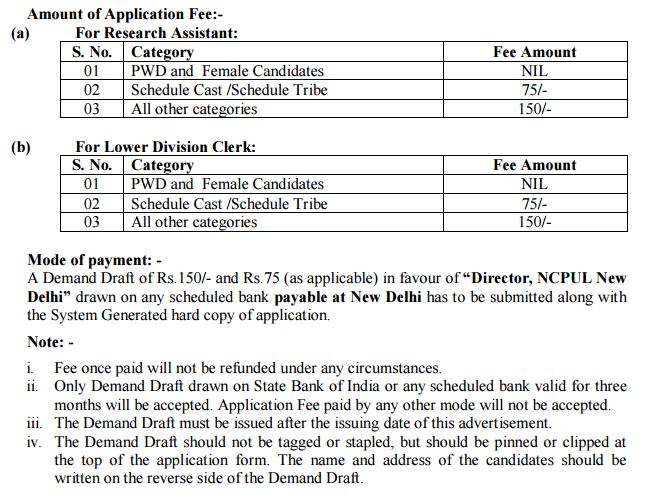 How to Apply:
1) Candidates are advised to read the instruction carefully "Guidelines to Candidates Option" given on NCPUL website.
2) Candidates should first scan their Photograph and signature as detailed under guidelines for scanning the photograph, signature and thumb impression, Candidate have to visit NCPUL website www.urducouncil.nic.in, www.onlineprocess.in/ncpul for filling the Online Application Registration.
3) Fill the application carefully and submit the online application. When the application is successfully submitted, a registration number will be generated by the system and displayed on the screen. Candidates should print / note down the registration number for further reference. Candidates can reopen the saved data by using Registration number, can edit the before final submission of application on final screen. The registration at this stage is provisional.
4) Candidate will receive registration confirmation by E-MAIL after submitting the online application. It may be ensured to furnish correct e-mail address to receive the registration confirmation.
5) Candidates are advised to prepare a Demand Draft and fill necessary details in system generated application form as per given space in bank details column.
(Note: Candidates should have valid email ID. This will help him/her in getting Admit Card/Interview advice etc. by e-mail.
Candidates have to Online Registration as per given instruction in website and send the system generated application form with duly supported with clear / legible attested copies of the relevant certificates and marks statements (in English or Hindi) along with Bank Challan in an envelope super scribed "APPLICATION FOR THE POST OF ______________ should be sent by Registered post / Speed post before Last Date at the following address:-
The Director
National Council for Promotion of Urdu Language
Farogh-e-Urdu Bhawan,
FC-33/9, Institutional Area,
Jasola, New Delhi-110025
Last date of ONLINE application 27-12-2015. Hard copy of online application with required documents should reach at the office by Speed Post/Registered post (address give above) on or before 4:00 p.m. on 07-01-2016 (last date for receipt of application from candidates residing in Assam, Meghalaya, Arunachal Pradesh, Mizoram, Manipur, Nagaland, Tripura, Sikkim, Ladakh Division of Jammu and Kashmir State, Lahaul and Spiti District and Pangi Sub-Division of Chamba District of Himachal Pradesh, Andaman and Nicobar Islands and Lakshadweep will be 15-01-2016 up to 4:00 PM) NCPUL will not be responsible for postal delays.
Download Detailed Advertisement: NCPUL Recruitment 2015 4 Vacancies
National Council for Promotion of Urdu Language Website: http://www.urducouncil.nic.in