NICFS Walk-in-Interview Notification July 2016:
Excellent opportunity for the candidates seeking jobs in Government with LLM, M.Sc (Chemistry) degree qualification. Government of India, Ministry of Home Affairs, LNJN National Institute of Criminology and Forensic Science (NICFS) published latest employment notification to fill up 2 vacancies of Assistant Professor in Law and Toxicology discipline.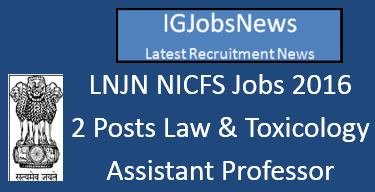 Interested and eligible candidates can attend the walk-in-Interview on 13th July, 2016.
Ministy of Home Affairs Assistant Professor walk-in-Interview details:
1. Law
Qualification:
LLM with atleast 55% marks with specialization in Criminal La
Must have qualified NET One year aggregate teaching experience at undergraduate level in any institution affiliated to recognized University or a constituent unit of a University
2. Toxicology
Qualification:
M.Sc. (Chemistry) or M.Sc. (Toxicology) with atleast 55% marks
Must have qualified NET one year aggregate teaching Experience at undergraduate or higer Level in any Institution affiliated to Recognized university or a constituent unit of a University
Salary: Rs.51,100/-
Tenure: One year. The engagement can be terminated giving 3 months notice or emoluments in lieu thereof.
Leave: The Leave entitlement of the appointee shall be regulated as per DoP&T OM No.12016/3/84-Estt (L) dated 12.4.1985 and OM No 12016/1/96-Estt.(L) dated 5.7.1990 as amended from time to time
Mode of selection: By interview by a selection committee
Date & Time:
13.07.2016 at 1030 hrs
Place of Interview:
NICFS Campus,
Sector-3
Rohini,
Delhi-110 085
Download Detailed Advertisement: NICFS Recruitment Notification June 2016
LNJN National Institute of Criminology and Forensic Science (NICFS) website: http://www.nicfs.nic.in