NLC Recruitment 2015-2016:
Recruitment of GETs using GATE-2016 score (Advt.No.06/2015) – List of Candidates Shortlisted for Personal Interview Published on 28th July, 2016. NLC Recruitment 2015-2016.
Click Here to download the Detailed List
---
Neyveli Lignite Corporation Limited invites applications from eligible candidates for following GET positions with GATE 2016 scores: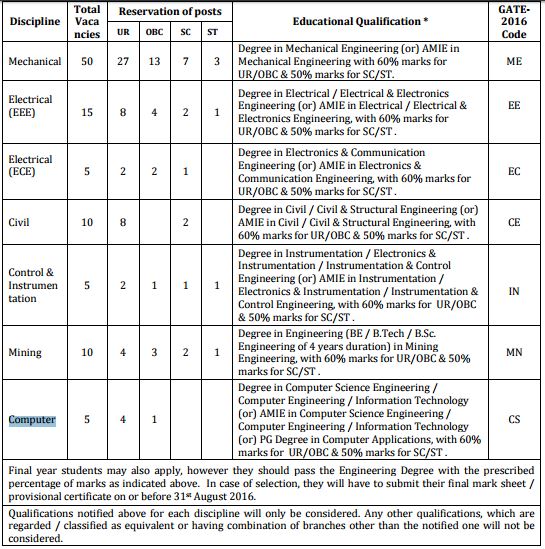 HOW TO APPLY?
Eligible candidates should Register and Apply ONLINE only through NLC's website www.nlcindia.com. No other means / mode of application will be accepted.
1. Before registering / applying online, the candidates should possess valid e-mail ID, which should remain valid at least for next one year.
2. Candidates can access the online application portal at www.nlcindia.com. The Online application portal will be active from 10:00 hours on 23/12/2015 to 17:00 hours on 22/01/2016
3. Candidates should enter correctly the GATE Registration Number (indicated in the GATE Admit Card) in online application.
4. UR / OBC Candidates are required to pay a non-refundable amount of Rs.300/- as Application Fee through ONLINE, using State Bank Collect facility available at www.onlinesbi.com. Detailed process regarding payment of Application Fee is available in our website.
5. After submitting the online application, a Registration-Cum-Application Form will be generated. Candidates are required to retain the hard copy of the Registration-Cum-Application Form and the Payment receipt for future reference and also for furnishing the same when called for.
6. In case the applicant is called for selection process, he/she should produce the following documents / certificates, along with a set of Photostat copy of the same: –
1. Proof for Date of Birth (Birth Certificate (or) SSLC / Matriculation Mark List)
2. Proof for having notified Qualification (Provisional / Degree Certificates)
3. Proof for having prescribed percentage of marks in qualifying degree (Consolidated / Semester-wise mark Statements)
4. GATE-2016 Score Card
5. Community Certificate in the prescribed format issued by the Competent Authority (in case belonging to OBC(NCL)/ SC/ST categories)
6. Disability Certificate, clearly indicating the type of disability (in case of PWD).
7. Discharge Certificate (if Ex-Servicemen).
8. No objection Certificate (in case working in PSE / Govt. / Quasi Govt..
9. Self-certified translated copy of the SC/ST/OBC/Disability certificate, either in English or Hindi, in case the same is on a language other than English or Hindi.
However, the above list is not exhaustive and the candidates may require producing other relevant documents on case to case basis to clearly establish their eligibility. Non production of sufficient documents to establish the eligibility would lead to rejection of candidature.
Note
1. Please do not send hard copy of Registration-cum-Application Form (or) any documents / certificates in original.
2. All correspondence with candidates will be done through e-mail. The candidates will be solely responsible for receiving, downloading and printing of call letters for selection process / any other information shall be of the candidate. NLC will not be responsible for any loss of email sent, due to invalid/wrong email ID provided by the candidate or delivery of Email to spam / bulk mail folder or for delay / not receipt of information if the
candidate fails to access his/her mail / website in time.
Candidates can contact the Helpline No. 04142 255135 between 10:00 Hours and 17:00 Hours on all working days. Candidates are hereby advised not to contact telephone numbers of any other officials / divisions and avoid disturbing others.
Important Dates:
ONLINE Registration Starting Time & Date 23.12.2015 (10:00 hrs)
ONLINE Registration Closing Time & Date 22.01.2016 (17:00 hrs)
Download Detailed Advertisement: NLC Recruitment 2015 GET GATE 2016
NLC Website: http://www.nlcindia.com/