State Health Mission Society, Manipur invites applications from eligible candidates for following posts: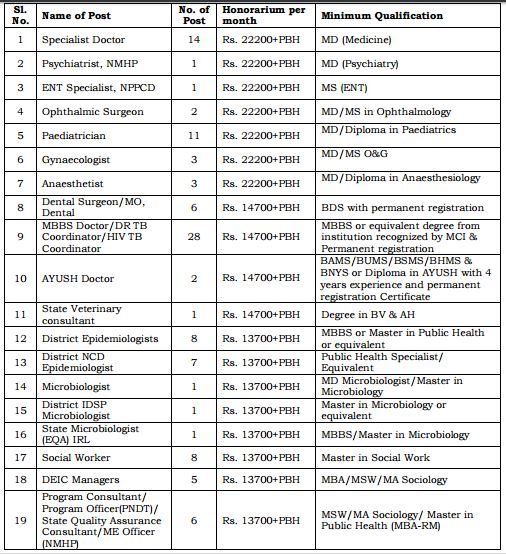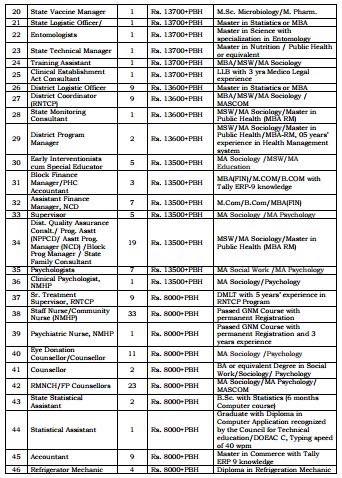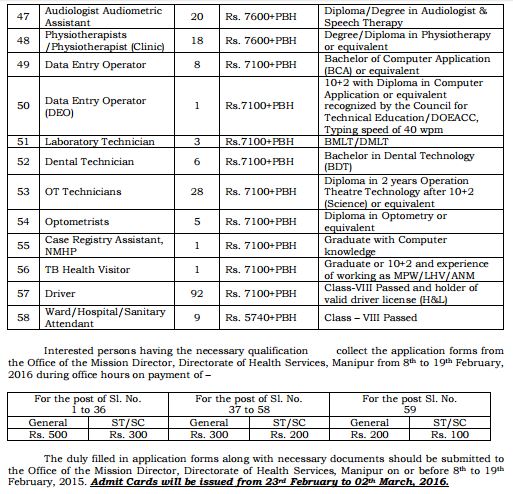 The following guidelines should be followed –
1) Other than merit and suitability of the Candidates and other Criteria to be observed, the applicants will be considered preferably District-wise against the District vacancies and on the basis of the Districts from which they hail.
2) The applicants will be considered only for the posts/locations against which they are likely to be posted.
3) Since no transfer will be considered subsequently after their engagement, only those willing to be posted even in the interiors and hilly locations may apply.
It will be assumed that all applicants who appear in the interview are willing to be considered against the post/location in the district concerned and any request for transfer subsequent to their engagement shall be taken as unwillingness to accept the post and therefore liable to termination of their contract engagement without further intimation.
4) Reservation policy/norms will be followed as prescribed by DP
5) The applicants should be 21 years of age as on 08/02/2016 and should not be more than 38 years of age as on 08/02/2016 relaxable for ST/SC by 5 years and for OBC by 3 years.
For those candidates who are in Government Service, the upper age limit may be relaxed to the extent of the period of continuous service put in the post/service to the maximum of 5 years.
6) There should not be any age limit for the post of Sl. No. 1 to 10.
7) 3% of the posts will be reserved for persons with disabilities as per rules.
8) The details of the interview/viva-voce may also be available on our official website www.nrhmmanipur.org
State Health Mission Society, NRHM Manipur website: nrhmmanipur.org