POWERGRID, Odisha Projects is looking for Bright, Committed and Energetic persons to join for following post:

Name of the post: Assistant (Finance)
No of Vacancies: 4
Qualification:
B Com with first (1st ) division.
Additional qualification of M.Com shall be desirable
Salary:
Pay Scale :
Rs. 12500 – 27500
Selection Process:
The Selection Process consists of Written Test, Computer Skill Test & Interview
Written Test shall be of Object Type of two hours duration consisting of two parts –
1. Part-I consists of Professional Knowledge Test with 120 questions having specific questions in Finance Discipline.
2. Part-II consists of Aptitude Test with 50 questions on vocabulary, verbal comprehension, quantitative aptitude, reasoning ability, data sufficiency and interpretation, numerical ability, General Knowledge etc.
3. All questions carry equal marks. Wrong and multiple answers would result in negative marks of 1/4
To qualify against unreserved vacancies, candidates have to score a minimum aggregate of 40% marks in Written Test.
Among the candidates qualified in Written Test, the top scoring candidates shall be shortlisted category wise for Computer skill test and Interview, proportional to the number of vacancies in the respective category.
Only those candidates who secure the minimum qualifying percentage of 40% in the Personal Interview will be eligible to be considered for empanelment.
For calculation of final score, the weightage assigned are – Written Test 85%, Computer Skill Test 3% and Interview 12%. In order to get empanelled, candidates must qualify separately in the Written Test and in the Personal Interview.
However, the Management reserves the right to raise the minimum eligibility standards / criteria and / or conduct a screening test to restrict the number of candidates to be called for interview, if so required.
The applicants will have the option to appear for Written Test in HINDI language also. The candidates who opt for Hindi as the medium for the written test shall only be provided the Question paper in Hindi.
The Written Test shall be held at the following center:-
01. Bhubaneswar / Cuttack
Admission to the test will be on production of admit card. Admit cards will be made available online/ sent by post
How to Apply :
1. Interested eligible candidates are advised to log on to www.powergridindia.com -> Career Section ->Job opportunities and apply online only. Applications received by post without online submission are not acceptable.
2. Candidate shall fill up the online application form and on submission of the same, a resume and bank challan having unique POWERGRID Registration ID will be generated. The candidate shall take a print out of the resume generated. After 2 bank working days of generation of challan, he/ she can approach any branch of SBI with his challan for depositing the fees. He/ she will have to deposit prescribed application fees + bank charges of Rs. 60/- to SBI. Candidates who fail to deposit the fees (application fees + bank charges) by 05.01.2016, their candidature shall be rejected without further correspondence. The Fees shall not berefunded under any circumstances. No other mode of payment i.e., Money order, Postal order, DD, Cheque etc., is acceptable
3. Along with the hard copy of online resume generated, Candidates are required to enclose documents in support of age, essential qualification, Experience, caste, disability, Ex-serviceman. The list of documents which are acceptable as proofs of the criteria are as follows:
(i) Date of Birth – Matriculation Certificate / Birth Certificate
(ii) Educational Qualification Certificate along with mark sheets of all years / semesters of following examination –
(a) Matriculation
(b) Intermediate
(c) Diploma/Degree Certificate as applicable
(d) Additional qualification, if any.
(iii) Proof of norms adopted by the University/ Institute to convert CGPA/OGPA/DGPA into percentage.
(iv) Experience/Service Certificate in the letter head of the company clearly indicating the post held, period of service, gross emoluments, area of experience as proof of Post Qualification Experience duly certified by organization concerned. – If Any
(v) Caste / Category Certificate (if applicable in case of SC/ST) in prescribed GOI format from Competent Authority.
(vi) Disability Certificate in case of PwD candidate in prescribed GOI format from Competent Authority/Medical Board.
(vii) Discharge Certificate in case of Ex-Servicemen.
4. Hard Copy of resume duly signed along with necessary enclosures (self -attested) shall be sent through ordinary post at the following address:
Dy. General Manager (HR)/ HOP,
POWER GRID CORPORATION OF INDIA LTD.
Plot. No. 27, Sahid Nagar,
Bhubaneswar- 751007
5. Application Fee: Rs. 200/- shall be payable by applicants belonging to General and OBC (NCL) category
6. Candidates working in Govt. / PSU are required to produce "No Objection Certificate" at the time of Interview.
7. Written Test & Interviews shall be conducted at Bhubaneswar/Cuttack
8. All Candidates are requested to ensure that the application along with enclosures is sent by Ordinary Post and NOT by any other means like Courier, Speed Post etc.
9. Information regarding this recruitment process shall be made available in the career section of POWERGRID website. Applicants are advised to check the web site periodically for updates.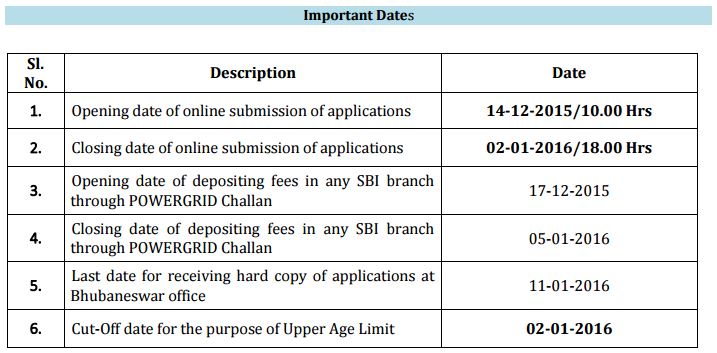 Download Detailed Advertisement: Power Grid Corporation Recruitment 2015 2016 Detailed_AD_F_and_A
Power Grid Corportation website: http://www.powergridindia.com