SAIL Pilot walk-in-Interview 2016:
Excellent opportunity for the Pilot aspirants who wants to secure central govt. jobs 2016 in Jharkhand.  Steel Authority of India (SAIL) conducts a wal-in-Interview to recruit 3 pilot vacancies for its Bokaro Steel City, Jharkhand.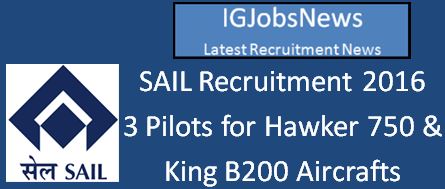 Details of the SAIL  Requirement April 2016 as follows: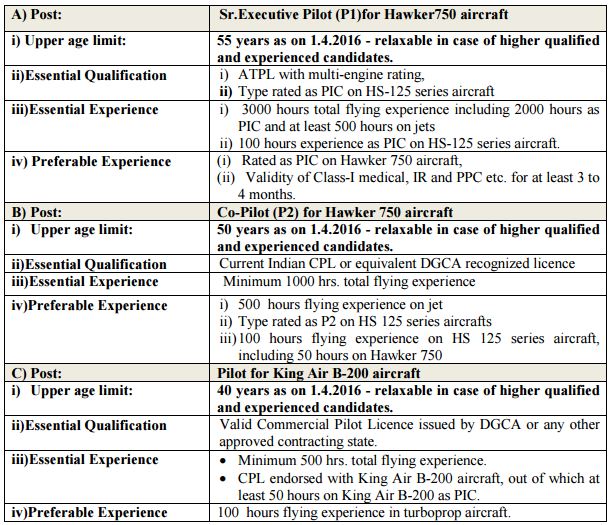 Terms & Conditions of Engagement :
1. Period of engagement-3 (three) years. Employment will be contractual basis initially for 3 years and extendable thereafter.
2. Place of posting- Bokaro Steel City, Jharkhand
3. Compensation package- At par with industry standards. Terms & conditions negotiable.
Mode of Selection :The candidates having the required qualification and experience may walk in for Interview on 19.4.2016 at Steel Authority of India Limited, Ispat Bhawan, Lodhi Road, New Delhi-110003.  The interested candidates should get themselves registered between 9.00 AM to 10.00 AM. It may be noted that only those candidates will be considered for interview who fulfil the essential eligibility criteria.
GENERAL :
1. Only Indian citizens need apply against the above advertisement.
2. The place of posting is Bokaro. However, the incumbent can be transferred anywhere in the country depending upon requirement of SAIL.
3. All further correspondence shall be through email only.
Download Detailed Advertisement of SAIL Walk-in-Interview for Pilot Jobs 2016: SAIL Recruitment April 2016
Steel Authority of India Limited (SAIL) website: www.sail.co.in