Special Recruitment Drive for persons with disabilities to the post of Multi Tasking (Non-Technical) Staff in Different States and Union Territories 2015
F.No.3/8/2015-P&P-I. In compliance of Hon'ble Supreme Court's Interim Order dated 28.04.2015 in Contempt Petition No. 499/2014 in Civil Appeal No. 9096/2013 in the matter of National Federation of Blind, the Regional Office of Staff Selection Commission is making Special recruitment for PWD.
COMMON INSTRUCTIONS TO CANDIDATES
GOVERNMENT STRIVES TO HAVE A WORKFORCE WHICH REFLECTS GENDER BALANCE AND WOMEN CANDIDATES ARE ENCOURAGED TO APPLY.
Name of the post: Multi Tasking Staff
No of Vacancies: 122
EDUCATIONAL QUALIFICATION : ( As on 01.01.2016)
Must have passed Matriculation Examination OR equivalent from a recognized Board.
Candidates who have not acquired/will not acquire the educational qualification as on the closing date of receipt of application will not be eligible and need not apply.
Salary: Pay Band-1( 5200-20200/-) + Grade Pay 1800/-
VACANCIES / RESERVATION: Tentatively the vacancies for the post of MTS (Non-Technical) under PH category (OH, VH & HH) are 61, 18 and 43 respectively. Statewise break-up of Vacancies is as under: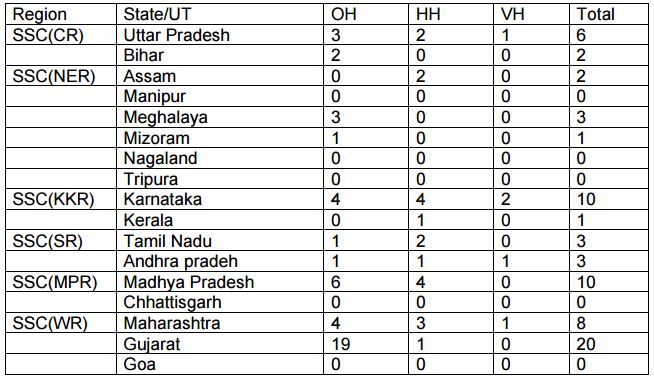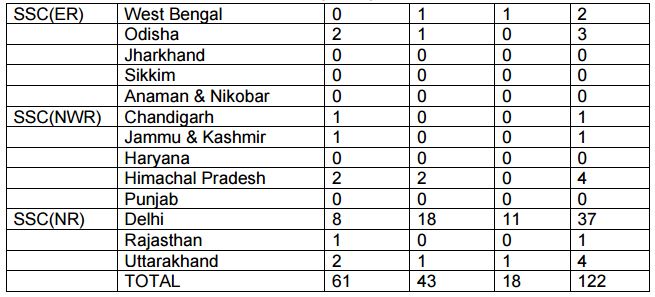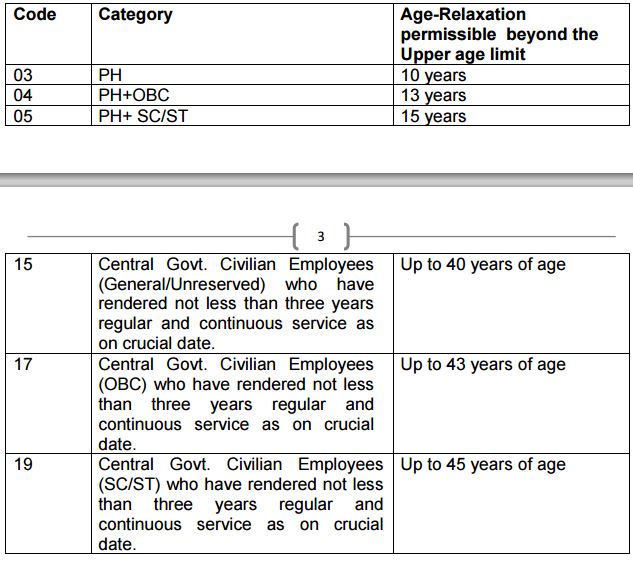 SCHEME OF EXAMINATION:
(A) SCHEME OF THE WRITTEN EXAMINATION AND SYLLABUS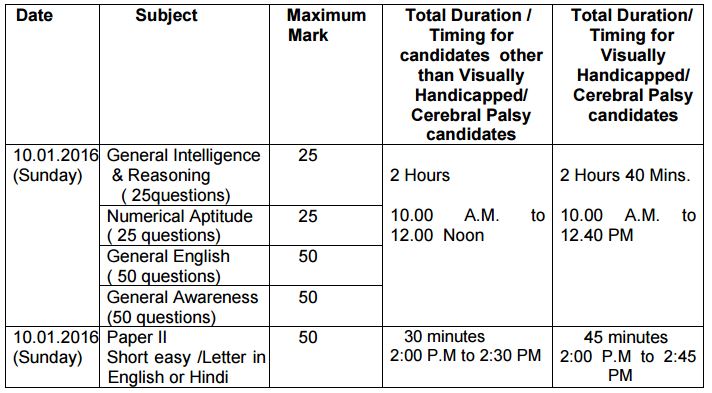 The written examination will consist of (Paper-I) objective type paper and (Paper-II) descriptive type
Procedure for Online Submission of Application
The facility of online Registration will be available from 24.10.2015 to 23.11.2015 (upto 5:00 PM).
The online submission of the application may be made at website ssconline.nic.in and ssconline2.gov.in. Instructions are available at the site.  Candidate should read the instructions carefully before making any entry or selecting options. Candidate should supply all the required details while filling up the online form. Mandatory fields are marked with * (asterisk) sign.
Important Instructions:-
1. Candidates in their own interest are advised to go through detailed instructions contained in this notice which are also available on the websites of the commission http://ssc.nic.in, ssc-cr.org, sscer.org, sscner.org.in, sscwr.net, sscsr.gov.in, ssckkr.kar.nic.in, sscmpr.org, sscnwr.org and sscnr.net.in carefully before applying.
2. There is no application fee.
3. Candidates seeking reservation should be in possession of the required certificates (SC/ST/OBC and Disability) in the prescribed format in support of their claim at the time of verification.
4. CLOSING DATE: 23.11.2015 (upto 5 P.M.). For candidates residing in Assam, Meghalaya, Arunachal Pradesh, Mizoram, Manipur, Nagaland, Tripura, Sikkim, Jammu and Kashmir, Lahaul and Spiti District and Pangi Sub Division of Chamba District of Himachal Pradesh, Andaman and Nicobar Islands, Lakshadweep and for candidates residing abroad who send application by post – 30.11.2015 (upto 5.00 PM). APPLICATIONS RECEIVED LATE WILL NOT BE ENTERTAINED. For candidates of these areas sending application online, the closing date will remain the same i.e.23.11.2015.
5. Only a single application will be entertained for each State / UT. In case of multiple applications for on-line application, the last application for which part-I and part-II registration have been completed will be accepted. For off-line applications, the Regional Director/Deputy Director at his/her discretion, will accept only one of the applications. Candidates intending to apply for the post in more than one State/UT should submit separate applications for each State/UT to the regional office having jurisdiction over such State/UT.
6. Candidates should send/submit application in the prescribed format to the concerned regional office of SSC as mentioned in para-6 of the notice or apply on line. Candidates applying on-line should retain the registration number assigned to them for further correspondence with the commission. They should not submit print outs of their application to the commission.
Download Detailed Advertisement: SSC_Recruitment _Oct_2015_MTS_final_Notice_eng_23102015
Staff Selection Commission SSC Website: http://ssc.nic.in/