Tamil Nadu Newsprint And Papers Limited TNPL invites applications from eligible candidates for following posts:-
1. Semi Skilled (B)(Operator for Finishing House
2. Semi Skilled (A)(Operator for Finishing House)
3. Skilled (B) (Operator for Finishing House)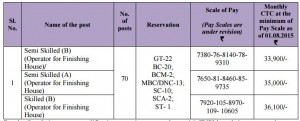 For details relating to age, qualification, experience, etc, please visit TNPL's website: www.tnpl.com. Bio-data format is available in our website.
Candidates who conform to the job requirements as given in the website may apply in the prescribed format by post in strict confidence superscribing the name of the post within 15 days from the date of release of this advertisement to:
GENERAL MANAGER (HR)
TAMIL NADU NEWSPRINT AND PAPERS LIMITED
KAGITHAPURAM – 639 136, KARUR DISTRICT, TAMIL NADU
giving full details of age, qualification with year of passing, experience, community, salary drawn and position being held along with copies of testimonials towards proof for the same.
Download Application form and Detailed Advertisement:- TNPL_70posts-finishing-house-unit2
Last date for receipt of applications: 06.10.2015
Website:- http://www.tnpl.com/