Tamil Nadu Public Service Commission invites online applications from eligible candidates for following posts:

Name of the Post: Block Health Statistician
No of Posts: 172 Vacancies
Name of the Department: Family Welfare Department
Name of the Service: Tamil Nadu Medical Subordinate Service
Scale of Pay: Rs.5,200 – 20,200/- (PB1) + Grade Pay 2,800/-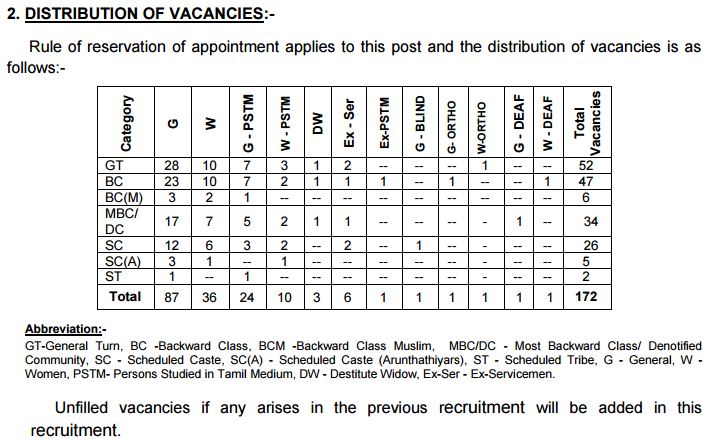 Fee:
One time registtration fee: Rs.50/-
Examination fee: Rs.100/-
Important Dates:
A Date of Notification 12.02 .2016
B Last date for submission of applications 14.03.2016
C Last date for payment of Fee 16.03.2016
Date and Time of Written Examination
Paper – I (Subject of Examination) 05.06. 2016 FN 10.00 A.M. to 01.00 P.M.
Paper – II (General Studies) 05.06.2016 AN 02.30 P.M. to 04.30 P.M.
EDUCATIONAL QUALIFICATION: (as on 12.02.2016) :- Candidates should possess the following or its equivalent qualification on the date of this
Notification.
A Second Class degree in Mathematics with Statistics as an ancillary subject.
(OR)
A Second Class degree in Statistics with Mathematics as an ancillary subject.
Other things being equal preference shall be given to persons with experience* in Collection and Compilation of statistics for a period of not less than 3 years.
* The certificates for having the above experience issued by the various departments of state and central Governments and related public sector undertakings, Educational and Research Institutions and autonomous institutions obtained from the Principal / Head of the Department / Dean.
HOW TO APPLY:
Click here www.tnpscexams.net / www.tnpscexams.in
Tamil Nadu Public Service Commission Recruitment Advertisement: TNPSC Recruitment February 2016 172 Posts
Tamil Nadu Public Service Commission website: http://www.tnpsc.gov.in