Film and Television Institute of India invites applications from the citizens of India (and such other candidates declared eligible by the Ministry of Home Affairs, Govt. of India ) for the following Group 'B', Group 'C' posts and for faculty positions (Group 'A' ) having good communication skills.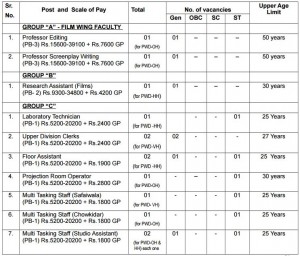 NOTE :
(1) Age of retirement at FTII is 60 years.
(2) The number of vacancies advertised may vary. They may increase or decrease.
(3) Canvassing in any form disqualifies the candidature of the applicant.
(4) Faculty recruited in Film Wing can be deployed in TV Wing as well. The decision of FTII authorities would be binding in this regard.
(5) Written Test (wherever applicable) and Interviews for these posts would be held on 26th, 27th, and 28th Nov 2015. Details of the same would be communicated to the eligible candidates by email and will also be published on FTII website. Candidates are requested/ advised to visit FTII website regularly for updates and details.
Abbreviations stand for : –
PwD – Persons with Disabilities
OH – Orthopedically Handicapped
VH- Visually Handicapped
HH – Hearing Handicapped
The last date of submission of application complete in all respect is 30 (Thirty) days from the date of publication of advertisement in the Employment News.
Last date for receipt of applications from the candidates residing in Assam, Meghalaya, Arunachal Pradesh, Mizoram, Manipur, Nagaland, Tripura, Sikkim, Jammu & Kashmir, Lahaul and Spiti District and Pangi Sub Division of Chamba District of Himachal Pradesh, Andaman & Nicobar Islands, Lakshadweep will be 45 days from the date of publication of advertisement in the Employment News
APPLICATION FEE
(a) Each application should be accompanied by a crossed Demand Draft of Rs.100/- drawn on any Nationalized Bank in favour of Accounts Officer, Film and Television Institute of India, Pune, payable at PUNE.
(b) Remittance in cash, postal orders or cheques will not be accepted.
(c) Candidates who wish to apply for more than one post should apply separately for each post and pay the fee for each post in the prescribed manner.
(d) Applications without the prescribed fee would not be considered & summarily rejected. No representation against such rejection would be entertained.
(e) Fee once paid shall not be refunded under any circumstances.
HOW TO APPLY
(a) Candidates should submit the applications in the format as per notification.
(b) The application should be on good quality A-4 size bond paper (80 GSM) using one side only.
(c) Candidates can download application format from the FTII website www.ftiindia.com. Candidates using printed application form from any other source should ensure that it confirms to the prescribed format.
(d) Candidates should fill up the application form in his/ her own handwriting either in Hindi or in English with blue or black ball point pen only.
(e) The candidates should reproduce the declaration as directed in the application form in his/ her own handwriting (Not in CAPITAL letters). Otherwise their applications will be rejected.
(f) The application should be sent by ORDINARY POST only so as to reach FTII on or before the closing date & time. Filled in applications can also be dropped on working days between 10 a.m. to 5.30 p.m. in the boxes kept for the purpose at the Reception Counter/ Security Office at FTII Main Gate on or before the closing date & time.
(g) Photograph: One recent (not earlier than three months from the date of application) colour passport size photograph with clear front view of the candidate without cap and sun glasses should be pasted on the application form in the space provided. One identical extra colour passport size photograph should be enclosed with the application indicating candidates name on the reverse of the photograph. Candidates may note that
FTII may reject their candidature at any stage for pasting old/ unclear photograph on the application or for any significant variations between photograph pasted on the application and actual physical appearance of the candidate.
(h) The candidates should put their LEFT HAND thumb impression and signature at the designated box in the application form. The thumb impression and signature must be clear and complete. Applications without left hand thumb impression and signature will be summarily rejected.
The applicants should fill up the application form (only after ensuring that they fulfill all the essential qualifications/ professional experience) in the prescribed proforma (Annexure) and send the same together with self attested copies of supporting documents and self addressed envelope of size 9 ½" x 4 ½" affixed with postage stamp cost Rs.25/- addressed to The Administrative Officer, Film and Television Institute of India, Law College Road, Pune – 411004.
Download Application form & Detailed Advertisement: Ftiindia_SRD_PwD_2015