Applications are invited by the Director, JIPMER, Puducherry from the eligible Indian nationals for the following posts. More details regarding educational qualifications, age limit, and selection and application process are mentioned below:-
1. Professor of Endocrinology, 1 Vacancy
2. Professor of Medical Gastroenterology, 1 Vacancy
3. Professor of Medical Oncology, 1 Vacancy
4. Professor of Nephrology, 1 Vacancy
5. Professor of Neuro -Surgery, 1 Vacancy
6. Professor of Pediatric-Surgery, 1 Vacancy
7. Professor of Surgical Oncology, 1 Vacancy
8. Professor of Anesthesiology, 3 Vacancy
9. Professor of Biochemistry, 1 Vacancy
10. Professor of ENT, 1 Vacancy
11. Professor of Forensic Medicine, 1 Vacancy
12. Professor of Medicine, 2 Vacancy
13. Professor of Obstetrics & Gynecology, 1 Vacancy
14. Professor of Orthopedic Surgery, 1 Vacancy
15. Professor of Pediatrics, 1 Vacancy
16. Professor of Pharmacology,1 Vacancy
17. Professor of Psychiatry, 1 Vacancy
18. Professor of RadioDiagnosis, 1 Vacancy
19. Professor of Biometrics, 1 Vacancy
20. Professor of Medical Education & Tele Medicine (NTTC), 1 Vacancy
21. Assistant Professor of Cardiology, 1 Vacancy
22. Assistant Professor of Endocrinology, 1 Vacancy
23. Assistant Professor of Medical Gastroenterology, 1 Vacancy
24. Assistant Professor of Surgical Gastroenterology, 1 Vacancy
25. Assistant Professor of Neurology, 2 Vacancies
26. Assistant Professor of NeuroSurgery, 1 Vacancy
27. Assistant Professor of Surgical Oncology, 1 Vacancy
28. Assistant Professor of Urology, 1 Vacancy
29. Assistant Professor of Anesthesiology, 5 Vacancies
30. Assistant Professor of Emergency Medical Service, 2 Vacancies
31. Assistant Professor of Geriatric Medicine, 2 Vacancies
32. Assistant Professor of Medicine, 2 Vacancies
33. Assistant Professor of Obstetrics & Gynecology, 7 Vacancies
34. Assistant Professor of Ophthalmology, 1 Vacancy
35. Assistant Professor of Orthopedic Surgery, 5 Vacancies
36. Assistant Professor of Pathology, 1 Vacancy
37. Assistant Professor of Pediatrics, 1 Vacancy
38. Assistant Professor of Pharmacology, 1 Vacancy
39. Assistant Professor of Pulmonary Medicine, 1 Vacancy
40. Assistant Professor of Physiology, 1 Vacancy
41. Assistant Professor of Radiotherapy, 1 Vacancy
42. Assistant Professor of Skin & STD (Dermatology), 1 Vacancy
43. Assistant Professor of Surgery, 4 Vacancies
44. Assistant Professor of Medical Education & Tele Medicine (NTTC), 1 Vacancy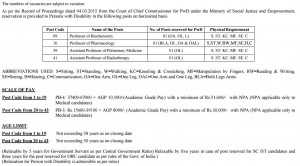 MODE OF PAYMENT (Only Online payment through SBI collect):
The Online application fee payment will be available from 07.09.2015 to 21.10.2015.
Click on the link below:
Online Application fee Payment
Click on the Check box mentioned as I have read and accepted the terms and conditions stated above
Click on PROCEED
Select FACULTY RECRUITMENT from the drop down list and fill in the following:
Name of the Applicant, Name of the Post / Post Code (from the drop down list), Category of the Applicant (from the drop down list), Contact
No, Email, Communication Address, Application Fee (from the drop down list i.e. Rs. 500 for UR / OBC & Rs. 250 for SC / ST ) and Date of
Birth. Kindly note that in addition to the application fee service charge for making online payment will be deducted as per the norms of Bank.
Select SUBMIT and proceed for online payment.
Kindly go through the detailed advertisement especially for Post Code of the post before making online application fee payment.
Application for the post shall be in the prescribed proforma available in the JIPMER website (www.jipmer.edu.in). It shall be accompanied by certified copies of educational qualification and experience, Certificate of date of Birth and other documents, duly attested.
Application incomplete in any respect or received after due date i.e. 28.10.2015 or without application fee will be summarily rejected. The
Institute will not be responsible for any postal delays and no correspondence in this regard will be entertained.
Selection for the posts of Professor & Assistant Professor will be held by conducting an interview, for which date and time will be intimated to the eligible candidates by email only and the same will be published in the JIPMER website also (www.jipmer.edu.in). No communication would be sent by post.
A completed application should have the following documents invariably sent along with the application:-
A soft copy (scanned in a PDF format only) of the following documents in a DVD must be submitted along with the application.
1. Application
2. Brief 1 of the Candidate. (Available in Annexure – I)
3. Educational Certificates (From SSLC to PG) (Ph.D – For Non-Medical posts)
4. Experience Certificates (teaching / research experience as required for the post applied)
5. Certificate of Registration UG & PG at MCI
6. Best 5 Publications
7. Colour Passport size photograph
8. Brief 2 of the candidate (available in Annexure – I) is to be filled and to be submitted in the Excel format only.
* All the above mentioned soft copy is also to be send through e-mail to [email protected]
Download Original Advertisement:- JIPMER-Faculty-060915