Applications are invited by the Director, Jawaharlal Institute of Postgraduate Medical Education and Research, Puducherry-605 006 from eligible Indian Citizens belonging to Persons with Disabilities (PwD) only for recruitment to the following posts : –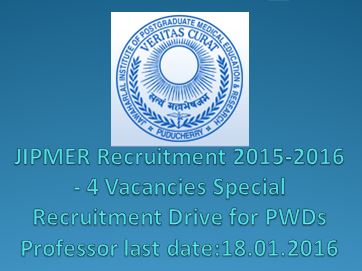 1. Professor of Biochemistry
No of Vacancies: 1
Salary: PB-4: 37400-67000 + AGP 10,500/- (Academic Grade Pay) with a minimum of Rs.51,600/- with NPA (NPA applicable only to Medical candidates)
2. Professor of Pharmacology
No of Vacancies: 1
Salary: PB-4: 37400-67000 + AGP 10,500/- (Academic Grade Pay) with a minimum of Rs.51,600/- with NPA (NPA applicable only to Medical candidates)
3. Assistant Professor of Pulmonary Medicine
No of Vacancies: 1
Salary: PB-3: Rs.15600-39100 + AGP 8000/- (Academic Grade Pay) with a minimum of Rs.30,000/- with NPA (NPA applicable only to Medical candidates)
4. Assistant Professor of Radiotherapy
No of Vacancies: 1
Salary: PB-3: Rs.15600-39100 + AGP 8000/- (Academic Grade Pay) with a minimum of Rs.30,000/- with NPA (NPA applicable only to Medical candidates)
Examination Fees: No Fees
CONDITIONS FOR ELIGIBILITY:
A) General Conditions:
1) Nationality : Only Indian Nationals who are Persons with Disabilities (PwD) eligible to apply
2) Age limit : Age will be reckoned as on 18.01.2016.
MODE OF SELECTION: Personal interview
HOW TO APPLY:
The crucial date for Age limit and experience will be the last date of receipt of application i.e.18.01.2016.
Applicants already employed in Central/State Govt./Autonomous Institutions / Statutory Organizations/ PSUs under Central/ State Govt. should route their applications through proper channel. Pay, GPF, Leave Encashment etc. if any are to be settled from the previous employer on selection before joining this Institution
While forwarding the application through proper channel, a certificate to the effect that Central Government / State Government / Union Territory or the parent Department/Organizations has "No Objection" to the appointment of officer concerned may also be sent to this Institute along with the application.
Application for the post shall be in the prescribed proforma available in the JIPMER website (www.jipmer.edu.in). It shall be accompanied by certified copies of educational qualification and experience, Certificate of date of Birth and other documents, duly attested.
Only Indian Nationals are eligible to apply. The Institute reserves the right to decide the number of posts to be filled up.
Application incomplete in any respect or received after due date i.e. 18.01.2016 will be summarily rejected. The Institute will not be responsible for any postal delays and no correspondence in this regard will be entertained.
Selection for the posts of Professor & Assistant Professor will be held by conducting an interview, for which date and time will be intimated to the eligible candidates by email only and the same will be published in the JIPMER website also (www.jipmer.edu.in). No communication would be sent by post.
TA (second class Railway Fare) will be paid to SC/ST candidates only.
A completed application should have the following documents invariably sent along with the application:-
A soft copy (scanned in a PDF format only) of the following documents in a DVD must be submitted along with the application.
1. Application
2. Brief 1 of the Candidate. (Available in Annexure – I)
3. Educational Certificates (From SSLC to PG) (Ph.D – For Non-Medical posts)
4. Experience Certificates (teaching / research experience as required for the post applied)
5. Certificate of Registration UG & PG at MCI
6. Best 5 Publications
7. Colour Passport size photograph
8. Brief 2 of the candidate (available in Annexure – I) is to be filled and to be submitted in the Excel format only.
* All the above mentioned soft copy is also to be send through e-mail to [email protected]
The duly filled in application form, with all necessary enclosures should reach the Office of The Director, JIPMER, Administrative Block, Danvanthri Nagar Post, , Puducherry – 605 006 on or before 18.01.2016 by 4.30 PM.
Download Detailed Advertisement: JIPMER-faculty-recruitment_Sperical Recruitment Drive for PWDs 2016
JIPMER Website: http://jipmer.edu.in/