Applications are invited in the prescribed format from qualified Indian Nationals for faculty positions at the level of 'Assistant Professor' under a 'Special Recruitment Drive' for SC/ST/OBC (Backlog). Qualification, Experience, Pay etc. are as follws:
A) Position and Scale of Pay
ASSISTANT PROFESSOR:
Pay Scale: PB-3 Rs.15600-39100 + 6000/7000/8000 (AGP)
B) INSTRUCTIONS / INFORMATION TO CANDIDATES:
a) Faculty positions are currently available only at the level of Assistant Professor in the following teaching departments :-
i) Applied Mechanics & Hydraulics
ii) Chemistry
iii) Chemical Engineering
iv) Civil Engineering
v) Computer Science & Engineering
vi) Electrical & Electronics Engineering
vii) Electronics & Communication Engineering
viii) Information Technology
ix) Mathematical and Computational Sciences
x) Mechanical Engineering
xi) Metallurgical & Materials Engineering
xii) Mining Engineering
xiii) Physics
xiv) School of Management
Category wise number of vacancies at the institute level are as follows:
SC – 3
ST – 10
OBC – 16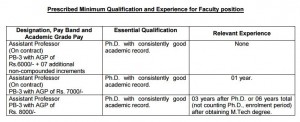 Candidates are advised to browse the Institute Website: www.nitk.ac.in for other relevant information.
Applications not in the prescribed form will not be entertained. Self attested copies of the following documents must be attached:
1. Degree certificates
2. Marks / Grade cards at all levels starting from SSLC
3. SSLC & PUC (10 and 10 + 2) certificate
4. Copy of the Category Certificate.
5. Experience certificate
6. Certificates of Conferences / Seminars /Summer/Winter schools attended during the last five years.
Application form may be downloaded from NITK Surathkal website : www.nitk.ac.in. A signed hard copy of the applications along with self attested copies of certificates and necessary enclosures should be submitted. Incomplete applications and late applications are likely to be rejected.
All applications should be sent through Speed Post / Registered Post in sealed envelope super scribed 'Application for post of ……………… (SC/ ST/ OBC Backlog) in the Department of ………………………………….' on or before October 30, 2015 (Friday) by 5.30 p.m.
To:
The Registrar,
National Institute of Technology Karnataka, Surathkal,
MANGALURU–575 025,
KARNATAKA, INDIA.
Download Detailed Advertisement: NITK_Asst.Professor_Qualification_details-_special_drive-revised