Excellent opportunity for the candidates looking for Principal posts in Govt. Degree colleges in WBSES.  Public service commission of West Bengal published an employment news notification Advertisement No. 6/2016
to fill up 42 vacancies in the state government employees count.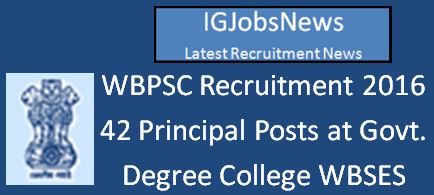 These 42 vacancies in West Bengal State Govt. jobs, will be filled in Government Degree Colleges in WBSES under the higher education department, government of West Bengal.
Name of the Post: Principal
No of Posts: 42
Salary: PAY : Rs.37, 400/- – Rs.67, 000/- plus Academic Grade Pay of Rs. 10, 000/-
Qualification:
(a) A Master's Degree with at least 55% marks (or an equivalent grade in a point scale wherever grading system is followed) by a recognized university
A relaxation of 5% may be provided at the Master's level for the Scheduled Castes/Scheduled Tribes/Differently abled (Physically and visually differently abled) categories for the purpose of eligibility and for assessing good academic record during recruitment.
Relaxation of 5% from 55% to 50% is admissible to those who have obtained Master's degree prior to 19th September, 1991.
(b) A Ph.D. degree in concerned/relevant discipline(s) in the institution concerned with evidence of published work and research guidance.
(c) Associate Professor/Professor with a total experience of 15 years of teaching/research/administration in Universities, Colleges and other institutions of Higher Education.
(d) A minimum score as stipulated in the Academic Performance Indicator (API) based Performance Based Appraisal System (PBAS) as incorporated in U.G.C. Regulation on Minimum Qualifications for Appointment of Teachers and other Academic Staff in Universities and Colleges and Measures for the Maintenance of Standards in Higher Education, 2010.
(e) Proficiency in the language, spoken and written, concerning the medium of instruction of the concerned institution (language/medium of instruction shall be indicated by the appointing authority while requisitioning the advertisement).
N.B.: Relevant column of online application regarding API scores must be filled by the candidates and supporting documents in the prescribed proforma attached along with the advertisement regarding API scores must be submitted in this office in person within 7 (seven) days positively after closing date of submitting online application otherwise the candidature will be liable to be cancelled. AGE: Not below 40 years and not above 55 years as on 01.01.2016.
AGE: Not below 40 years and not above 55 years as on 01.01.2016.
FEE: For all categories of post Rs. 210/- (Rupees two hundred ten) only + Service Charge 1% of Examination Fee subject to a minimum of Rs. 5/- for online payment through debit/credit card plus 12.36% of service charge as Govt. Duty or Service Charge of Rs. 5/- (Rupees Five) only for Net Banking or Service Charge of Rs. 20/- (Rupees Twenty) only for payment through Bank Counter (off-line payment).
S.C./S.T. candidates of West Bengal and Persons with disabilities (PWD) having physical disability of 40% and above are not required to pay any fee. O.B.C. candidates of West Bengal are, however, required to pay usual fee as aforesaid. NO EXEMPTION OF FEE IS AVAILABLE TO SC/ST/BC CANDIDATES OF OTHER STATES. No claim for refund of the fee will be entertained nor will it be held in reserve for any other examination.
ALL INFORMATION REGARDING RECRUITMENT TO THE POST WILL BE AVAILABLE, TIME TO TIME, IN THE COMMISSION'S WEBSITE AT http://www.pscwbonline.gov.in and http://www.pscwb.org.in
APPLICATION: Applications can be submitted through online only.
Filling up of online application forms will be commencing from: The 14th March, 2016, 11.30 a.m. onwards.
Closing date for receipt online application: The 29th March, 2016.
Last date of fees payment: The 29th March, 2016.
NOTE: Offline payment of fees can be made up to the 30th March, 2016 at any branches of UBI. However, the Challan for making the payment in bank should be generated by the 29th March, 2016.
Date of Examination will be notified latter in the commission's website at http://www.pscwbonline.gov.in and http://www.pscwb.org.in
Download Detailed Advertisement WB Govt. jobs 2016: WBPSC 42 Principal Vacancies 2016
Public Service Commission, West Bengal (PSCWB): http://www.pscwb.org.in