SVPNPA Recruitment May/ June 2016:
Excellent opportunity for the candidates looking for central government jobs in Hyderabad. Sardar Vallabhbhai Patel National Police Academy (SVPNPA) published latest employment notification to fill up 5 vacancies of Programmer, Senior Projectionist, X Ray Technician & Junior Projectionist posts.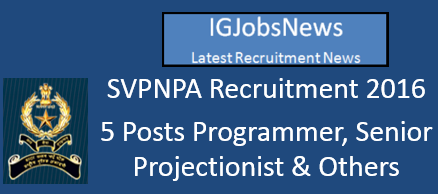 Interested and eligible candidates having Master's degree MCA in Science with Statistics/ Mathematics/ Operational Research/ Physica) or MCA, HSC qualification can apply for these vacancies on or before 24th June, 2016.
SVPNPA Vacancy details 2016:
1. Programmer
No of Posts: 1
2. Senior Projectionist
No of Posts: 2
3. X-Ray Technician
No of Posts: 1
4. Junior Projectionist
No of Posts: 1
Terms & Conditions:
a) Pay for retired CAPF/ State police personnel and other Govt. retired personnel will be fixed their last pay drawn minus pension plus admissible rate of DA on the date of engagement. Pay for other than retired personnel will be fixed as mentioned above. The remuneration fixed will not be changed despite change in the DA rates.
b) The appointee will not be entitled for any kind of regular leave except 8 (eight) days casual leave on pro-rata basis i.e one for every 45 days in the calendar year.
c) The contractual appointee shall not be entitled any allowance such as residential accommodation, transport facility, CGHS, medical reimbursement etc.
d) Medical facilities to the appointee and his wife including minor children will be provided in the NPA Hospital only. No referral facility will be extended to appointee and his applicable family members.
e) The contract appointment will not bestow on him / her any right for claiming regular appointment in the Academy.
f) The Academy reserves the right to cancel the entire selection, without assigning any reasons and without incurring any liability thereof.
g) The employer (SVP NPA) can modify, add, delete and amend / change above terms and conditions.
The format of Application form is enclosed herewith. The duly filled-in applications, along with supporting documents, should reach the Deputy Director(Estt), SVP National Police Academy, Hyderabad 500052 on or before 24/06/2016. Any clarification may be obtained from the undersigned.
Download Detailed Advertisement & Application Format: SVPNPA Recruitment Notification May June 2016
Sardar Vallabhbhai Patel National Police Academy (SVPNPA) website: http://www.svpnpa.gov.in